Creating all kinds of Winter fun with these quick and Easy Winter Crafts For Kids. Fun art and craft projects, coloring page, games, and more!
This collection of Easy Winter Crafts For kids is full of lots of great crafts to keep those little hands busy throughout the winter months.
Winter crafts are full of fun. If you like these crafts, then you will also love our Christmas Crafts Ideas For Kids, 20 Fun Santa Crafts For Kids To Make, and Chinese New Year's Crafts.
Winter Crafts
For most folks, the winter months (December, January, and February) are cold and spent primarily inside. It's important during these colder months to continue to build the kids' fine motor skills while keeping them busy.
Winter crafts are a great way to keep little hands busy. Cute winter crafts are full of simple ideas. Winter themes can lend themselves to some simple winter crafts that are sure to keep both younger kids and older kids busy for hours.
We are hoping to keep those little ones busy with these winter craft ideas. Sharing snowflake crafts, snowman crafts, polar bear crafts, penguin crafts, and more.
Monthly Easy Winter Art and Craft Activities
Having fun easy crafts for kids throughout the year is important to us. You will not want to miss the winter months along with the rest of the year in ultimate guides with over 1010 projects within each.
Breaking our seasons into fun crafts per month is also a fun way to have fun all season long. Here are some of our fun Winter Month Crafts.
Throughout December we have fun Christmas activities, Hannukkah Activities, and General Winter crafts for the holidays.
During January, our crafts shift from the holidays to fun snow days and rainy day activities. We also celebrate the Chinese New Year and all the fun around the lunar new year.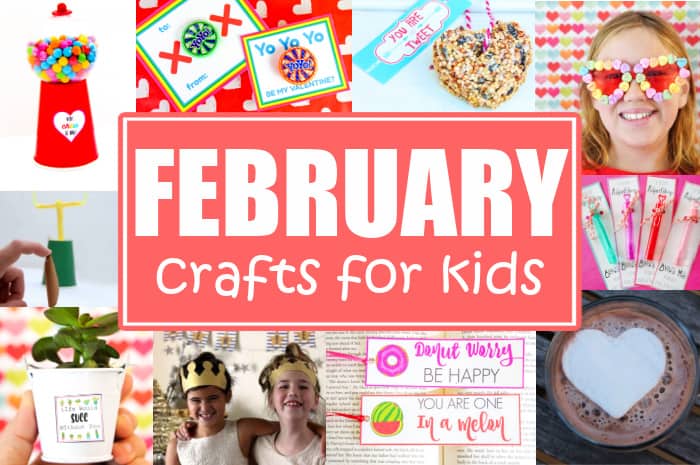 The fun and easy crafts we have for February are all about hearts, Valentines, Superbowl (football), and Groundhog's Day. Lots of fun activities throughout the winter month of February.
Here is to hoping you enjoy these easy crafts as much as we do!
Winter Crafts For Kids
Create these sweet little paper plate penguins with only a few supplies that you have at home. This is a fun craft and easy peasy for younger children.
With only two ingredients, this fake snow is all kinds of fun for kids of all ages!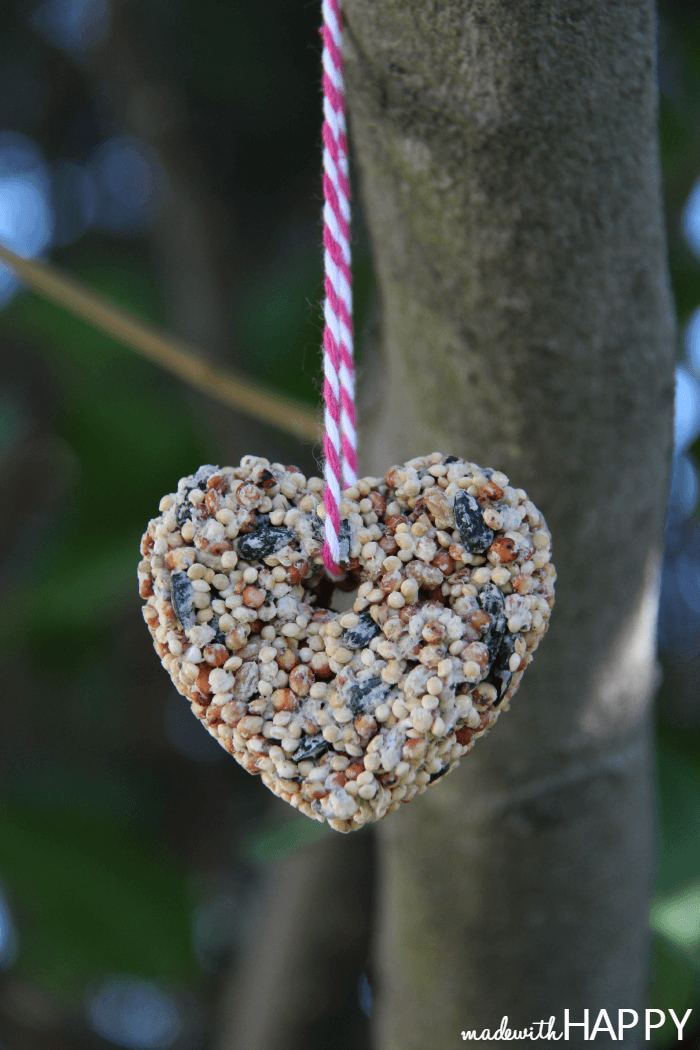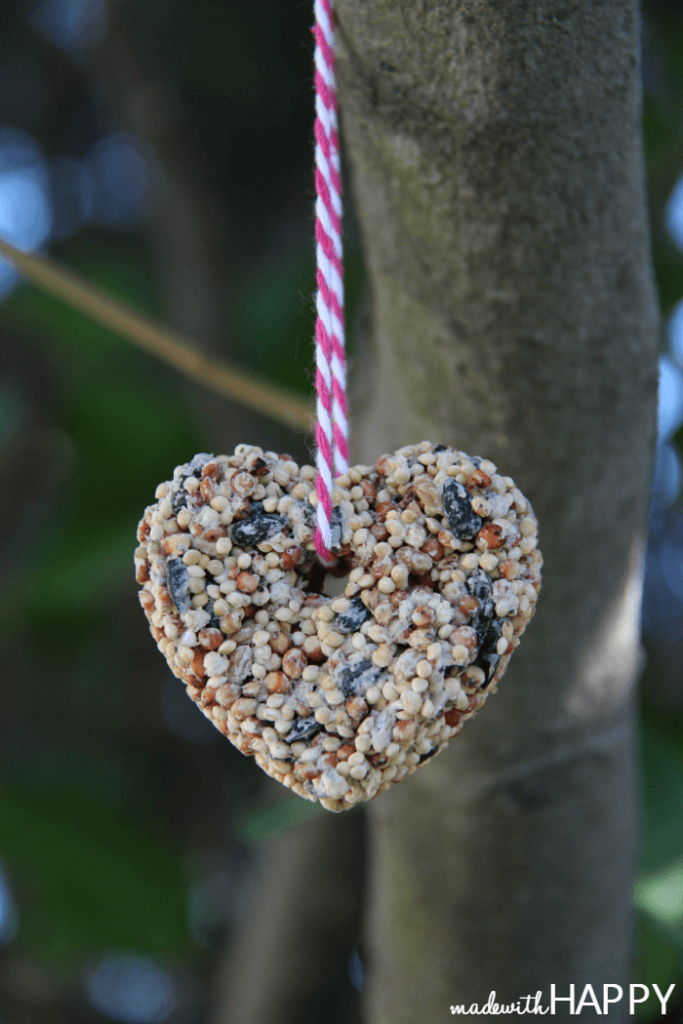 Your flock feather friends will love these sweetheart birdseed ornaments. This is a great idea to give and hang on the Christmas tree and then when the tree comes down, it heads outside for the birds to enjoy.
Turn those wine corks into these sweet scarf-wearing snowman. They are fun to turn into ornaments, or to display throughout the winter months! This adorable winter craft is always a hit throughout the winter months.
Kids will love this hands-on project that will keep feathered friends flocking around! These homemade birdseed ornaments are easy to make and hang.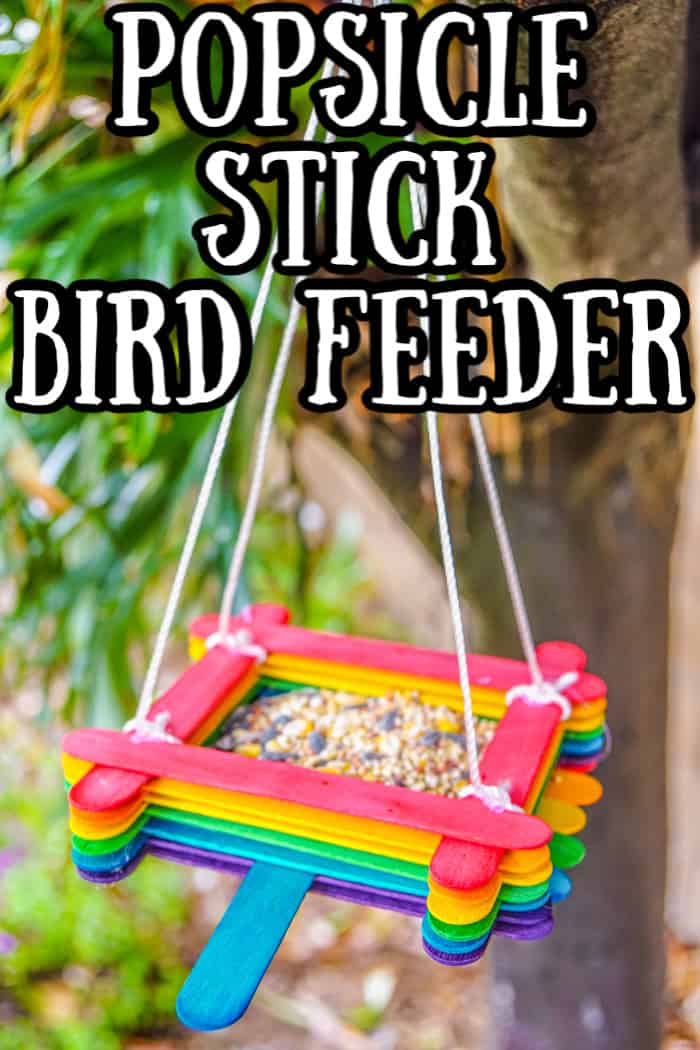 All the birds will be full of HAPPY with these rainbow beauties hanging in the yard. We're sharing the full tutorial on this sweet popsicle stick bird feeder DIY project.
Grab our free printable tutorial on how to draw a snowman. This is a great drawing activity for the kids. Turn your kids onto simple art projects like this one.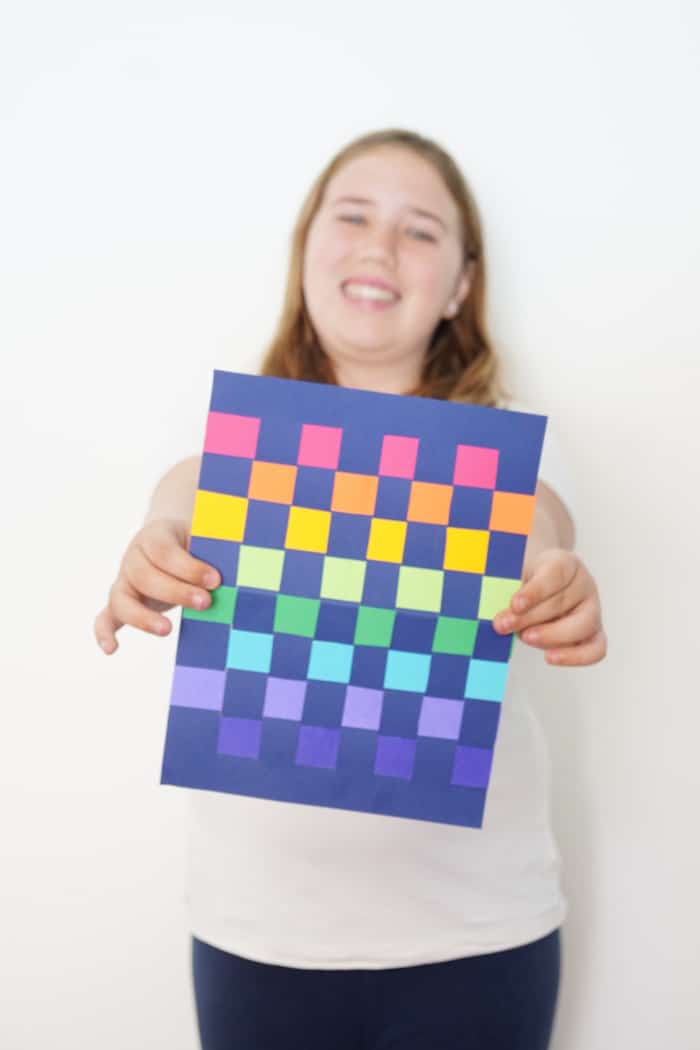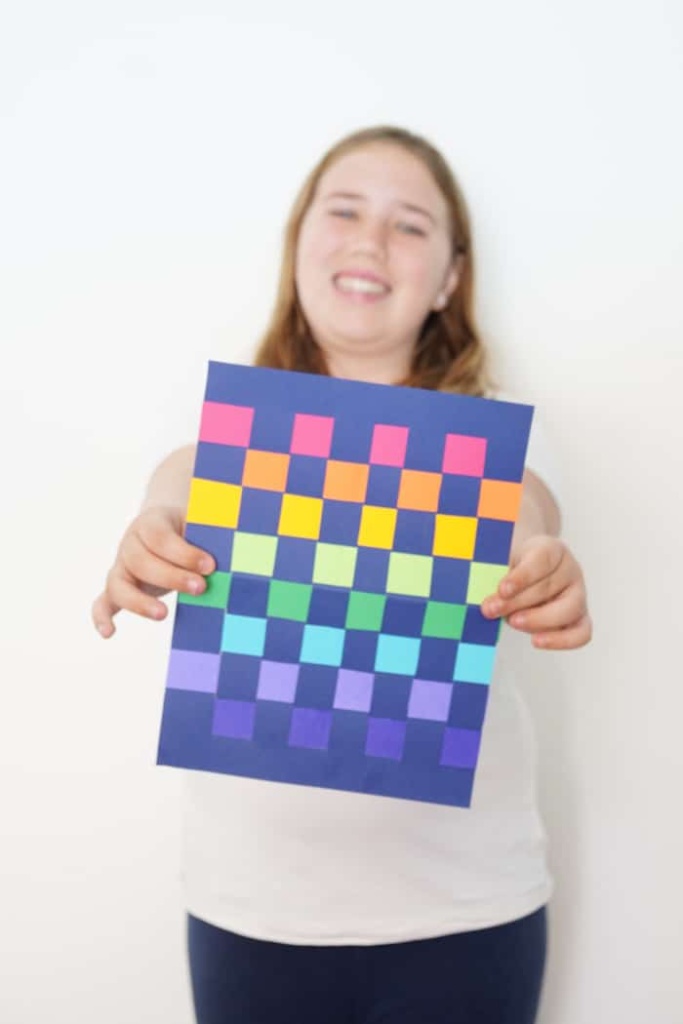 This fun paper weave is a great winter paper craft. Kids of all ages have fun with different colors and patterns.
This friendly snowman that loves warm hugs is one of the most fun characters to draw.
Winter activities for the kids that will entertain them for hours.
This sweet snowman is a great craft for kids all Winter long. We have a free printable template for all the pieces.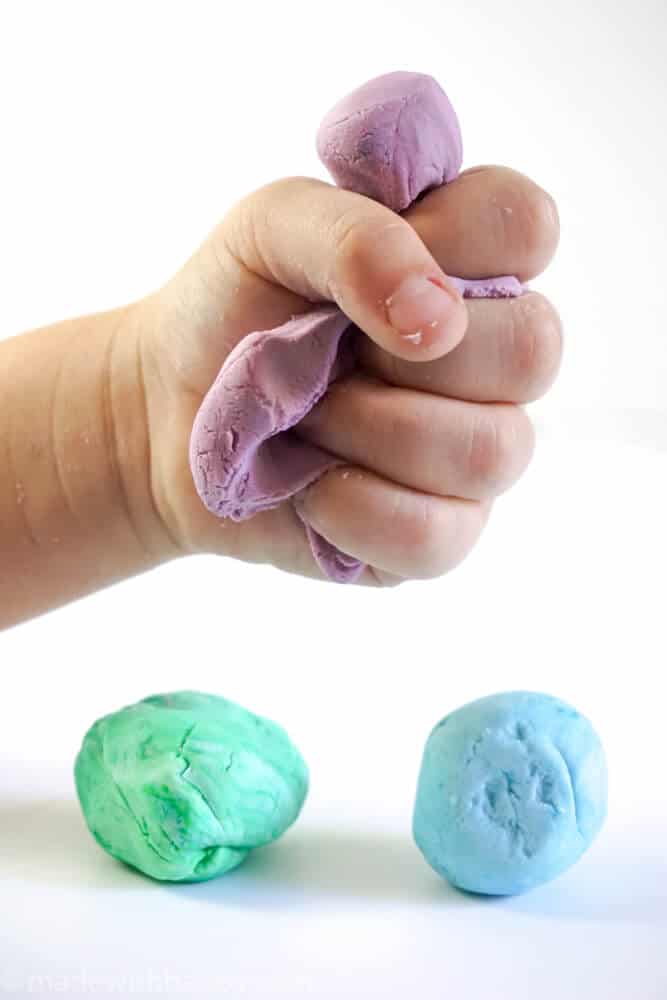 With just two ingredients, this silly putty is sure to add hours of fun!
Have some winter fun with a fun tutorial for a reindeer drawing.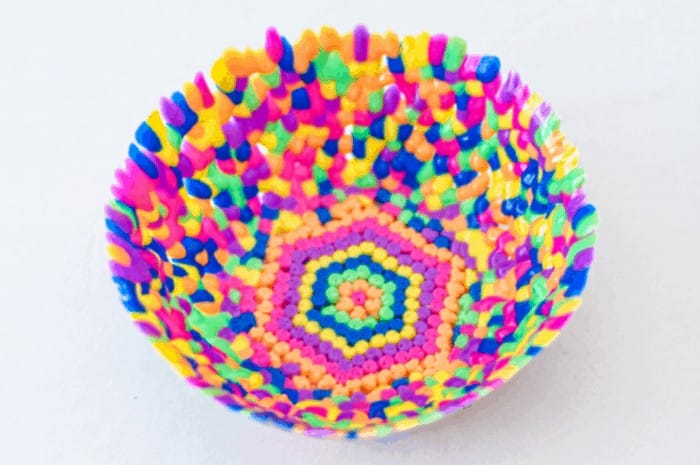 Have some fun with those Perler beads and make a fun bowl.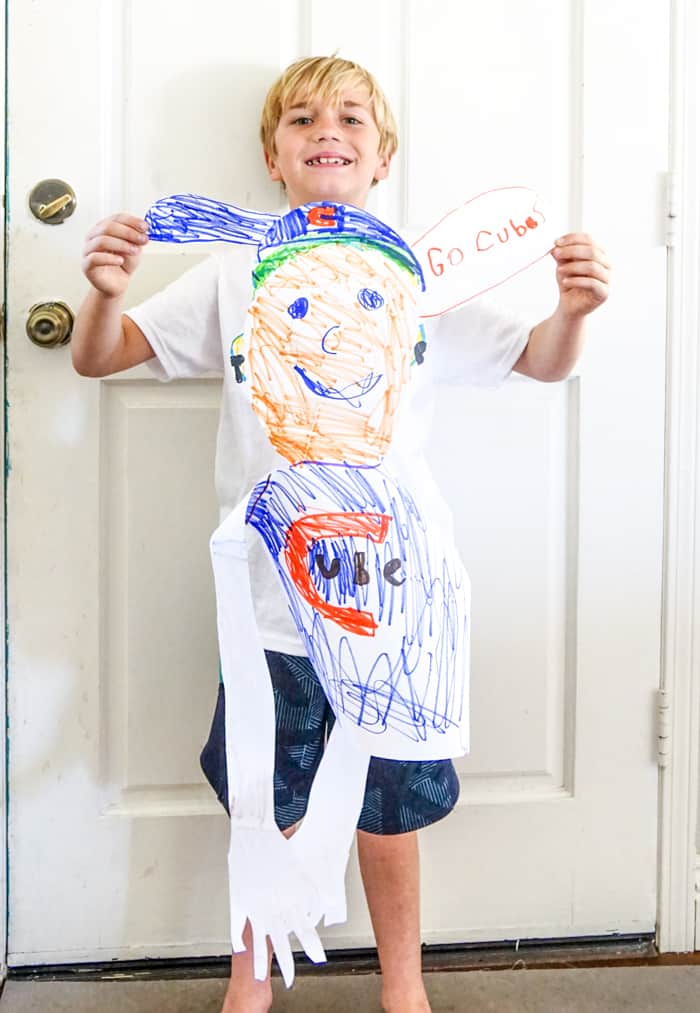 This simple project is great for those that might feel a little blue during winter. Sending You a Hug in the mail is both fun to receive and fun to make. Fun art projects during those cold winter days!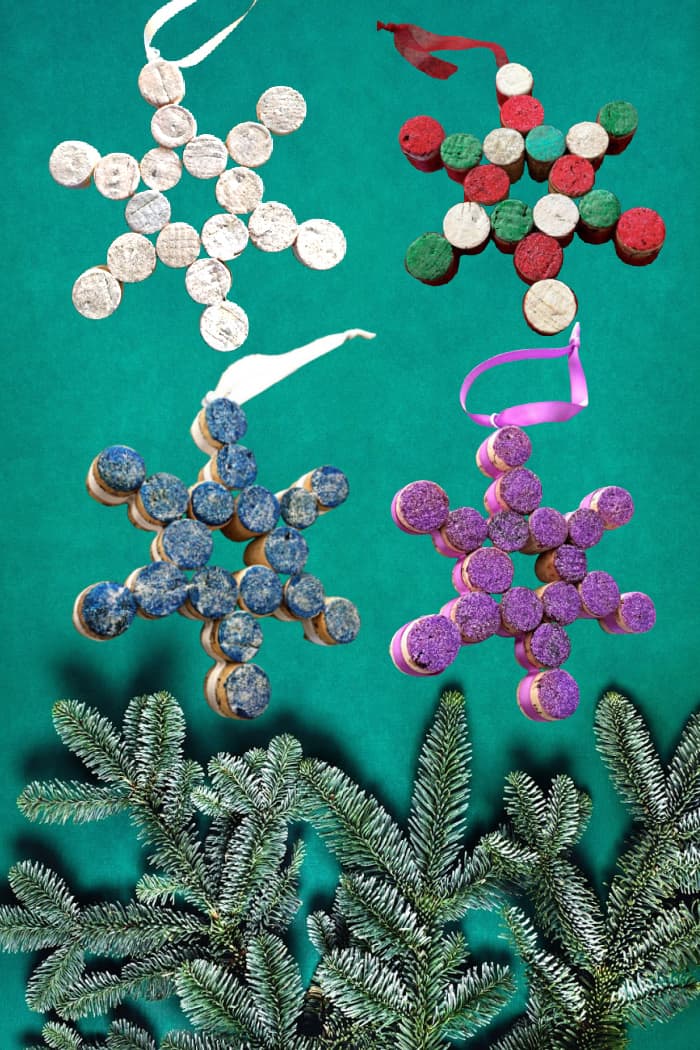 These are easy and fun crafts made from corks! Simple craft project during winter craft time!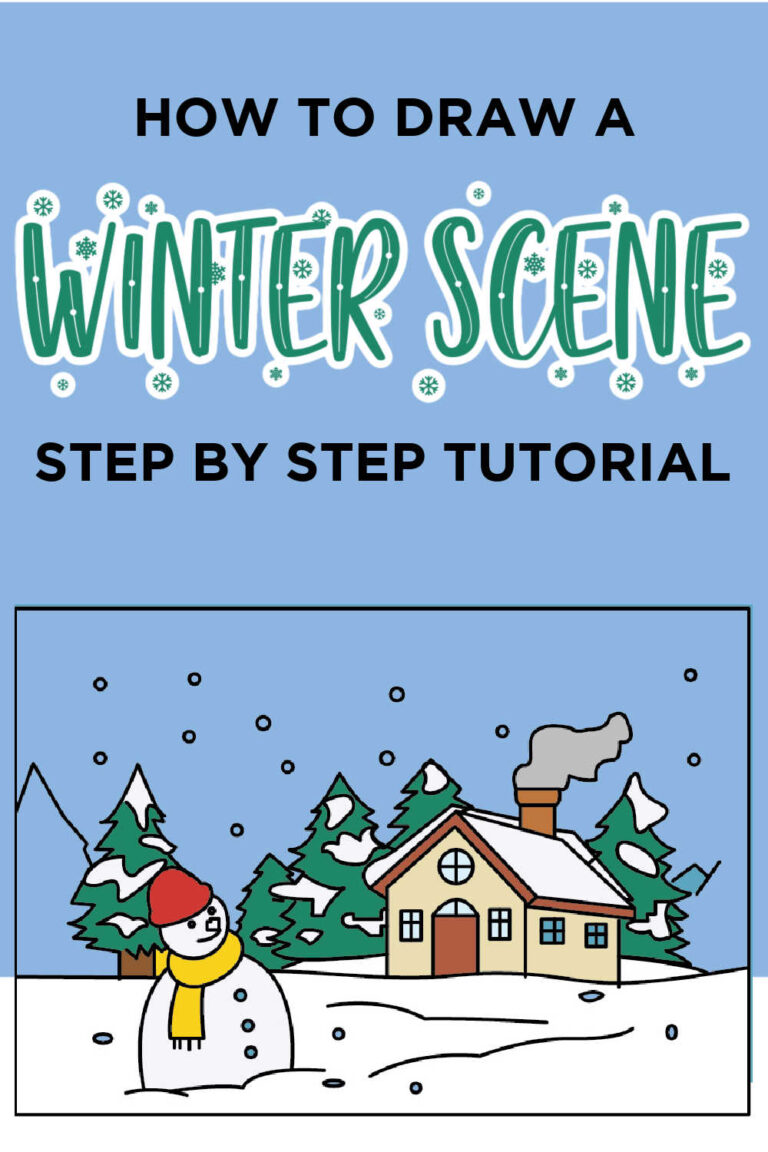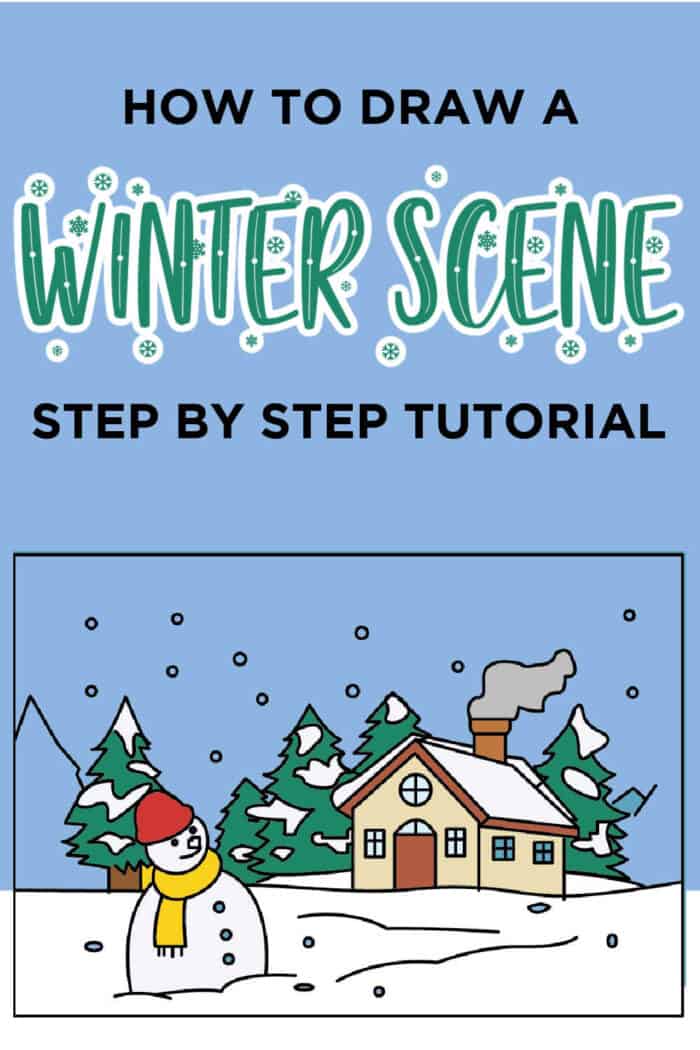 Learn to draw a fun winter scene with a free printable step by step tutorial. Winter art projects for kids of all ages!
This fun puffy paint with sand is a fun creative way to make some fun winter art!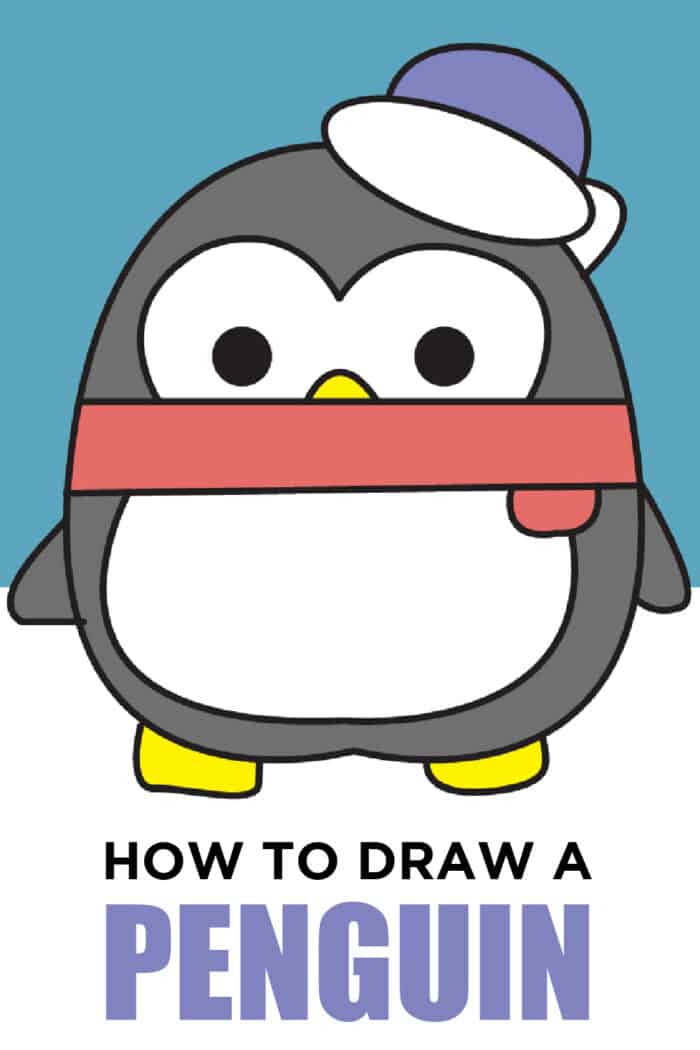 Learn to draw this sweet penguin with this free printable step-by-step tutorial.
These fun owl crayons are a fun activity for kids to make! We'll teach you how to make them!
This is a great hot chocolate craft that can be enjoyed by the entire family! The perfect winter craft. Make and then enjoy hot chocolate!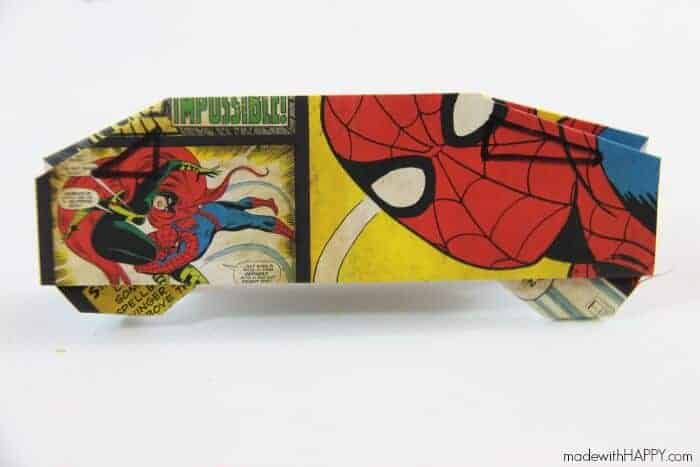 Learn to make a fun paper car. Hours of fun building and playing with your cars!
by Mom Wife Busy Life
If you are looking for a fun indoor winter craft to make with the kids this season, consider creating these snowmen made out of clean and empty milk jugs!
by Craft Rocker
These cozy scarves require no sewing! Make a few to wear and share with kids of all ages.
by Mom Brite
The adorable pinecone snowy owl craft is such a fun way to use the pinecones you find on the ground while strolling around the neighborhood or taking your kids to the park. Your kid will love creating this cute creature this winter.
by Bitz N Giggles
Kids will never look at snow the same again after they have a chance to turn it into sweet, creamy, fresh ice cream! This easy recipe makes snack time a hands-on experience!
by Honey and Lime
While the weather outside is creating snow flurries on the other side of your windows, you can make a winter snowstorm of your own — right at home. A fun alternative to snow globes made in mason jars.
by My Joy Filled Life
This great Winter Wonderland Slime is perfect for the season. It's the right shade of blue and filled with snowflakes and glitter! Add this to your slime collection for more festive fun.
by The Growing Creatives
These little beauties are so simple, and yet have been super enjoyable for us! The kiddos and I love walking out to the backyard and seeing them hanging there.
by Sustain My Craft Habit
If you have any wood blocks lying around and also happen to love snowman crafts, then this DIY woodblock snowman is the perfect winter-themed project for you.
by Journey to SAHM
This easy winter hat is the perfect craft for preschoolers. It is easy to set up and is totally adorable when it is finished! I just love the cotton balls.
by Little Bins for Little Hands
Make a snowman and then watch what happens for fun winter science activities for preschoolers you can do in a classroom group or at home!
by Projects with Kids
This polar bear winter art project for kids is so adorable and colorful! We used a mixed media approach to make these paintings and a clever way for kids to draw the polar bear all on their own. Kids will love creating their own cute polar bear art!
by The Inspiration Edit
This paper plate snowman craft is super simple to make and a fun winter craft for kids of all ages.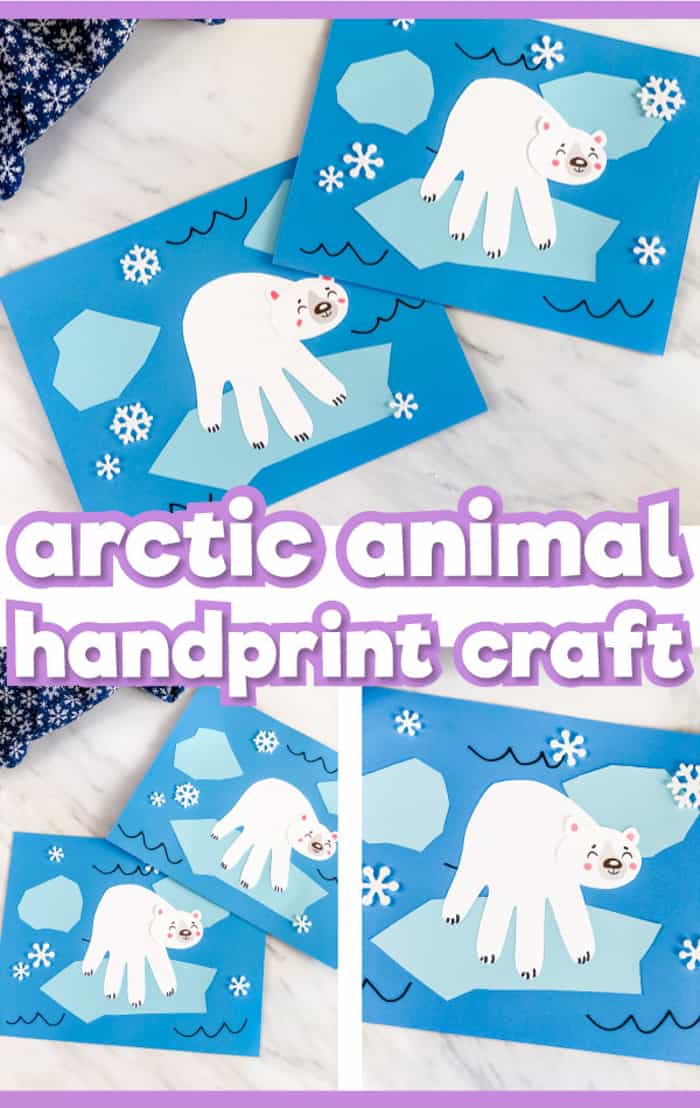 by Simple Everyday Mom
The polar bear craft is well suited for preschoolers, kindergarteners, and elementary children, but can also be used with toddlers if they have some adult help. It's fun winter animal crafts and handprint crafts for kids!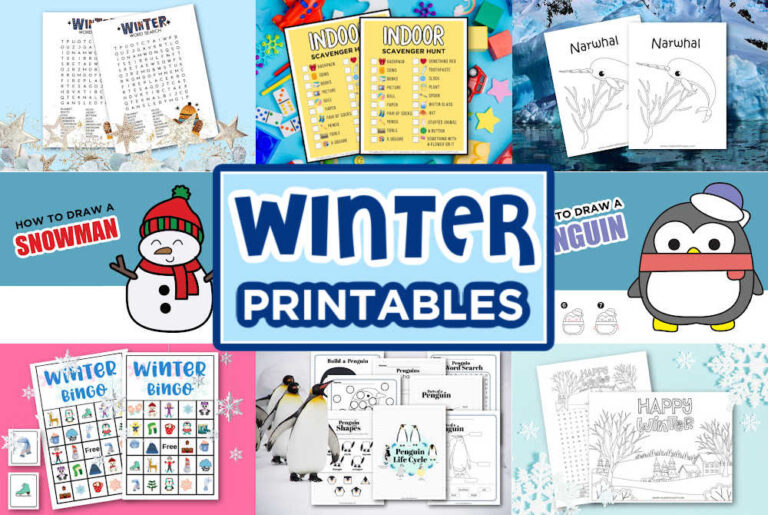 Have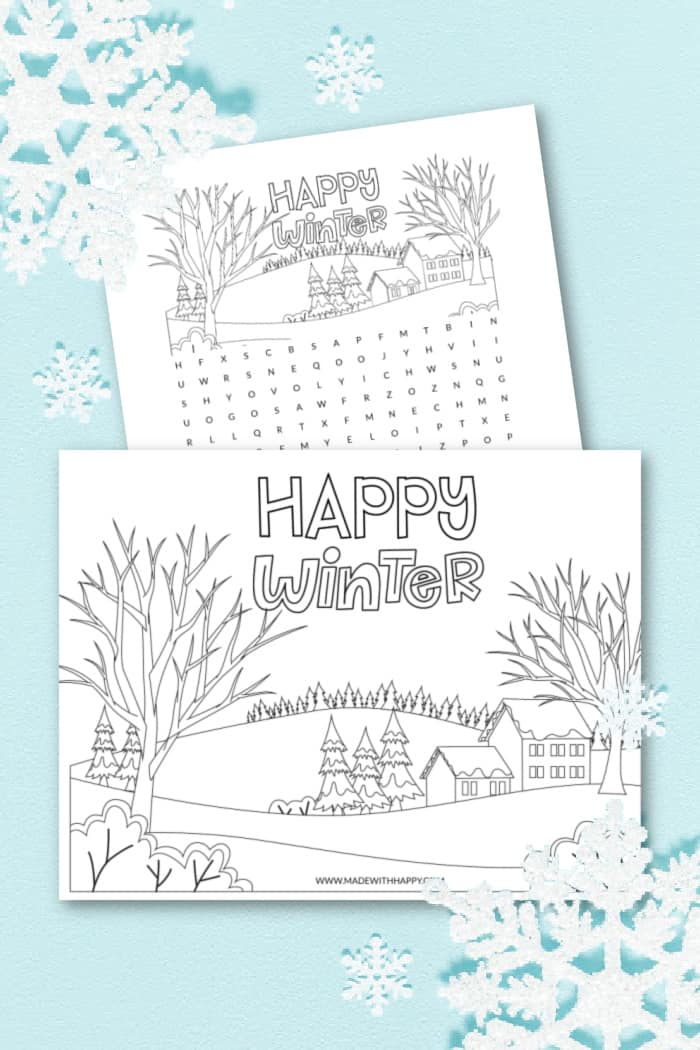 Create your own winter wonderland landscape full of winter trees and snow-covered buildings in this HAPPY Winter Coloring Page and Word Search.
Celebrate the Winter season with your family and friends with these free printable Winter Bingo game boards and calling cards!
Have some winter fun with these 32 winter matching cards.
Have some coloring fun this winter with these bookmarks to color.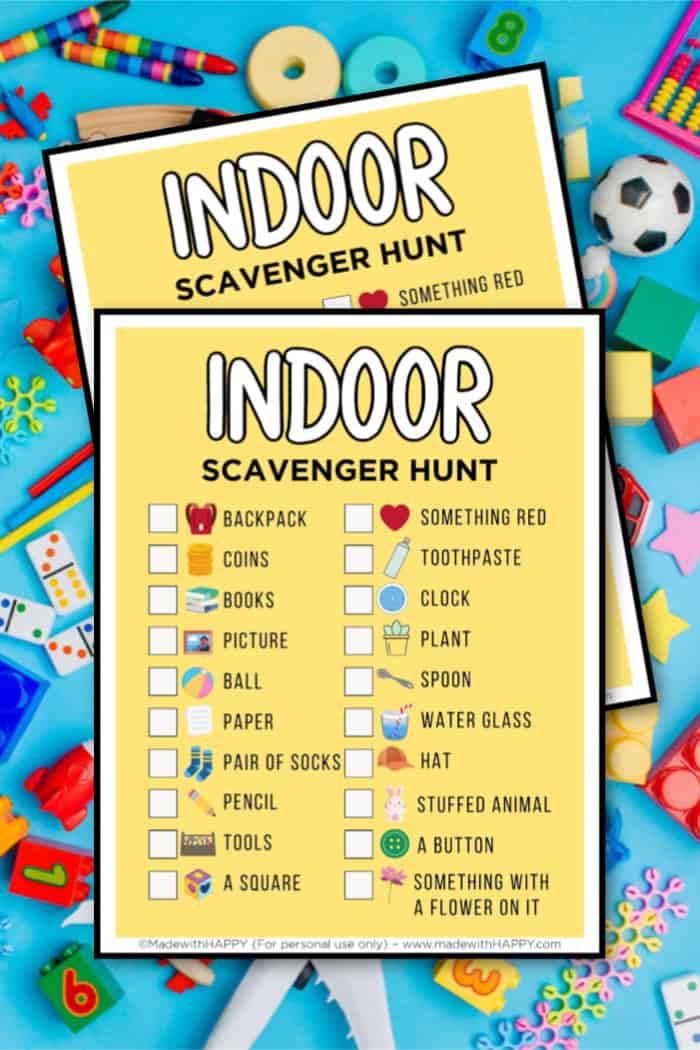 Turn that time inside into a fun game with this free printable indoor scavenger hunt.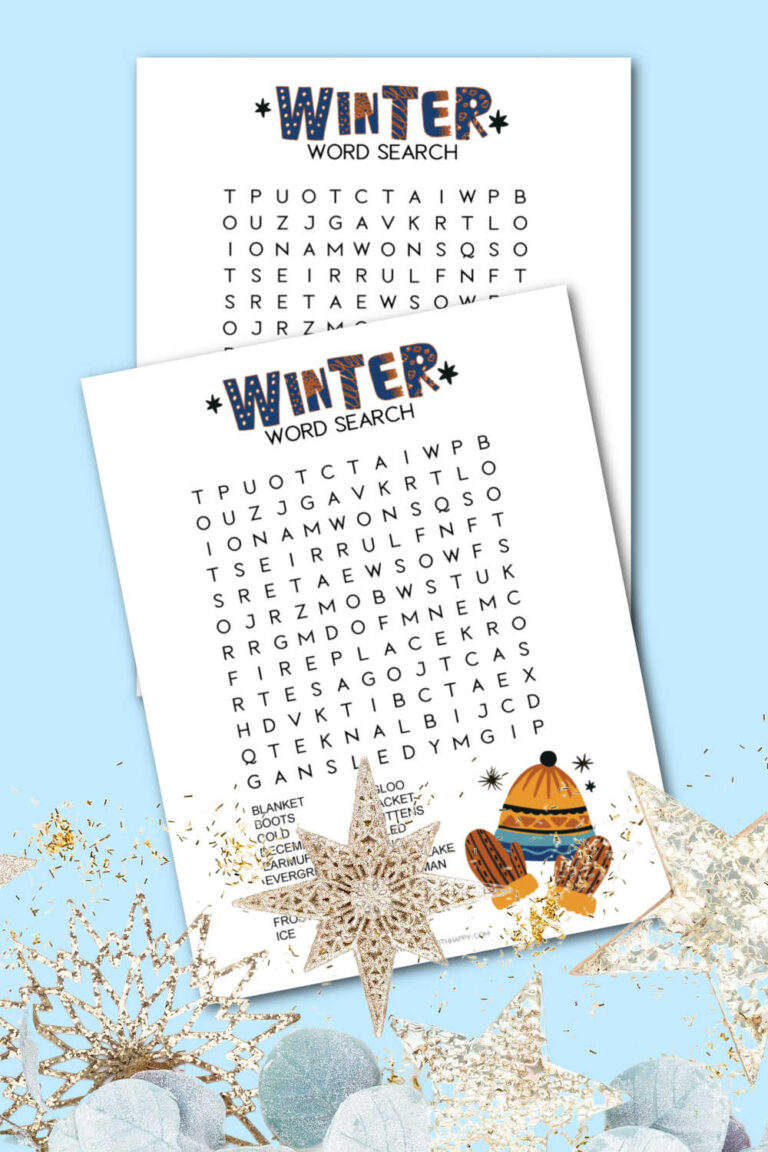 Grab and print this winter fun activity for kids of all ages. Word searches are always so much fun!
The winter unicorn of the sea is all kinds of fun! Grab this free printable narwhal coloring page!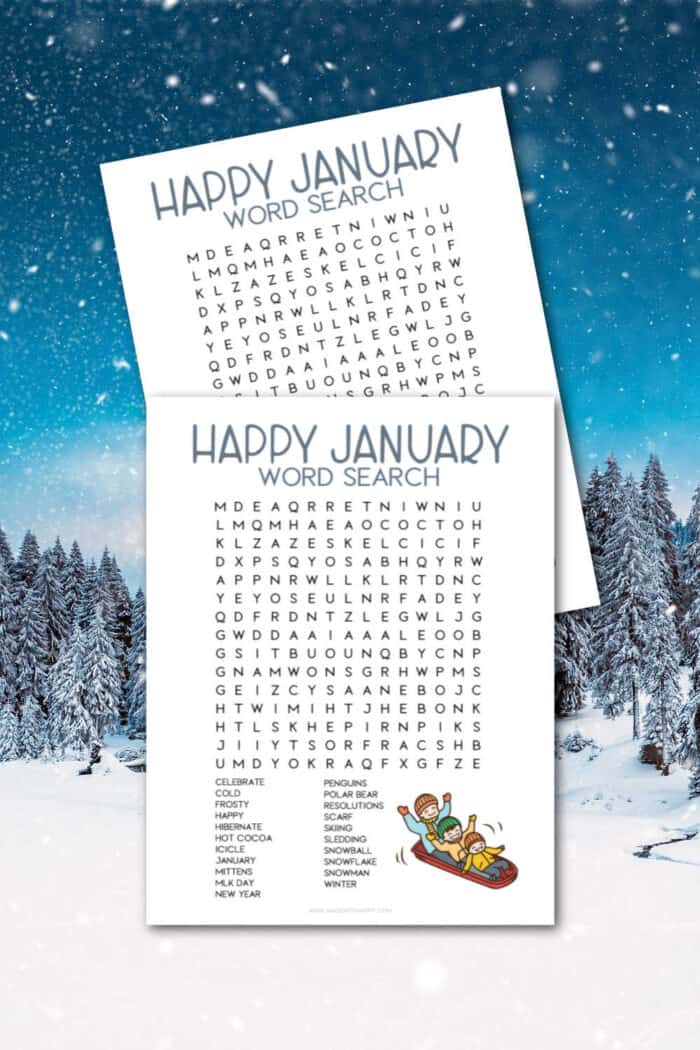 This January-themed word search is all kinds of winter fun.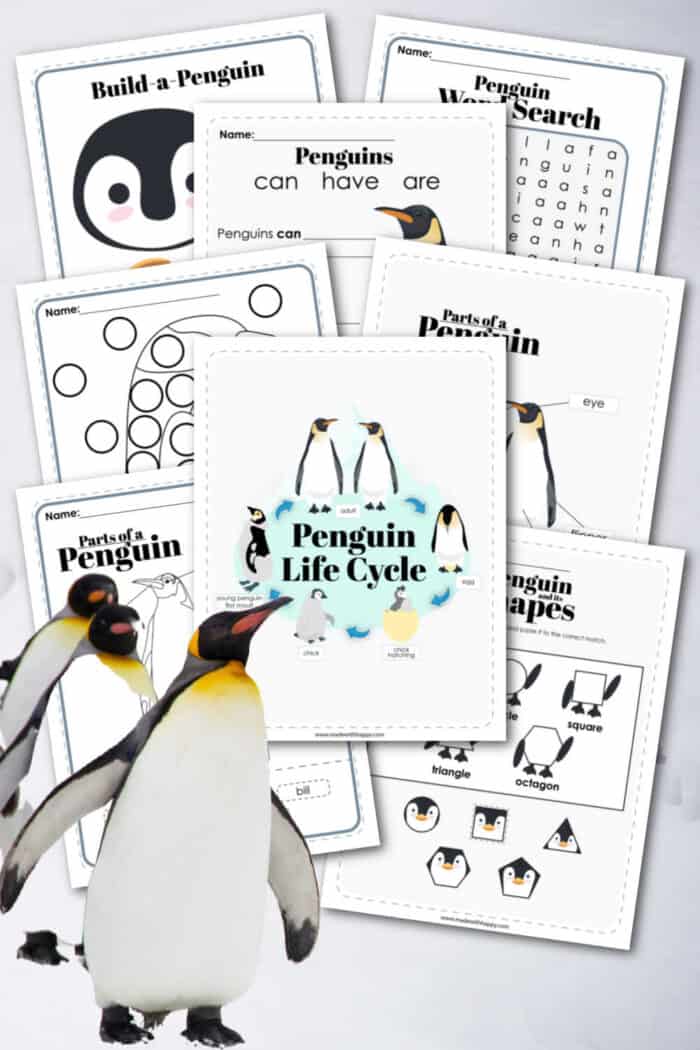 Learn about these adorable creatures and their body parts as well as their life cycle. Lots of fun feathery facts too.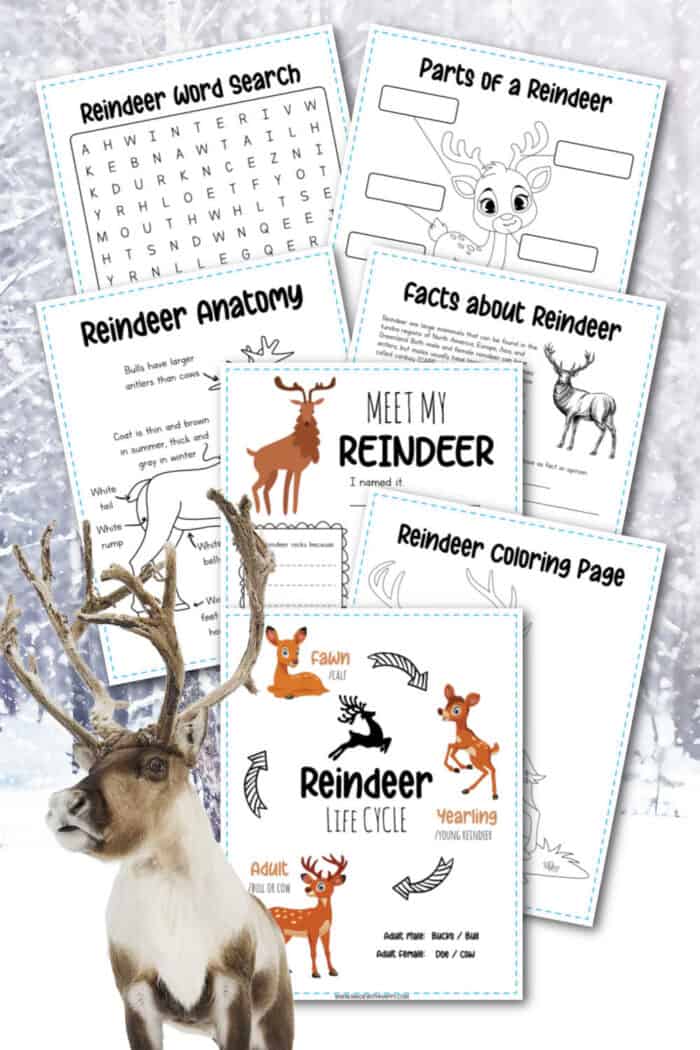 Another favorite winter animal is the reindeer. We're sharing free printables with a reindeer life cycle along with some coloring pages and parts of a reindeer.
Supplies For Simple Winter Craft Projects
Making sure you are stocked for winter is always a great idea. Filling your craft box with some craft supplies is an awesome idea so that the kids can pull it out and there are a number of crafts at their fingertips.
We have put together a list of Crafts supplies for kids that we think are always fun to have on hand. Included in that list, are some supplies that make great winter-themed crafts. Some of our must-haves include
Paper Plates
Pipe Cleaner
Pom Poms
Tissue Paper
Easy Winter Crafts Frequently Asked Questions
Here are some questions that you may have about crafts now that you have picked your project.
What are easy crafts to make?
Some of the easier crafts to make are simple paper crafts and or popsicle stick crafts. We try and make easy crafts that take under 30 minutes to make.
What is the easiest craft to learn?
Learning new crafts is so much fun. We tend to focus our kid's crafts around paper crafting, but embroidery can be fun, soap making, slime, and lots of other fun crafts.
How do I keep my child entertained at home?
Keeping busy hands entertained is our specialty. Load up on the craft supplies and a printer and you will be set for weeks or even months' worth of projects.
Other Winter Crafts You'll Love
CONNECT WITH MADE WITH HAPPY!
Be sure to follow me on social media, so you never miss a post!
Facebook | Twitter | Youtube | Pinterest | Instagram
Looking for crafts to keep your child busy? Sign up for my 5 Ridiculous HAPPY Activities in under 30 minutes for your kids delivered directly to your inbox!
Find and shop my favorite products in my Amazon storefront here!
EASY WINTER CRAFTS FOR KIDS
PIN IT TO YOUR FAVORITE BOARD ON PINTEREST!
FOLLOW MADE WITH HAPPY ON PINTEREST FOR ALL THINGS HAPPY!