As Summer comes to a close, I find myself going into a slight depression. This is only because although I love Summer, I equally love FALL. Apple picking, turning leaves and FOOTBALL!!! Football means, tailgate party! YAY!
Have I mentioned how I graduated U.C.L.A? Yep, I'm a Bruin and pretty proud of it. Each football season we try to make it to at least one or two games and tailgate with some of my college friends. So much fun sharing the fun of the Rosebowl and U.C.L.A. Football with the kids and the hubs, who went to University of Kansas.
This year, we're planning a fun tailgate party for the first game. I created these super cute invitations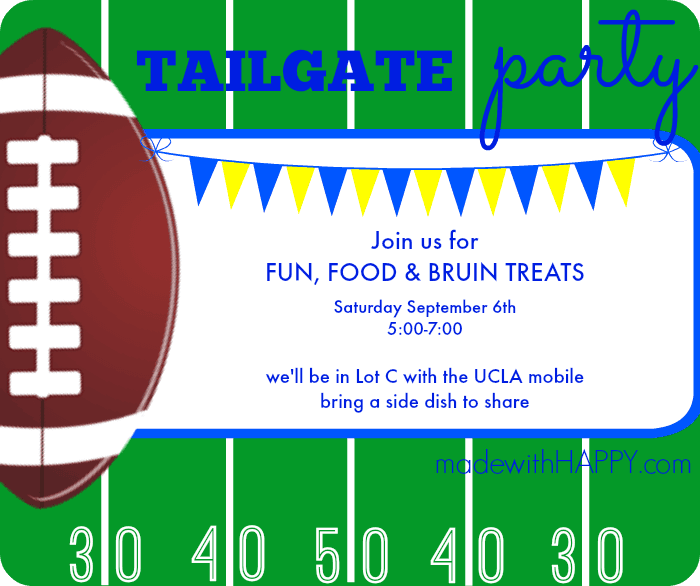 With the invites, I thought I would send a little treat. On Walmart.com, I found these AWESOME JELL-O University mold kits.
They have a broad selection of universities including my beloved Bruins. Go U.C.L.A.!
Of course they are great for JELL-O Jigglers that we'll bring to the tailgate party too, but I thought it would be fun to send a little chocolate with our invites using these great mold.
I used the colored yellow melts (both yellow and blue). Simply melt the chocolate according to the directions on the package. I filled half with one color and the other half with the other color. Let harden overnight.
The molds are great and allow for the chocolate to pop right out once they are hardened.
Simply place the chocolate into a small clear plastic bag and tie up with your team's ribbons and it makes for the cutest little addition to the invites.
We had so much fun with #TeamJellO and #CollectiveBias making these Tailgate Party Invites. Can't wait to hear how my college friends enjoy getting these in the mail and better yet, seeing them at the U.C.L.A. Football game!!!
Cheers to a great football season and HAPPY TAILGATE PARTIES!