101+ easy craft ideas for kids for every month of the year. Lots of super easy arts and crafts project ideas that kids will love.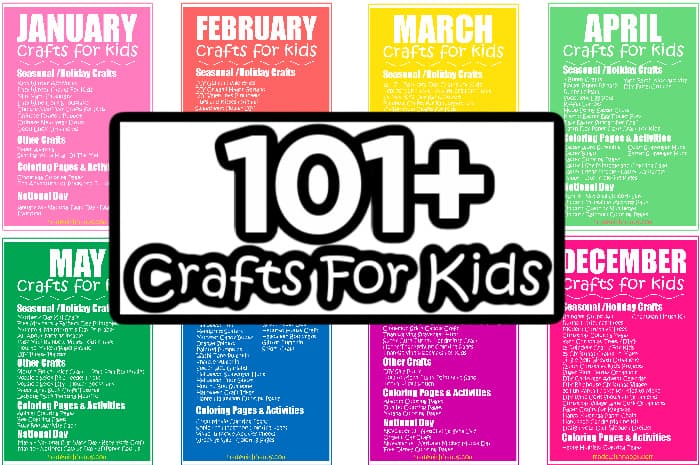 We are excited to share over a hundred easy craft ideas for kids of all ages.
We love the idea of the month to month having fun crafts that will not only include seasonal crafts and holiday crafts, but also additional coloring pages and printables for kids.
Benefits of Crafting
Did you know that crafting has physical and emotional benefits to children? Crafts can be so beneficial to children's development. Crafting is a great way to help open kids' minds to creativity.
Working with scissors and coloring can help with their fine motor skills. The act of coloring has been shown to reduce anxiety and increase calmness.
Kids Craft Supplies
The kid's crafts that we create are done with simple arts and crafts supplies. I have put together a list of 25+ Kids Crafts Supplies, a rainbow, of course, that will cover a good portion of these.
Most of our crafts use the same handful of supplies. You can find each of those here.
With just a few supplies, it's amazing how many different kid's crafts you can make in under 30 minutes.
If you are looking for specific crafts based on a supply, we have broken them down into specific easy craft ideas for kids including:
Crafts Using Paper Plates
Crafts Using Toilet Paper Rolls or Cardboard Tube
Paper Bag Crafts
Monthly Crafts
What we found is that most crafts fit into a specific month. Simple Crafts
Most of these monthly crafts for kids can be done in under 30 minutes. Each has step-by-step instructions as well.
Check out each of the months below for all kinds of fun craft ideas.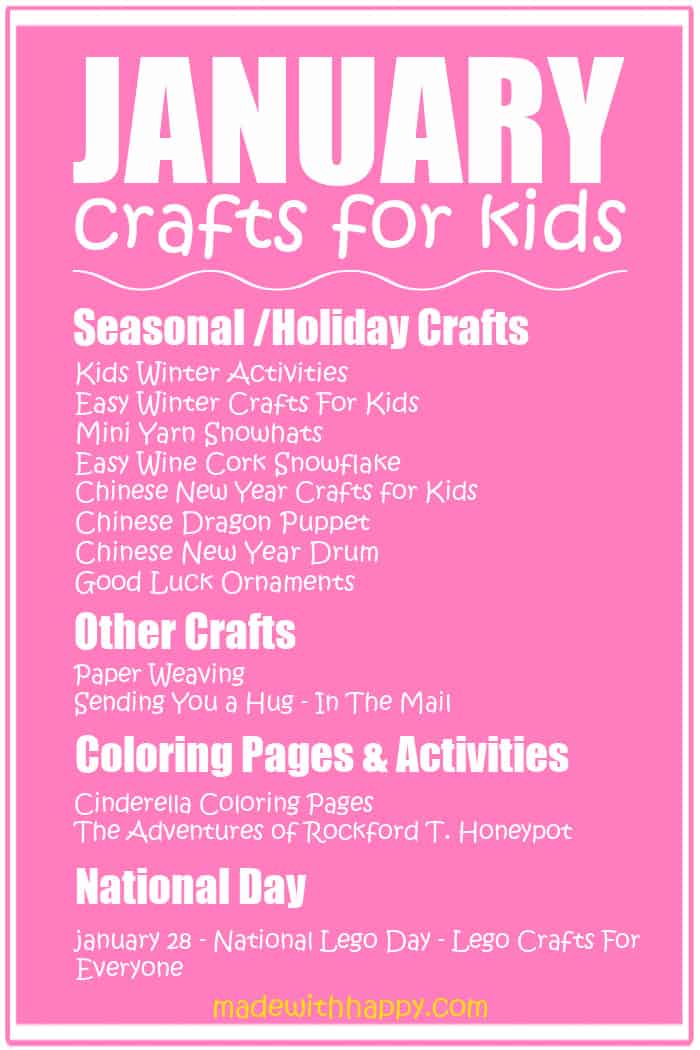 Kick-off the New Year with these January Crafts for Kids that are sure to keep the kids busy. Easy and fun Winter-themed arts and crafts that the kids will love!
Kids going a little stir-crazy staying inside during the winter storm? We have 7 Fun Winter Activities for kids keeping their little hands busy.
This super fun and easy winter craft makes for a perfect mini snowman hat. This yarn snow hat is all kinds of fun for kids of all ages.
Cork snowflakes are not only fun to make, but are great as gifts for the holidays! We are sharing a tutorial on making them into snowflakes.
Celebrate the Winter season with your family and friends with this free printable Winter Bingo game boards and calling cards!
Create this fun and free printable toilet paper roll snowman with just a few supplies you have at home. Fun Winter Craft for Everyone!
Learn all about penguins life cycle and parts of the penguin with our printable penguin activities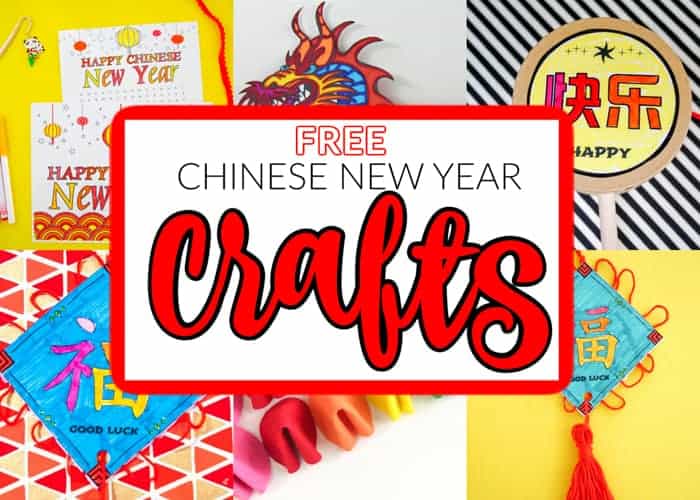 Looking for some easy Chinese New Year Crafts for the kids? We have some great ideas!
Other Craft For January
With the start of the year, teach your children all about the Months of the Year with our free learning worksheets.
Fun National Day Calendar - January
January 28 - National Lego Day - 15+ Lego Crafts - Fun DIY Lego Crafts for Everyone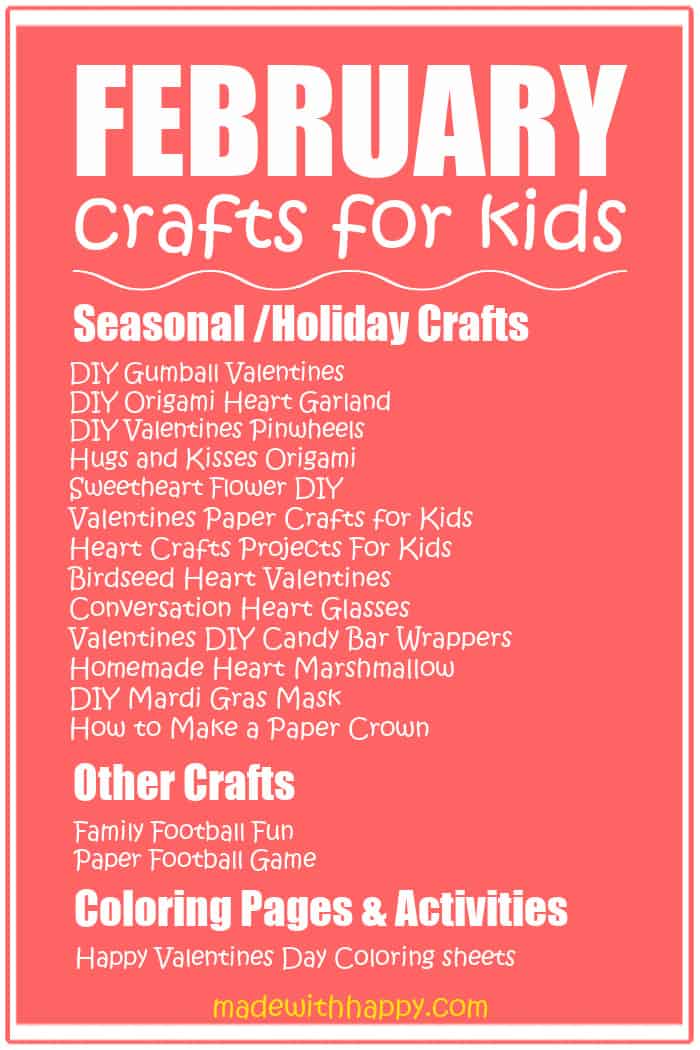 Celebrating the love month with tons of quick and Easy February crafts for kids of all ages. Including all kinds of Valentines Crafts, Football Crafts, February Coloring Pages, and more!
Mardi Gras Crafts For Kids
These DIY Mardi Gras Mask are great to purchase and have the kids decorate themselves.
Create your own mardi gras Paper Crowns with a simple piece of paper.
Other Crafts For February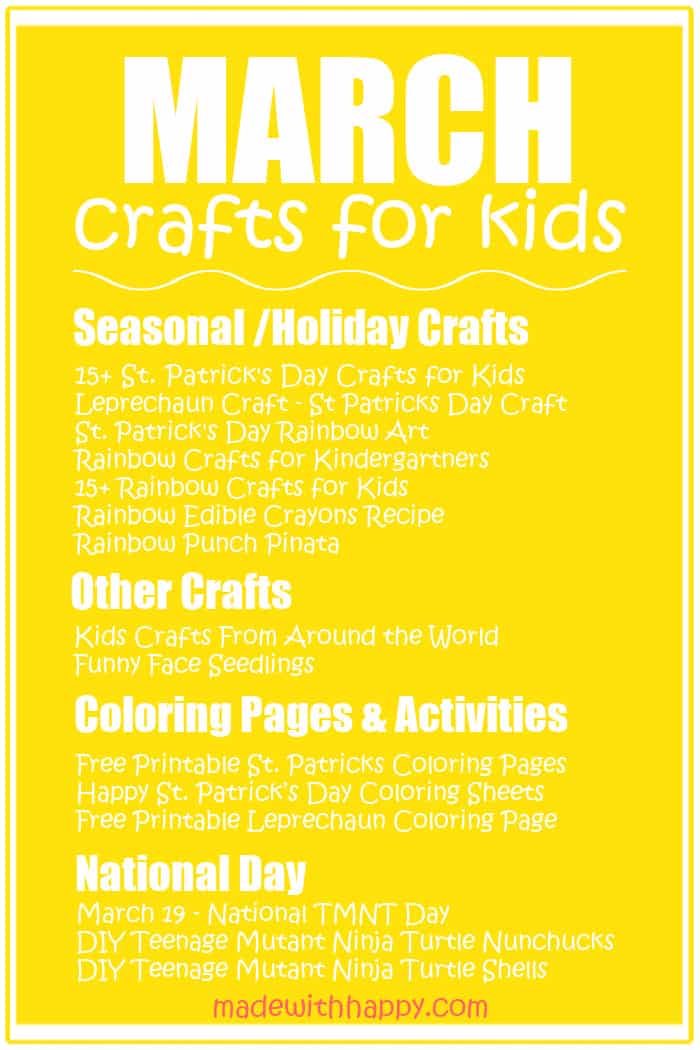 Lots of fun and easy crafts for Spring and St. Patrick's Day are included in our March Crafts. Many quick and simple March crafts for kids that take under 30 minutes. The crafts are full of rainbows, leprechauns, crafts from around the world.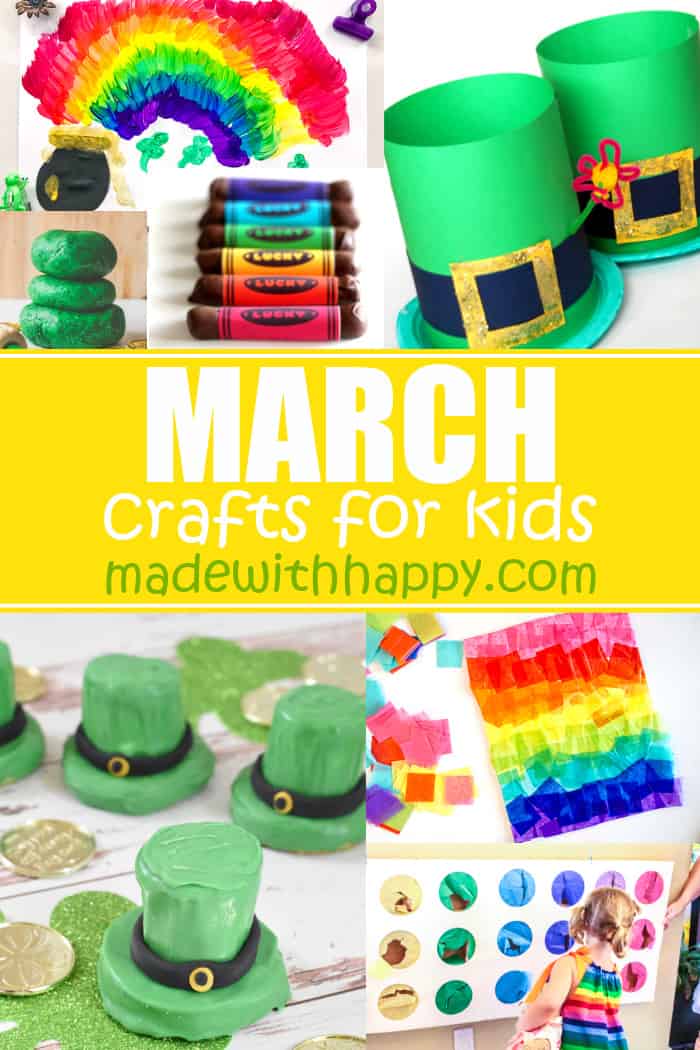 National Craft Month
March is National craft month. And with kids crafts being our favorite, we have created a fun series of Kids Crafts From Around the World.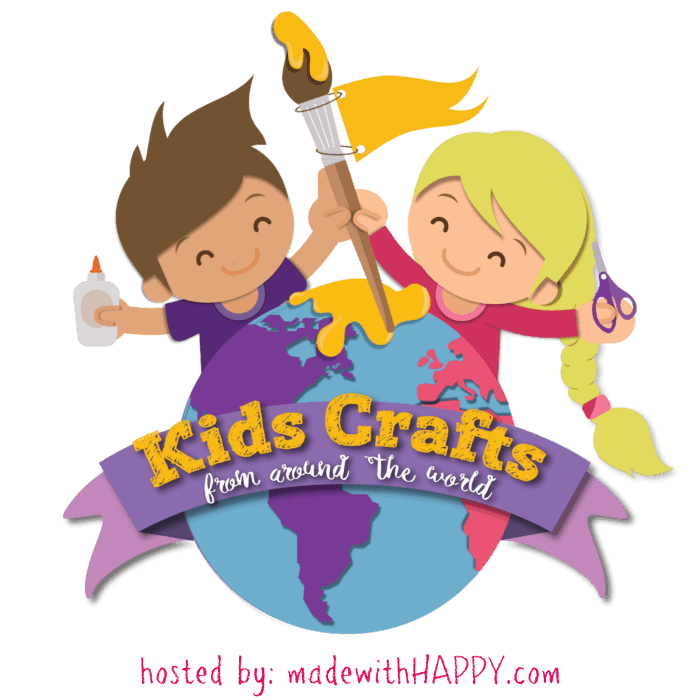 Other Crafts For March
Fun National Days Calendar - March
March 2nd – Dr. Seuss' Birthday
March 19 - National TMNT Day
March 31 - National Crayon Day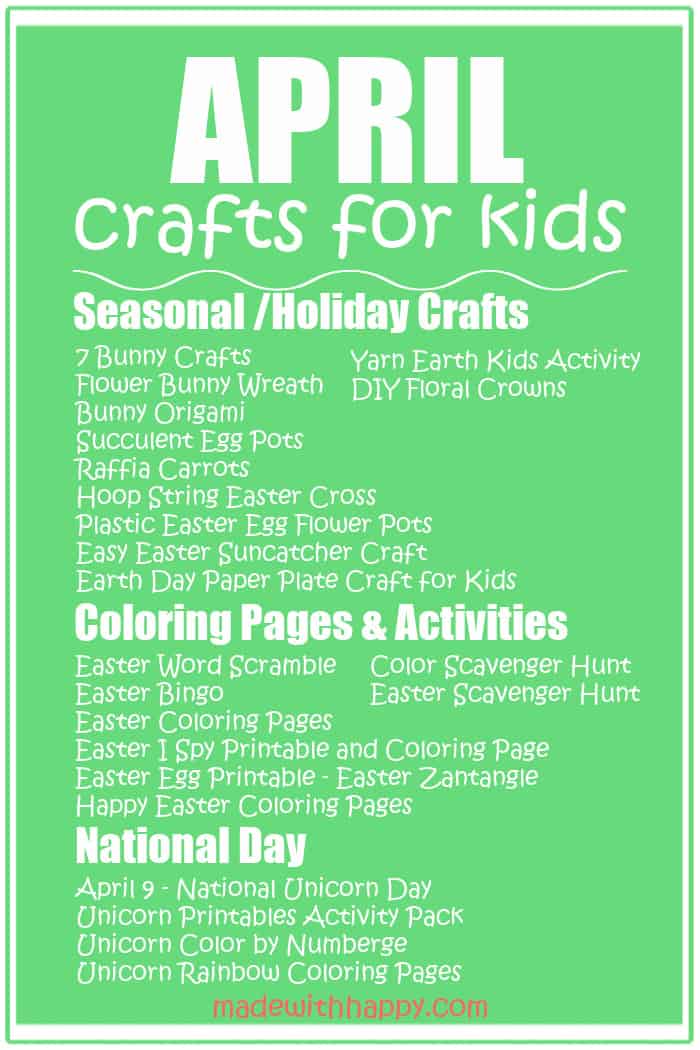 These April crafts for kids are jammed pack with quick and easy craft ideas for kids of all ages. This month is full of easy Spring crafts, fabulous Easter Crafts, and all kinds of Unicorn fun.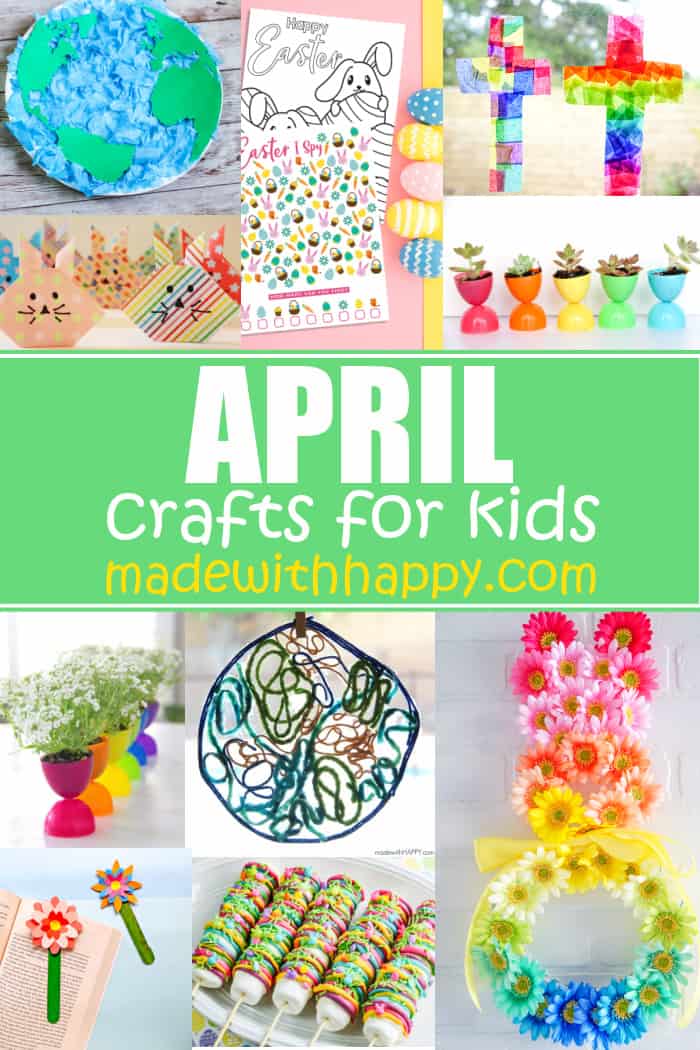 Earth Day Crafts
Fun National Days Calendar - April
April 9 - National Unicorn Day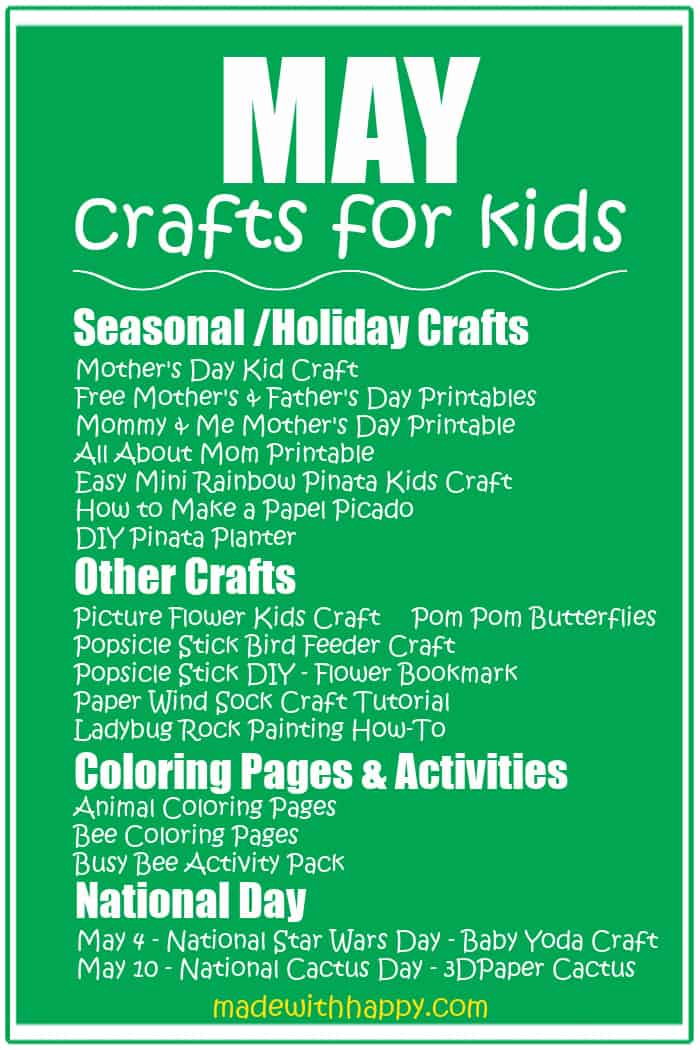 This month is full of fun. There are all kinds of festive May crafts for kids. This month's crafts include Mother's Day Crafts, Spring Crafts, Cinco De Mayo Crafts, Flower Crafts, and lots more.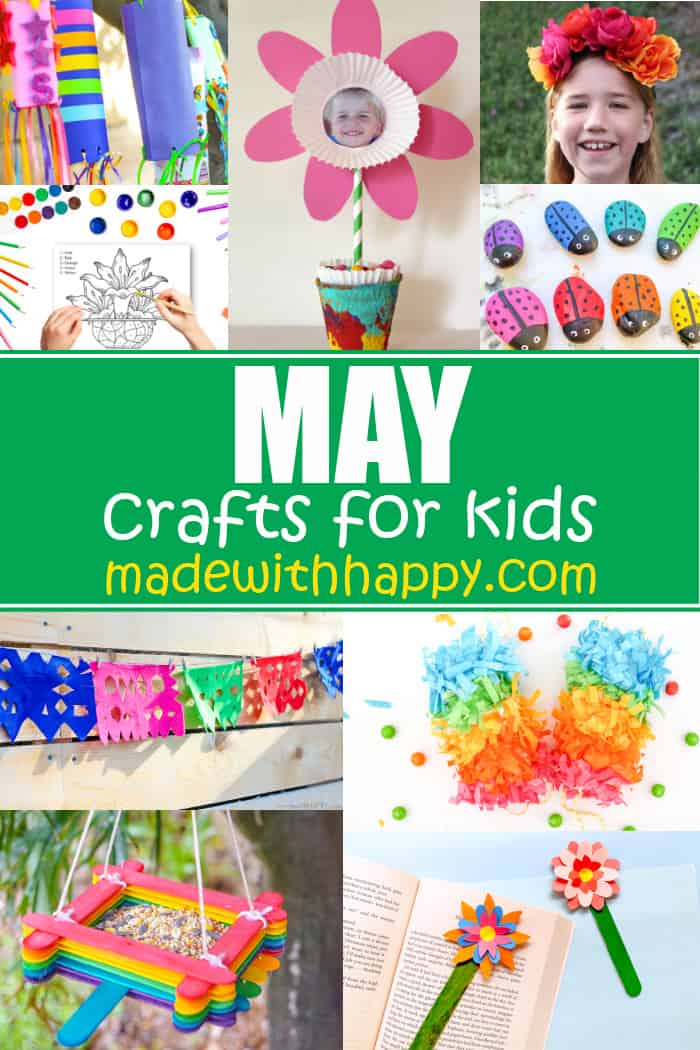 Mother's Day Craft Ideas For Kids
Flower Craft Ideas For Kids
Cinco De May Crafts For Kids
Other Crafts For May
Fun National Days Calendar - May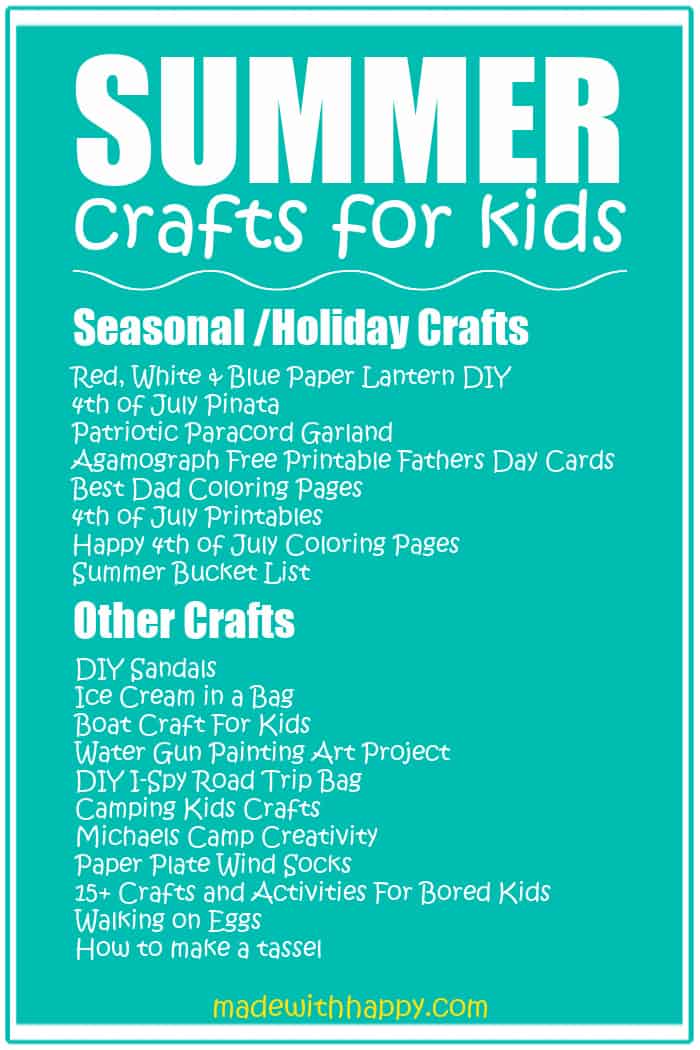 Celebrate the Summer months with these easy Summer crafts for kids. Lots of easy craft projects, summer activities, and Summer art for kids. We've also included Father's Day Crafts and simple crafts for the 4th of July.
Father's Day Crafts
4th of July Crafts For Kids
Other Crafts For Summer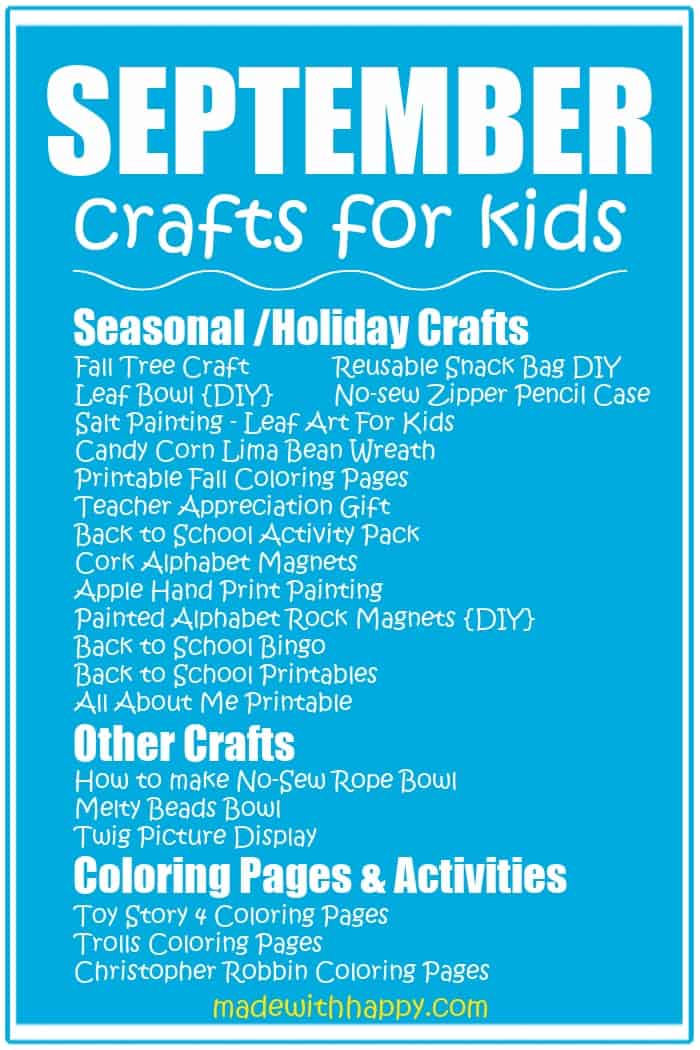 These September crafts for kids are full of quick and easy craft ideas for kids of all ages. Easy Fall crafts, Back to School Crafts and free printables, art projects for kids, and more.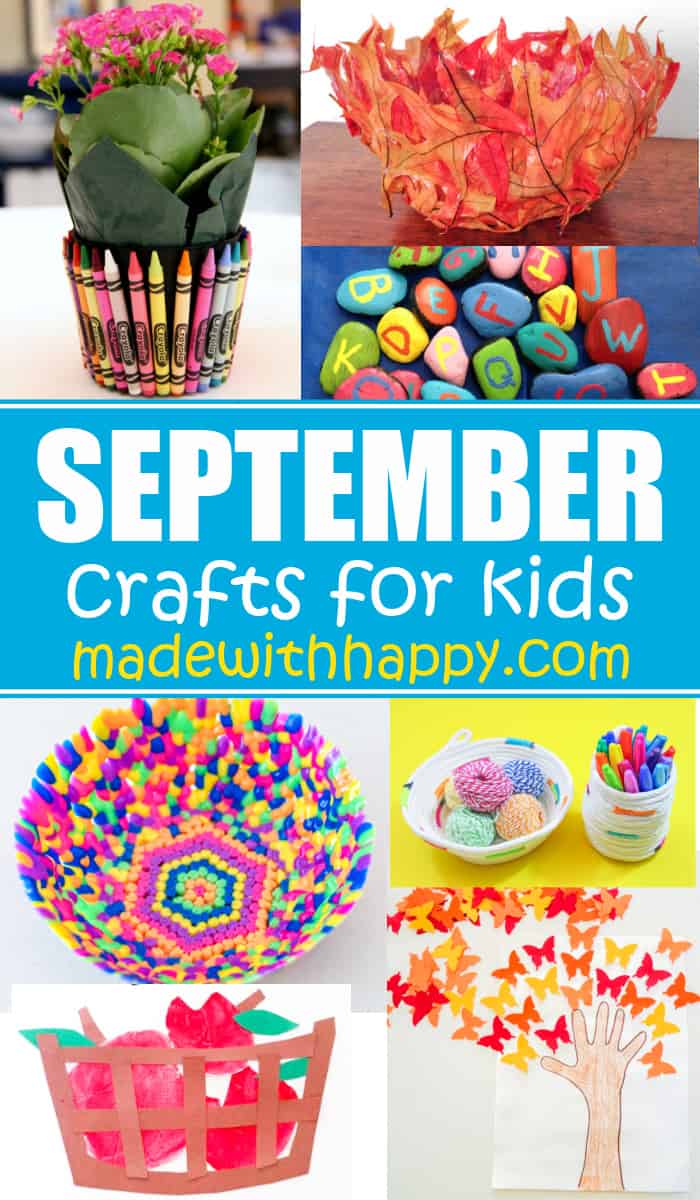 Other Crafts For September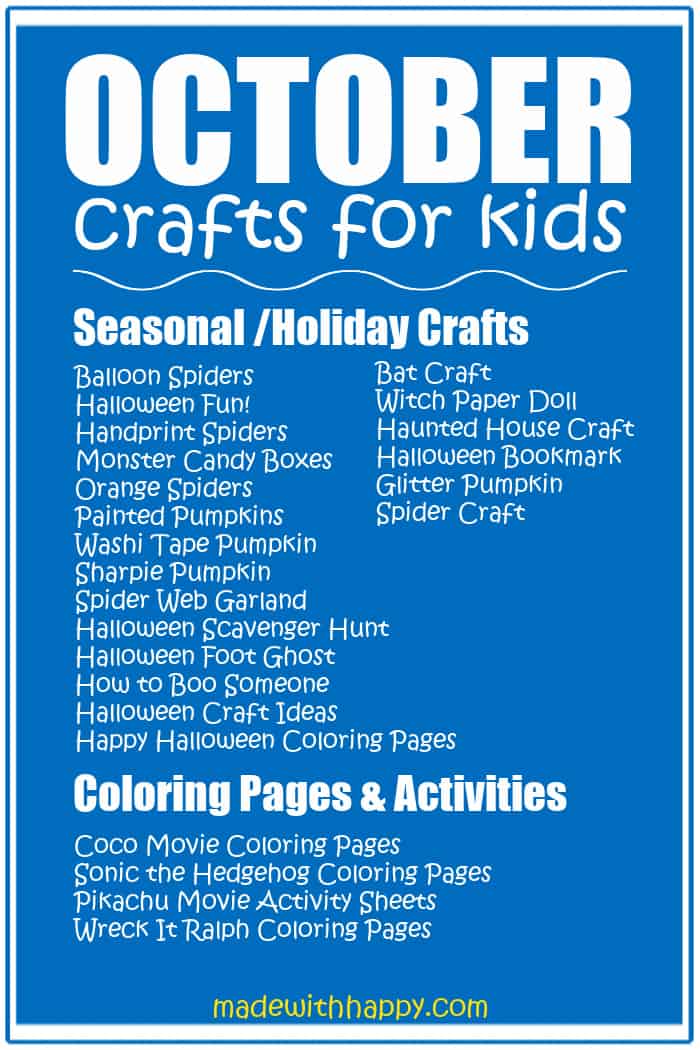 Celebrate all that October has to offer with these incredible Halloween Crafts for kids. Everything from Fall leaves to jack-o-lanterns and everything in between.
Pumpkin Crafts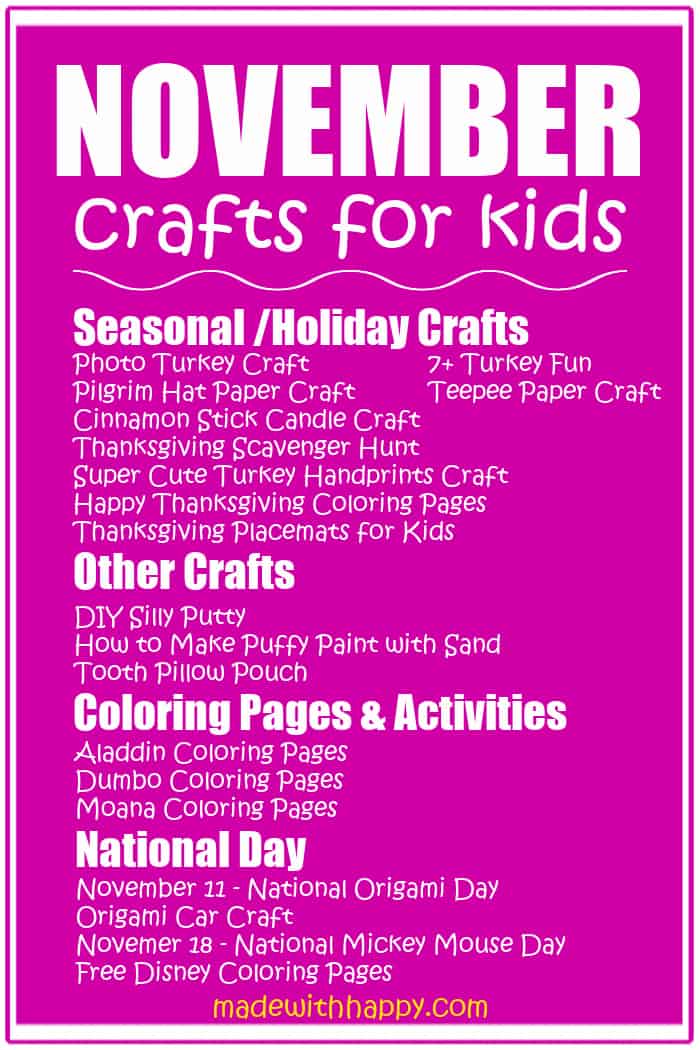 Lots of fun and easy crafts for Thanksgiving and Fall. We have a ton of quick and easy November crafts for kids that can be done in under 30 minutes. The crafts include turkey crafts, Thanksgiving crafts and printables, and lots of Disney fun.
Other Crafts For November
Fun National Days Calendar - November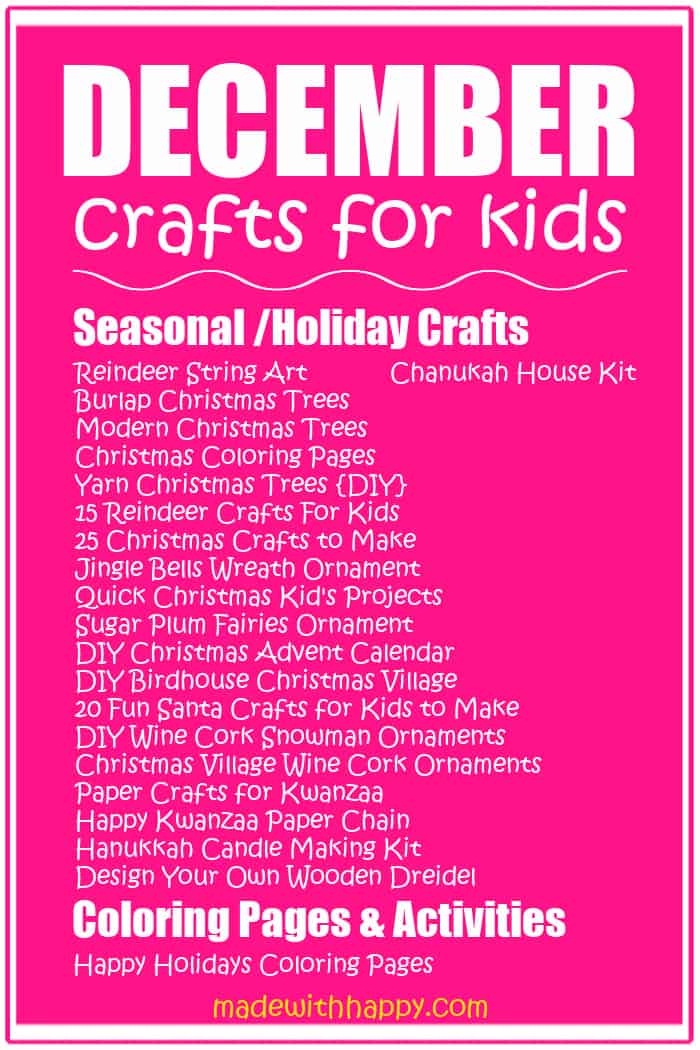 Celebrating the last month of the year with tons of quick and easy December crafts for kids. These kids' crafts include Christmas, Hannukah, Kwanza, New Year's Eve, and more!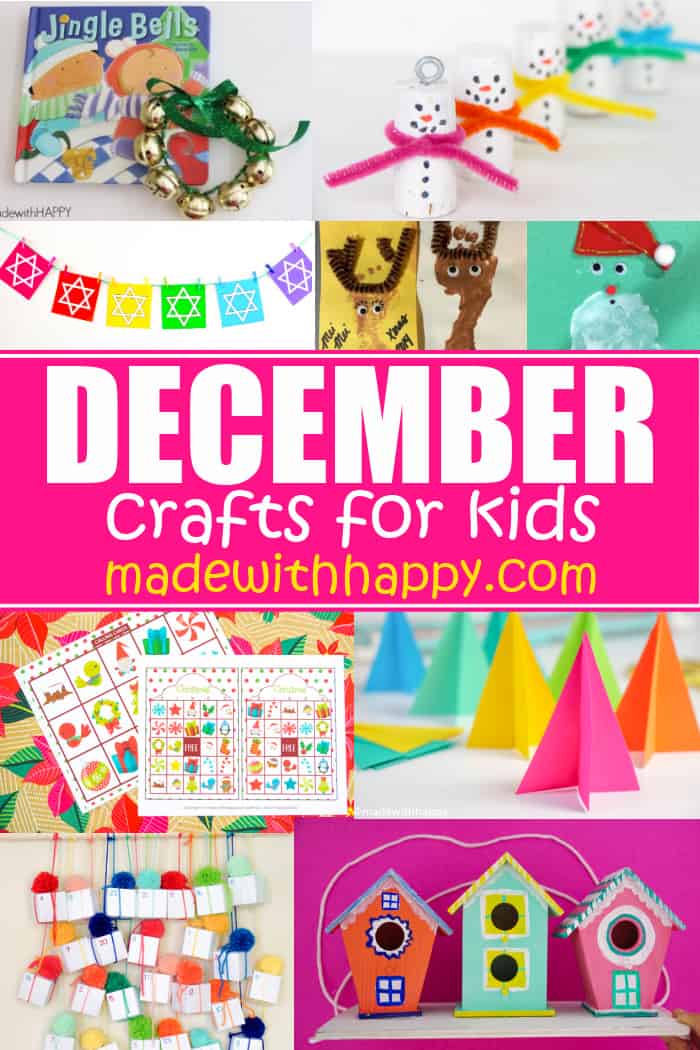 New Years Eve Crafts
Hannukah Crafts
Kwanzaa Crafts
Other Supply Based Crafts You'll Love
We hope you enjoy this year full of cool crafts for kids as much as we do.
HAPPY KIDS CRAFTING!
CONNECT WITH MADE WITH HAPPY!
Be sure to follow me on social media, so you never miss a post!
Facebook | Twitter | Youtube | Pinterest | Instagram
Looking for crafts to keep your child busy? Sign up for my 5 Ridiculous HAPPY Activities in under 30 minutes for your kids delivered directly to your inbox!
Find and shop my favorite products in my Amazon storefront here!
101+ EASY CRAFT IDEAS FOR KIDS
PIN IT TO YOUR FAVORITE BOARD ON PINTEREST!
FOLLOW MADE WITH HAPPY ON PINTEREST FOR ALL THINGS HAPPY!