Kids Valentines Ideas that are inexpensive and non-candy valentines. We're sharing 2 different free printable valentines for YoYos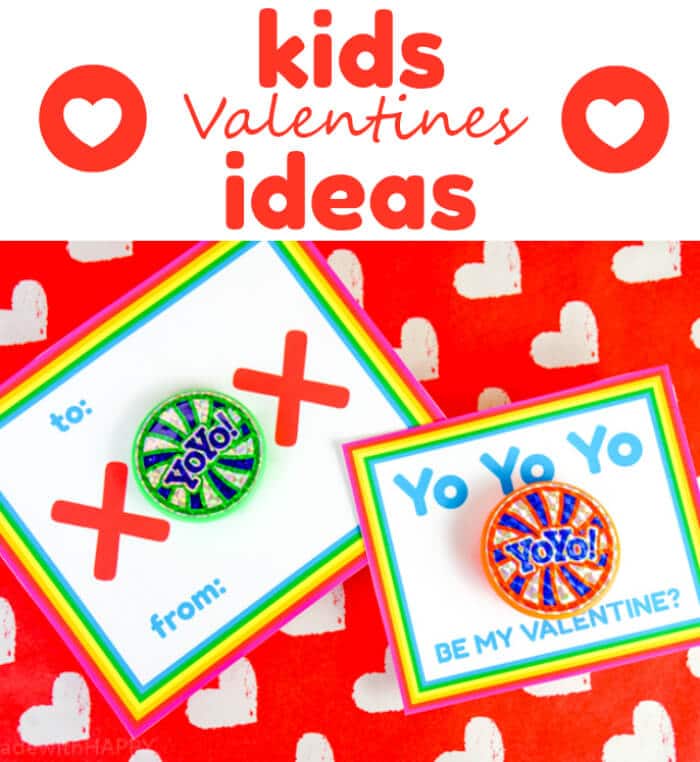 If you are anything like our family, every year we start the search for great kids valentines ideas, and then it isn't till the night before, that we have nothing. With a quick trip to the dollar store or even the party aisle at Walmart, we came up with two really cute Yo-Yo Valentine's Day Ideas.
We have so many cute kid's valentines ideas on Made with HAPPY including play doh valentines, birdseed heart valentines, or one of our favorite gumball machine valentines.
Do not miss our101+ Free Printables for Kids or our15+ Free Valentine's Day Printablesfor Kids
We thought this year would be so much fun to incorporate my son's favorite new (old) toy, the Yo-Yo.
Looking for some Valentines Day craft projects ideas for kids? Check out our 21 Easy Paper Crafts for Kids for Valentines Day and 21 Heart Crafts Projects For Kids.
The three things I look for and guide my children through when picking their kid valentine idea are as follows.
Its cost efficient? There are plenty of times my kids want to give each of their classmates fidget cubes. When each cube cost 5-10 dollars, I explain that multiplying that by 25 is just not realistic.
Is it something that will appeal to both girls and boys? While I love me a cute princess crown or army soldier toy, its good to remember that some kids may not love the same toys as you, so coming up with multiple options is nice.
That the size is realistic. My son asked me if he could hand out large stuffed animal snakes to each of his friends. While those are fun, they are large and probably not realistic bringing the whole class one each.
We found these fun Yo-Yos at our favorite the dollar store, and being oh so indecisive, I created two different printables for you. The first of the two is the XOX which is OH SO Cute because I LOVE hugs and kisses. You can get that printable below.
*For personal use only
Once you have printed your Valentines card, its time to cute a hole in the middle.


I used my 1 inch circle punch for the middle.Lightly fold your card in half long ways, making sure to not make a crease across the entire valentines. then slip your 1 inch circle punch in there and cut half the circle.It will provide you will a great hole to start. Then using your scissors, cut a slit around the circle moving out about a centimeter. I make the cuts like a pizza. One at the top and the bottom and the left and the right. Then between the top and right and top and left and then the same on the bottom. That will provide you enough room to slip the Yo-Yo in and then give it some paper to hold onto and not slip out.
The same method with the circle punch is used for the second Yo-Yo Valentines Printable, the Yo Yo Yo Be My Valentines? You can get to the printable by simply entering your email below and you'll be taken right to it.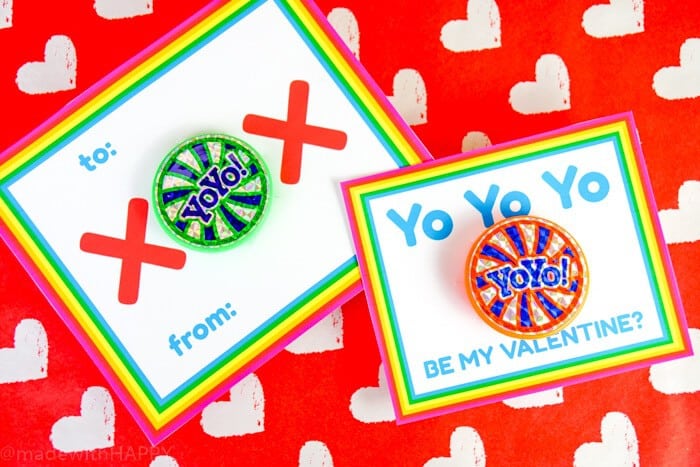 You simply
Cut out the Valentines
Punch the hole in the middle
Cut slits out of the hole like a spokes
Attach your Yo-Yo
Write your name and BOOM, you are done.



Don't miss our other Valentine's Cards For Kids that we know you'll love.
CONNECT WITH MADE WITH HAPPY!
Be sure to follow me on social media, so you never miss a post!
Facebook | Twitter | Youtube | Pinterest | Instagram
Looking for crafts to keep your child busy? Sign up for my 5 Ridiculous HAPPY Activities in under 30 minutes for your kids delivered directly to your inbox!
Find and shop my favorite products in my Amazon storefront here!
KID VALENTINE IDEA
PIN IT TO YOUR DIY BOARD ON PINTEREST!
FOLLOW MADE WITH HAPPY ON PINTEREST FOR ALL THINGS HAPPY!
Other free printable valentine cards
Some other Valentines Printable Favorites