Are you looking for some fun and HAPPY printables for kids? Then you are in the right place! These printable kids activities are full of fun crafts, printable games, coloring pages for kids, and more!
Made with HAPPY has all kinds of FREE printables for kids. We have fun printable activity sheets, printable games, and word search puzzles. Coloring pages, and all kinds of holiday printables, cards, and tags. We have a ton of fun Disney coloring pages and movie activity sheets.
If you like the idea of tons of FREE printables for kids, then you will not want to miss our 101+ Easy Crafts for Kids or 101+ Coloring Pages for Kids either!
There are even calendars and organization sheets that the whole family will enjoy. We have printables for younger children, older kids, and up. Something to make everyone HAPPY.
Free Printables For Kids
It is always a great idea to have a comprehensive list of printables for a rainy day. We realize everyone is here for something different. Whether you are a homeschooling parent looking for learning fun and increasing fine motor skills for your young learner or simply looking to keep little hands busy from being bored. We have pages of free worksheets that are here to help.
Our printables fit into a number of different areas based on seasons and specialties. To give you a better idea of where to find the different printables, we have set up a clickable table of contents below
Printables
We have found that there are many different types of printables for kids. In most cases, they are broken down into four different types: printable crafts, coloring pages, printable games and puzzles, and printable educational activities.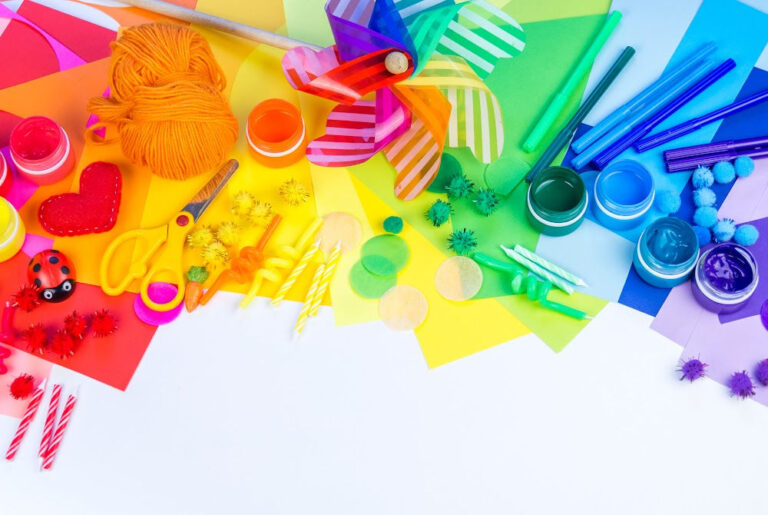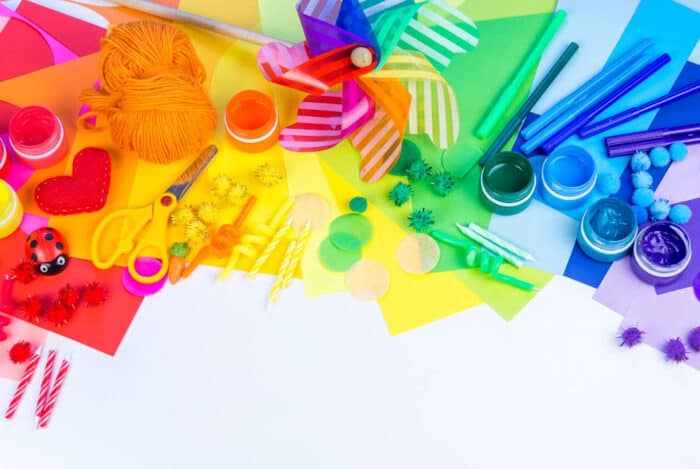 Resources for Free Kids Printables and Kids Craft
We get asked very often about my thoughts on many of the supplies and equipment we use for all my printables and kids' crafts in general. Here is a list of the most frequently looked-for resources and supplies and our thoughts on them.
Printables For Kids
Seasonal Printables
Many of our free printable activities for kids are centered around a holiday. We have broken our seasonal printables into each of the following holidays: Chinese New Year, Valentines, St. Patrick's Day, Easter, Mother's and Father's Day, Summer, Back to School, Halloween, Thanksgiving, and Christmas.
Check out all the fun below.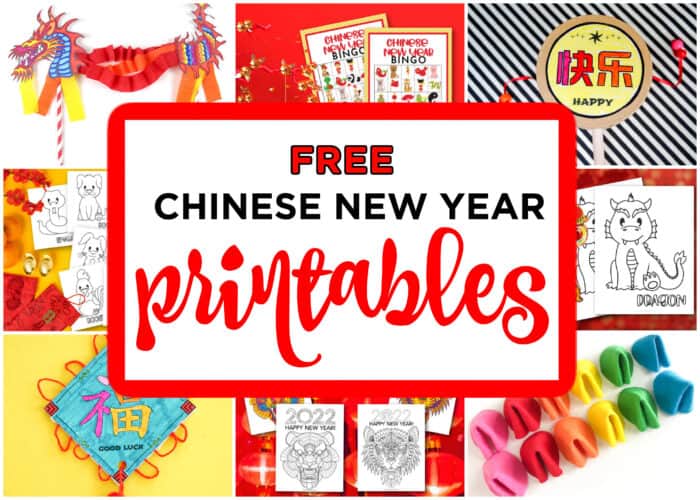 We love celebrating Chinese New Year with our children. Bringing Chinese New Years' crafts to the classroom to celebrate with their classmates or as simple as making some crafts at home for fun.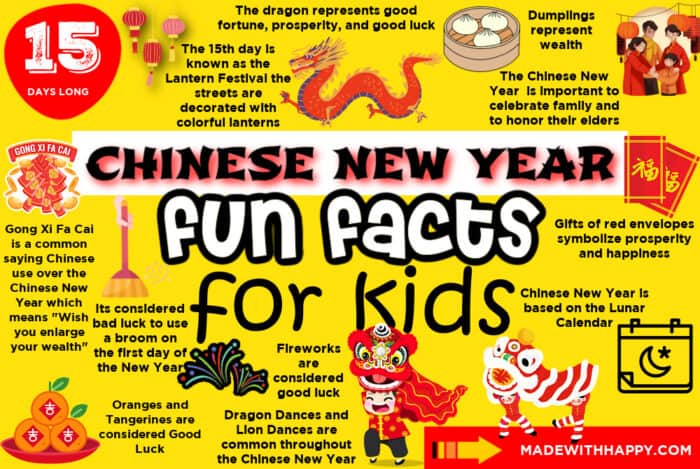 Learn all about Chinese New Year celebrations and traditions. Grab the free printable Chinese New Year Fun Facts infographic too.
Rainbow Felt Fortune Cookies Craft is great to celebrate Chinese New Year, but also really great for Valentine's Day.
Good Luck Ornaments are great for kids' classroom art projects or at home before your own Chinese New Years' celebration.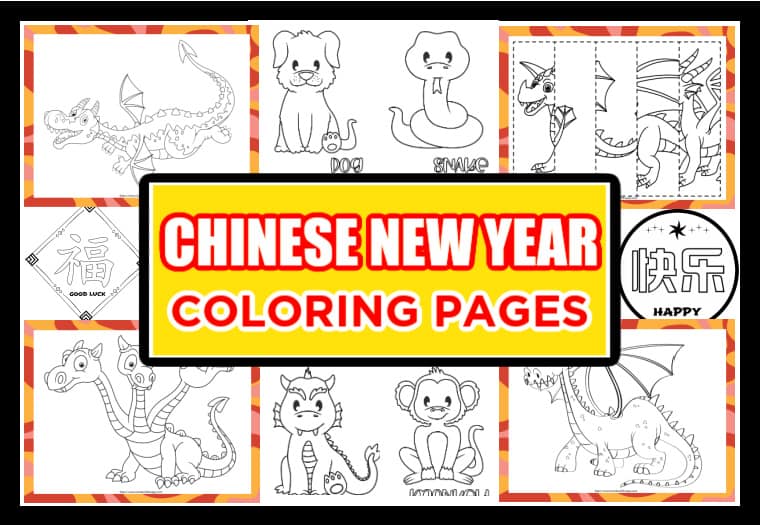 Chinese New Year Coloring Pages
If you are looking for free printable valentines for the kids to hand out to their classmates or teachers at Valentine, we have you covered.
Learn some sweet fun with these Valentine's Day facts. History of the holiday and fun trivia questions all about the love holiday.
Printable Valentine Crafts
Birdseed Heart Valentines + Free Printable is another non-candy Valentines option, and great for all ages.
One of our all-time favorite Valentines Kids Crafts - DIY Gumball Valentines + Free Printable
What I love about the Valentine's Day Puns Bookmarks is that they too are not only a great gift during Valentine's Day, but are a gift that can be given all year long. These are great teen Valentines.
These Homemade Marshmallow Valentines + Free Printable are so fun for the kids to make and hand out.
Valentines DIY Candy Bar Wrappers are a great way to tell your crush "You're Sweet"
I love these Valentine's Day Succulents not only for Valentine's Day but are great any time of year to tell your special someone that life would SUCC without them!
If you are searching for a Valentine for teachers, then this Sweetheart Flower DIY + Free Printable is the ticket.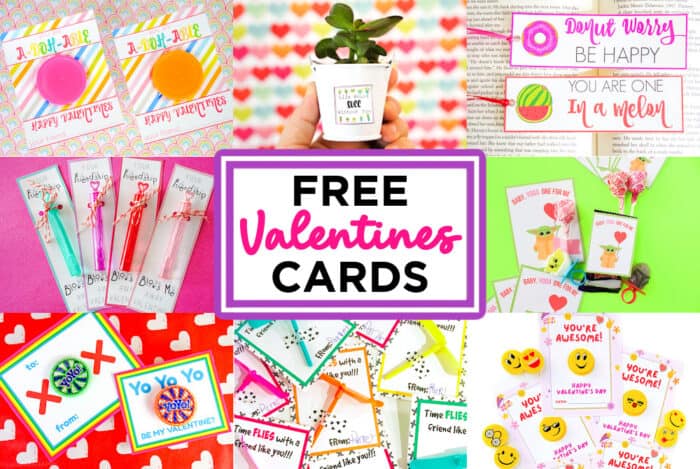 Printable Valentines Games and Puzzle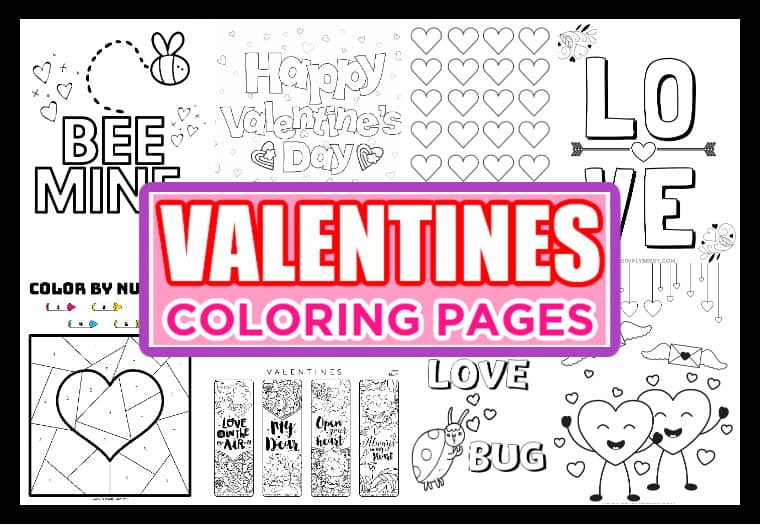 Printable Valentine Coloring Pages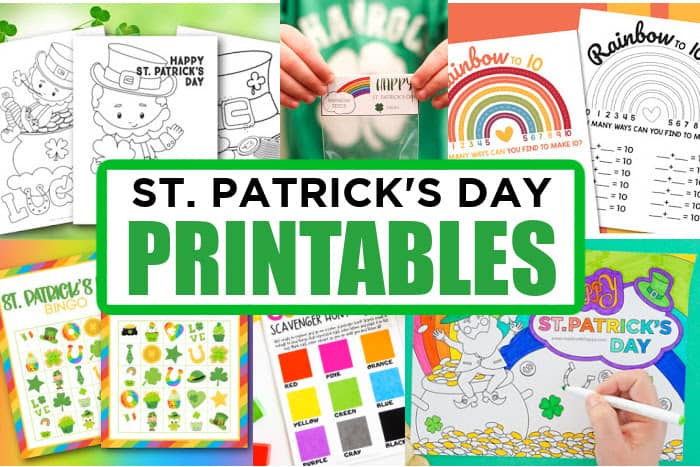 Celebrating St. Patrick's Day with the kids can be all kinds of fun. We have some St. Patrick's Day crafts that have some great kid printables.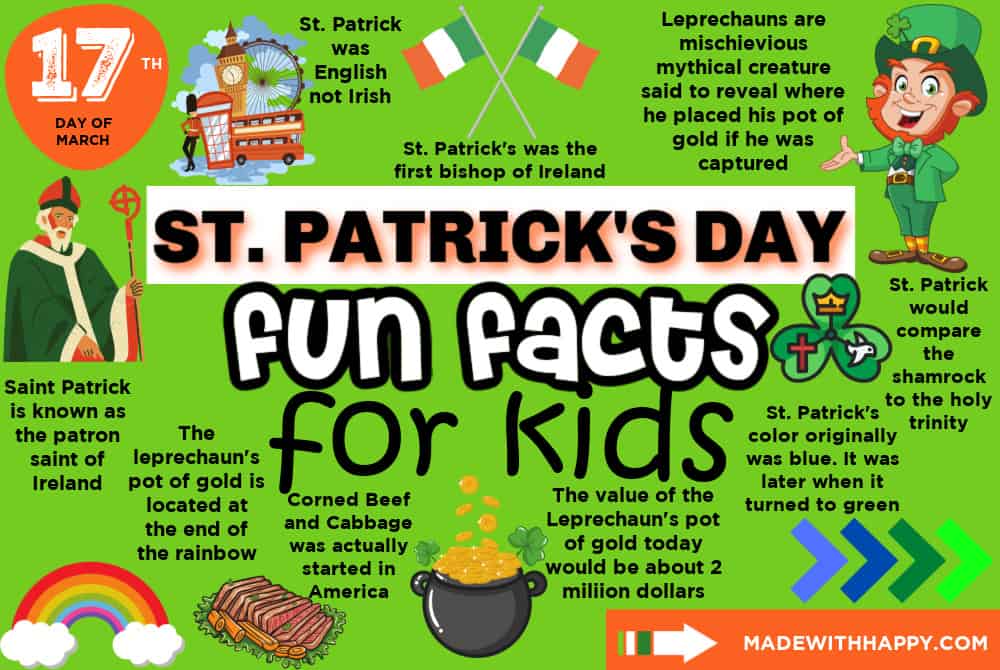 Learn all about St. Patrick's Day history, trivia, and all-around fun facts about the Irish holiday.
St. Patrick's Day Printable Activities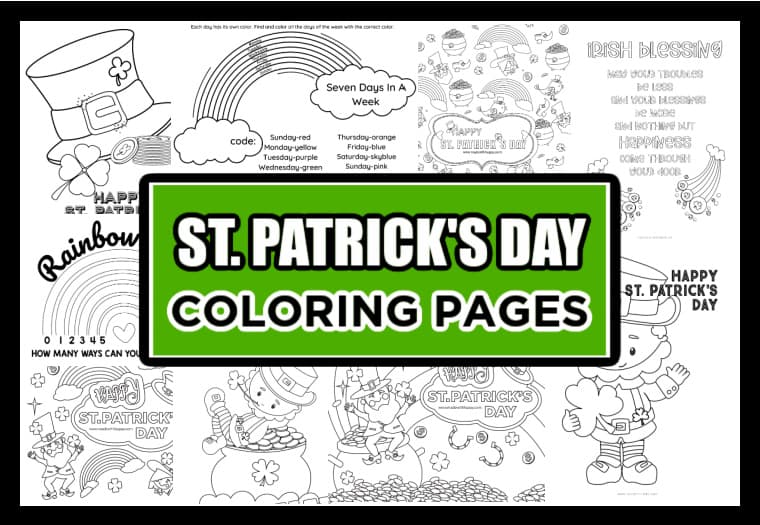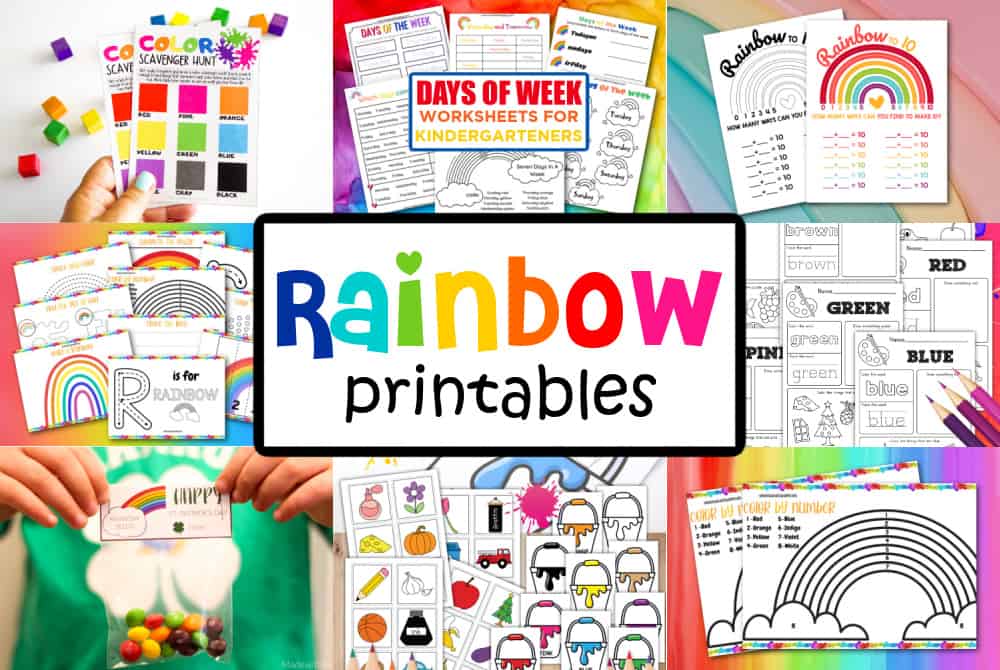 Rainbow Printables
You can't celebrate St. Patrick's Day without rainbows. We have lots of fun Rainbow printable crafts and coloring pages that you won't want to miss.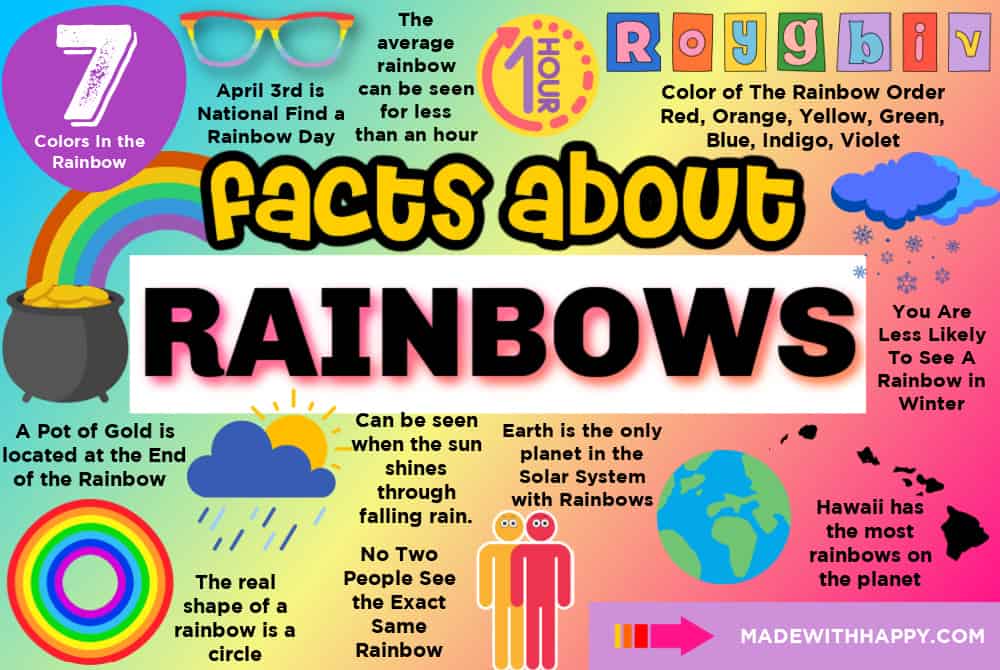 Learn all about rainbows and how they are formed, the different types of rainbows, the colors of the rainbow, and some fun trivia.
Rainbow Printable Crafts
Rainbow Printable Games and Puzzles
There is always fun with color with this Color Scavenger Hunt for Kids
There is something so fun in watching kids learn and the excitement as they run through the making 10 worksheet and the different number combinations. These math printables are great math worksheets working on math skills
Rainbow Coloring Pages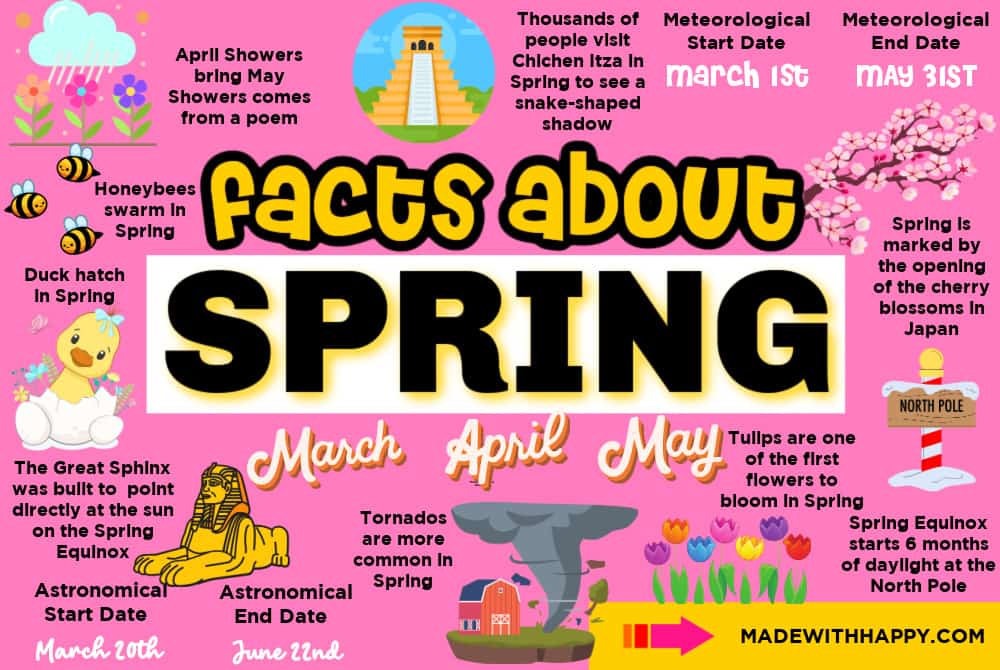 Learn all about the Spring Season and the fun with the new blooms
Printable Spring Crafts
Create an easy paper butterfly using only a few supplies and includes a free butterfly template. A fun craft for your kids all year long.
Celebrate the coming of Spring and all the Garden flowers with this sweet Butterfly Craft for Kids. This paper butterfly is sweet and simple.
Have some flower fun with these fun flower bookmarks.
These charming 3D paper cactus are perfect for the plant lover without the harm of pricks.
There is nothing more fun for Spring than a sweet butterfly. This 3D Paper Butterfly craft is all kinds of fun and makes our Spring Happy!
Create a fun spring craft with this Ladybug craft.
Spring Printable Activities
Printable Spring Coloring Pages
These Free Easter Printables coloring pages and activities for kids are all kinds of fun to celebrate at family gatherings, classroom parties, and more!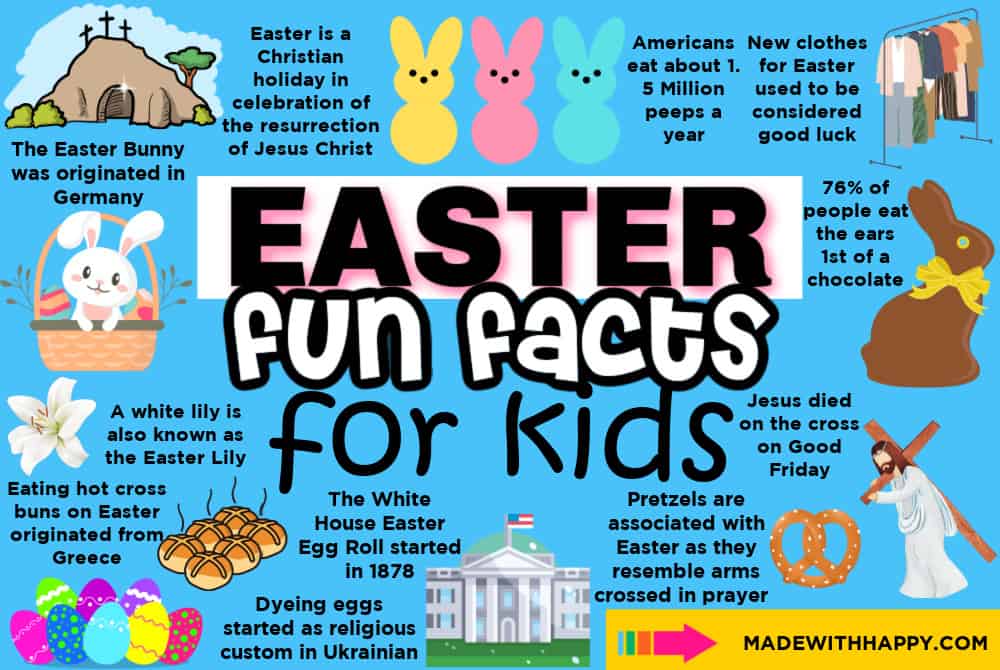 Learn all about Easter and the fun from the holiday with the printable graphic.
Printable Easter Activities
Celebrate the Easter holiday with your kids with these printable Easter activities. Loaded with games, puzzles, coloring sheets, and more!
We're sharing a fun educational packet showing the carrot life cycle. Everything from seeds to carrot growing. Fun Free Printable For Kids.
Looking for a fun Easter version of You've Been Booed, then look no further. We have a super fun and colorful You've Been Egged Printable.
Easter Printable Games
This fun and free printable Free Printable Easter Scavenger Hunt is great for the whole family. A fun spin on your Easter Egg hunt ideas. Turned into a treasure hunt.
This Easter Word Scramble printable is the perfect activity for family gatherings, class parties, Easter parties, or any Easter celebration!
The kids will love these free printable Easter Bingo games. Plenty of Easter bingo cards and calling cards to have an awesome Easter celebration.
Celebrate Easter with this fun Easter Word Search printable.
Printable Easter Coloring Pages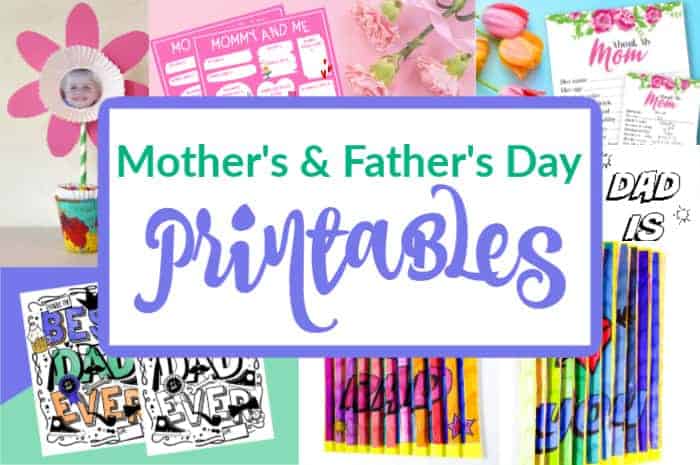 Summer is upon us and we have some Summer printables for kids that are all kinds of fun. Printable crafts, art printables, summer coloring pages, and more!
Summer Printable Activities
This free printable summer bucket list for kids of all ages is full of all kinds of fun summer activities. Kids will love checking off the fun as they go.
This boat craft for kids is a great Summer activity. Is there anything more fun than playing in the water? We have free printable sails too!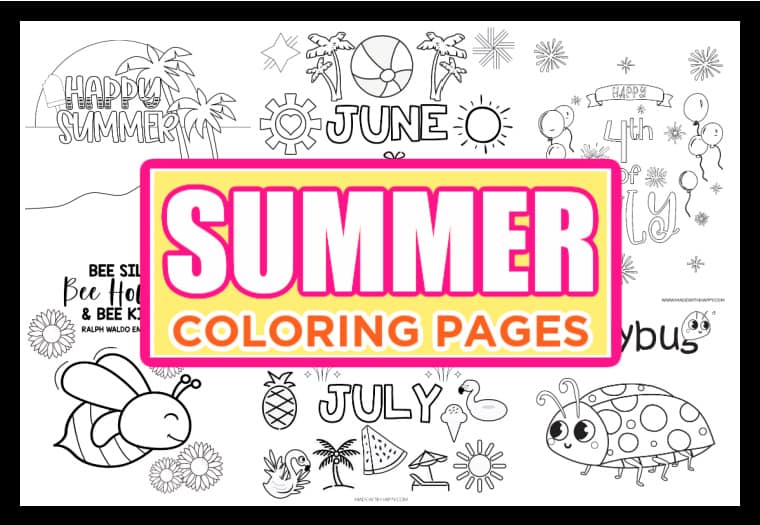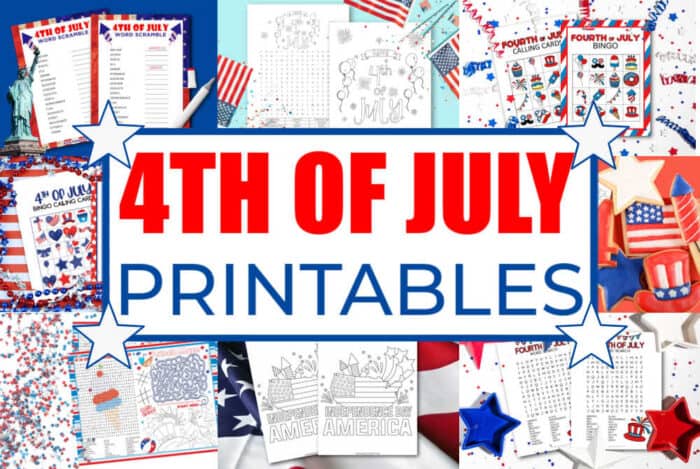 Printable 4th of July Activities
Back to School time is a great time to get back into schedules and homework and a great time to celebrate. We've got some fun back-to-school printables as well as some awesome Back to School Crafts.
Grab this free printable back-to-school bingo game to get everyone excited for the new school year. Play this back-to-school bingo with the whole family.
Students and teachers can come together this school season and have some fun with these printable back-to-school activities.
First Day of School Printables
Dr. Seuss Printables
School Worksheets
Back To School Coloring Pages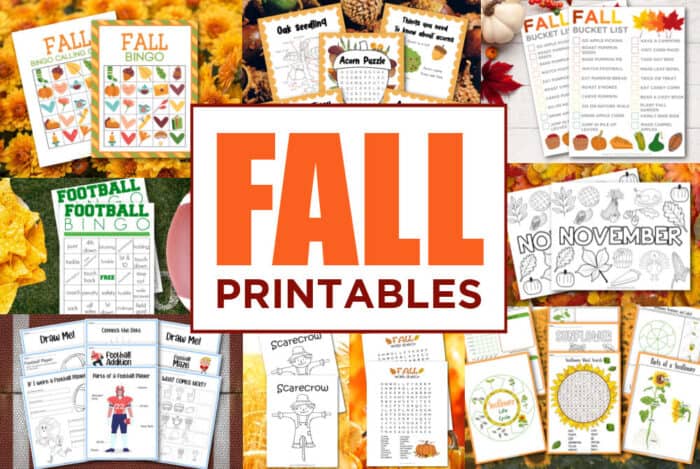 Turn all those Autumn feels into fun for kids through these Fall printables. There are printable games and puzzles like Fall bingo and Fall Word Searches. There are coloring pages and so much more.
Head out on an adventure with the family and check off some fun activities with this free printable Fall Bucket List.
If you're looking for a fun printable game to play with the whole family, then grab our free printable Fall Bingo.
Have some Fall Puzzle fun with our 9 different puzzles with 3 different versions (6 pieces, 9 pieces, and 12 pieces)
There is nothing sweeter than this decoration for FALL - Happy Fall Yall Sign
Late Summer and Early Fall provide the most incredible sunflowers. Teach your children all about the Sunflower Life Cycle with our free printable worksheets.
Turn your trip to the apple orchard into a fun learning experience with our free printable apple facts for kids' worksheets.
Celebrate the Autumn season with a fun printable Fall Word Search.
Learn about all the changing colors of the Fall leaves with these printable leaf activities.
Learning the life cycle of a pumpkin can be fun and insightful, especially during your Fall trip to the pumpkin patch.
Have some drawing fun with a Scarecrow Face Drawing Step-by-Step Guide
Fall Coloring Pages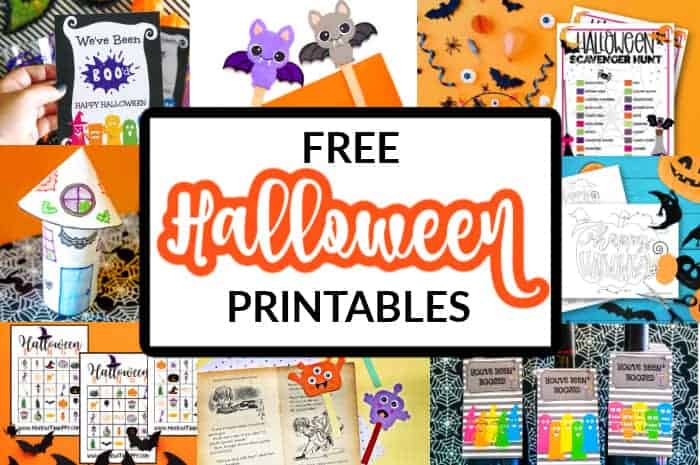 Halloween time is so much fun for the entire family. We have lots of fun Halloween ideas including kids' Halloween crafts, wine hangers, neighborhood gifts, and some spooky Halloween decorations.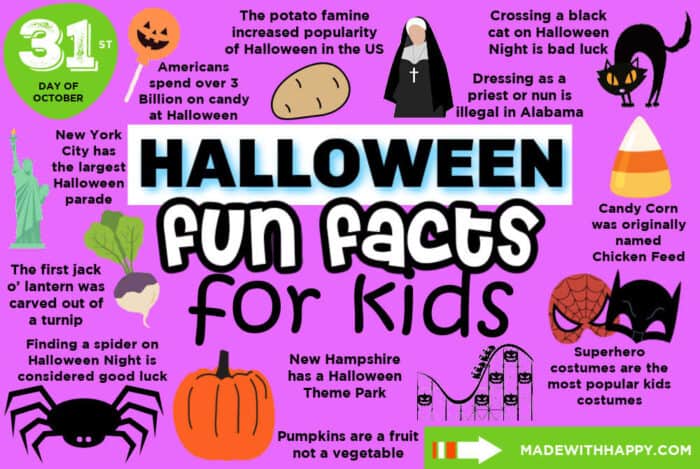 Learn all about Halloween and the fun history and trivia. Grab the free printable Halloween fun facts infographic.
This quick and easy spider craft is a perfect Halloween craft for kids. The kids will love creating this cute spider craft idea.
Creating some serious Halloween fun by making this witch craft for kids. Kids of all ages will love this Halloween witch's craft.
Celebrate Halloween with these super cute bat paper puppets. Fun FREE Halloween printable bat body where you can make them into the cutest popsicle stick bat puppet bookmarks.
Celebrating the spooky holiday with this super fun Halloween Haunted House Craft. With this free printable template and some imagination, this Halloween craft will make for a super HAPPY Halloween.
Have a book fan in your house? This easy Halloween Bookmark Alien craft is a great idea to have! It's a fun Halloween Alien craft that the kids will love.
Halloween Printable Games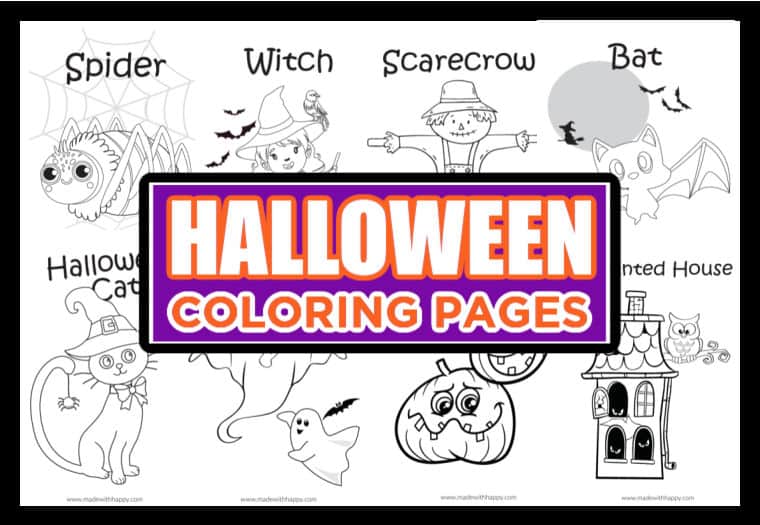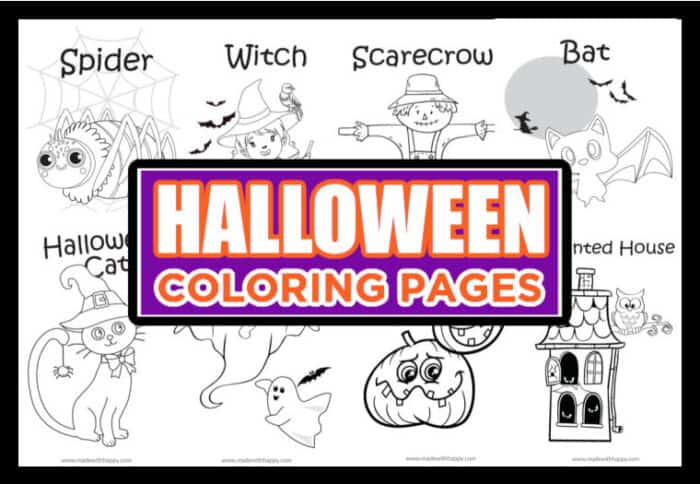 From printable Thanksgiving coloring pages to printable thanksgiving crafts, we have you covered with all things Free Thanksgiving printables.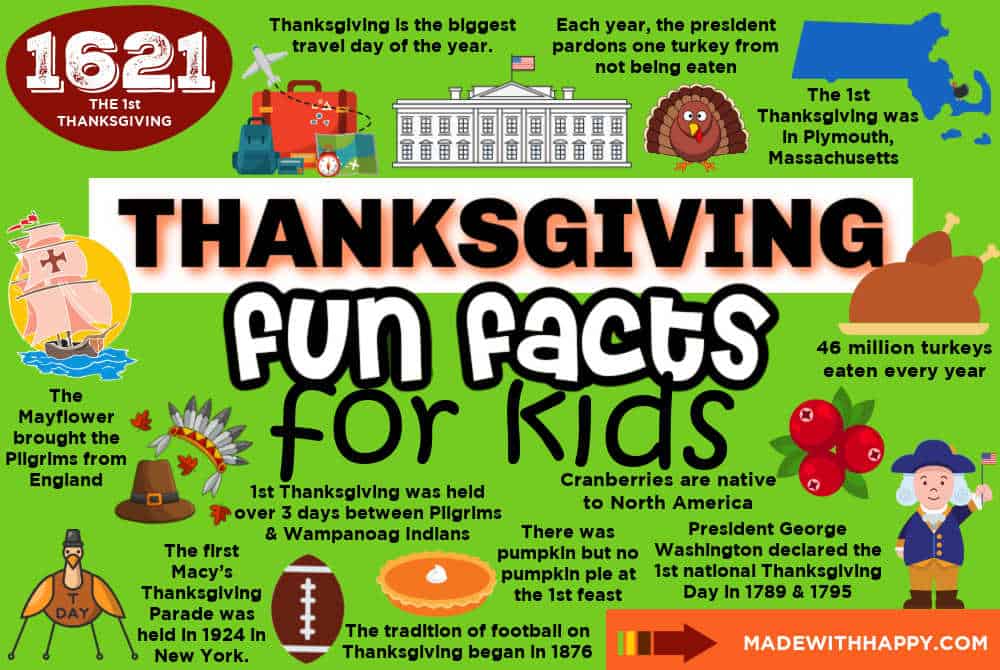 Learn all about Thanksgiving and the fun history and trivia. Grab the free printable Thanksgiving fun facts infographic.
We love ourselves a sweet Turkey during Thanksgiving. Grab our free Turkey Facts for Kids worksheet this Thanksgiving and get the learning on.
Printable Thanksgiving Crafts
This salt painting leaf art for kids is a great Fall craft that both parents and kids will love. Free printable fall leaf color pages are included for added fun.
If you're looking for a super fun felt sunflower craft, the kids are going to love this one! Free printable flower template with a how-to in felt.
Photo Turkey Craft is a great Thanksgiving craft for the classroom or for fun family gatherings.
Thanksgiving Printable Decorations
Teepee Name Place Cards are another awesome printable Thanksgiving crafts that will be a hit at any party. These allow the kids to turn our printable into a fun TeePee.
These simple and sweet Plaid Thankful Place Cards (Free Printable) are great for your silverware and can be personalized for both Thanksgiving and Friendsgiving.
We love any great printable thanksgiving crafts and this super fun Pilgrim Hat Name Place Cards are great crafts and double as a place card.
Looking for beautiful decorations for your home and Thanksgiving Table Setting + Free Printables? These grey linen "Give Thanks" banners and table settings are sophisticated and beautiful.
Grab this free set of six different art pieces with these Thanksgiving Prints.
Printable Thanksgiving Games
From printable Christmas coloring pages to printable Christmas games, we have all kinds of Free Christmas Printables.
Learn all about Christmas and the story of Jesus, history, and trivia. Grab the free printable Christmas fun facts infographic.
Printable Christmas Crafts
Create this fun and free printable toilet paper roll snowman with just a few supplies you have at home. Fun Winter Craft for Everyone!
Celebrate the holidays with a sweet printable Christmas ornament. They are great for tree decoration or as a gift.
These fun 3D paper Christmas tree crafts are fun for the whole family. We provide the free template and then let their creativity go wild.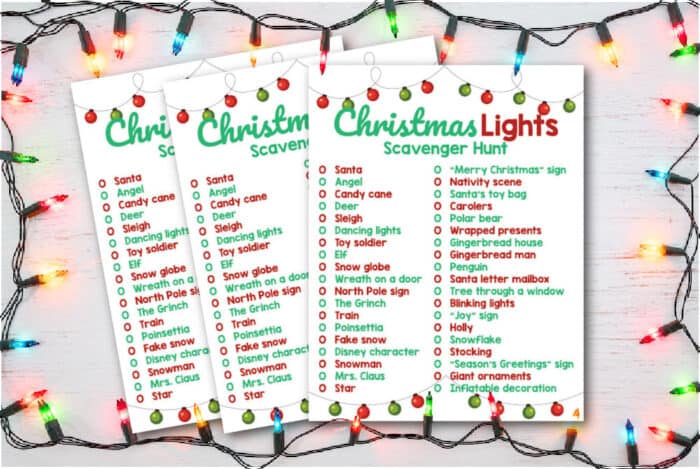 Christmas Printable Games
Grab your free printable Christmas Tic Tac Toe game. Enjoy the holidays with your family and some fun Christmas games.
An entertaining way to give a gift to your neighbors and to keep the holiday spirit alive - You've Been Elfed
Grab your free printable Christmas Scavenger Hunt Game, and prepare for loads of fun. This free scavenger hunt is full of Christmas fun!
Christmas Gift Tags Printable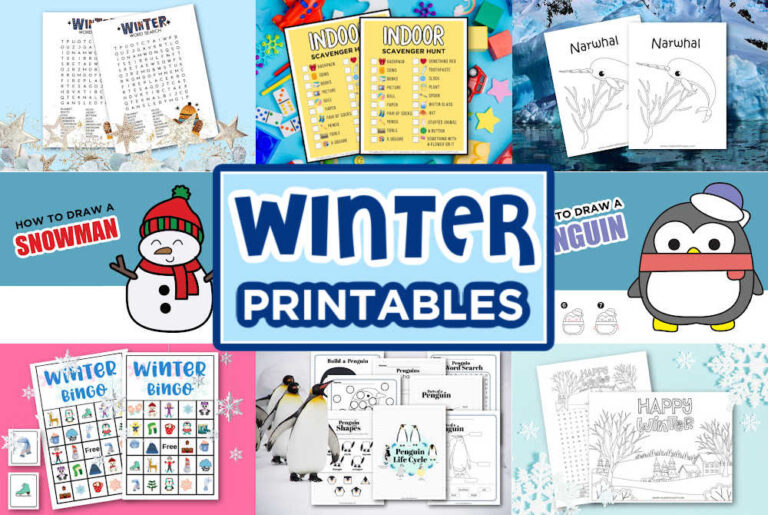 Celebrating all the fun from the entire winter season with these winter printables.
Learn all about Winter and all the fun about the winter season. Grab the free printable facts about Winter infographic.
Winter Printable Games and Puzzles
Winter Coloring Pages
All Other Holiday and Learning Printable Worksheets for Kids
We have so many other printables for other holidays throughout the year. We love the idea of giving kids the power to make and create. With these kids' printable crafts and activity worksheets, they can let their imaginations run wild.
Groundhog Day Printables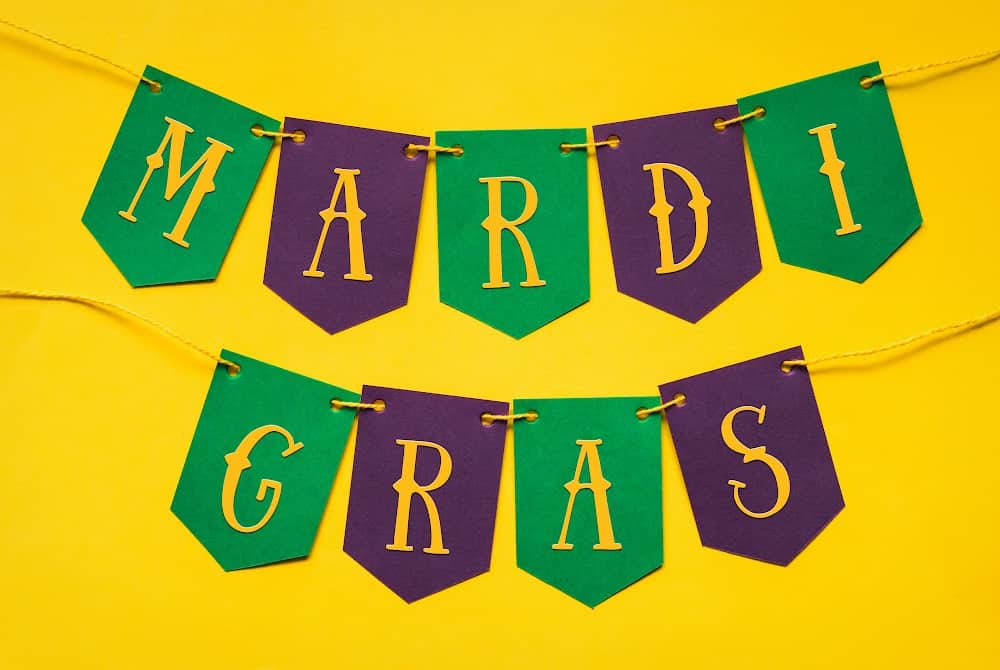 Mardi Gras Printables
Earth Day Printables
Hanukkah Printables
Kwanzaa Printables
New Years Printables
Other Seasonal Printables
Non-Seasonal Printables
We love the idea of printables we can enjoy all year long. These different types of printables include Disney coloring pages, Non-Disney movie printables, Unicorn Coloring Pages, and more.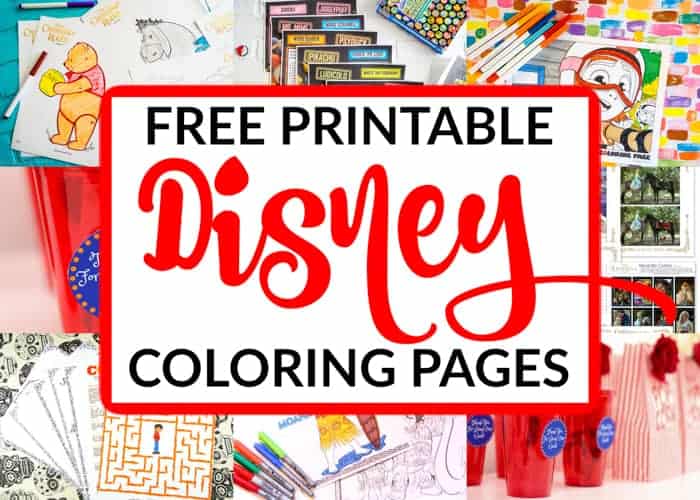 We love movies at our house. There is lots of excitement when the latest movies come to the theaters. Dates to the movies and family movie nights are a regular thing for our family.
Movie activity sheets and coloring pages are some of our favorites because it continues the excitement around the movies. We have a number of different movie activities including all kinds of free printable Disney coloring pages.
Have fun with the Disney Soul Movie with fun free printable activity worksheets. Fun activities for the kids while they are watching the movie!
Turn up the fun with these Star Wars Coloring Pages printables straight from Skywalker ranch.
Classic Disney Movies
Hit the open road with these printable road trip activities and keep the whole family busy without relying on electronics.
This Indoor Scavenger Hunt for Kids is not only super simple and fun, but it comes with a free printable full of awesome scavenger hunt ideas as well.
Does the thought of piling all the kids in the car and hitting the road start to make you feel anxious? Bring on Road Trip Bingo!
Explore the great outdoors with our printable Nature Scavenger Hunt for kids! Print this checklist and get outdoors. This is fun for all ages.
If you're ready to get out and enjoy the beauty of Mother Nature, you need to be certain that you have this fun Camping Scavenger Hunt as well.
This Family Charades game is all kinds of fun and is a great way to spend time together on family game night. Try this spin on classic charades instead.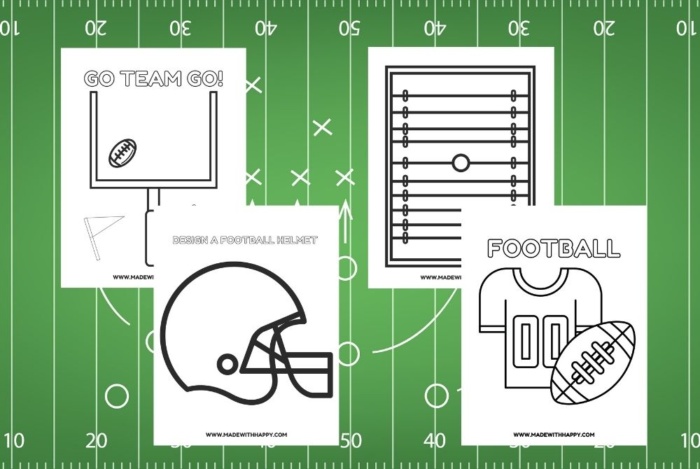 Free Football Printables
Free Unicorn Printables
This free unicorn printable activity pack is packed full of coloring pages and other fun unicorn-themed activities that all ages are going to love.
Looking for a fun Unicorn Color By Number for the unicorn lover in your family? We have you covered with these free printable unicorn coloring pages.
These fun and free Unicorn Rainbow Coloring Pages are great for kids of all ages. A printable unicorn coloring page is fantastic for creativity.
Animal Printables
Kid's favorite amphibian drawing. Learn to draw a frog.
Dinosaur Printables
Bee Printables
Ocean Animal Printables
Space Printables
Kick off the New Year with a cool winter January Coloring Page.
Celebrate all the love and a HAPPY-filled month with February Coloring Page.
The luck of the Irish has nothing on our March Coloring Page
This April coloring page is full of fun and perfect for those April shower Spring days. Fun and Free printable is fun for kids of all ages.
April showers bring on May flowers in this super cute and free printable May coloring page. Bring on Spring with this coloring page for kids.
Kick-off Summer with this super fun and free printable June coloring page. Free coloring pages for kids throughout the year.
With Summer in full swing, there is always something to celebrate with this free printable July Coloring Page.
Wrap up Summer with a fun free printable August Coloring Page.
Looking for a fun relaxing way to ease into Fall, then this free September Coloring Page is just what you need.
Celebrate all things pumpkins, Fall, and Halloween with our October coloring page.
Bring on all things thankful and blessed with our November Coloring Page.
Round out the end of the year with all things holiday and winter with our December Coloring Page.
Monthly Word Searches
Fun Facts per Month
Celebrate all the beauty and fun of April with our printable April Fun facts.
Have some May fun fact fun with all the Spring and Cinco De Mayo facts!
Turn that June gloom into pure sunshine with all the Fun Facts June.
Other Fun Free Kids Printables
Printable FAQs
What are free printables?
Free printables are digital files that are given to you for FREE.
How do you print Printables?
For those that have a home printer, simply download the printable and then print it out on the home printer.
Where to print if you don't have a printer?
If you do not have a printer at your house, then you can ask a friend or family member to use their printer. If you do not have that option, then you can print at your local office supply store or UPS store.
CONNECT WITH MADE WITH HAPPY!
Be sure to follow me on social media, so you never miss a post!
Facebook | Twitter | Youtube | Pinterest | Instagram
Looking for crafts to keep your child busy? Sign up for my 5 Ridiculous HAPPY Activities in under 30 minutes for your kids delivered directly to your inbox!
Find and shop my favorite products in my Amazon storefront here!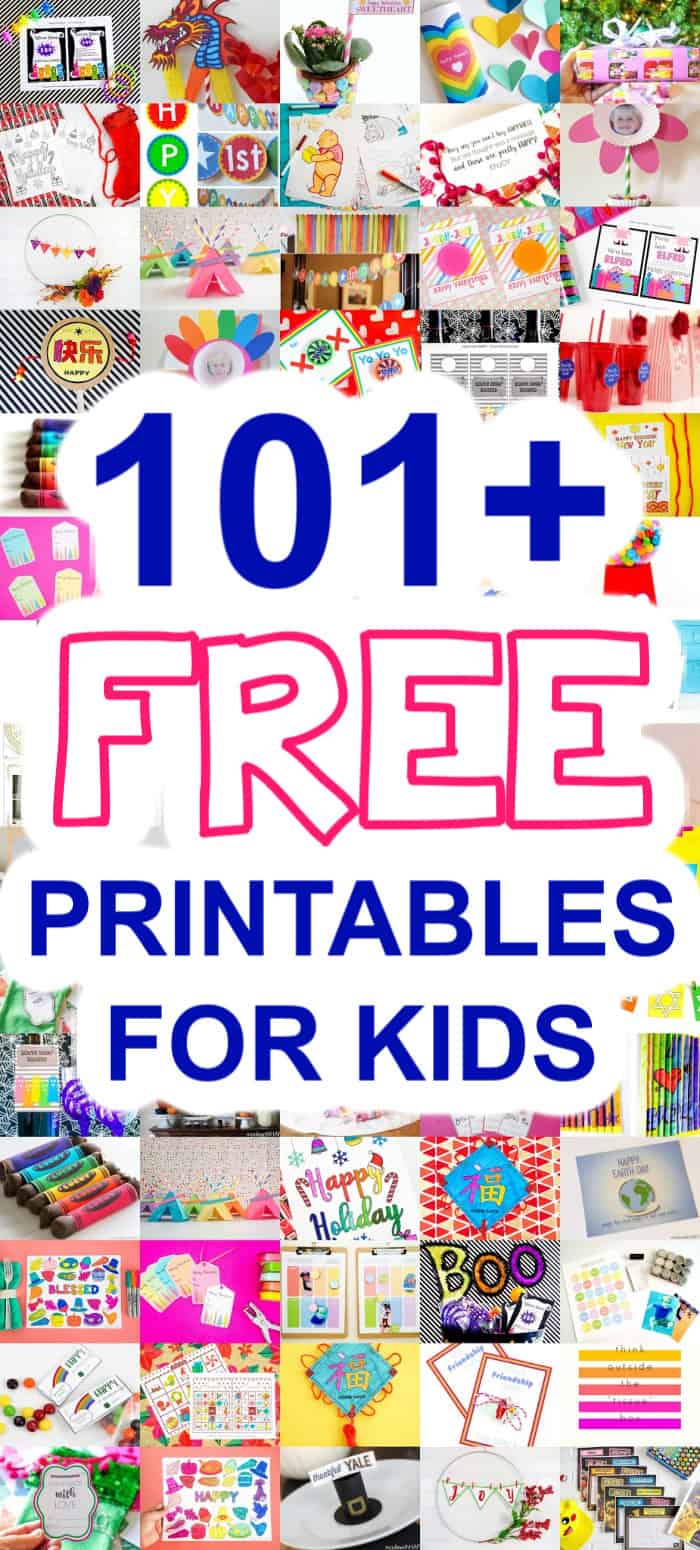 Related Post