Celebrate the Chinese New Year with this fun and free printable Chinese New Year Word Search as well as tons other fun Chinese New Year printables.
This Chinese New Year Word Search is full of fun for kids of all ages.
Chinese New Year is a fun celebration. We have so many other fun Chinese New Year printables including Chinese New Years' crafts including Chinese Dragon Puppet, Chinese New Year Good Luck Ornaments, and Chinese Drum.
We highlighted this Chinese New Year Printable along with some other fun kid's crafts in our January Crafts for Kids along with our 101+ Easy Craft Ideas for kids.
Chinese New Year Word Search
Along with coloring pages, word searches rank up there with some of our favorite activities for the kiddos. They are just challenging enough to be fun without being totally frustrating. They also require minimal prep, supervision, and clean-up. (Wait, maybe that's why they're a favorite?)
We've got some super fun word search puzzles just in time for the upcoming Chinese New Year holiday! These word searches are perfect for curious kids who want to learn about different cultures and world celebrations.
Unlike basic word searches, our Chinese New Year word searches will likely spark all kinds of questions. Mostly about why certain words are listed and what this holiday is all about.
Do not miss our 50+ Free Printable Word Searches For Kids!
You also do not want to miss our 101+ Fun Coloring Pages For Kids and 101+ Free Kids Printables full of Crafts & Coloring Pages.
Check out these other Chinese New Year Printables!
Chinese New Year is also known as Lunar New Year because it follows the lunar calendar. It is one of the biggest and most anticipated holidays in Asia. The celebration lasts for about two weeks. Much like our American Thanksgiving, is a time for families to gather, share traditional foods and make memories.
Much of the traditions and activities associated with this holiday center around bringing good luck and good fortune. Everything from the traditional colors of gold and red, to the types of food they eat.
Fireworks are lit to help scare off evil spirits and they help create a festive atmosphere. Instead of receiving presents, kids are given money in special red envelopes. Everything is done to help usher in a positive and productive new year!
For the littles, this educational activity is great for helping them to recognize letter patterns and consonant clusters. It also helps them to broaden their vocabulary. Word searches are a great way to reinforce good spelling, boost working memory and help teach the value of persistence.
Our Chinese New Year word searches will challenge kids to find familiar and unfamiliar words, horizontally, vertically, and diagonally.
Chines Zodiac Word Search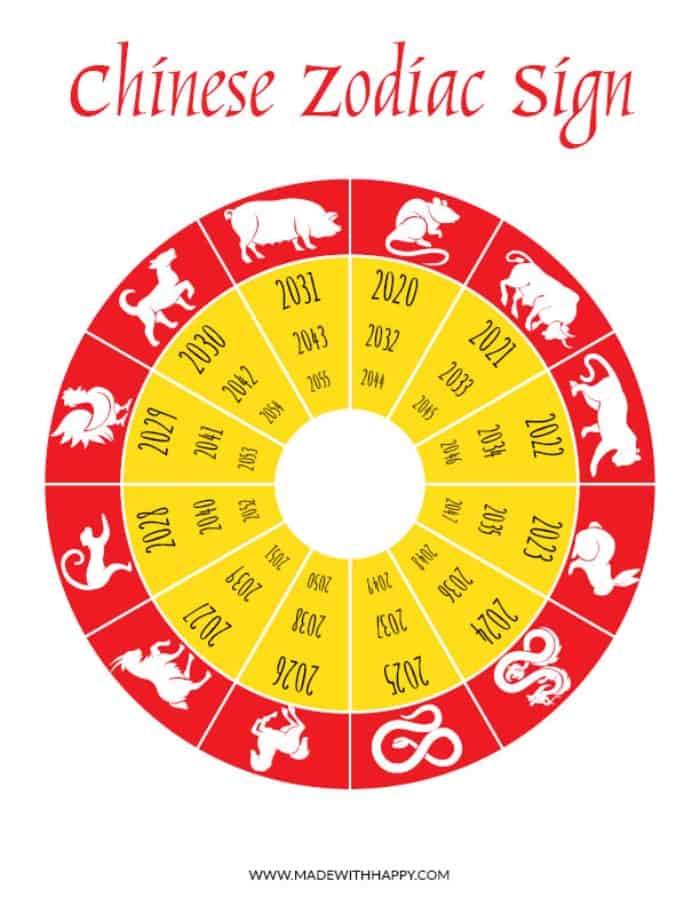 For older kids, our Chinese zodiac word searches will teach them about the symbols and meanings of the Chinese zodiac.
The Chinese zodiac has 12 signs and is based and time and date of birth. The 12 animal signs in the Chinese zodiac all have specific characteristics and traits. Kids love learning which animal sign they are and what that supposedly means about their own personalities.
Our Chinese New Year word searches are free and printable. You can file them away with other quiet activities or even put them together with coloring pages. We have lots and other printables for a fun and varied activity book (perfect for long winter afternoons).
Not only will our Chinese New Year word search make you HAPPY, but it give you the opportunity to explore this ancient holiday. The hope is that it inspires your children to learn more about other celebrations from around the world.
Additional Chinese New Year Activities Questions
Now that you have your Chinese New Year Word Search ready to print, here are a few questions you might have.
What are some activities for Chinese New Year?
There are so many fun activities to celebrate Chinese New Year. We have a ton of fun arts and crafts that can be made by people of all ages. It is always fun to have a celebration dinner too.
How long is the Chinese New Year?
Chinese New Year last for sixteen days. Each year starts on a different day, typically towards the end of January and the beginning of February.
What is my Chinese animal?
In looking at the Chinese Zodiac, there is an animal associated with each year. Check our Chinese Zodiac above to find out what your animal is.
Download Your Free Chinese New Year Word Search
Other Chinese New Year Coloring Pages
CONNECT WITH MADE WITH HAPPY!
Be sure to follow me on social media, so you never miss a post!
Facebook | Twitter | Youtube | Pinterest | Instagram
Looking for crafts to keep your child busy? Sign up for my 5 Ridiculous HAPPY Activities in under 30 minutes for your kids delivered directly to your inbox!
Find and shop my favorite products in my Amazon storefront here!
CHINESE NEW YEAR WORD SEARCH
PIN IT TO YOUR DIY BOARD ON PINTEREST!
FOLLOW MADE WITH HAPPY ON PINTEREST FOR ALL THINGS HAPPY!