Celebrate Chinese New Year all year long with these Dragon Coloring Pages for Kids of all ages. Free Printable Dragon Coloring By Number included.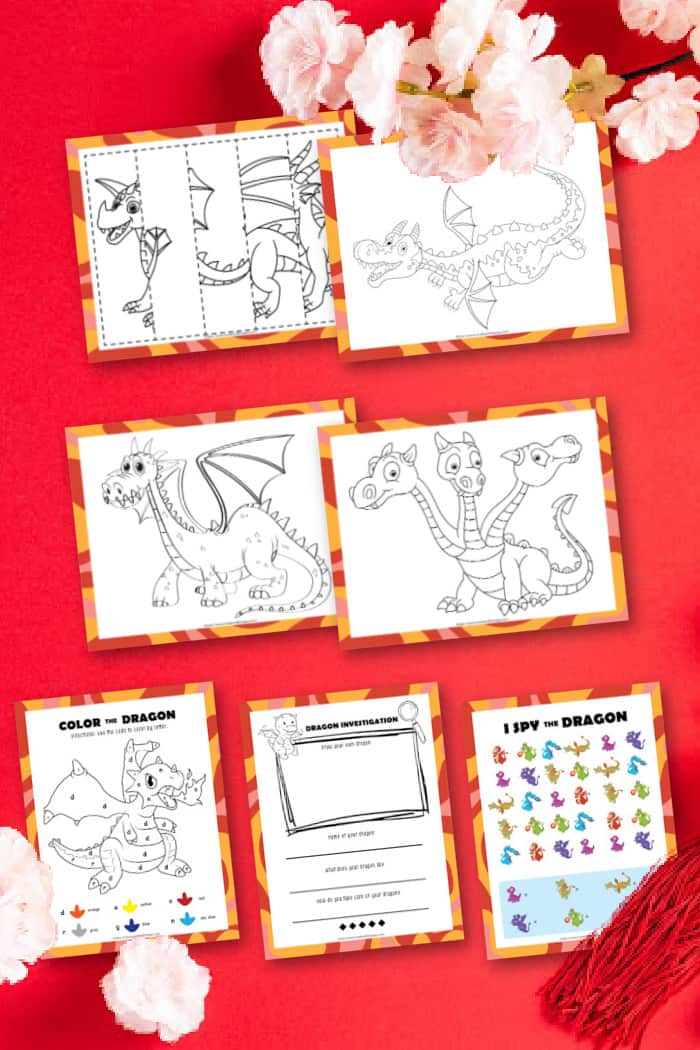 These dragon coloring pages for kids are perfect way to celebrate the Chinese New Year.
We love celebrating Chinese New Year and have lots of fun printables for the holiday including: Chinese New Year Dragon Puppet, Happy Chinese New Year Coloring Pages, Chinese Drum, and Chinese New Year Good Luck Ornament.
We highlighted this Chinese New Year Printable along with some other fun kids craft in our January Crafts for Kids along with our 101+ Easy Craft Ideas for kids.
You also do not want to miss our 101+ Coloring Pages For Kids and 101+ Free Kids Printables full of Crafts & Coloring Pages.
Dragon Coloring Pages
There are few animals that seem to capture kids' imaginations like dragons. Okay, maybe unicorns too…but dragons are special because they can take on such different looks from intimidating and ferocious to cute and cuddly. Best of all, dragons appeal to kids of all ages (even teens and tween *might* admit dragons are cool).
We're helping you stoke the dragon love with a huge variety of fun dragon coloring pages for kids! In addition to adorable dragon coloring sheets, we've got a fun "I spy" printable dragon game. We've also got color-by-number sheets for the littles to help with color recognition and fine motor skills. Our free printable dragon coloring pages may even inspire older kids to draw their own!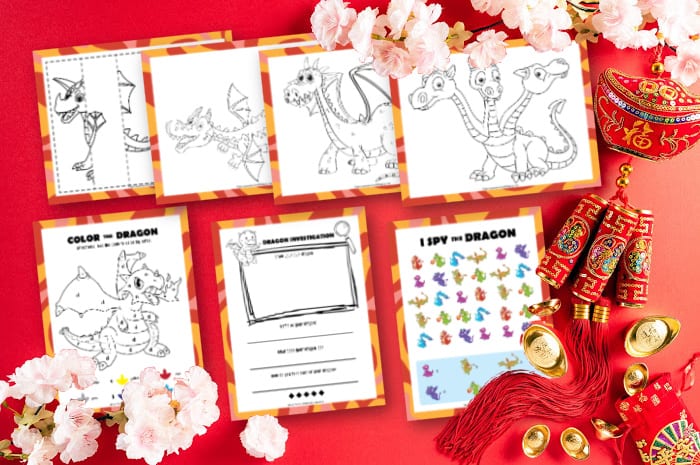 These legendary creatures appear in thousands of stories from China to Europe to the United States. While the myths and folklore of dragons can differ, in almost all cultures, they are four-legged, winged animals that can breathe fire. In some cultures, dragons are fierce villains while in others, they are friendly heroes. In some cultures, dragons represent strength and luck while in others, they represent greed. Challenge your kids to develop their own stories about dragons using these printable dragon coloring pages as illustrations!
So, if you're looking for dragon pictures to color, look no further! Actually, if you're looking for any kind of kid coloring pages, we've probably got some! Check out all our free printable coloring pages that are sure to make your kids HAPPY!
Download Your Free Color By Number Dragon
Dragon Coloring Pages Bundle
You can download the color by number dragon by simply entering your email above. If you would like all seven pages of our Dragon coloring pages, you can purchase them with just one click to our shop.
Additional Questions
Now that you are ready to get coloring on some dragons, here are some questions you might have.
How do I print coloring pages?
This is the number one question I get about printing off coloring pages. Simply download the pdf from above. Open the pdf and then hit print. Here is the printer I use, and the paper you should us.
Do coloring books relieve stress?
Yes! Coloring has been know to relieve stress and calm your nerves and increase your overall mood!
What can I do with completed coloring pages?
I tend to keep our coloring pages in a stack in my office and then I use them for all kinds of crafts including: Decoupage, wrapping paper or frame it and put it on my wall.
Other Chinese New Year Crafts
DRAGON COLORING PAGES FOR KIDS
PIN IT TO YOUR FAVORITE BOARD ON PINTEREST!
FOLLOW MADE WITH HAPPY ON PINTEREST FOR ALL THINGS HAPPY!