Looking for a fun way to celebrate a Happy Chinese New Year with your children, then look no further than these fun printable Chinese New Year Activities for kids.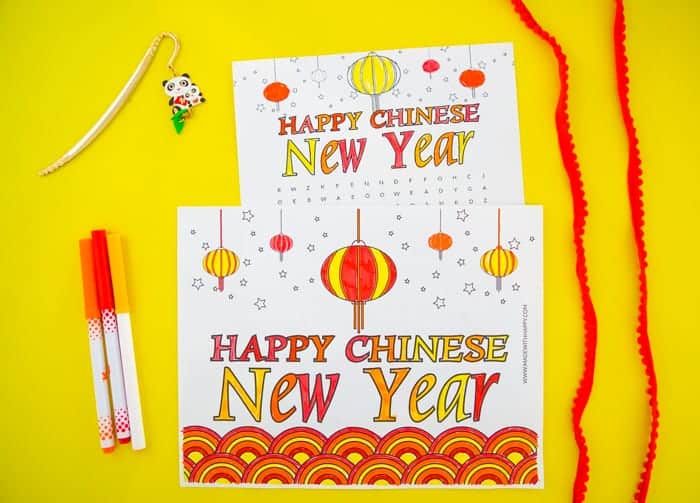 We love celebrating the Chinese New Year with our children.
It is important to us that our children are taught about different cultures and countries and a great way is through their different celebrations, like learning about Chinese celebrations like the Chinese New Year.
We highlighted this Chinese New Year Printable along with some other fun kid's crafts in our January Crafts for Kids along with our 101+ Easy Craft Ideas for kids.
You also do not want to miss our 101+ Printable Coloring Pages For Kids and 101+ Printables For Kids full of Crafts and Coloring Pages.
Do not miss our 50+ Free Printable Word Searches For Kids!
What is the Chinese New Year?
It's a Chinese festival celebrating the new year based on the Chinese calendar or lunar calendar. The festival is sometimes called the Spring Festival or Lunar New Year. The lunar year celebration starts with the first new moon of the lunar calendar.
Each new year is celebrated with lots of fun Chinese traditions and parades. There are lots of fun activities wishing your family and friends a Happy New Year and good fortune.
If you are looking for a fun Chinese New Year Craft along with this fun coloring page, then we have lots of great easy crafts for kids of all ages.
What You Need for This Printable
All you need is a printer, some paper, and something to color with.
How is Chinese Celebrate the Lunar New Year
There are so many great pieces to the public festivals. There are giant dragon and lion dances and are decorated with incredible red lanterns and beautiful art pieces. Some art pieces adorn the year's animal determined by the Chinese Zodiac Calendar.
Tiger - 2022 is the year of the tiger
Rabbit - 2023 is the year of the rabbit
Dragon - 2024 is the year of the dragon
Snake - 2025 is the year of the snake
Horse - 2026 is the year of the horse
Goat - 2027 is the year of the goat
Monkey - 2028 is the year of the monkey
Rooster - 2029 is the year of the rooster
Dog - 2030 is the year of the dog
Pig - 2031 is the year of the pig
Rat - 2032 is the year of the rat
Ox - 2033 is the year of the
Check out these other Chinese New Year Coloring Pages!
Lunar New Year Printables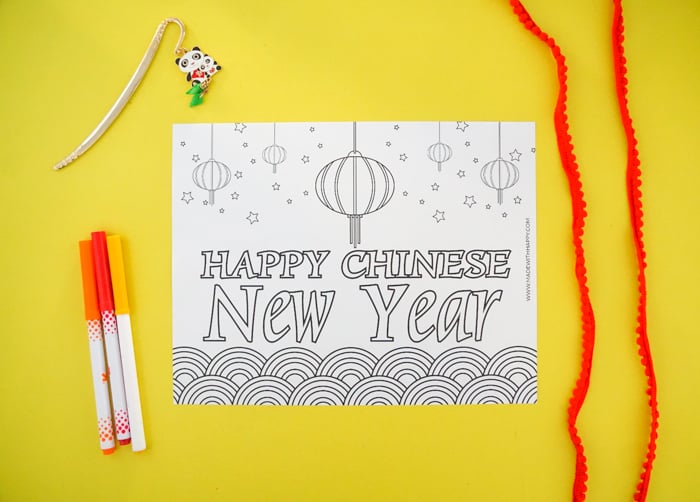 My creative daughter especially loves the HAPPY CHINESE NEW YEAR coloring page.
We love this sweet Happy Chinese New Year Coloring page!
You get electronic-free fun, downtime to color, and spend time together. My kids adore word searches and love any chance they get to solve one.
When I sit my kids down with these sheets, they sit for a good thirty minutes to an hour coloring and giggling and talking to each other (and me) about all kinds of things going on in their life.
Resources for Printables
I get asked a lot about resources for all our printable activities for kids. Here are some of our favorite resources from paper to printers and more.
Download Your Free Printables Chinese New Year Activities
Other Chinese New Year Crafts You Might Enjoy
Chinese New Year Crafts
Some fun Chinese New Year crafts to celebrate the lunar new year.
CONNECT WITH MADE WITH HAPPY!
Be sure to follow me on social media, so you never miss a post!
Facebook | Twitter | Youtube | Pinterest | Instagram
Looking for crafts to keep your child busy? Sign up for my 5 Ridiculous HAPPY Activities in under 30 minutes for your kids delivered directly to your inbox!
Find and shop my favorite products in my Amazon storefront here!
CHINESE NEW YEAR ACTIVITIES FOR KIDS
PIN IT TO YOUR KIDS CRAFTS PINTEREST BOARD
FOLLOW MADEWITHHAPPY ON PINTEREST FOR MORE GREAT CRAFT IDEAS!