Looking for the best markers for coloring, then look no further. We're sharing all the different types of markers, pens, and colored pencils.
Understanding the different types and quality markers can make or break your coloring experience. Making sure you have the right marker for the right coloring project will make your project that much HAPPIER.
If you have spent any amount of time on Made with HAPPY, then you would know that crafting, coloring, and all-around creativity are our jam.
We are asked all the time for our opinion on what we recommend using or what we use ourselves. There is inevitably a number of follow-up questions on projects, preferences, and so forth. That is what writing down all about markers makes us happy to help.
Making sure you are using the right tools is also one of our favorite things. After you read all about markers, you will also not want to miss our other resources for crafting tools.
You also won't want to miss where we utilize all these craft supplies in our 101+ Easy Crafts Ideas for Kids, 101+ Fun Coloring Pages For Kids, and 101+ Printables For Kids.
What is a Marker Pen?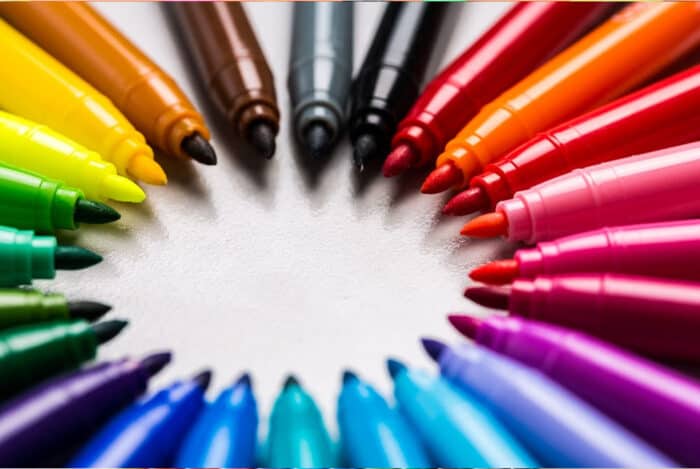 Looking back at the history of the pen thousands of years ago, they were started by the act of placing ink on paper or papyrus. It was in the last century when marker pens became a thing.
Marker Pens or markers are containers filled with different colored inks and tips or nibs made of a hard porous material, typically a hard felt. Otherwise known as felt tip pens. They also have lids in order to keep the ink from drying out.
Set of Markers
For many years markers were not used by professional artists because they can fade over time. But with the rise of internet artists, where they can live for a long time (forever), the rise in marker usage has increased. They are drawn to markers because have a wide range of vibrant colors and the versatility of marker sets.
Markers are affordable, dry quickly, and great for a broad range of kids to adults.
Marker sets come in a wide range of bold colors and brush tips. These differences also make for a wide range of price points for all ranges of artists.
Tips of a Pen
Before we get into the different types of markers, it should be noted there are different tips shapes that could impact the different projects. Here are the general marker tips. Of course, these vary per brand, so it's important to pay attention when purchasing a marker if you are looking for one tip in particular. One brand's fine tip may be more like a bullet tip.
Fine Tip
Fine line markers or fine tip markers can vary depending on the brand. They typically produce fine lines and are great for detailed work with areas with fine details and small areas. Fine point tip markers are great for small details and patterned areas.
Brush Tip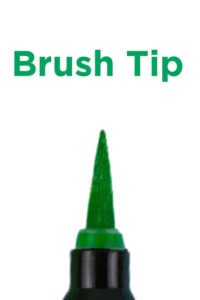 Brush pen or brush nib is the most versatile of the marker, in my opinion. This tip allows for different stroke widths from a fine tip to a wider flat stroke. Brush tip markers tend to be the more expensive of the markers.
Chisel Tip
The chisel tip is best for coloring with more edges. The flat edge allows to color in large areas and is pretty common with a number of different marker brands. These are the best choice for coloring in larger areas as the flat side can cover large spaces.
Bullet Tip
Bullet tip pens are the most common pen out there. They can be more of a general type pen and tend to be the cheaper of the pens. They are difficult to get into the finer details and not great when you have large areas to fill.
Dual Tips or Double Ended Marker Tips
Dual tip markers pens are great because you can get two ends for one price. They tend to be a bit pricier because you are getting double tips in one pen.
One of the most popular dual markers is Copic Markers which are quite a bit pricier than others. They are higher quality alcohol-based marker set with the biggest variety of different colors. The ink is refillable and the nibs are replaceable. They are most likely to be used by a professional artist because of their high quality.
Alcohol vs Water Based Markers
There are three different types of bases for markers. The two that are more common, are water and alcohol-based. There is a third, oil-based that is not as common as the other two, but we will break them down.
The markers with ink base are made up of water and ink.
Alcohol markers are made with alcohol as the base to its ink.
Lastly, oil markers are made with oil and ink or paint as its base.
Water Based Markers
Water-based ink markers are the markers that are the more common marker that is widely available. These are typically the markers you get for kids that are cheaper, limited colors, fade over time, warp the paper when loaded with too much marker. These are the Crayola markers that are easily washable off kids' hands. Once the ink is out of these markers or their tip is damaged, they are typically disposable.
What I love about water-based markers is that they are widely available, do not bleed through the paper, and are not expensive. Especially for kids and kid's crafts, these are great!
Alcohol Based Markers
Alcohol-based ink markers are typically your artist-grade markers. They tend to be more expensive, have a wide variety of vivid colors, are refillable, dry quicker, and do not fade as quickly. Alcoholic markers have replacement tips in case they are damaged.
If you are looking for unique colors of markers for thicker paper projects, alcohol-based is a great choice.
Oil Based Markers
Oil-based markers are a type of permanent marker used on hard surfaces like metal and stone. It is very difficult to remove. They are more like a paint pen and dry really fast. This makes them harder to use as they do not go on easily.
Size of Markers
Generally, the size of the marker is a preference thing. The larger markers are great for toddlers' hands and better grip. The thinner markers tend to have a finer tip making them better for those with better control and fine motor skills for the fine lines and finer details.
Markers and Highlighters
Not only do markers have different tip shapes, and a wide variety of brands, but they are different types of markers too. Each marker type is made for specific mediums or purposes. Here are some of the different types of markers.
Dry Erase Markers
Brands: Expo
Dry Erase Markers are pens that are to be used on a non-porous wipeable surface. These are the pens that you are most likely to see in a classroom setting. They are alcohol-based and come in a variety of colors.
Chalk Markers
Brand: Chalkola
Chalk markers are like paint pens in that they have vibrant colors and go on non-porous surfaces like chalkboards. They have the same look as chalk but aren't as powdery. Unlike chalk, you have to remove chalk pens with water rather than erase them.
Fabric Markers
Brand: Tulip
Fabric markers are made with permanent ink or paint designed to stay on fabric and not wash out. They come in a large variety of colors. There are many uses for fabric paints, but using them on clothing and cloth base mediums is the most popular.
Watercolor Markers
Brand: Arteza
Watercolor markers are exactly what they sound like. Water-based pigmented ink pens produce a look similar to water-color paint. They come in smaller sets of colors but are able to layer to create different colored variants.
Acrylic Paint Markers
Brand: Trandpter
Acrylic pens or otherwise known as paint pens. Used by artists of all ages. For those that enjoy the look of paint but in the convenience of a pen. Acrylic pens are water-based. They can be used on almost any surface. Acrylic markers are quick-drying and wash off of skin easily.
Highlight Markers
These markers are made up of bright vibrant florescent colors and use translucent ink. They're used on top of dark ink (black or blue) in order to bring contrast to the paper, or highlight. These are typically used in a classroom setting or office setting when trying to bring attention to specific lines.
A fun fact about highlighters is that the ink glows in the dark.
Washable Markers
Brand: Crayola
Washable markers do just that. They are washable from skin, clothing, walls, etc. These markers are ideal for young children that get markers on more items than just their art project. Washable markers are water-based pens.
Sharpie Markers
Sharpie Markers is a permanent markers brand that is used on many different surfaces. Sharpies have pens ranging from ultra-fine tip gel pens to large chisel tips. Alcohol-based and tend to bleed through paper.
Best Markers For Kids
Markers are one of the most fun-filled things to color with as a kid. They can be more precise on the edges than crayons and less messy than paints.
The thicker markers are great for younger children. They are easier to hold with little hands. Washable markers are great for younger children too as accidents happen.
There are many different brands of markers for kids with a range in price point. We tend to lean towards Crayola as they are inexpensive, have a variety of colors, and are washable.
Best Marker For Adults
In the past few years, the rise of adult coloring books has led to an explosion of pens for adult coloring. The number of coloring books is incredible and there are even adult coloring parties.
Finding the best marker for adults is very dependent on the project. The price points can vary significantly from an occasional coloring book hobbyist to an artist. Decide whether you want water-based, oil-based, or alcohol-based. Choose a budget and go from there.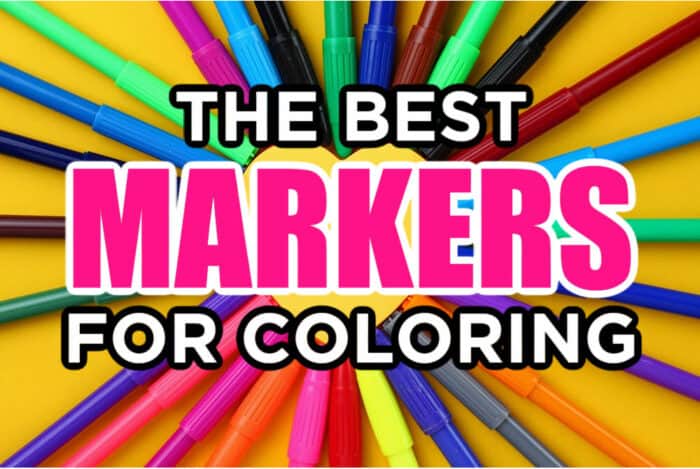 Other Questions You Might have about Markers:
What crafts can you do with markers?
There are so many different crafts with markers. Whether you are drawing on your craft, coloring, or adding flare. There are so many wonderful crafts from preschool to adults that you can create with markers.
What can I do with permanent markers?
Permanent markers work on almost every surface. Therefore, the possibilities are endless for crafts that use permanent markers. Permanent markers are great for decorating mugs, vases, and fabric crafts too.
How can I reuse old markers?
You absolutely can reuse dried-up water-based markers. Simply place the marker tip in a cup of water and let it soak it up. The color will not be as vibrant as it once was, but you certainly can get some more coloring out of those markers for a bit longer.
How do you paint with markers?
This is a really fun way to utilize those water-based markers. Simply color your water-based markers on a piece of paper, and using a paintbrush with some water, you can create a watercolor look from the marker out.
CONNECT WITH MADE WITH HAPPY!
Be sure to follow me on social media, so you never miss a post!
Facebook | Twitter | Youtube | Pinterest | Instagram
Looking for crafts to keep your child busy? Sign up for my 5 Ridiculous HAPPY Activities in under 30 minutes for your kids delivered directly to your inbox!
Find and shop my favorite products in my Amazon storefront here!
BEST MARKERS FOR COLORING
PIN IT TO YOUR DIY BOARD ON PINTEREST!
FOLLOW MADE WITH HAPPY ON PINTEREST FOR ALL THINGS HAPPY!