Looking for the best craft glue for your project? Look no further. We have all the info you need to make your craft incredible.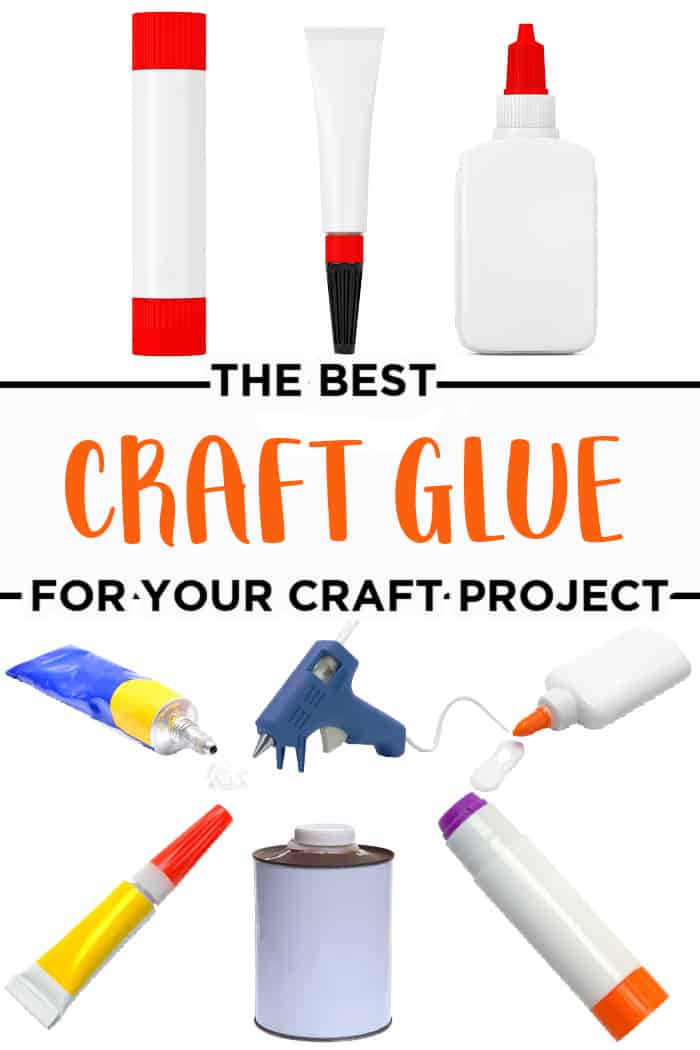 Have you ever started a project and wondered what craft glue you should use? We have you covered.
Crafting is our jam. If after you have read through to figure out what best glue ever that works for what, you definitely want to check out all the different resources for crafting including our Craft Supplies Must Have, Different Types of Paper For Your Craft Projects, Different Types of Craft Paint, Best Markers for Coloring, Different Types of Scissors, 101+ Easy Crafts Ideas for Kids, and 101+ Printables For Kids.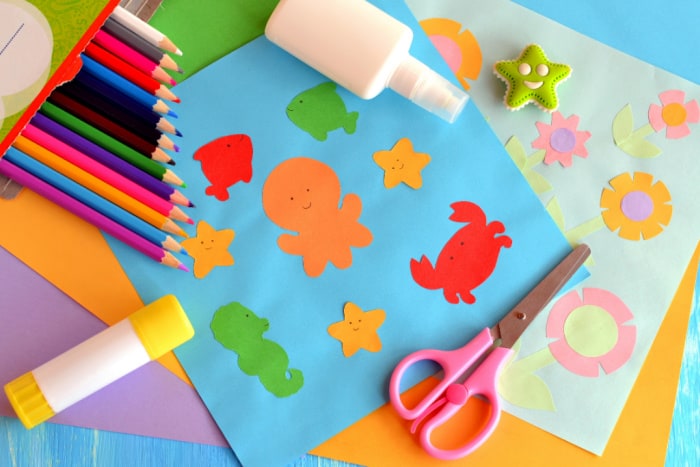 What is Craft Glue?
The word craft glue in most cases refers to generic non-toxic white glue that you can use for just about any simple craft whether it be paper, fabric, small wood projects, or foam.
While most craft glues will handle most of your craft project, all craft glues are not created equal.
There are some that are stronger than others. Some that smoother, and water resistant. There are some that quick dry and some that dry clear.
I will leave the chemical makeup and technical stuff to the smart people that make the glue, but am HAPPY to share my thoughts on each of the glues, my general knowledge of it, and projects that they will work best with.
It will ultimately be up to you to come up with your favorite craft glue.
What is the Best Glue Ever for Crafting?
Like any good crafter, I have a bin full of all different kinds of glue. I have my favorite glue and my go-to glue bottles, but do we use them all? Do we know what each of them does?
Whenever you start a craft project, ask yourself "What is the best glue for that craft?"
Many times is just a matter of gluing this to that. What is this and what is that, and what is the best way to glue them together? The site This to That has an easy tool if you are ever in a bind.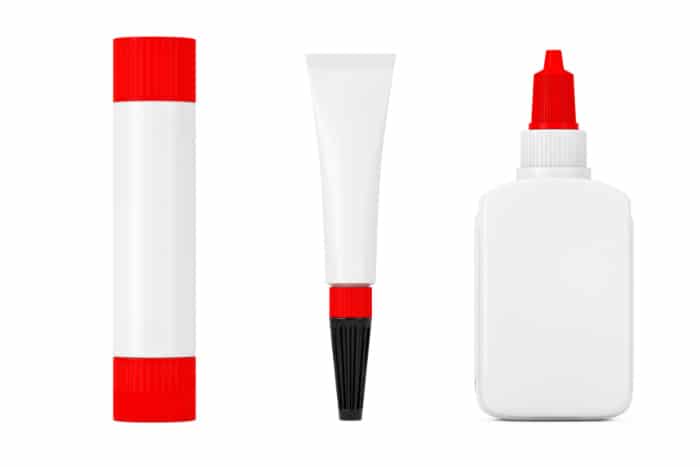 Below we are going to break down what we know about the main types of glue we use in crafting.
Best Glue For Paper Crafts
White Glue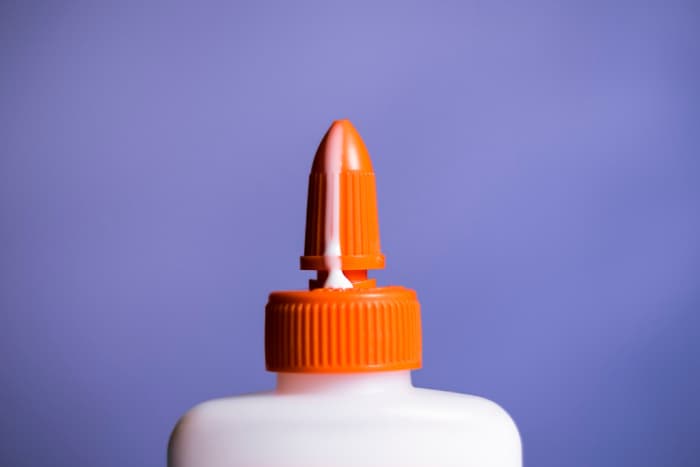 Brands: Elmer's
This is your white school glue. This is the glue that you would pour on your hand as a kid and then wait for it to dry and act like you are peeling your skin off. I can't be the only one that did that right?
This glue is not water-resistant, non-toxic, and typically takes 30 minutes to an hour to dry. It dries clear and is pretty flexible.
This glue can be used with paper, plastic, fabric, styrofoam, and lightweight wood crafts.
This glue is great for kids' crafts. The only challenge I have with the white glue in the classroom is that it can get messy.
Projects We've Made with White Glue
Glue Sticks
Glue is very similar to white glue, but with less strength. In most cases, they are acid-free and glide on clear. They dry clear and usually within 30 minutes.
Glue sticks are great for kids' crafts as they are less messy than white glue. Projects made with glue sticks or glue pens may not stand the test of time. If you are looking for a long time hold, then I would use something stronger.
Projects We've Made with Glue Sticks
Tacky Glue
Brands: Aleene's Tacky Glue | Beacon's Tacky Glue
I like to think of tacky glue as a stronger white glue. It has a strong bond and is flexible. It is great for most projects. This also falls in line with rubber cement. While the make up of rubber cement is slightly different, the over purpose glue is similar
In my best opinion, this is the glue for everyday crafting and should be one of the first you grab for in a project. Works on paper, wood, fabric, Styrofoam, and ceramics.
Projects We've Made with Tacky Glue
Hot Glue
Brand: Ad Tech | Gorilla Glue
Another crafting must-have. This is another versatile glue.
Hot Glue guns come in regular or mini sizes along with the corresponding glue sticks. They also come in high temperatures and low-temperature guns and sticks. Both size guns come with longer-length glue sticks, and I will tell you, once you've used one of those, you will not want to go back to the smaller glue sticks.
The glue dries within a few seconds from its application. The glue is moderately strong. Hot glue works on most materials but will come apart if exposed to higher temperatures.
Hot glue sticks come in different colors of glue and ones with glitter applications.
Projects we've used Hot Glue
Fabric Glue
Brand: Aleene's Fabric Fusion
Fabric adhesives are used for exactly that... Fabric. There are different types of fabric glue for the different types and strengths of fabric. You will definitely want to read the glue before using it on a specific fabric and figure out if you would like to wash the material or not.
It is great for gluing up hems and for smaller projects where you may not want to sew.
Projects We've Used Fabric Glue
Mod Podge
Brand: Mod Podge Original | Mod Podge Dishwasher Safe
Mod Podge is both a brand of glue as well as a type of glue (in my opinion). Its the Kleenex of decoupage glue. It is both a glue and sealer.
It is used when you want to attach something as well as on top of it to seal it. Mod Podge is water-based. The original mod podge is not water-resistant, but they have a dishwasher-safe variant along with many different types. Amy, over at Mod Podge Rock has a great guide on all the different types and what they are used for.
Projects We've used Mod Podge
Spray Adhesive
Spray adhesive is a glue that comes in a spray can. It can be as versatile as any liquid glue (tacky glue or hot glue).
It can be applied to large areas of paper or cardboard. This can also be useful when needing to reposition a picture or something you might have placed.
Like many aerosol spraying materials, it's important to have good ventilation.
Projects We've Used Spray Glue
Super Glue
Super glue is a super strong glue. It dries clear and within a few seconds of application. This is a great glue for any material including metal, wood, stone, plastic, glass, and paper.
It is resistant to moisture and temperatures.
Projects We've used Super Glue
Wood Glue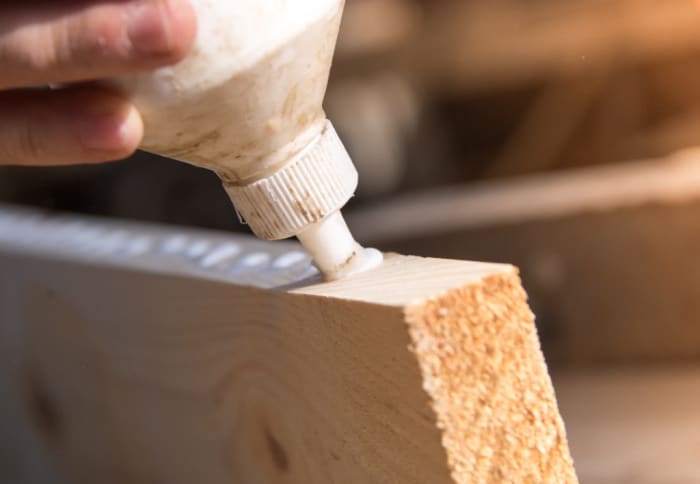 Wood glue is water-based glue, like white glue. It is typically a yellow color and is used on many wood gluing projects.
I am a big fan of wood projects and so I always have a bottle on hand.
Projects We've Used Wood Glue
E-6000
Brand: Eclectic
E6000 is another craft glue all on its own, like Mod Podge. This is one of the strongest craft glue. It is thick and clear. It can be used on many different materials. Whether it is a smooth or porous surfaces. This is one of the strong glues with a great strong hold. This is the closest to a permanent bond you will find in craft adhesives.
Projects We've Used with E6000
Glue Dots
Glue Dots are a fun glue more for paper projects. These are great for scrapbooking, making greeting cards, and simple papercraft. These glue dots typically aren't the strongest of craft glues, but due to the ease of use, they can be great.
Other Questions You Might have about Craft Glue:
What is the best craft glue?
If you are looking for a brand name that I think is the best, I would have to say it depends on the glue. If you are looking for a generic tacky glue, then either Beacons or Aleene's.
Is PVA glue the same as craft glue?
PVA glue is another name for white glue. So technically they are the same thing.
What kind of glue dries fast?
The fastest drying glue is Super Glue or Hot Glue. It typically dries within a minute.
CONNECT WITH MADE WITH HAPPY!
Be sure to follow me on social media, so you never miss a post!
Facebook | Twitter | Youtube | Pinterest | Instagram
Looking for crafts to keep your child busy? Sign up for my 5 Ridiculous HAPPY Activities in under 30 minutes for your kids delivered direct to your inbox!
Find and shop my favorite products in my Amazon storefront here!
Crafting Glue
PIN IT TO YOUR FAVORITE BOARD ON PINTEREST!
FOLLOW MADE WITH HAPPY ON PINTEREST FOR ALL THINGS HAPPY!