Looking for different types of scissors for your latest craft project? We are sharing all the types of scissors, their uses, and differences.
There are different types of scissors that are used for different things. We will be breaking down each of the types to make sure its clear!
Anyone that has spent time on our site knows that crafting is our jam! If after you have read through this article to figure out what scissor works best for what project, you definitely want to check out all the different resources for crafting including
What are Scissors?
Scissors are a cutting tool or shearing tool made primarily of stainless steel and or carbon steel. Scissors design is made up of two metal blades that are connected one one side by the handle. The blades then pivot open and close. The sharpened edges of the blades slide against each other and cut different materials as they close.
The handles of the scissors are typically made up of plastic, rubber or metal. Although the most common has a plastic handle.
Shears vs. Scissors
Did you know there is a difference between scissors and shears?
While some may use the two terms interchangeably, they are in fact slightly different.
Scissors - The finger holes on scissors are equal in size for your thumb and forefinger. They typically have a blade length of less than six inches.
Shears - They have one smaller finger hole for the thumb and a larger other finger hole that can fit three or four finger. Their blade length is typically longer than six inches.
Craft Scissors
As a collective group, crafters take their scissors seriously. Not all scissors are created equal! Depending on the project, there are certain pairs of scissors that are great for cutting specific materials and some are better than others. That is why we are breaking down each of the different types of scissors and their uses.
Paper Scissors
Paper scissors, craft scissors or otherwise known as all purpose scissors. These are the most popular of scissors out there for many arts and crafts. These are ones that can cut most material from paper, cardboard, twine and most other uses around the house.
For those doing intricate paper work, then working with a short blade would help with the curves. For cutting longer straighter lines in paper, they tend to have a long blade.
These paper scissors or mult-purpose scissors tend to get dull or blunt quicker than say a fabric scissor or hair scissors. Paper and paper products are made up of lint and minerals that can dull your scissors quicker.
Decorative Scissors
There are decorative scissors and there are pinking shears. When looking at both you might want to say they are the same. They are not. While both could have a serrated edge to them, pinking shears are for fabric only. They are to give your fabric a jagged edge, but also to keep fabric from fraying.
Decorative scissors are for paper, thin cardboard or foam even. These do not work on fabric and are to give your paper a designed edge.
Sewing Scissors
There are actually quite a few different scissor or cutting tool when talking about general sewing. There are scissors for fabric, embroidery, buttonholes, pinking shears, and tailoring scissors.
Fabric Scissors
Fabric scissors or otherwise known as dressmakers shears tend to be long sharp blades that can cut the fabric along a flat surface. The blades on fabric scissors have one tapered blade that is pointy and another that is round and smooth. The round and smooth edge makes sure your threads and seams do not snag.
Rotary Scissors
Rotary Scissors or Rotary scissors is another sewing tool. It looks like a pizza cutter with a round blade. The rotary cutter is great for long straight cuts. Works great for quilters who are looking to make straight cuts through fabric.
Embroidery Scissors
Embroidery scissors are a small scissor with a short sharp blade that allow you to get in small areas and cut close clean cuts.
Kids Scissors
Kid scissors otherwise knowns as safety scissors. These scissors are often smaller and made of plastic. They have a blunt end to prevent from it puncturing accidents. They are designed for little hands to help them learn the fine motor skills needed for cutting.
Left Handed Scissors
Having a left handed child myself, it is important for left handed people to have left handed scissors. The universal scissors are primarily made for a right handed person. In order for left handed people to see the cut they are making and to have the blade working correctly in their left hand, you will definitely want to make sure you have a left handed scissor in whatever type of scissor you are purchasing.
Other Types of Scissors To Mention
There are of course many things that scissors could be used for tons of other things. We've broken down the most popular other scissors including hair scissors, kitchen scissors and garden scissors.
Hair Scissors
Hair scissors, barber scissors, or barber shears are made specifically for hair cutting. When cutting hair you want to make sure your scissors or shears have sharp blades. Otherwise, it will tear the hair and give it a split end rather than a cut. The sharper the blade the cleaner the cut.
Kitchen Scissors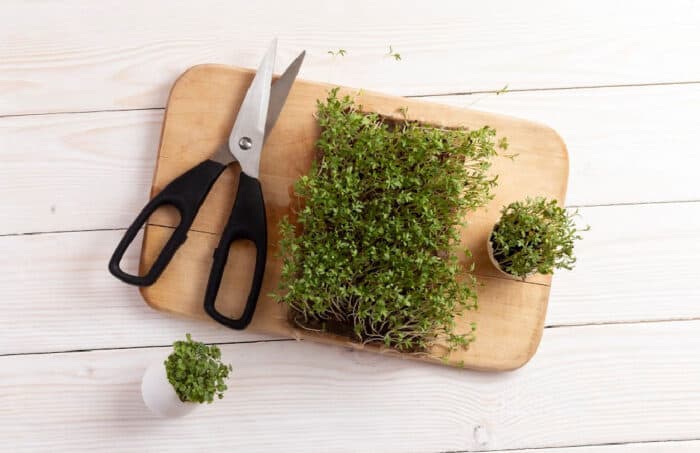 Kitchen scissor or kitchen shears can easily be one of the most popular tools in the kitchen. They have many purposes including cutting meat, vegetables, herbs and opening food packaging.
Garden Scissors
Gardening scissors or pruning shears are specifically designed to help cutting in your yard. They are typically strong enough to cut through thick plants and branches.
Scissor Sharpening
One of the most important thing to having a great pair of scissors is making sure they stay sharpened. For most scissors, misuse of scissors whether it be using sewing scissor to cut paper, or having your child cut their cardboard project with your fabric scissors will dull them fast. Having them sharpened or sharpening them yourself can make the world of difference.
There are sharpeners out there that can sharpen it right up with just a few back and forths movements. Others like sharpening pruning shears need a bit more work or a professional. In any case, if you are investing in a nice pair of scissors, make sure you know what you will do to sharpening them moving forward.
CONNECT WITH MADE WITH HAPPY!
Be sure to follow me on social media, so you never miss a post!
Facebook | Twitter | Youtube | Pinterest | Instagram
Looking for crafts to keep your child busy? Sign up for my 5 Ridiculous HAPPY Activities in under 30 minutes for your kids delivered direct to your inbox!
Find and shop my favorite products in my Amazon storefront here!
TYPES OF SCISSORS
PIN IT TO YOUR DIY BOARD ON PINTEREST!
FOLLOW MADE WITH HAPPY ON PINTEREST FOR ALL THINGS HAPPY!