Looking for the best paper for your craft projects? We have you covered. We are sharing the different types of paper and what works best.
There are different types of paper that work better for certain craft projects than others. We are going to share all the types of paper and what makes it different.
Crafting makes us HAPPY! To help in making sure you are all set when crafting, we have put together a few other guides to help with crafting including 101+ Easy Craft Ideas for Kids, How to Pick the Best Craft Glue For Your Craft Project, Different Types of Glue, Different Types of Craft Paint, Different Types of Scissors, and 25+ Must Have Craft Supplies.
Feature of Paper
There are four different features of paper products that make each paper different. There are many technical features that are part of how the paper is manufactured, manufacturing process, or mechanical properties. We are not going to get that detailed but can give our best thoughts. The four features include:
Size of Paper
There is also the paper size to take into consideration when determining what sheet of paper you should use for which project. Paper size can range from small scrapbook pieces to larger rolls of Kraft paper.
Different Types of Paper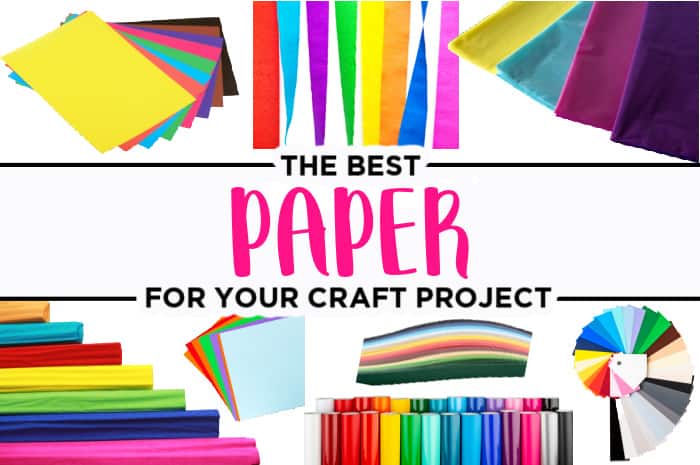 When it comes to paper and crafting there really is not a one size fits all type of paper. While there are some projects that could use a few different types of paper, there are some crafts that really should only be done with one specific paper.
We are breaking down all the different types of paper and sharing what types of crafts work best with that paper.
Printer Paper
Printing paper is the typical paper that you have hanging out in your printer throughout the year. Otherwise known as copier paper or bond paper. It is thin, lightweight.
There are slight nuances between different types of printer paper based on your printer (inkjet, laser printer, etc.) Most printer paper is acid-free, and has a matte coating that makes for the ink to absorb and dry quickly.
Purchase: Printer Paper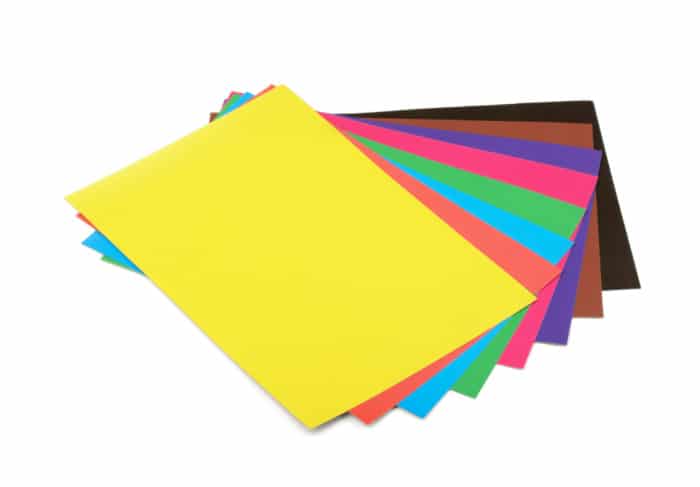 Construction paper is a kid crafting favorite. It is inexpensive and comes in a ton of different colors.
It tends to be rougher material and does not hold its color for extended lengths of time. If you are looking for a keepsake project, then you may want to try another paper as it is likely to fade.
The paper is light to medium thickness, but because of its rough nature, it doesn't always fold very great.
Projects with Construction Paper
Purchase: Construction Paper
Cardstock
Cardstock is a thicker high quality paper that comes in many different shades and textures.
Due to its thickness, it is not always great for folding projects, but is ideal for greeting cards, business cards, scrapbooking and printer projects.
We tend to use it as our go to craft paper as it is bright when going through the printer and ideal for long lasting projects.
Projects with Card Stock
Purchase: Card Stock
Kraft Paper
Kraft paper is a thick coarse paper most often made from recycled paper. It is typically brown in color but can be bleached and or dyed in additional colors.
Kraft paper comes in sheets or more often rolls. It can be used for wrapping packages, recycled projects, and any papercrafts that are in need of brown paper.
Purchase: Kraft Paper
Newsprint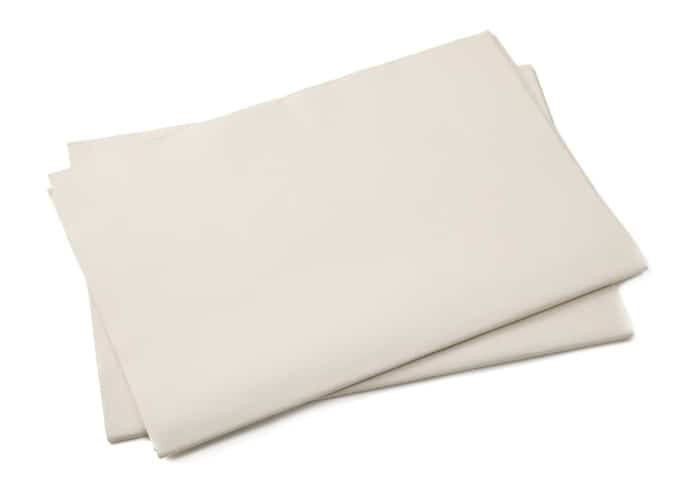 Newsprint is a inexpensive, low quality paper made from coarse wood pulp.
It is was originally made for newspapers, but has many uses within kid crafting. It is great for decoupage paper mache projects because it tears easily.
We also use it to protect the tables during certain projects. It is great to have kids practice their drawing or painting on it before they start on their final project.
Purchase: Newsprint
Crepe Paper
Crepe paper is a thicker crinkled type paper that comes in all different colors and patterns.
You typically see it in the thin strips and are used as streamers for parties. It also comes in larger sheets which are great at making fun flower project or piñatas.
Projects with Crepe Paper
Purchase: Crepe Paper
Scrapbook Paper
Scrapbook paper in many cases is a patterned cardstock. It comes in thousands of colors, patterns, and textures.
Many scrapbook papers typically come double-sided and in pads that are 12 inches by 12 inches.
It is great for many projects including crafts, scrapbooking, bookmarks, and hundreds of other projects.
Projects with Scrapbook Paper
Purchase: Scrapbook Paper
Tissue Paper
Tissue paper is a thin soft delicate paper that comes in all different colors and patterns.
It is typically used for wrapping presents or in the store when wrapping delicate items.
Because it tears so easily, it is great for decoupage crafts, paper mache, and suncatcher crafts.
Projects with Tissue Paper
Purchase: Tissue Paper
Water Color Paper
Watercolor paper is a thicker mixed media type paper. It is made from wood pulp and has coarse textures.
The surface of the watercolor paper has a layer that is great for watercolor paints and dyes.
If you have any budding artists in your midst, I recommend grabbing a pad of watercolor paper for their masterpieces.
Purchase: Watercolor Paper
Origami Paper
Origami paper is made with the art of origami in mind.
It is a thinner paper that is easily foldable. Origami paper comes in all kinds of different colors and patterns and typically in a square size.
The patterns are quite ornate on some origami paper. One side is typically washi paper and the other is a plan color.
Sheets of origami paper are thin and can be used for many other projects including origami including decoupage and paper puppets.
Projects with Origami Paper
Purchase: Origami Paper
The cardboard is thick and stiff. It is made of two thin outside layers and the inside is made of a fluted corrugated middle.
This is what boxes are made of and because it is so thick it is very hard to cut. We recommend using a box cutter or x-acto knife.
It's great when crafting more structures like forts, rocket ships, cars, and anything your imagination can create.
It is also great with scrapbooking and giving things a more 3D effect.
Purchase: Cardboard
Poster Board
Posterboard is a thick display board that can stand on its own. It is great for displaying projects (think science project board) or for signs (think lemonade stand)
Posterboard does come in various thicknesses. The thinner boards are great for costumes and other craft projects where you need something that can curve.
Projects with Poster Board
Purchase: Poster Board
Transfer Paper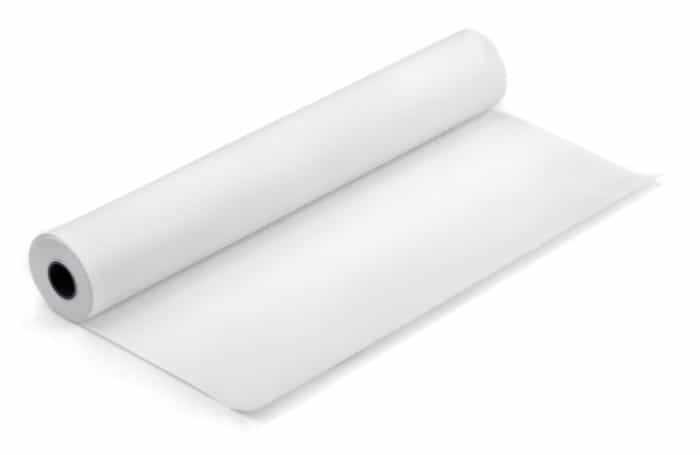 Transfer paper is used in textile crafts. The paper is thin and comes in rolls. and is paper coated with wax and pigment? Heat transfer paper takes any image or design from an ink-jet printer and transfers it to a textile surface. Like T-shirts, canvas, etc.
Vinyl transfer paper is used on vinyl projects. It has one side that can be peeled back like a sticker and then the sticky side is placed on your vinyl project. You then can take remove the sticky side of your vinyl project onto whatever surface you are transferring it and then remove.
I like using clear transfer tape (vinyl transfer paper) for our suncatcher projects. It makes for a great medium to stick tissue paper and other thin papers.
Project with Transfer Paper
Purchase: Transfer Paper
Vinyl
While vinyl is not technically paper, it comes in sheets like paper and is a big craft niche with cutting machines like the Cricut or Silhouette.
It comes in all different colors, patterns, and textures. Vinyl is more of a flexible sticky material that makes labels, stencils, window clings, removable wall décor, and other temporary crafts.
Projects with Vinyl
Purchase: Vinyl
Paper Bag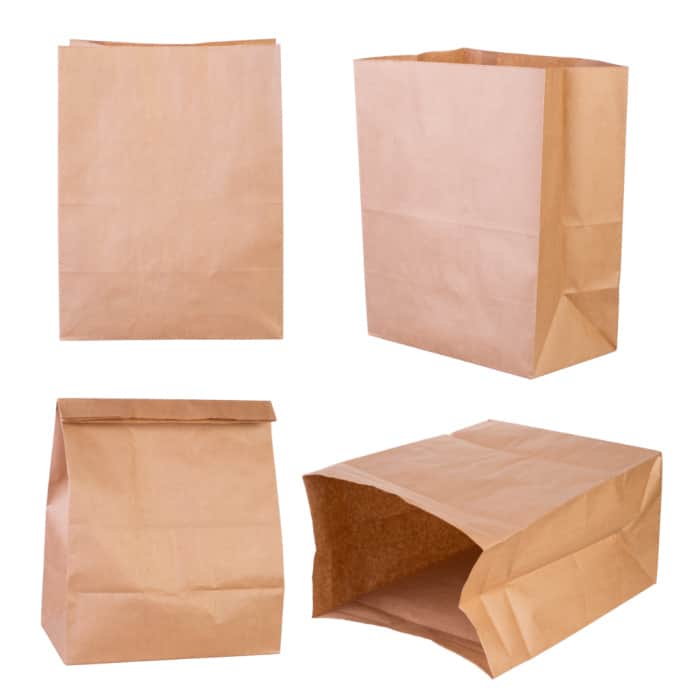 Paper Bags are not always what you think of when you think of paper, but they are great to craft with.
Brown paper bags are made of thin kraft paper. They are great for kid's crafts including puppets and other kid's crafts.
Projects with Paper Bags
Purchase: Brown Paper Bag
Vellum
Vellum is a thin translucent paper with a rougher surface. It can go through the printer. You will typically see it in wedding invitations, scrapbooking, or a fancy greeting card.
Purchase: Vellum
Lined Paper
Lined paper is your run-of-the-mill writing paper, also called ruled paper. It has straight lines used to guide your handwriting. The typical use is for schoolwork, notes, and writing.
Purchase: Lined Paper
Paper Plates
Believe it or not, paper plates are not only for your backyard BBQs. These babies have lots of different uses and there are lots of different paper plate crafts. It depends on the plate, but the simple white paper plates
Projects with Paper Plates
Purchase: Paper Plates
Additional Questions
Here are some questions you might have now that you have read through each type of paper.
How many types of paper are there?
We have identified 15+ types above. The main types of paper that are used in crafting the most, I would say fit in 7 of the types.
What is the best type of paper?
We get asked this question a lot, but it is sort of a loaded question. It truly depends on the craft that you are doing. For easy kid's crafts, we prefer construction paper or colored card stock.
What is craft paper called?
Cardstock is a great quality craft paper that can be used in most craft projects. It comes in many colors and is thicker allowing for sturdiness in your project.
Paper Crafts You Will Love
CONNECT WITH MADE WITH HAPPY!
Be sure to follow me on social media, so you never miss a post!
Facebook | Twitter | Youtube | Pinterest | Instagram
Looking for crafts to keep your child busy? Sign up for my 5 Ridiculous HAPPY Activities in under 30 minutes for your kids delivered directly to your inbox!
Find and shop my favorite products in my Amazon storefront here!
DIFFERENT TYPES OF PAPER
PIN IT TO YOUR FAVORITE BOARD ON PINTEREST!
FOLLOW MADE WITH HAPPY ON PINTEREST FOR ALL THINGS HAPPY!