More often than not, when I talk to people and tell them that I am a blogger and that I create crafts, recipes, parties, etc. They often follow up that statement asking about crafts. I imagine because there is ambiguity to the word crafts and it intrigues them. Are you creating things for decoration around your house or are you just keeping the kids busy. I think what I love the most is that its all those things and so much more.
There are crafts like our rope bowls that anyone could do, or there are fun Halloween Footprint Crafts that are clearly targeted to younger kids and parents. As long as it was made with HAPPY! Which brings me to these rad paper plate wind socks.
Do not miss our 15+ CRAFTS AND ACTIVITIES FOR BORED KIDS for other fun crafts like this one!
I'm not going to lie, I'm not sure if they are wind socks, wind dancers, wind chimes (that don't chime), but they are fun and bright and HAPPY and so take them as you will. We recently had our grandparents visiting and so I had a few different projects lined up. Made with HAPPY Girl also was asking for something fun to hang in the celing in her room and so I started digging through my supplies and came up with these little beauties.
Here's how we made them.
Supplies: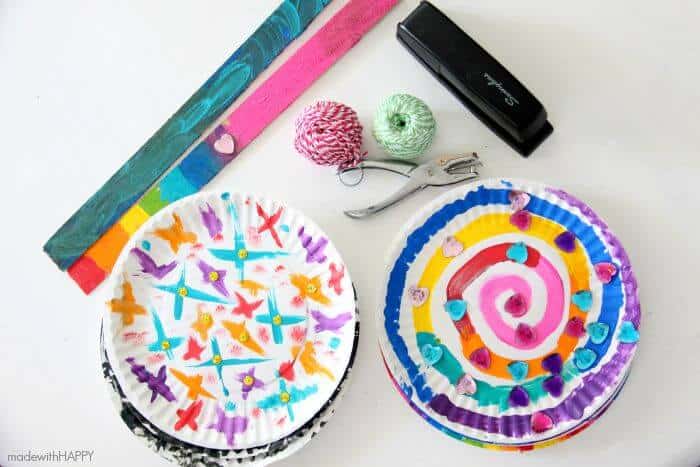 Paper Plates – We went with three per wind sock
Paints, glitter, beads, buttons, sequins – pretty much anything you want to decorate your plates with
Shims – I'm obsessed with shims and so always have a pack or two on hand. I went with the longer shims (16 inch.)
Twine, ribbon, or yarn
Stapler
Hole Puncher
Directions:
First start with painting and decorating your plates and shims.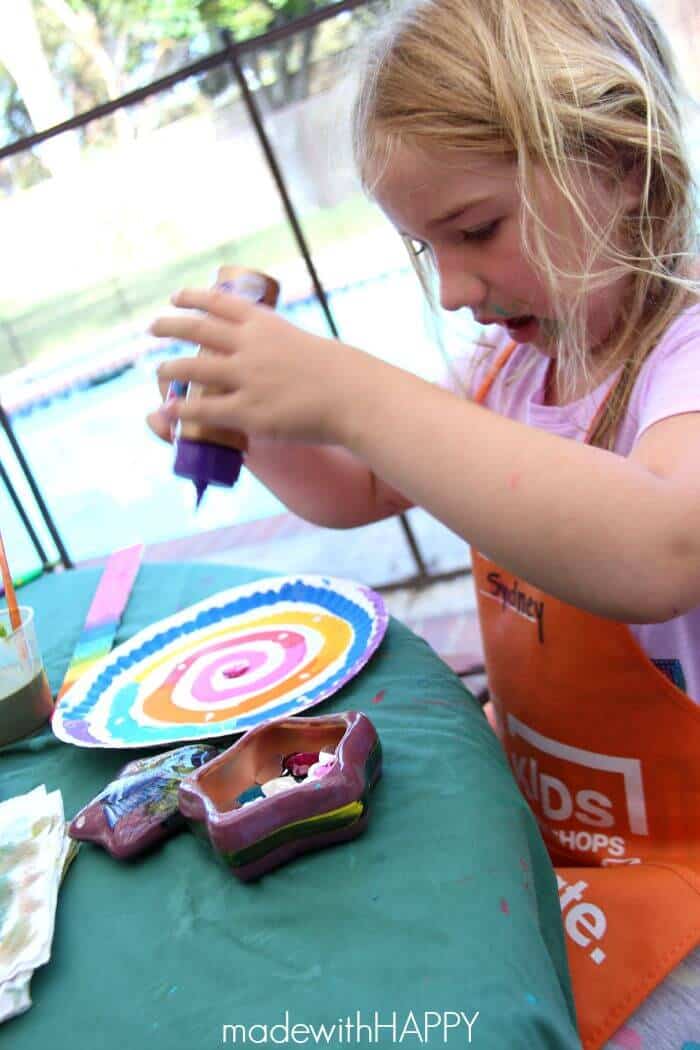 Let your imagination go wild on the plates. My youngest loves the color black and so we had three pretty much all black plates 🙂 Once your items have dried, its time to put it together.
Hole punch a hole at the top of each plate. Using your yarn, tie one end to the plate and then using the stapler, the other end, staple to the back of the shim.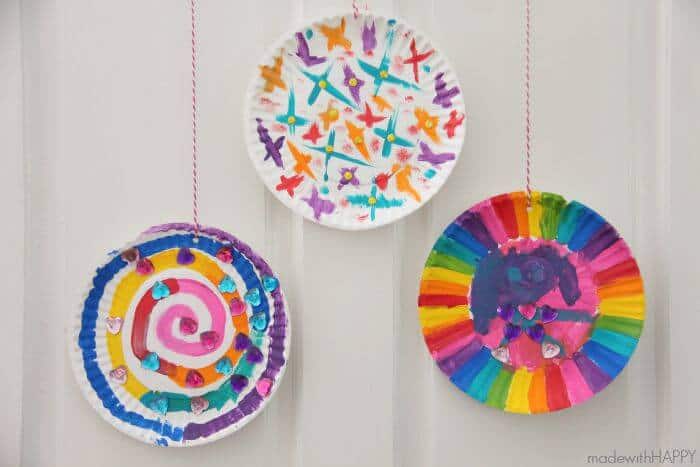 I suggest using different length string to give the wind socks dimension.
Lastly, add one piece of string to each end of the shim to use as the hanger.
Vioal, you have yourself the pretties paper plate wind socks!
The kids absolutely love them and have each of them hung in their rooms!