Looking for the best craft paint for your project? We've got you covered. We have all the paint info you need to make your craft amazing.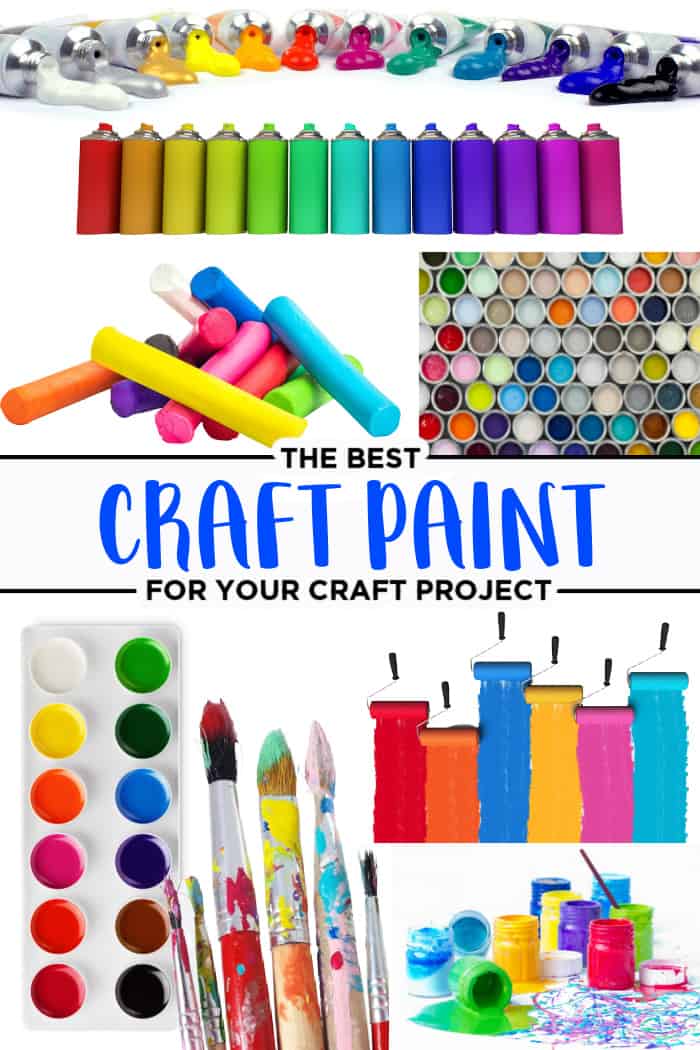 Understanding the different types of craft paint and make or break your craft project. We are going to break down the different types of craft paint below.
Crafting makes us HAPPY! To help in making sure you are all set when crafting, we have put together a few other guides to help with crafting including: 101+ Easy Craft Ideas for Kids, How to Pick the Best Craft Glue For Your Craft Project, Different Types of Craft Paper, Different Types of Scissors, Best Markets For Coloring, and 25+ Must Have Craft Supplies.
Paint Finishes
Before we get into each of the different types of paint, we should talk about the finishes of paint. Paint finishes range from a flat or matte finish to high gloss. There are typically five different paint finishes.
Flat or Matte - Is the least reflective of light which means that it holds more of the the color or pigment of the paint.
Eggshell - This a low light reflecting paint that is not totally matte, but covers imperfections or blemishes.
Satin - This is a smooth paint and most popular finish of craft paints. There is a bit of reflection of light.
Semi-Gloss - This is a more reflective paint and is used on more slick surfaces that may need to be cleaned.
Glossy or High Gloss - Highest reflective paint and is super shiny. Great for surfaces that may have some moisture or need to be cleaned.
Craft Paint Resources
Just like there are different types of paint, there are different ways to apply the paint and supplies that you can have on hand for when you are creating your masterpiece paint craft.
Paint Brushes
One thing I have learned over the years is that it is important to make sure that you are using the correct paint brush for the correct type of paint. There are specific paint brushes when it comes to oil paint, acrylic, tempura, or watercolor. Its always a good idea to make sure you have a wide variety of brushes in your craft kit.
Here is a variety pack that I have in my craft bin that the kids can grab for their latest project.
Paint Accessories
When it comes to crafting or painting in general, there are always accessories to make sure you don't make a mess and that you are completely organized too. Here are a few of my favorites when it comes to paint.
Different Types of Craft Paint
Acrylic Paint
What is Acrylic Paint?
Acrylic paint is a pigment held together in a synthetic acrylic resins. Acrylic paints are rich vibrant colors and non-toxic. They come in two grades of paint, professional and student. The professional quality comes in a wider arrange of colors and is made with a finer quality ground pigment. Acrylic paint is water-soluble, but becomes water-resistant when it dries.
How Long Does it Take For Acrylic Paint To Dry?
Acrylic paint dries fast. This can be part of the draw to acrylic paint is that your project can be dried and finished fast. It can also be a hindrance when mixing colors because they can dry out pretty quickly. Acrylic paint is water-soluble which means that you can add water to it to thin it out and give it a different consistency.
How Do You Use Acrylic Paint?
Acrylic paint is a great beginner craft paint. It is pretty inexpensive and comes in all kinds of colors. Because it dries so fast, it can be used on almost any surface.
Is Acrylic Paint Washable?
It can be washed out of most surfaces when it is caught early and still wet. Once the paint has dried, it is very hard to get out.
Oil Paint
What is Oil Paint?
Oil paint is a pigment that is held together in a medium of oil. The drying oil most typically used in oil paint is lindseed oil, but could also be poppy seed oil, safflower oil, or walnut oil. Oil paints have a slight yellow tint to their paints and that is due to the oil that it is binded with. While most oil paints are non-toxic, there are some oil paints where the pigments are toxic. Oil paints require a solvents to clean the brushes.
How Long Does it Take For Oil Paint To Dry?
How quickly oil paint dries depends on the thickness of the oil painting on canvas. Typically though, oil paint dries between 18-24 hours. Because of its longer drying times, it makes it easier to mix the exact color you want and being able to use it in a painting and not have it dry. The drying time could also be an issue if you are wanting to layer colors on top of one another because you must wait till the layer is dried otherwise you will have muddied colors.
How To Use Oil Paint?
Oil paint can be a fun medium to start seeing as it has been painted with for hundreds of years. When starting out using oil paints, I would recommend starting out with a small canvas as well as painting in a well ventilated area. The solvents used with oil paints can have fumes. Learning the textures and mixing of oil paints can be just as fun as what you are painting with oils.
Is Oil Paint Washable?
As a general rule, oil paints are not washable. There are of course different methods to getting oil paint out of clothes using mineral oil, vinegar solutions, and others. When painting with oil paints, it is recommended that you put on clothes that you do not mind having paint on forever, or an apron or painters jumpsuit
How to Clean Oil Paint Brushes?
Oil paint brushes are specialized brushes and can tend to be fairly expensive. Therefore taking care of this expensive brushes is important.
When cleaning oil paint brushes it needs to be decided on whether you are going to use them again within a few days or not. If you are going to be using them within a few days, then there is a more "temporary" cleaning method that will keep your brushes from drying out. If it is going to be more than a few days till you paint again, then your brushes will needed to be cleaned thoughoughly.
Regardless of when you are going to use the brush again, when you are done with a brush for the day, its important to wipe down any excess paint from your brush.
Cleaning Oil Brushes Being Used Again In A Few Days
After removing excess paint, you will want to dip your brush into a slow drying oil and then rest it on a drying rack.
Cleaning Oil Brushes Thoroughly
After removing excess paint, dip your brush in a cup of paint thinner and swoosh it around. Wipe down the brush after and rinse with warm water. In the case the paint has set in deep to the bristles, then incorporate some soap and warm water with the paint thinner making sure to get the brushes completely clean.
Acrylic vs. Oil Paint
When deciding between the two different paints, there are a few differences between acrylic paint and oil paint that you will want to consider.
Drying Time - Timing for a finished project can vary dramatically depending on the paint you use. If quicker is what you are looking for, then acrylic paint would be your better medium as it dries within minutes as opposed to oil paint which can take up to a day or more to completely dry.
Edges (Hard Lines vs Blended Edges) - The edges of a subject in a painting can help determine the paint you want to use for the project. Acrylics can paint harder straight edges where oil gives a more blended soft edge.
Working Space - The size of your working space and the ventilation of your space can have a big impact on whether you should work with acrylic or oil paint. If you have a small space without air flow, then acrylic paint might be the better bet as oil paint needs well ventilated space.
Paint Layers - Having an idea of the look you are going for on your project is important when thinking about layers of paint. If you are looking for a layered look with mixes of color, then oil paint may be the better paint for the project. Acrylics provide less layered looking type projects
Changing Color - Acrylic paints tend to only change color slightly when they dry, but then keep that color forever. Oil paint rarely changes color when it dries, but then can yellow and change its hue over time.
Tempera Paint
What is Tempera Paint?
Tempera paint, has also be known as egg tempera is a fast drying pigment that is mixed with a water-soluble binder medium. It is typically binded with a glue-like material such as egg yolks. Tempera paint has a creamy texture and has a great opacity and can be mixed with water to create a more watery texture. Tempera paint dries matte.
What is Tempera Paint Used For?
Tempura paint is a great craft paint for kids. It works well for kids craft projects and home and in the classroom. It has great coverage on many materials such construction paper, canvas, fabric, wood, cardboard, and poster board. Water can be added to the craft paint to extend the drying time.
Difference Between Tempera and Acrylic Paint
Both Tempera paint and Acrylic paint are both water-soluable. Both can be thinned using water to give it a more watercolor type texture. Acrylic paint is permanent where as tempera paint is washable. Tempura paint is the prefered paint for kids crafts as it can be washed easily off skin and out of clothing.
Finger Paint
Finger paint is tempera paint applied with your fingers and hands. This is a popular children painting method that makes all kinds of colorful project.
Watercolor Paint
What is Watercolor Paint?
Watercolor paint is a paint pigment held together with a water-soluble solution. It is a translucent art medium. When water is added to the watercolor paint pigments, then the paint becomes easier to paint. Watercolor paints dry fairly quickly. The color is suspended in the water until the water evaporates.
Watercolor is also referred to the painting method. When you typically see watercolor paints used in a craft setting, you typically see them in a watercolor pallet.
How to Use Watercolor Paint?
Watercolor paint is a great medium to create some incredible projects. There are specific watercolor papers and canvas that are made for watercolor paint. For most watercolor paint projects you simply need water, your canvas or paper, your watercolor brushes and a paper towel to wipe off any excess water.
Is Watercolor Paint Washable?
Yes, watercolor paints are washable. Due to the water-soluble nature, most watercolor paints can be washed out of clothing easily.
Spray Paint
What is Spray Paint?
Is a paint (acrylic or oil) that comes in a sealed, pressurized container that is released in an aerosol spray. Spray paint is great on projects that one would typically use a roller to paint a coat on or paint brush when they are looking for a smooth coat of paint.
What Kind of Paint is Spray Paint?
It all depends on the can of spray paint you have. There are some brands that are primarily acrylic paint and some that are oil based. It is important to read the container of spray paint when starting a craft project with spray paint. You want to make sure that the type of paint you are using is compatible with the material of your project.
What Surfaces Can I Spray Paint?
That is the beauty and versatility of spray paint. There are many different surfaces that you can spray paint including metal, plastic, and wood. Its always important to make sure you have the correct spray paint on the correct surface.
How to Clean Spray Paint?
Regardless of whether the spray paint is oil based or acrylic base, it is going to be hard to clean spray paint. If you are trying to clean spray paint from skin, applying an oil to the skin to soak the paint a bit before using a scrubber to get it off with soap and water should do the trick.
There are different methods for getting spray paint off of clothing including hairspray, alcohol and others. We advise trying to paint with an apron or in paint clothes that you do not care if they get paint on them.
Oil Pastels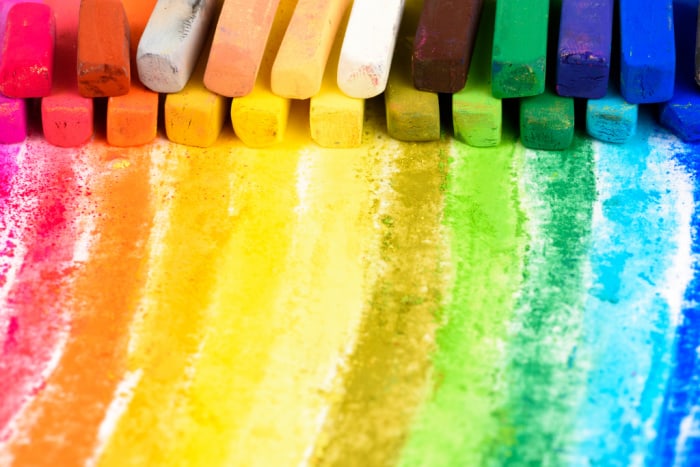 What Are Oil Pastels?
Oil pastels are a pigment held together by linseed oil. They are formed into sticks which give it a buttery consistency. Oil pastels are a drawing medium produce a paint like effect..
How do you use oil pastels?
You can use an oil pastel as you would a crayon when you are drawing. The difference between oil pastels and crayons is that the oily buttery consistency allows for you to blend colors together better giving it a more paint like consistency. We love using oil pastels for our kids art projects as it gives kids the ability to draw as they would with crayons but also provides a more sophisticated feel to their projects.
Other Specialty Paints
Chalk Paint - A water-based decorative paint. A women named Annie Sloan, made chalk paint popular as it dries with a matte finish with a white sort of white chalky undertone.
Glitter Paint - Gives your crafts a extra sparkly shine to your craft project or home decorating project.
Metalic Paint - Otherwise known as metal flake is most commonly used for automobiles and bikes. It gives a shiny finish.
Fabric Paint - Is a thinner dye-based paint that adheres to fabrics. There are glue-binding agents found in fabric paint that is not found in other paints.
Leather/Vinyl Paint - Is an acrylic based paint that can be used on different fabrics. It contains a flexible coating that will not crack or peel or rub off.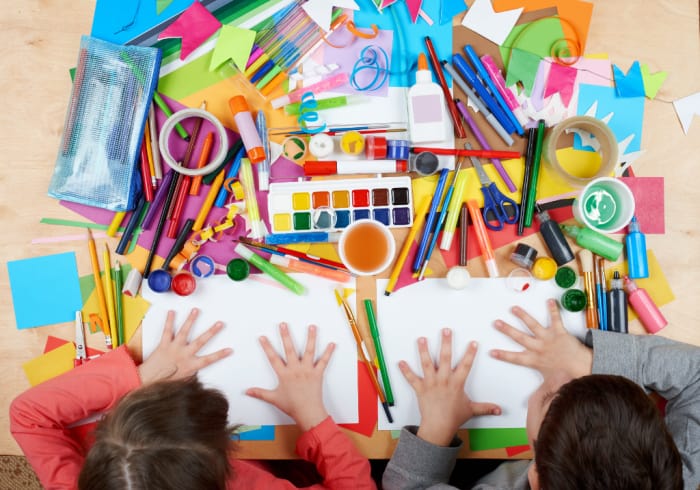 Paint Crafts You'll Love
CONNECT WITH MADE WITH HAPPY!
Be sure to follow me on social media, so you never miss a post!
Facebook | Twitter | Youtube | Pinterest | Instagram
Looking for crafts to keep your child busy? Sign up for my 5 Ridiculous HAPPY Activities in under 30 minutes for your kids delivered direct to your inbox!
Find and shop my favorite products in my Amazon storefront here!
DIFFERENT TYPES OF CRAFT PAINT
PIN IT TO YOUR FAVORITE BOARD ON PINTEREST!
FOLLOW MADE WITH HAPPY ON PINTEREST FOR ALL THINGS HAPPY!