Sharing all kinds of fun and Paper Plate Crafts for Kids of all ages. You will want to add paper plates to your kid's craft bucket for sure!
These fun paper plate crafts are a great way for kids of all ages to get creative and make all kinds of fun things.
We sure do love a craft that makes use of supplies we already have around the house. It's just one of the reasons why we love these super cute paper plate crafts for kids. Kids will love watching these boring white plates transform into fun animals, masks, or any other fun design!
We love that you really don't need any special supplies or even a rigid set of directions. Just bring an active imagination and a willingness to experiment and get crafty! (We also love that there is no messy cleanup.)
You can do these paper crafts with kids of any age. You can stick to something quick and easy like coloring or painting the paper plates with cool colors and shapes. Or, if you have other supplies, you can try something a bit more elaborate. Tissue paper and yarn make for interesting textural elements and add a bit more interest.
Crumple up the tissue paper and add it as a puffy rabbit tail or lush treetop. Use a hole punch and string yarn from end to end to create a web. These craft activities are particularly great for improving fine motor skills.
Paper plates are also perfect for making masks for dress-up play. These lion masks are a wonderful craft for toddlers. Younger kids might have trouble cutting out the eyes but encourage them to try! Since your only using paper plates, kids can start over without getting too frustrated.
The circular shape of a paper plate naturally lends itself to the image of a face. Challenge your kids to make masks in their own image, a robot, an animal or any other creature they can think of!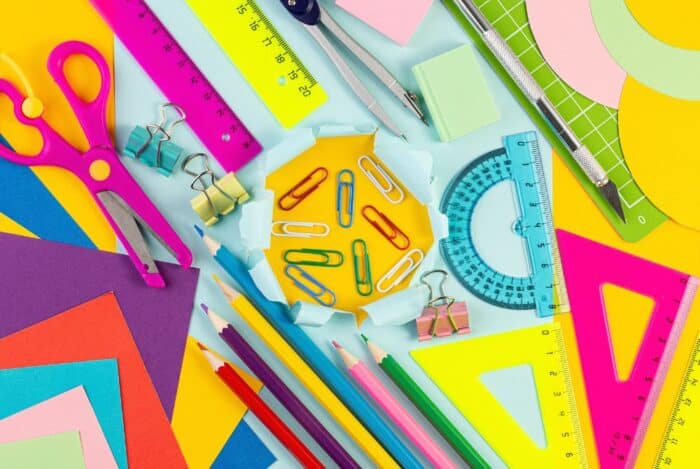 Creative Kids Crafts
This slithering snake is another great paper plate craft idea. This is an animal shape most kids can create on their own. They'll love the way it curls around just like a real snake!
It's also super easy to add appendages like ears, noses, and hands or legs. You could fold strips of paper accordion-style and hang them from the sides of the plate for a silly-looking spider. Or try adding rabbit ears, and kitty whiskers, or play around with different kinds of noses.
Once you get started, challenge your kids to come up with their own design or paper plate animals. They'll never look at a paper plate the same way again!
Our paper plate crafts for kids can be visited on a rainy day or for a special occasion. Organize an art and craft party for your friends and set up different stations. Because our easy paper plate crafts are fun for kids of all ages, they make for a perfect party activity.
Set out some plates, scissors, markers, construction paper, and glue sticks. Or get more advanced with pipe cleaners, pom poms, cotton balls, scraps of felt, tissue paper, yarn, stickers, or even googly eyes! Let the kids create and see what fun shapes and ideas they come up with.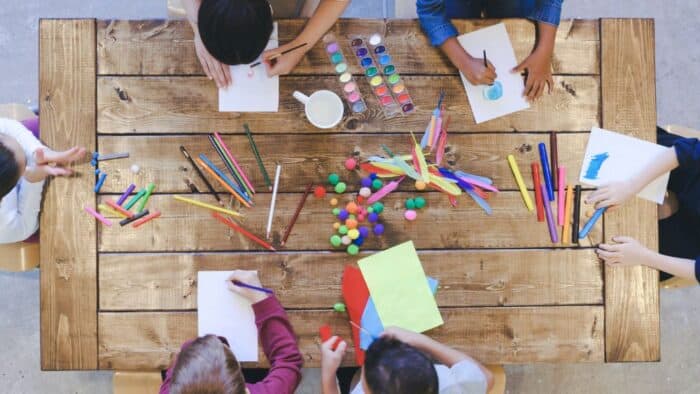 Easy Paper Plate Crafts
Paper plate projects can also be another opportunity to teach your kids math skills and have fun with learning. They easily can be turned into clocks. With a movable hour and minute hands, you can practice telling time.
Paper plates are also a great way to introduce fractions. Fold it in half and talk about what a "half" actually means. Use a pencil or crayon to divide portions like a pie and talk about fractions. With a clear vision, you might be surprised at how well your child can grasp these foundational math skills.
You could reinforce lessons about shapes by using scissors to make the circle into another shape. Or simply use the plate to talk about the properties of a circle and symmetry.
Paper plate crafts are so versatile. They are great for encouraging creative play and are super simple to set up. Buying a stack in bulk so you have it on hand for your next get-together (whether you're serving food or just keeping active kids occupied)! Looking for even more inspiration? You can find all kinds of free printable designs, coloring pages, and arts and crafts ideas at Made With Happy!
Crafts With Paper Plates
Here is a list of paper plate crafts where you are sure to find the perfect craft to keep your little hands busy.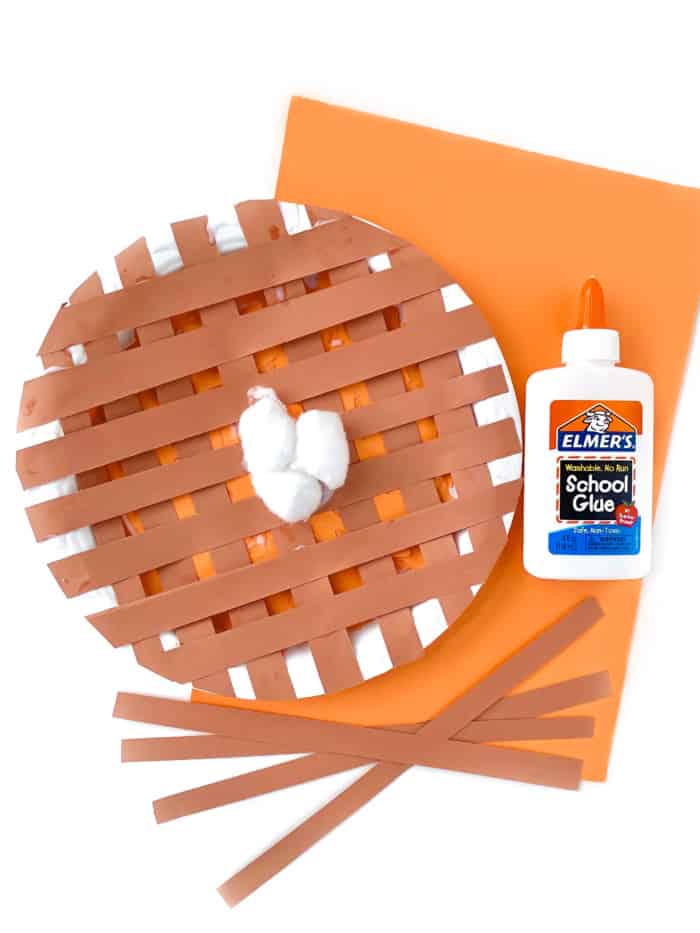 Have some pie craft fun with this fun paper plate pie craft.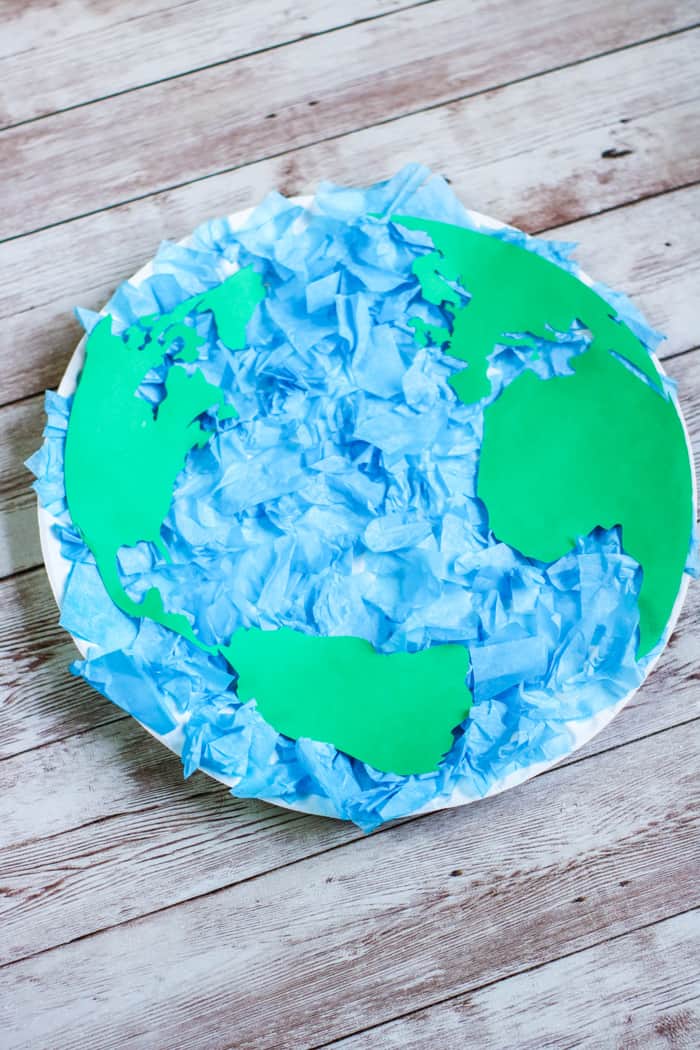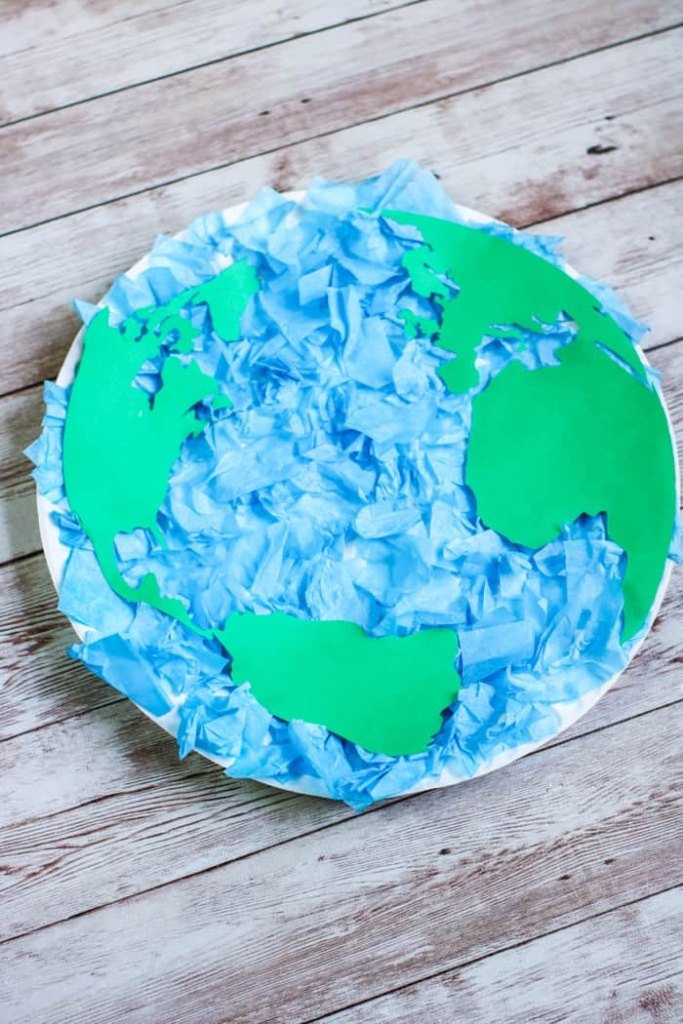 This tissue paper with free printable template was a beautiful paper plate project for learning about the Earth and Earth Day.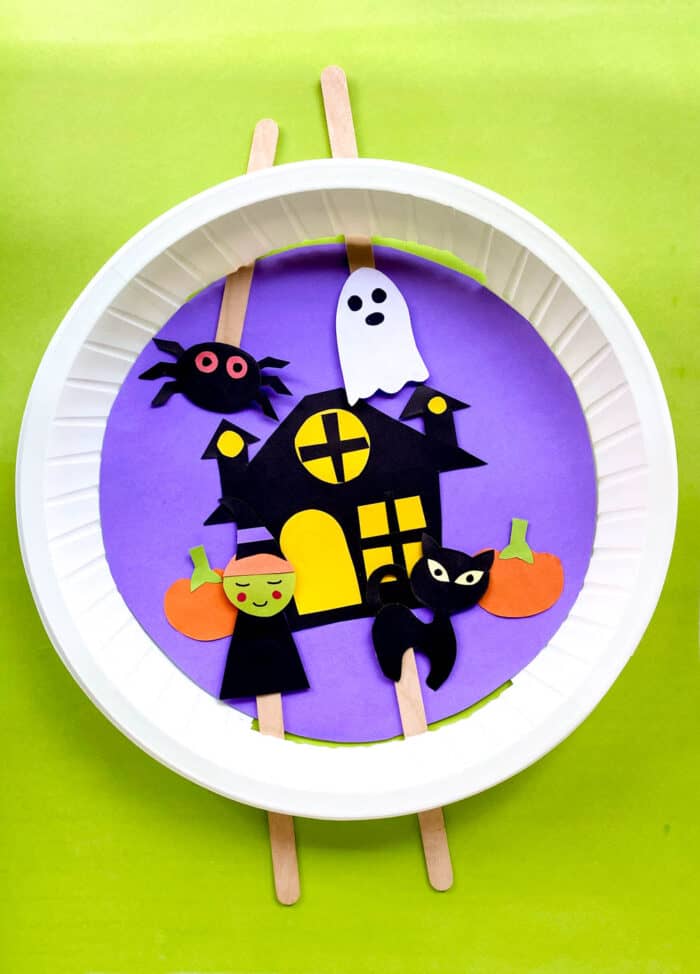 Haunted House paper plate fun with this free printable craft.
Fruit fun with this sweet watermelon craft during the summer months, or better yet, all year long! The perfect summer craft for those looking for boredom busters.
Turn those fun paper plates into a cute reindeer.
Learn about mother earth and our globe with this fun craft.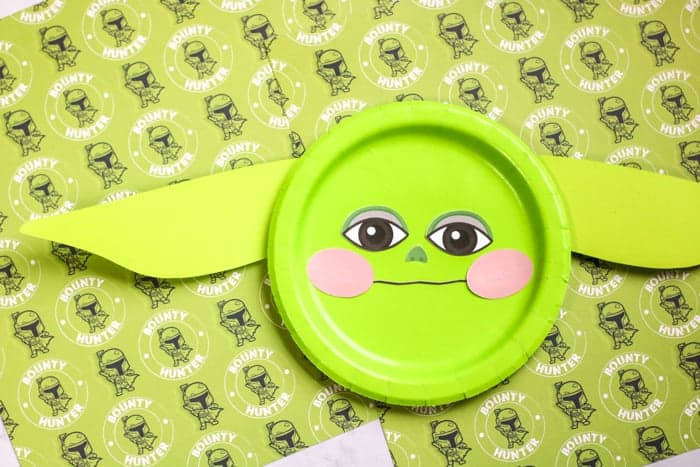 May the force be with you and this sweet baby Yoda craft.
Have some happy feet fun with these cute penguins.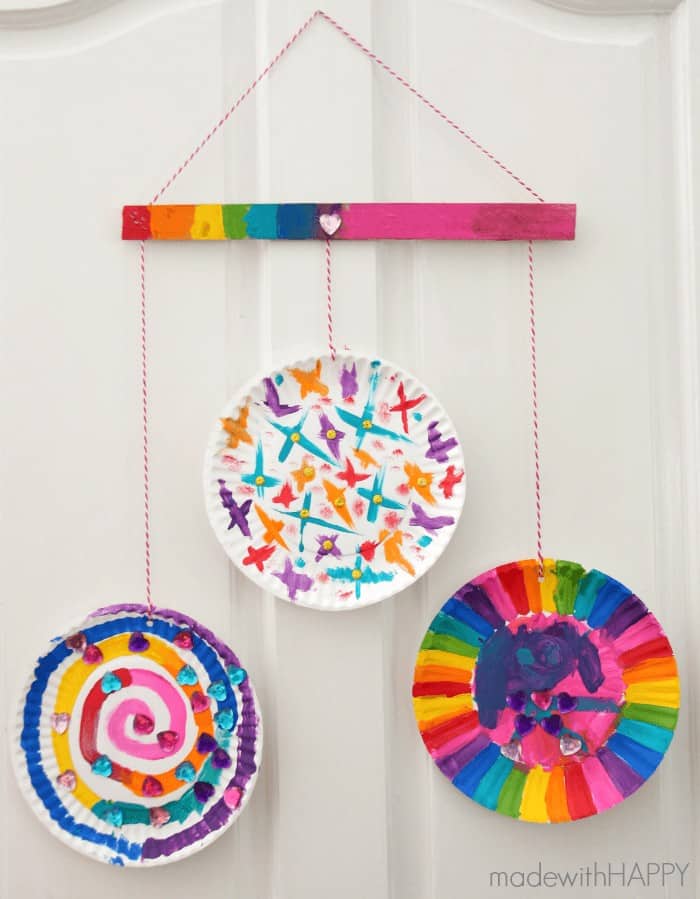 Having fun with paint and paper plates to make these sweet wind chimes.
Create a fun bird feeder with a few paper plates welcoming your feathery friends.
This spacecraft is so much fun by Glitter on a Dime. Some of the best ideas are great fun.
This simple craft from I Heart Crafty Things, is a fun activity for young children to decorate for Halloween.
by Mom Wife Busy Life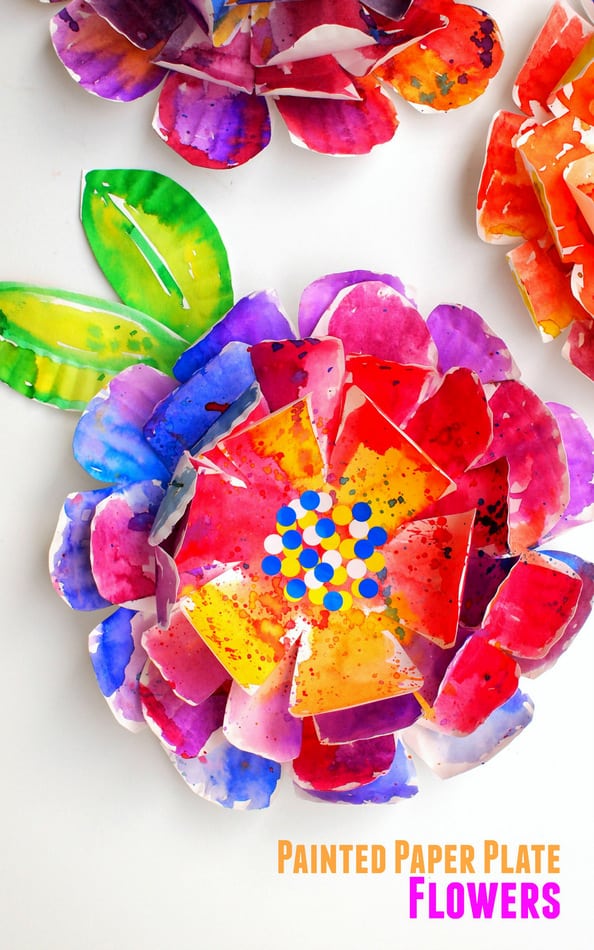 These
These adorable dinosaurs from Made to Be a Momma are all kinds of cute and full of fun.
This great craft from Easy Peasy Fun is screaming fun... Ice screaming fun!
These aliens from Easy Crafts for Kids are a great idea.
This fun craft from Kiddy Charts is a great idea.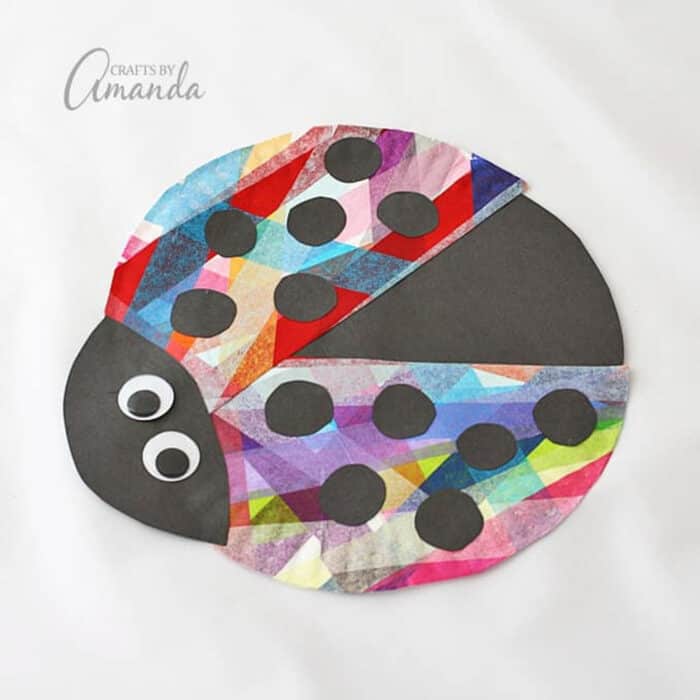 We love all things ladybug and this colorful ladybug by Crafts by Amanda.
Paper Plate Sunflower
This sunflower craft by The Resourceful Mama is an easy activity for the dog days of Summer and is one of the best Summer paper plate crafts.
Turn that paper plate into a fan for those hot days from Family Focus Blog are useful and fun!
Another Star Wars craft that is all kinds of fun. This BB8 from by Attachment Mummy is a great craft.
This snowglobe by Ottawa Mommy Club is the perfect Winter craft.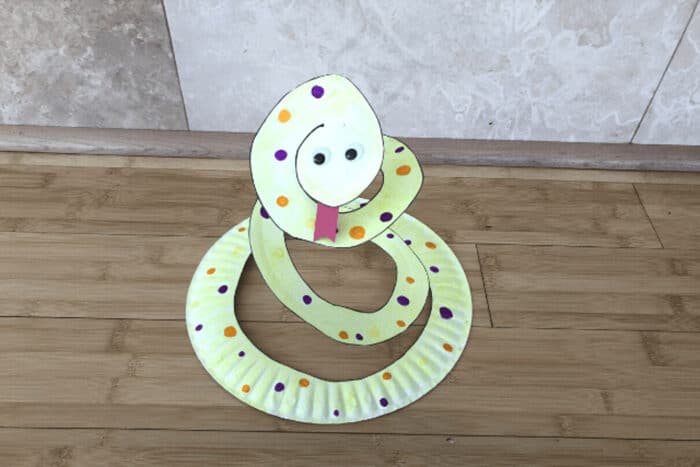 Snake craft fun from Mom Brite is cute and fun.
We love all things Rainbows and Mickey and this craft from Grace Giggles and Naptime is checking all the boxes.
This woven bowl from Craftsy Hacks is a great idea and utilizing those paper plates for good.
Have some Rainbow fish fun with the book and this preschool craft from Two Pink Peonies.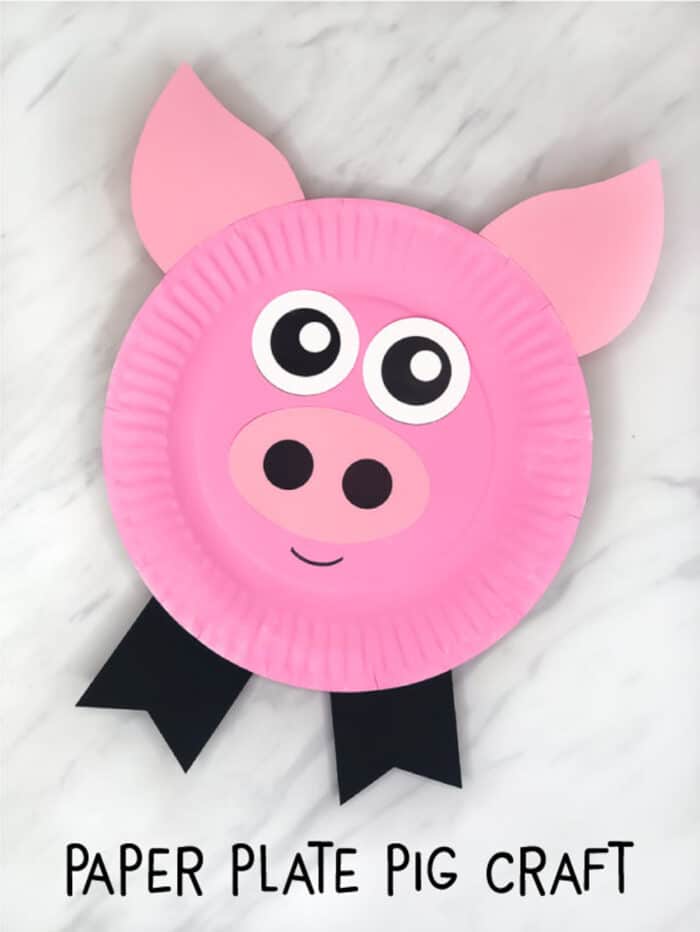 Another sweet paper plate animal from Simple Everyday Mom. This pig is pink and fun.
Turn your paper plate into a cute mask.from Red Ted Art
Another fun book themed craft from Moms Who Save
Other Supply Crafts You'll Enjoy
CONNECT WITH MADE WITH HAPPY!
Be sure to follow me on social media, so you never miss a post!
Facebook | Twitter | Youtube | Pinterest | Instagram
Looking for crafts to keep your child busy? Sign up for my 5 Ridiculous HAPPY Activities in under 30 minutes for your kids delivered directly to your inbox!
Find and shop my favorite products in my Amazon storefront here!
PAPER PLATE CRAFTS FOR KIDS
PIN IT TO YOUR DIY BOARD ON PINTEREST!
FOLLOW MADE WITH HAPPY ON PINTEREST FOR ALL THINGS HAPPY!