Turn those recycled boxes into some super fun easy cardboard crafts like DIY toys, cardboard house, fun craft ideas, and more! The kids will love them all!
There is nothing much more fun on a rainy day than turning those empty cardboard boxes into easy cardboard crafts.
Getting crafty doesn't have to mean storing tons of boxes and bins of supplies. (Though we do love a well-stocked craft space!) There are so many adorable and fun crafts you can create without expensive or time-consuming trips to your local craft store. These are some of our most favorite crafts to share!
You just need to train your eyes to find potential in the most ordinary of items — like cardboard! That's right, we've got some super cute cardboard crafts your kids will love. You'll love that they're easy, keep kids entertained, look great!
Who doesn't love a fun activity that can be completed with just a few, inexpensive supplies? Most cardboard crafts will require some cutting, painting, and fastening to other materials. So, make sure you have most of the basics like scissors, tape, glue, paint, and markers.
It cannot hurt to also have other fun supplies on hand like craft sticks or popsicle sticks, spray paint, hot glue, pipe cleaners, and a large cardboard box or two.
Cardboard Box Activities
When Covid hit last year, we started buying almost everything online. That meant more and more amazon prime boxes on our doorstep. It felt like such a waste to just dump them in the recycling bin.
Instead, we got to work coming up with easy and fun cardboard crafts for kids. We love the variety of these fun DIY crafts and can't wait for you to try them all.
Cardboard boxes are useful in almost any art and craft project. They are sturdy enough to provide support but can also be bent and folded as necessary. They can be painted or drawn on with markers or crayons. Spruce them up with some colorful construction paper, tissue paper, buttons – just about anything!
Cardboard is fairly easy to cut through, though little ones will likely need some help. You can also easily poke holes or make slashes in cardboard which always comes in handy.
Holiday Activities and Crafts
For a holiday season craft idea like DIY cardboard gingerbread houses. Sure, they may not taste as sweet as a graham cracker and gumdrop gingerbread house, but we promise they are just as festive. (And will last longer!)
While you're at it, why not make cardboard Christmas trees, snowmen, and stockings too!
Cardboard boxes are also useful in making DIY Halloween costumes. Let these crafts for kids inspire you!
Because we love fostering creativity and a love for all things crafty, challenge your kids to come up with their own cardboard crafts. Robots, cars, and animals are all possible with cardboard and plenty of imagination. Next time you have a package delivered, remember to save the box and start a cardboard collection just for crafting. Cardboard box ideas for kids can be adapted to all seasons of the year and all ages of kids. Use these fun DIY projects to get you started and have so much fun!
Easy Cardboard Crafts
These sweet pinatas make for a fun individual size party super fun! Turn those cardboard tubes into a fun festive gift. It is a great way to gift in a fun way to the whole family.
DIY Mini Pinatas by Made with Happy
For something a bit easier, try these instantly recognizable ladybugs. Kids as young as toddlers can get busy painting the distinctive red backs with black spots while you help them get the right shape. While you're at it, create some beautiful cardboard flowers! This googly eyes craft is perfect for spring.
Cardboard Tube Ladybugs by I Heart Crafty Things
Another fun cardboard box craft project is making musical instruments. Stringed instruments like guitars, ukuleles, or banjos are great ones to start with. Musical kiddos might come up with even more ways to turn a boring cardboard box into beloved instruments.
Cardboard Guitars by Our Kids Things
These fun binoculars are so much fun for little hands. They are a great
Paper Roll Binoculars by Crafts by Amanda
For those children that love playing grocery store, this one is a frugal fun project.
DIY Cardboard Cash Register by Handmade Charlotte
These cardboard lanterns are extraordinary. They use a little more precise cutting skills but are beautiful once they are created. We are loving these fun cardboard box crafts all year long.
Cardboard Lanterns by Motte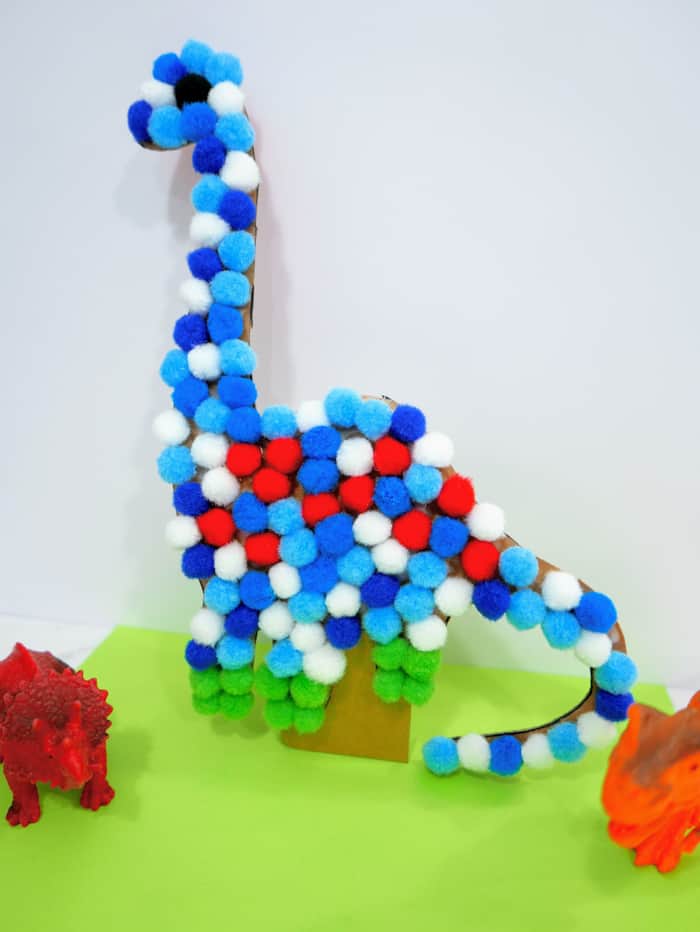 Grab some glue and pom-poms and have some dinosaur fun.
Dinosaur Craft by Made with Happy
With a little
Homemade Skee Ball Game by Mom Brite
We love these adorable and colorful recycled box aquariums that could be used in so many different ways. Hang them from a string and an old hanger for a sweet mobile. With a little paint, you could make a crafted aquarium of sea life, coral, soothing blue waves for an ocean-loving kid. Turn their entire bedroom into an amazing underwater world!
Cereal Box Aquarium by The Best Ideas for Kids
If you have a few toilet paper rolls on hand, try fashioning a cool train. This DIY project is a little more elaborate but totally worth it! It requires you to cut and paint your cardboard boxes and attach the paper rolls. The result is a 3-dimensional train any kid will love.
They can choose to display their train but we're guessing they'll prefer to play with it!
Cardboard Box Train by Kids Activities Blog
DIY Cardboard Pirate Ship
Arr matey... this pirate ship is all kinds of cardboard fun. No peg legs needed here.
DIY Cardboard Pirate Ship by Molly Moo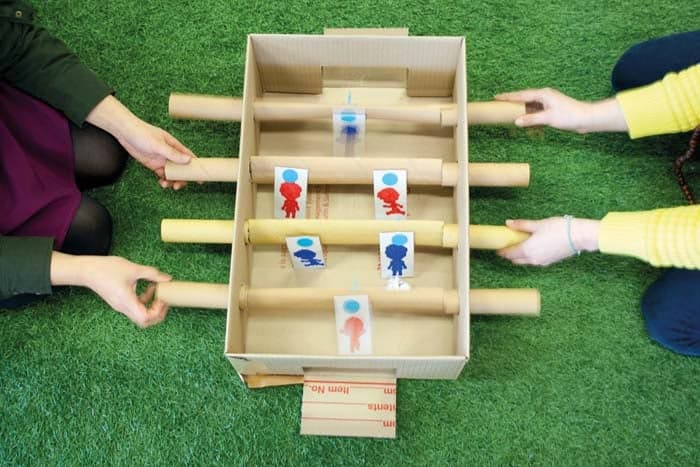 We love the idea of turning a box and some cardboard tubes into a fun foosball table. It's just as fun as the real thing.
Cardboard Foosball Table by Instructables
Cardboard playhouse - princess edition. This fun castle is super creative and so much fun.
Homemade Castle by Easy Crafts for Kids
This is one of the best things for little hands. Great for fine motor skills and such a fun project. The best part is it only uses a few supplies and is such a fun cardboard box craft.
Cardboard Puzzles by Barley and Birch
From the princess castle to the knights armor. These creative play knights gear is sure to add some real fun.
Homemade Knights Shield by Red Ted Art
They are creative and pretty. These paper spinner are full fo whimsy and fun!
Paper Spinners by Easy Peasy Fun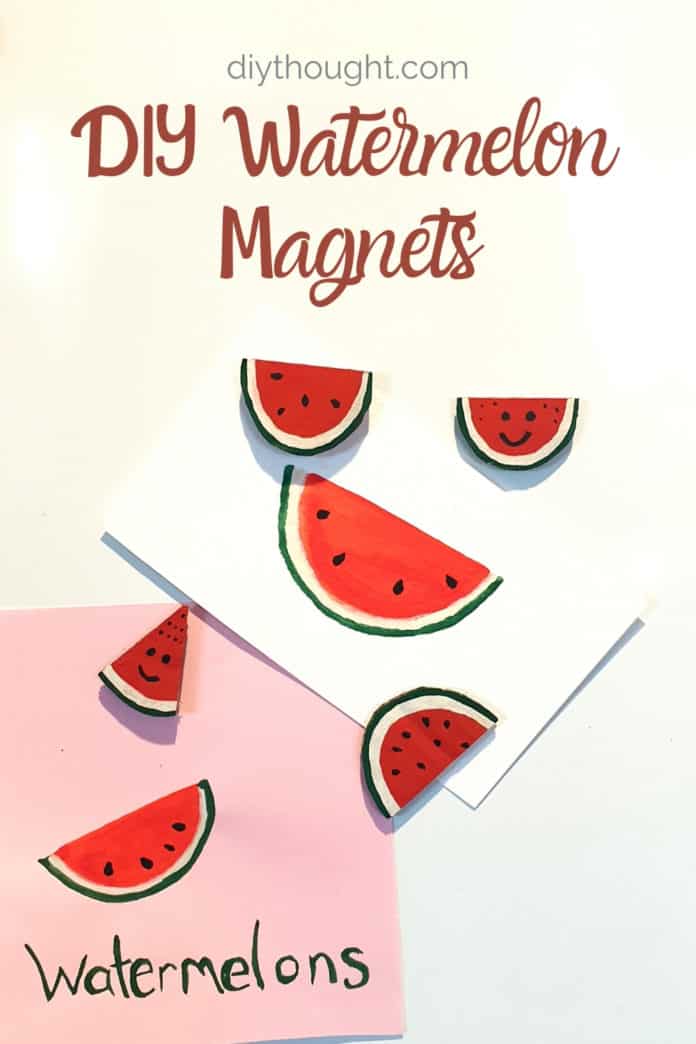 These are one in a melon. These watermelons are cute and fun small project ideas.
Watermelon Magnets by DIY Thought
Great idea for Easter or any bunny-loving time of year. These orange cuties are all kinds of cardboard fun.
Yarn Wrapped Carrots by Simply Full of Delight
Fun game for the whole family. Take turns seeing who can hook the most.
Kids Fishing Game by Family Focus Blog
We hope you find some great ideas for cool cardboard crafts. So grab your paper towel rolls, paper cups, cereal boxes, egg cartons, and let your creative juices flow.
Other Fun Craft Ideas You'll Love
CONNECT WITH MADE WITH HAPPY!
Be sure to follow me on social media, so you never miss a post!
Facebook | Twitter | Youtube | Pinterest | Instagram
Looking for crafts to keep your child busy? Sign up for my 5 Ridiculous HAPPY Activities in under 30 minutes for your kids delivered directly to your inbox!
Find and shop my favorite products in my Amazon storefront here!
EASY CARDBOARD CRAFTS
PIN IT TO YOUR DIY BOARD ON PINTEREST!
FOLLOW MADE WITH HAPPY ON PINTEREST FOR ALL THINGS HAPPY!