Since MadewithHAPPY Girl's Rainbow Birthday Party last year, and all the buzz around her famous Rainbow Punch Pinata, I've been thinking about a good time to make another one.
Then about a month ago I thought, "Oh my gosh, how rad would it be if I could make the punch pinata look like an american flag. YES! Have you figured out yet, that the 4th of July is one of my favorite holidays yet? Helps that its a week before my birthday too 🙂
In any case, I was on a mission and am super pumped about how it came out.
Here's how you can make it yourself.
Supplies:
Directions:
1.)  Measure out the size of the circles on the poster board. I went with 5 inch circles and spaced them as evenly as I could across both pieces of poster board.
2.)  Using duct tape or masking tape, attached the two boards together against the long side so that together you have 6 holes across and 4 holes down = 24 holes
3.)  Using the circles you cut out of the poster board, cut circles in the tissue paper approximately 2 centimeters bigger so you're able to attached to the holes
4.)  Attach to the back of the circles.
Note:  I searched high and low and I'm not kidding you, about 15 different stores looking for blue tissue paper with stars with no luck. I think it would look awesome with that tissue paper, but our blue tissue paper with gold star stickers had to do!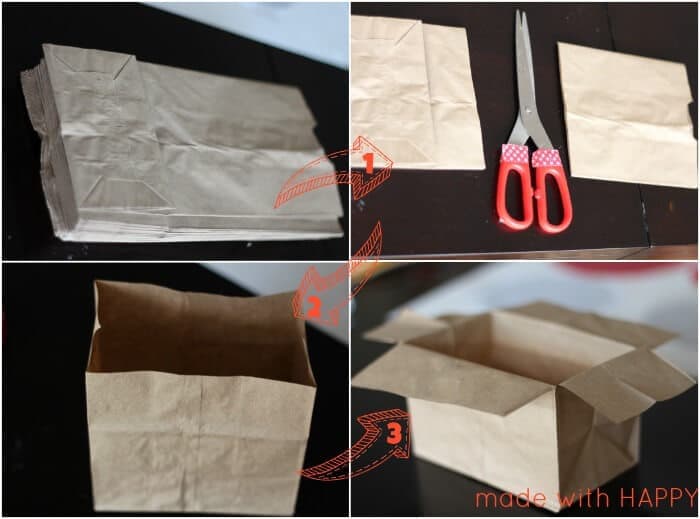 5.)  Next its time to cut the brown bags. I cut the bags at about an inch from the top of the bottom flap when its folded up. Once you've cut the tops off, you cut the four corners down an inch to the folded line. Then fold the edges down as you see in the bottom right picture.
Note:  If you feel like you're wasting the tops of the bags, you can fold the cut bottom up a tiny bit and staple the bottoms and use them for snack bags. That is what I did and they are great!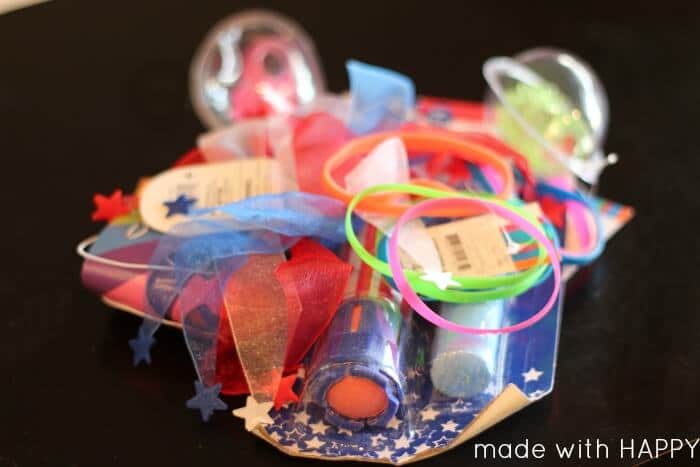 6.)  Next you place one toy on each of the circles and cover it with a bag.
7.)  Using tape, secure the bags to the poster board.
8.)  Tape piece of crepe paper streamers to the bottom of the poster board to give it a little more jazz!
 Viola, you have yourself an
American Flag Punch Piñata
Guaranteed to add excitement to your 4th of July bash (minus the swinging bats)
Hope you and yours have the HAPPIEST of 4ths.
If you like this Pinata, be sure and check out the Rainbow Punch Pinata too
For more Red, White and Blue inspiration, also check out our Pinterest Board:Follow Alli Ward's board MWH: Red, White and Blue on Pinterest.