We recently had our little one's 4th Birthday and last minute he changed from wanting a Dinosaur birthday to a Teenage Mutant Ninja Turtle Party.
This past year, the whole Made with HAPPY family had dressed up as TMNT (I was Donny) 🙂 In any case, we purchased costumes for the littles and MWH Dad and I, had make-shift costumes including our DIY Shells. For his party, I thought, why not make each of the kids a shell that they can dress up as and take home with them?
They are so easy and inexpensive, you're going to want to have this theme every year!
Simply head down to your local dollar store. Pick up the oval shaped roasting pans. Yep, a dollar.
Lay them out and using a can of green spray paint, paint the tops.
Once you let them dry, then using a scissors, we made a small hole in each of the four corners. Using a simple green yarn, I tied one end to the top right hole of the roasting pan (if you're looking at it long ways up and down) and then the other end to the bottom right hole. I used a second piece of yarn and did the same thing to the two left holes and viola, you have a back pack turtle shell.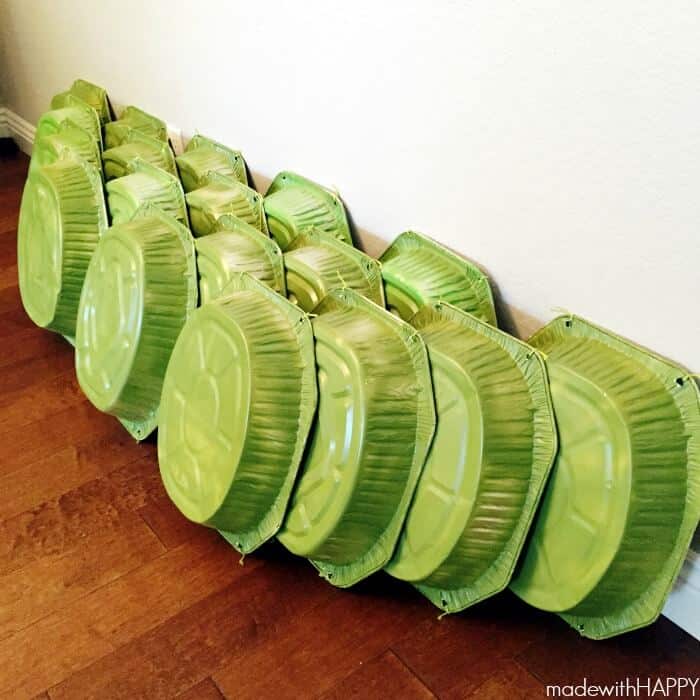 The kids had an absolute blast running around with them on and many wore them home.
Super simple and only a dollar. Can't beat it!
HAPPY CRAFTING!
Other DIY Costumes You Might Enjoy
More of our Teenage Mutant Ninja Turtle Inspiration