Learn fun facts about the color red! Find out what it means, how it's used, and some scientific facts in this interesting guide.
Red is more than just a color. In the Western cultures a symbol of passion, energy, and love. In this post, we're diving into the vibrant world of red to uncover some fun and fascinating facts that will change the way you see this bold hue. From its role in history to its impact on our emotions, join us on a colorful journey to discover the secrets of red!
History of The Color Red
The history of the color red is a colorful tale that goes way back in time. Ancient civilizations, like the Egyptians and the Mayans, were some of the first to create red dyes from things like red clay and crushed insects. They used these dyes to make vibrant clothing and artwork. In fact, red was often associated with power and status, so only the rich and powerful could afford to wear it!
As we move through history, red continues to be a significant color. In ancient China, it was the color of good luck and happiness, so it was used in many important celebrations. The Romans, on the other hand, associated red with war and courage.
They even named a planet, Mars, after their god of war because it appeared red in the night sky. Fast forward to the Middle Ages, and red was a favorite among European royals. They used a rare and expensive red dye made from crushed insects called cochineal to make their clothing, making red a symbol of wealth and luxury
Where Did the Word Red Come From?
The word "red" comes from Old English, way back in the past. People used the word "rēad" to talk about the color red. It's like when you see a red apple or a ripe strawberry today; people long ago needed a word to describe that color.
The word "rēad" has been around for a very long time, and it's connected to even older languages that our language, English, came from. So, when we say "red" now, we're using a word with a history that goes back a really long way!
Wavelengths of Color Red
Colors have something pretty cool going on behind the scenes - it's all about light and its different wavelengths. Think of light as a bunch of tiny waves, like the ripples you see when you throw a pebble into a pond. These waves have different lengths, and that's what makes colors look different.
When it comes to red, it has the longest wavelength compared to other colors. These waves are like slow, lazy ripples in the pond. Red light waves wiggle at a slower pace than the color blue or green waves. Because of this, our eyes see red as a warm and soothing color. It's also why red is often associated with things like love, energy, and passion.
Now, here's something neat: When you see something red, it's because that object is reflecting those long red waves of light and absorbing the other colors. So, a red apple looks red because it's sending those red light waves bouncing off it while soaking up all the other colors like blue and green. It's like a color magic trick happening right before your eyes!
What Colors Make Red
Primary colors are like the building blocks of all the other colors you see. There are three primary colors: red, blue, and yellow. You might wonder why these colors are so special. Well, it's because you can't mix other colors together to make them. They're like the starting point for all the other colors on the color wheel.
Now, let's talk about how to make red. You might think mixing colors is like cooking where you can blend ingredients together to make something new. But with colors, it doesn't quite work that way.
You can't mix other colors to create red because red is one of the primary colors. It's like trying to make a cake without any ingredients - you can't! Red is a color that you can't create by mixing other colors; it's one of the starting colors that you can mix to create new ones, though. If you mix red with blue, you get purple. And if you mix red with yellow, you get orange. That's the fun part of colors; you can mix them to create a whole rainbow of new colors!
What Does the Color Red Symbolize?
The color red has different meanings and symbols around the world. Red is a color that's full of intense emotions. When you think of red, you might think of love and passion. That's because red is often linked to feelings of romance and desire. It's like the color of a heart, and that's why red roses are given as a symbol of love on special occasions like Valentine's Day.
But red isn't just about love; it can also represent power and strength. In many cultures, red is used to symbolize bravery and courage. Fire engines and stop signs are painted red because red is a color that grabs your attention and says, "Pay attention, something important is happening!" It's like a color that commands respect and authority.
On the flip side, red can also be associated with anger and danger. When we're angry, our faces can turn red, and red traffic lights signal us to stop or be cautious. So, red can be a warning color, telling us to be careful or alert. In a nutshell, red is a color that's all about strong feelings, whether it's love, power, or a warning to stay safe. It's a color that's hard to ignore!
Facts About The Color Red
Some animals like ladybugs, cardinals, and lobsters are naturally red. Some even have the name red right in their name like red fox, red panda, and red kangaroo.
Red is the first color in the rainbow and are the most visible colors
The human eye is most sensitive to the color red, which is why red objects often catch our attention.
Red is the color of blood, and it can symbolize life and vitality.
The planet Mars is named after the Roman god of war because it appears red in the night sky and is also known as the red planet.
Bulls are not actually angry when they see red. They are color-blind to red.
Green is the opposite of red on the color wheel
Coca-Cola's signature red color is so iconic that it's often called "Coke Red."
In the world of fashion, the red carpet is synonymous with glamour and prestige.
Red cars are often associated with being pulled over by the police, but there's no scientific proof that they get more speeding tickets.
The Red Cross uses a red logo, symbolizing compassion and assistance.
Other Interesting Facts About The Color Red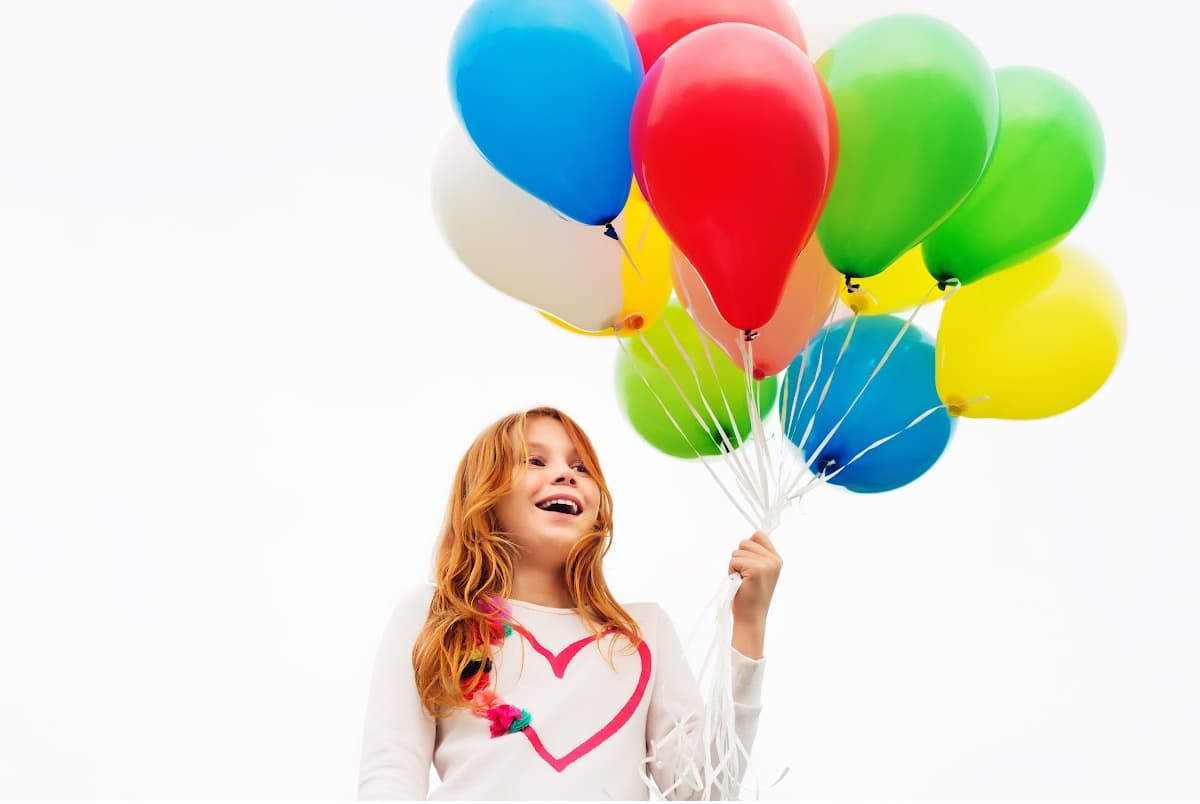 People with red hair are pretty unique! Only about 2% of the world's population has naturally red hair, and it's caused by a special type of pigment called pheomelanin.
Ancient people used red ochre (natural clay red pigment) and red lead to create cave paintings thousands of years ago. It's like the first red paint!
In racing, a red flag means stop! It's waved when there's a dangerous situation on the track, like a big crash.
Red lipstick is a classic and glamorous makeup choice. It's been a popular choice for centuries and can make you feel confident and bold.
Many sports teams wear red uniforms because it's believed to boost energy and confidence. Teams like the Chicago Bulls and Manchester United sport the fiery color.
When you get excited or exercise, your heart rate can go up, and your face might turn red because your body is pumping more blood flow.
The color of most red wine comes from the skins and stems of red grapes, as the juice from red grapes is typically not red but white!
The most popular variety of red wine is Cabernet Sauvignon
Many fast food chains like McDonald's and KFC use red in their logos and decor because it's thought to stimulate appetite and make you want to eat quickly.
Fun Facts About Red in Other Cultures
During the Lunar New Year, which is one of the most important festivals in Asian countries and cultures, the color red is prominently featured. People believe that red is a symbol of good luck and fortune, and it is used to ward off evil spirits. As a result, you'll often see red clothing, decorations, and even red envelopes filled with money given as presents during this festive time.
In ancient Rome, red was associated with power and authority, and high-ranking officials wore red robes.
In Hinduism, red is a sacred color associated with purity and sensuality.
In Chinese culture, the color red symbolizes love, prosperity, and good fortune. Chinese brides often wear a red dress and incorporate it throughout their wedding.
Color Red Names - Shades of Red
Red is more than just one color. It's like a big family of colors, each with its own personality. You've got light red, which can be as gentle as a rosy blush, and then there's dark red burgundy, like ripe cherries. Every shade of red tells a different story and can make us feel different emotions.
Red is often considered a warm color because it's associated with heat, fire, and passion. It's the color of love and excitement. Think about how your cheeks might turn red when you're embarrassed or how a ripe, juicy apple looks so inviting in its bright red skin. These are all different shades of red that show its warm and vibrant nature.
Other Color Activities You'll Enjoy
Download Red Worksheet For Kids
Enter your email in the form below and you'll be taken directly to the red worksheet for kids pdf file.
*For personal use only
CONNECT WITH MADE WITH HAPPY!
Be sure to follow me on social media, so you never miss a post!
Facebook | Twitter | Youtube | Pinterest | Instagram
Looking for crafts to keep your child busy? Sign up for my 5 Ridiculous HAPPY Activities in under 30 minutes for your kids delivered directly to your inbox!
Find and shop my favorite products on my Amazon storefront here!
Facts About The Color Red
PIN IT TO YOUR DIY BOARD ON PINTEREST!
FOLLOW MADE WITH HAPPY ON PINTEREST FOR ALL THINGS HAPPY!