Learn some Earth Day Fun Facts For Kids of all ages! We're sharing the history of the holiday along with other fun trivia questions.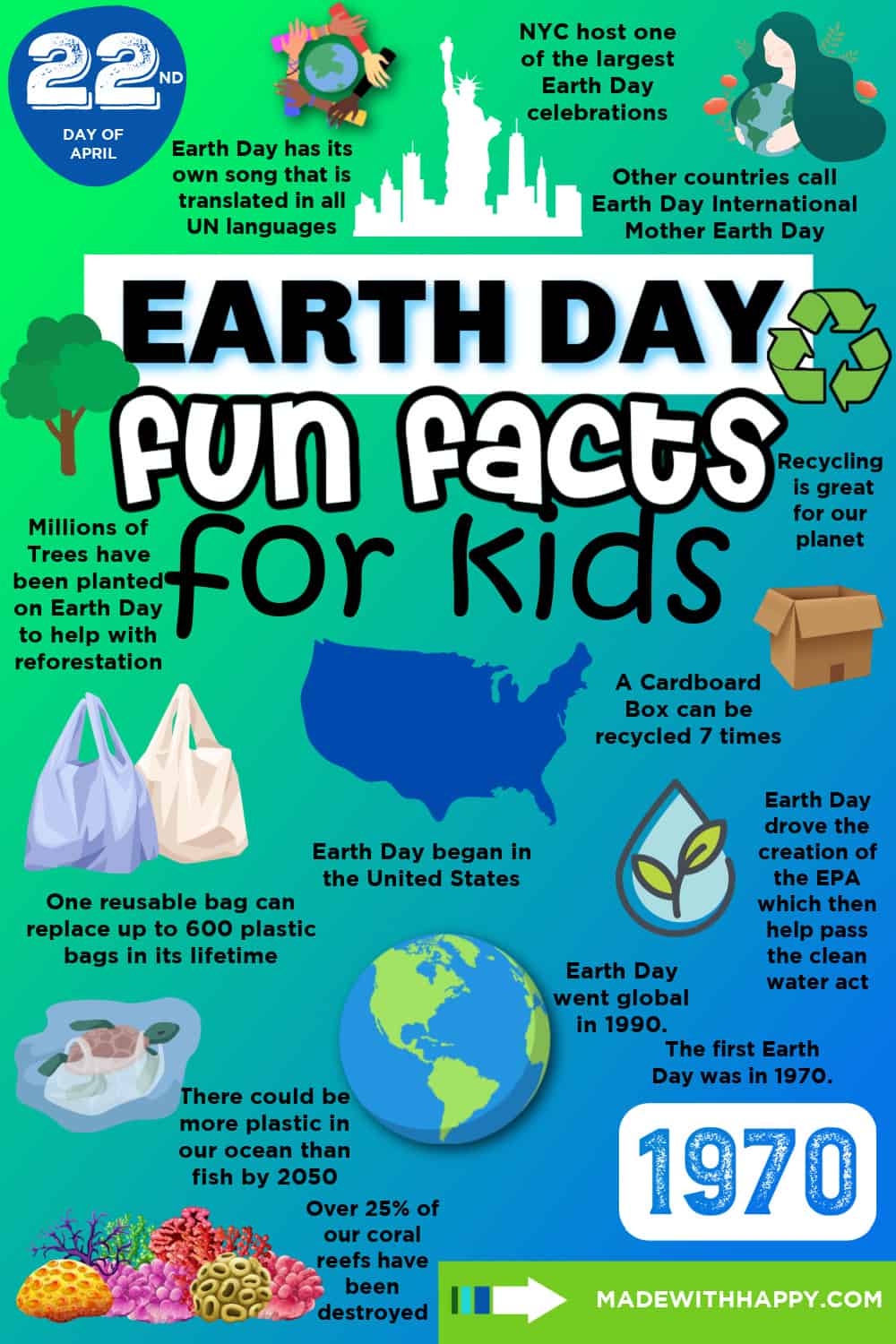 These Earth Day fun facts for kids are a great way to understand the history of Earth Day as well as share some fun Earth Day trivia with friends and family throughout the month of April leading up to the day of Mother Earth Day!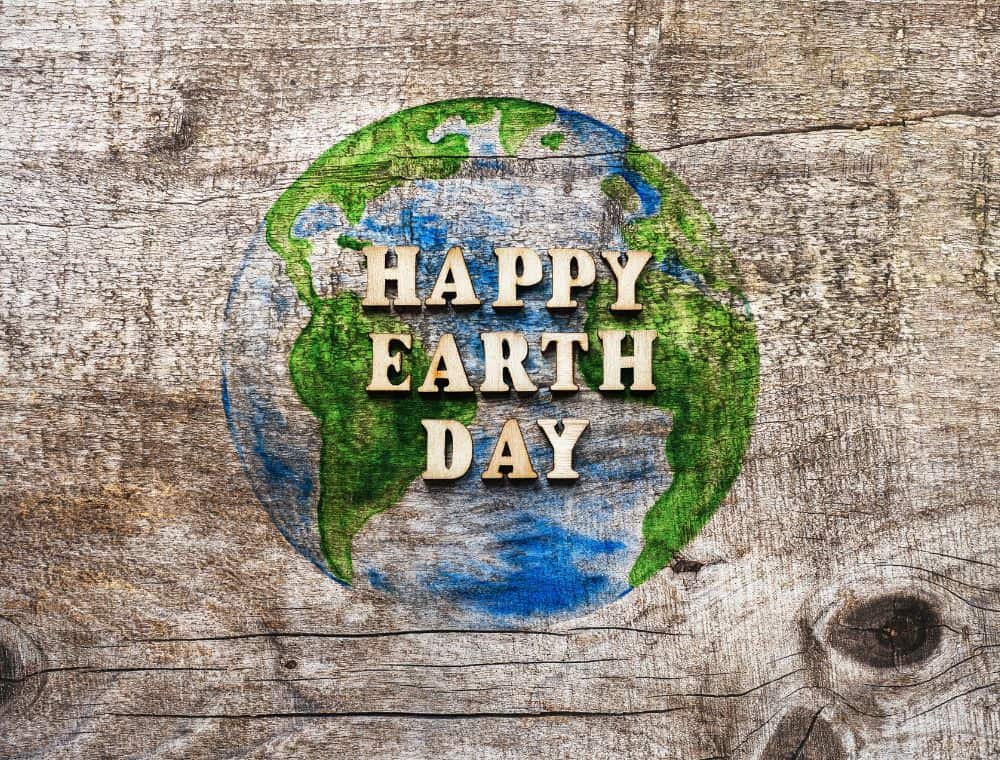 Happy Earth Day
Earth Day happens in the middle of the Spring season in the Northern Hemisphere, and the Autumn season in the Southern Hemisphere.
There are also all kinds of Earth Day celebrations full of fun for kids including crafts, printables, coloring pages, and projects. We've included a number of those to celebrate all that is Earth Day.
Before we jump right in, you will not want to miss our April Fun Facts!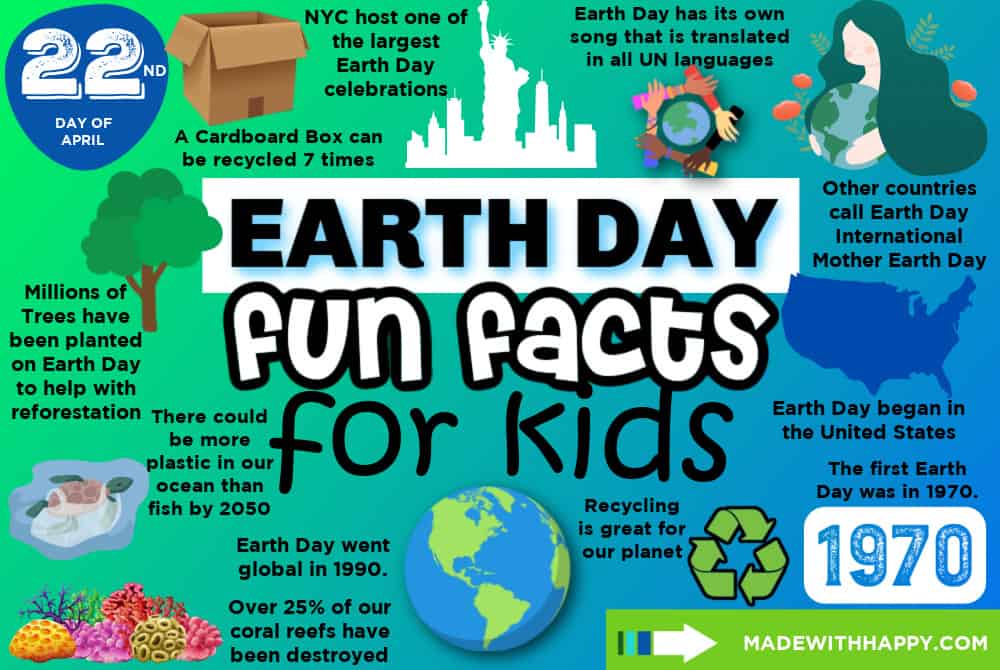 What is Earth Day?
Earth Day is a day each year in celebration of protecting the beautiful planet from environmental concerns like oil spills, pollution, and declining plants and animals in nature. It is an important day to raise environmental awareness and help keep the earth clean and safe.
When is Earth Day?
Earth Day is an annual event on April 22nd. Many people like to extend the celebration and make it Earth Week. Earth Week is typically celebrated the entire week leading up to Earth Day and runs from April 16th through April 22nd.
Earth Day History
First Earth Day
The first official Earth Day was on April 22, 1970. The idea was thought up by Wisconsin Senator Gaylord Nelson. The year prior there was an oil spill off the coast of Santa Barbara. After seeing the huge impact the oil spill had on the environment and the damage it caused, Senator Nelson proposed the idea of Earth Day.
He enlisted help from an activist and college student Denis Hayes who he knew could help gather college students for the first Earth Day on college campuses. Side Note - Denis Hayes also help found the Earth Day Network (EarthDay.org)
They set the day for the demonstration as April 22nd, 1970. That date was chosen as it fell between spring break and final exams in hopes that college students would be able to participate.
20 million Americans took part in the event on that inaugural Earth Day celebration which was approximately 10% of the US population at the time. This sparked the environmental movement and shortly after that the government responded and created the Environmental Protection Agency (EPA) as well as the Clean Air Act, Clean Water Act, and Endangered Species Act.
World Earth Day
It was 20 years late when environmental leaders got together and went to Denis Hayes once again to organize another campaign to take it international. In 1990, Earth Day went global and had over 200 million people in 141 countries involved.
Today, a billion people participate in earth day events in over 193 countries around the world. In 2009 the United Nations designated the dates as International Mother Earth Day. Americans still call it Earth Day!
Fun Earth Day Facts
In 1962, Rachel Carson wrote the New York Best Seller Silent Spring which sold over half a million copies. She raised awareness about the link between pesticides and pollution and the public's health. She is considered one of the influences on the creation of Earth Day.
Earth Day has an unofficial flag. A flag with a picture of Earth from space was created by John McConnell in 1968.
There is an official Earth Day song called Earth Anthem. It was written in 2013 by Indian poet Abhay Kumar.
There is an Earth Day Theme that each year and it changes each year. Themes throughout the years have helped with climate change, global warming, recycling, plastic pollution, tropical rainforests, drinkable water and so much more.
In 2011 there were 28 million trees planted in Afghanistan as part of the Plant Trees Not Bombs campaign.
In 2012, more than 100,000 people rode bikes in China to save on fuel and reduce emissions.
New York City and San Francisco hold two of the largest celebrations of Earth Day.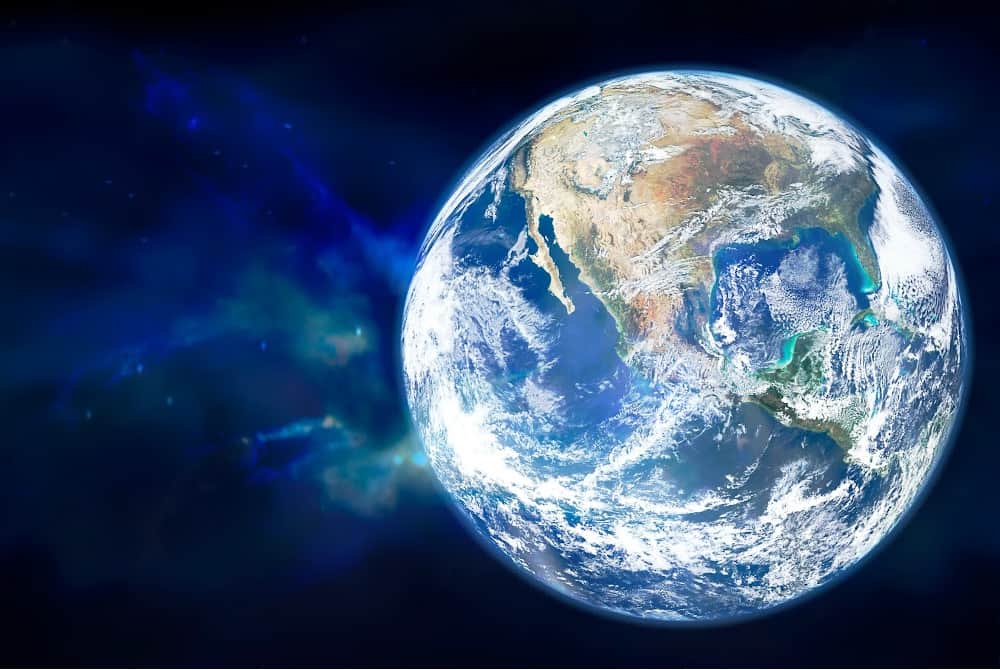 Earth Facts
Earth is...
The fifth-largest planet in our solar system.
Is the only planet to have only one moon.
The third planet from the sun.
The only planet that has been found to contain life.
The surface is 71% water.
Only 3% of Earth's water is fresh water and 97% of it is salt water.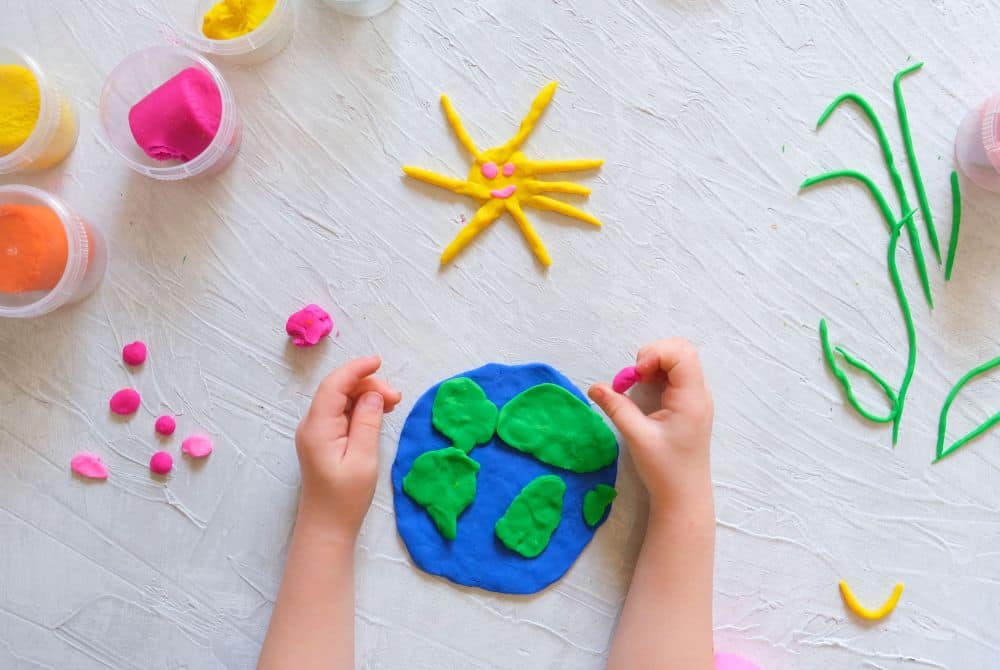 Other Earth Day Interesting Facts
One person creates almost five pounds of trash per day.
Cardboard boxes can be recycled at least seven times.
One-third of plant and animal species could be gone in 50 years.
One reusable bag can replace up to 600 plastic bags in its lifetime.
There could be more plastic in our ocean than fish by 2050.
Over 25% of our coral reefs have been destroyed.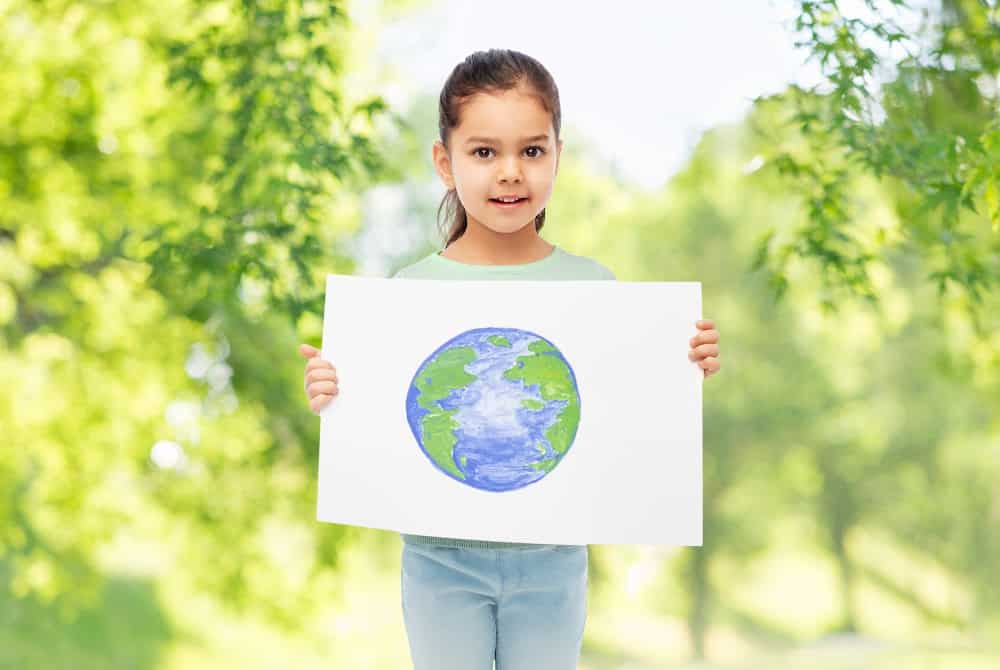 Earth Day For Kids
Earth Day is a great way to help planet Earth as well as a fun time to spend the special day with family and friends. We have many different earth day projects that will be fun for the whole family this Earth Day but especially for kids. Check out these fun Earth Day Activities!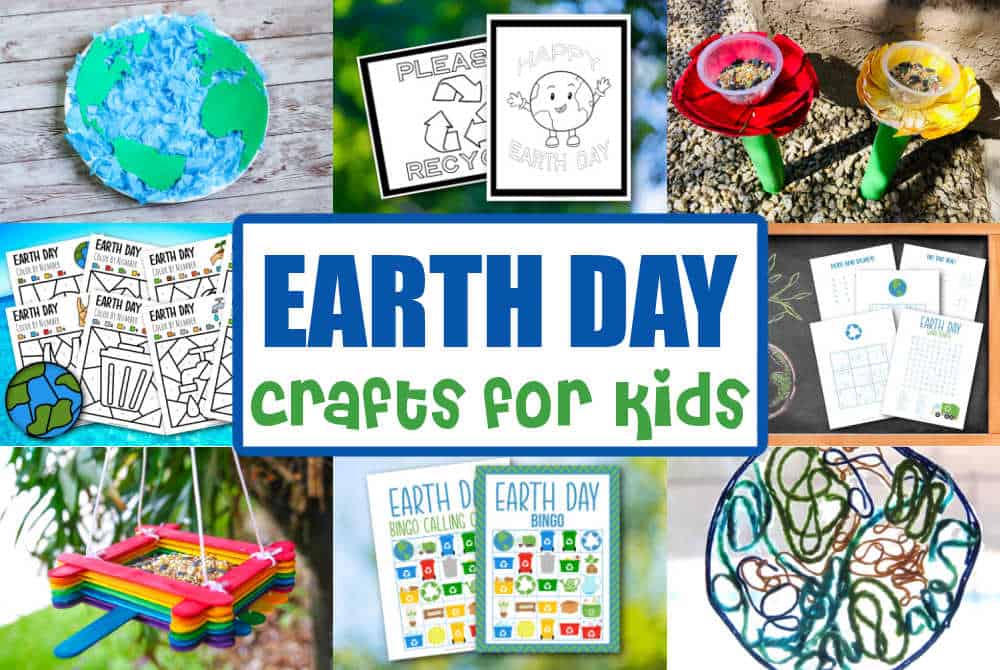 We have a number of different crafts that are great for Earth Day with the Globe, Earth, Recyclables, Bird Feeders and so much more! For example, here are the top three.
Earth Day Printables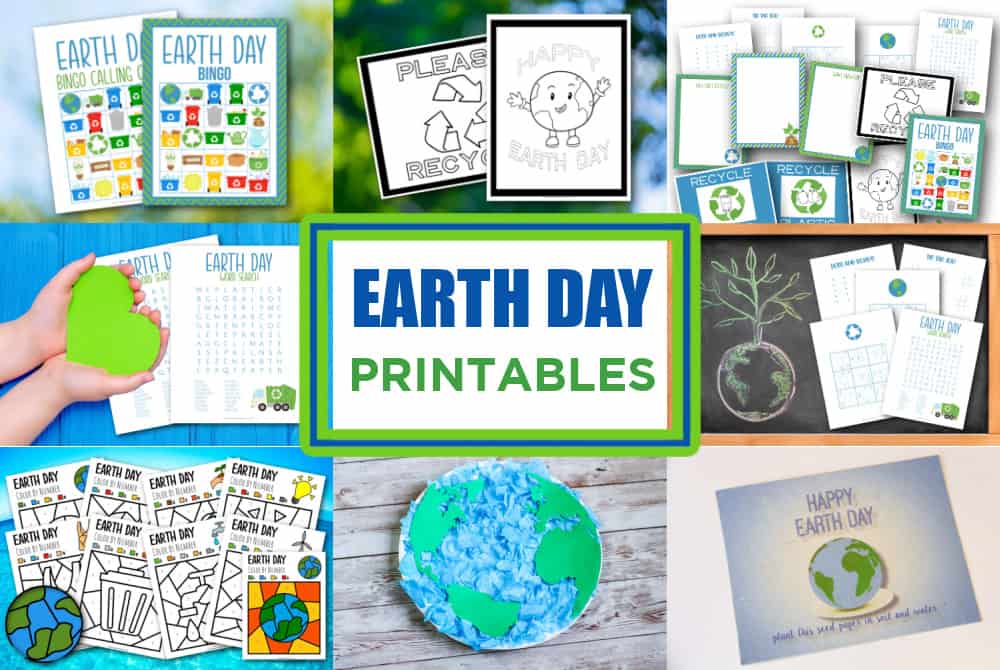 We have lots of fun Earth Day printables that are great for kids and full of games, coloring pages, and Earth fun. For example, here are a few of our favorites.
Earth Day Coloring Pages
If coloring is your jam, then you certainly won't want to miss our fun Earth Day coloring pages. Lots of them!
We highlighted these Fun Facts along with some other fun kid's crafts in our April Crafts along with our 101+ Easy Kids Crafts.
You also do not want to miss our 101+ Printable Coloring Pages For Kids and 101+ Printables For Kids full of Crafts and Coloring Pages.
Lastly, we hope you have found a great way to celebrate Earth Day!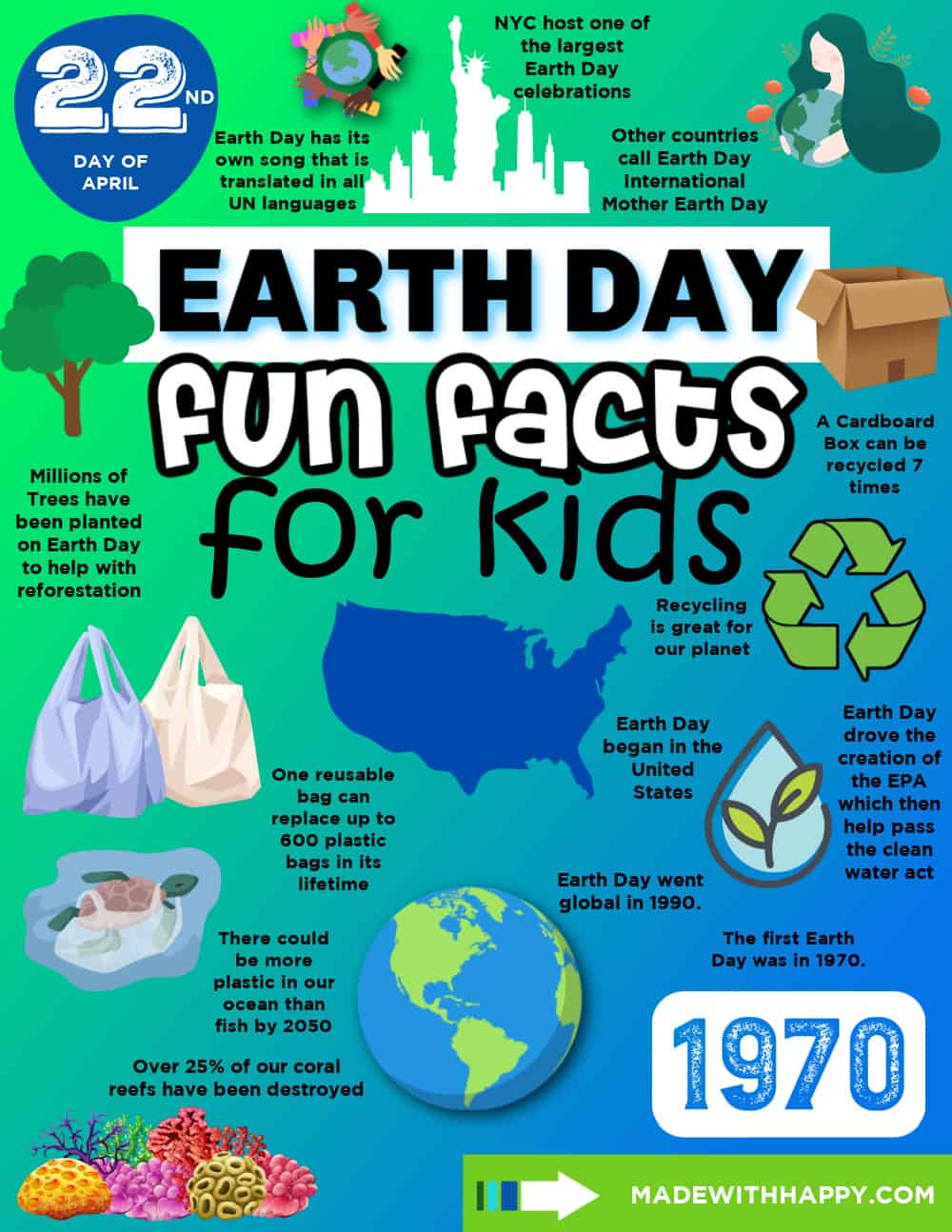 Download Free Earth Day Facts Infographic
Enter your first name and email address to download the free Earth Day Facts pdf file.
*For personal use only
CONNECT WITH MADE WITH HAPPY!
Be sure to follow me on social media, so you never miss a post!
Facebook | Twitter | Youtube | Pinterest | Instagram
Looking for crafts to keep your child busy? Sign up for my 5 Ridiculous HAPPY Activities in under 30 minutes for your kids delivered directly to your inbox!
Find and shop my favorite products in my Amazon storefront here!
EARTH DAY FUN FACTS
PIN IT TO YOUR DIY BOARD ON PINTEREST!
FOLLOW MADE WITH HAPPY ON PINTEREST FOR ALL THINGS HAPPY!