Celebrate Earth Day with these Free Earth Day Coloring Pages including a fun recycling bin. Grab your Earth Day Coloring Pages for Kids.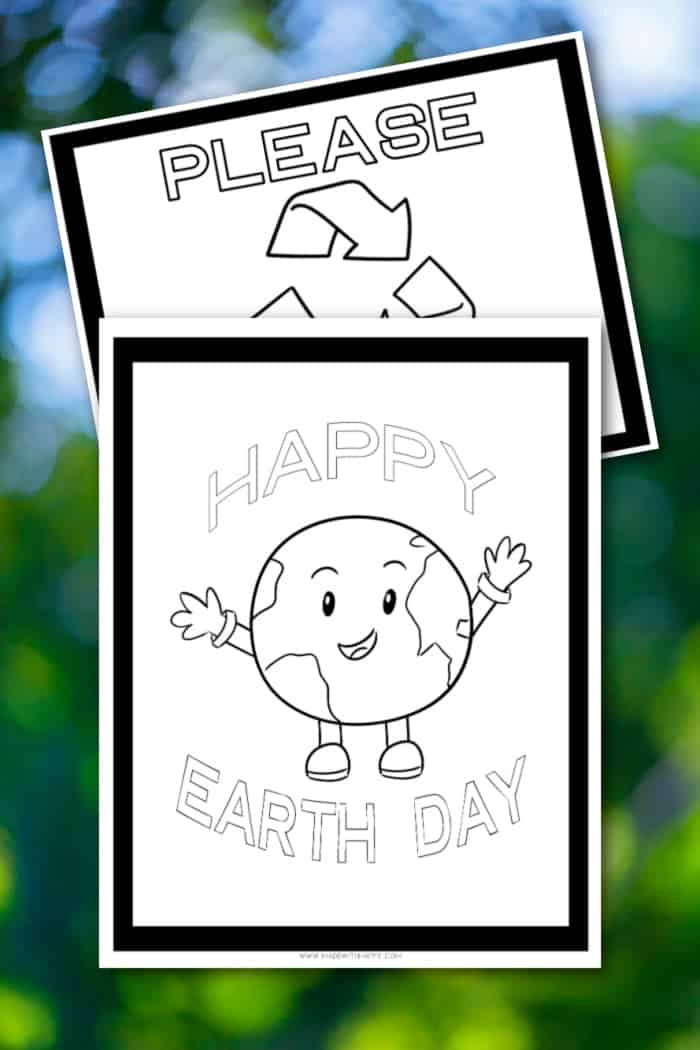 These free printable earth day coloring pages are all kinds of fun for the kids.
Earth Day is always a great day to share with the kids. If you want some other fun Earth Day activities, then you will not want to miss our most popular Earth Day activities including: Earth Day Project For Kids - Paper Plate Craft, Earth Day Bingo, Earth Coloring Page, and our Yarn Earth Kids Activity.
If you enjoy fun coloring pages like these ones, make sure to check out our 101+ Fun Coloring Pages For Kids.
We highlighted this Earth Day Activity along with some other fun kids craft in our April Crafts for Kids along with our 101+ Easy Craft Ideas for kids.
You also do not want to miss our 101+ Free Kids Printables full of Crafts & Coloring Pages.
What is Earth Day?
Earth day occurs each year on April 22nd. The day was originated as a way to increase awareness around environmental protection of the earth.
The first Earth Day was observed on April 22, 1970 in the United States. In 1990, it was taken international with events held in 141 nations.
Earth Day is now all around the world and there are lots of earth friendly ways we can get involved and support the saving our planet from our climate crisis.
Happy Earth Day
Made with Happy is all about bringing all the HAPPY to all the occasion. Earth day is no different. The HAPPIEST of coloring sheets included in our free download is the is HAPPY Earth Day Coloring Sheet.
The kids will love to color in the earth and adding their HAPPY to it.
Please Recycle
A large part of Earth Day is learning about the three R's. Reduce Reuse Recycle!
Reduce your use of electricity by turning lights off when you leave a room. Turn water off when you are not using it (like when you're brushing your teeth).
Reuse – Reusing items like straws, water bottles, and clothing it reduces trash and the energy to make another.
Recycle – Collecting cans, glass bottles, plastic bottles, and some paper and cardboard.
This sweet please recycle coloring page opens the conversation with your children about the act of recycling as well as the recycling symbol. Teaching them about how certain materials in the world and how they can be recycled. It's also a great time to talk about single-use items and how they are hard to recycle. Grab some crayons or refillable markers and start having some fun!
Earth Day Coloring Pages For Kids
We hope your kids enjoy learning about the Earth on Earth Day as much as we do. Not only can they learn all kinds of activities they are able to do throughout the Earth Day month.
Some other activities in addition to the Fun Earth Day Coloring Pages for kids, is planting a tree and beach or park cleanups.
The most important thing is to be aware of the things we can do to save our planet.
Download Your Free Printable Earth Day Coloring Pages
Other Free Coloring Sheets You'll Love
CONNECT WITH MADE WITH HAPPY!
Be sure to follow me on social media, so you never miss a post!
Facebook | Twitter | Youtube | Pinterest | Instagram
Looking for crafts to keep your child busy? Sign up for my 5 Ridiculous HAPPY Activities in under 30 minutes for your kids delivered direct to your inbox!
Find and shop my favorite products in my Amazon storefront here!
EARTH DAY COLORING PAGES
FOLLOW MADE WITH HAPPY ON PINTEREST FOR ALL THINGS HAPPY!