Celebrate the month of April with your kids and learn lots of April Fun facts including birthstones, flowers, and holidays.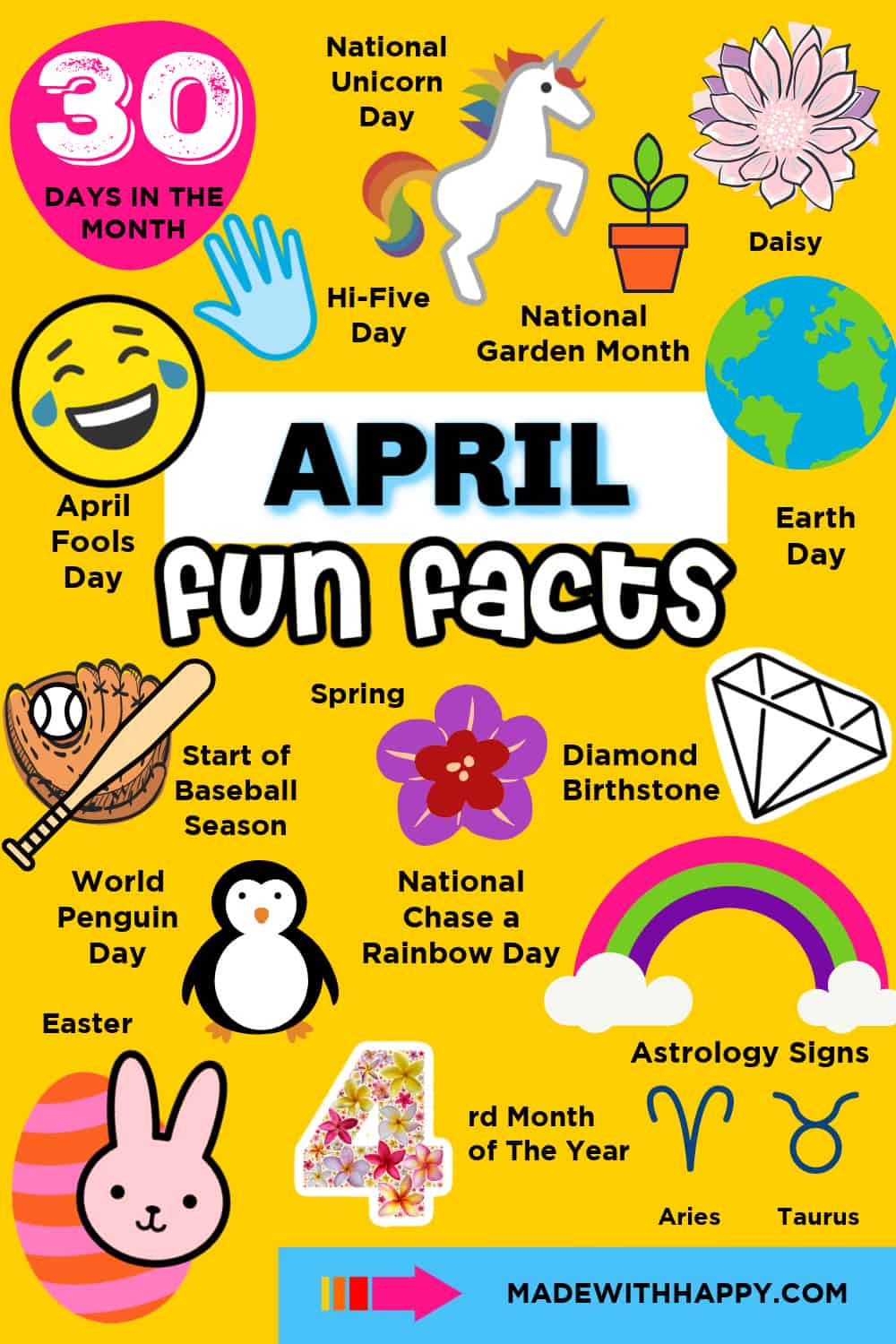 This April Fun Facts month is full of all kinds of holidays, beauty, and a whole lot of HAPPY. Learn with us all about April with these fun facts and we have some added crafts and printables that are sure to make you love this month as much as we do!
Before we get into all of HAPPY April, don't forget to check out last month's March Fun Facts and our Facts About Spring too!
The Month of April
The month of April is beautiful! Some of the stats about this month include:
What Month is April? April is the 4th month of the year.
How Many Days are In April? There are 30 days in the month of April
While the current calendar(Gregorian calendar) has April as the fourth month of the year, that wasn't always the case. In the Roman calendar (Julian calendar), April was the second month of the year. January and February didn't exist.
April Symbols
Each month of the year has a few different symbols within the month. There are birthstones associated with each month, there is a monthly flower and there are astrological signs. These are all based on the birth month. Those people that are born in April - April Babies!
April's Birthstone: Diamond
April Birth Flowers: Daisy and Sweet Pea
Astrology Zodiac Signs of April: Aries and Taurus

Aries - March 21st - April 19th
Taurus - April 20th - May 20th
Holidays in April
April is the first full month of spring in the northern hemisphere (above the equator). Spring is one of our favorite seasons as flowers are starting to bloom, the grass and trees are green and we're finally able to get outside and warm up a bit. If you want to celebrate Spring, check out our Happy Spring Coloring Page, Spring Crafts For Kids, Spring Bingo, and Spring Word Search.
In terms of April Holidays here are a few:
April Fool's Day - April 1st
National Handmade Day - April 2nd
National Find a Rainbow Day - April 3rd
International Pillow Fight Day - April 6th
Unicorn Day - April 9th
National Pet Day - April 11th
National Garden Day - April 14th
Tax Day - April 15th
Hi-Five Day - April 21st
Earth Day - April 22nd
World Penguin Day - April 25th
National Arbor Day - April 29th
Floating Holidays - or Monthly Celebrations
Good Friday
Easter (Easter falls in April most years)
Passover
Teacher Appreciation Week
National Humor Month
Keep America Beautiful Month
World Autism Awareness Month
Fun April Facts
There are two thoughts on how April got its name, but no one is for sure. The first is that it got it's after Aphrodite, the Greek goddess of love. The second is that word April in Latin means "to open" and refers to the flowers and trees opening.
April is considered the funniest month.
Professional baseball begins its season in April.
The April Lyrids - Meteor showers that happen each year between April 16 and April 26.
The Titanic, a famous ship, hit an iceberg and sank on April 15, 1912.
The first president of the United States, George Washington, was inaugurated on April 30, 1789
April is the equivalent of October in the Southern Hemisphere.
The phrase "April Showers bring May Flowers" comes from a poem from the 1500s by Thomas Tusser.
Some of the famous people with an April birthday are Queen Elizabeth II, Leonardo da Vinci, William Shakespeare, and Thomas Jefferson
April Fools' Day Facts
Is celebrated on April 1st each year involving practical jokes, pranks, and hoaxes.
The origins of April Fools Day are unclear, although a few theories exist. One is that when people moved from using the lunar calendar to the gregorian calendar, the new year moved from Springtime to January 1st, those that still celebrated based on the old calendar were considered April Fools.
In France, the day is called Poisson d'Avril which means April Fish. Kids pin or tape paper fish to the back of their friends and yell "Poisson d'Avril" when they find it.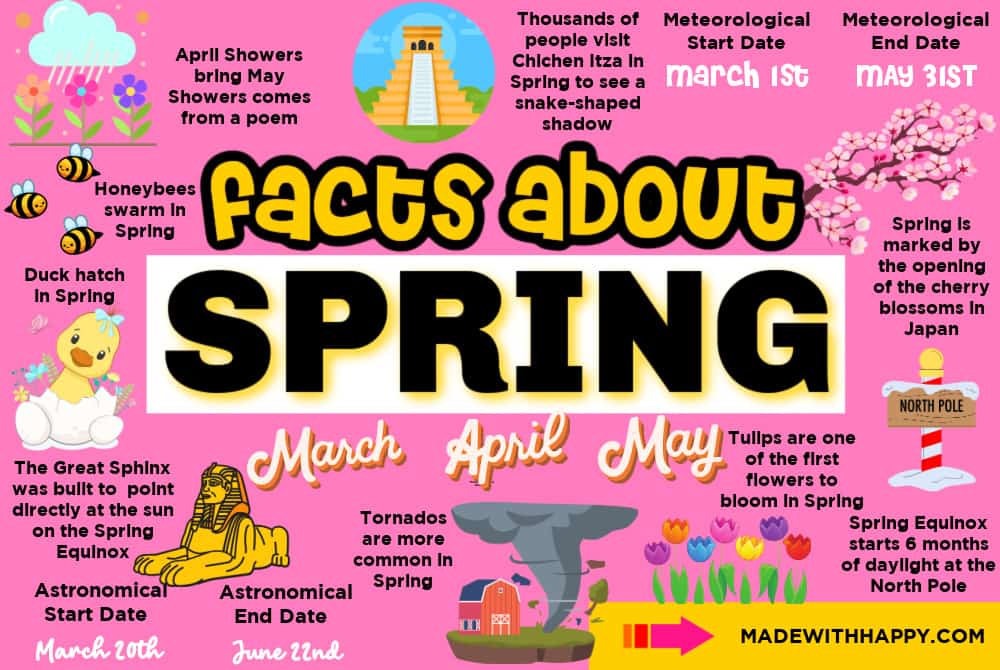 The start of Spring season in the United States (Northern Hemisphere) starts on the Vernal Equinox, otherwise known as the Spring Equinox or March Equinox.
The vernal equinox is the day when the hours of daylight equals the hours of nighttime.
Tornados are more common in Spring as are thunderstorms.
For animals that hibernate, Spring marks the end of hibernation.
The Spring Daylight Savings move happens on the second Sunday in March.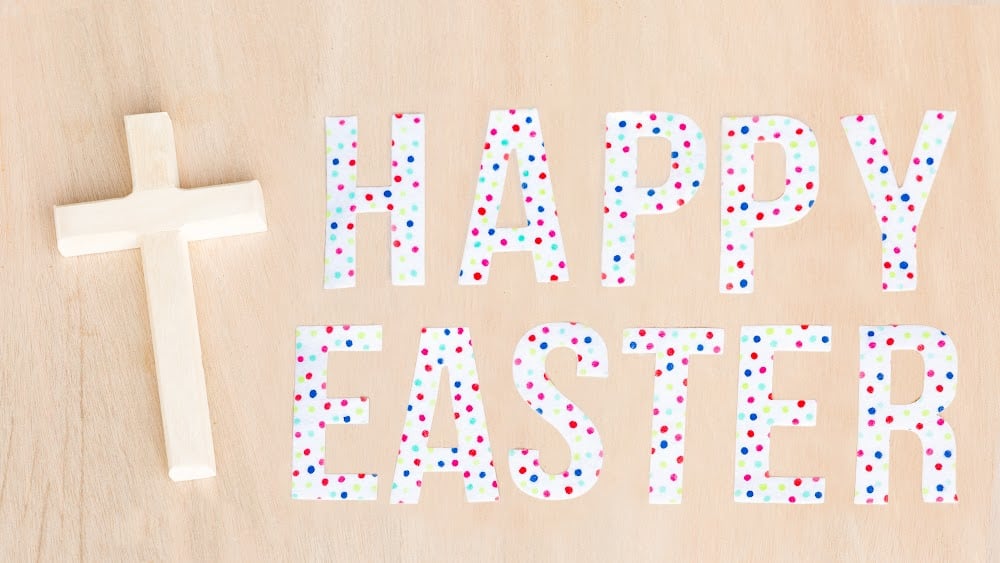 Easter is a Christian holiday that celebrates the resurrection of Jesus Christ from the dead.
Easter Sunday always falls between March 22nd and April 25th.
Dutch settlers brought the idea of the Easter bunny to the United States in the 1700s.
The largest Easter egg ever made was over 25 feet high.
The White House Easter Egg Roll tradition started in 1878
Easter Island was discovered on Easter in 1772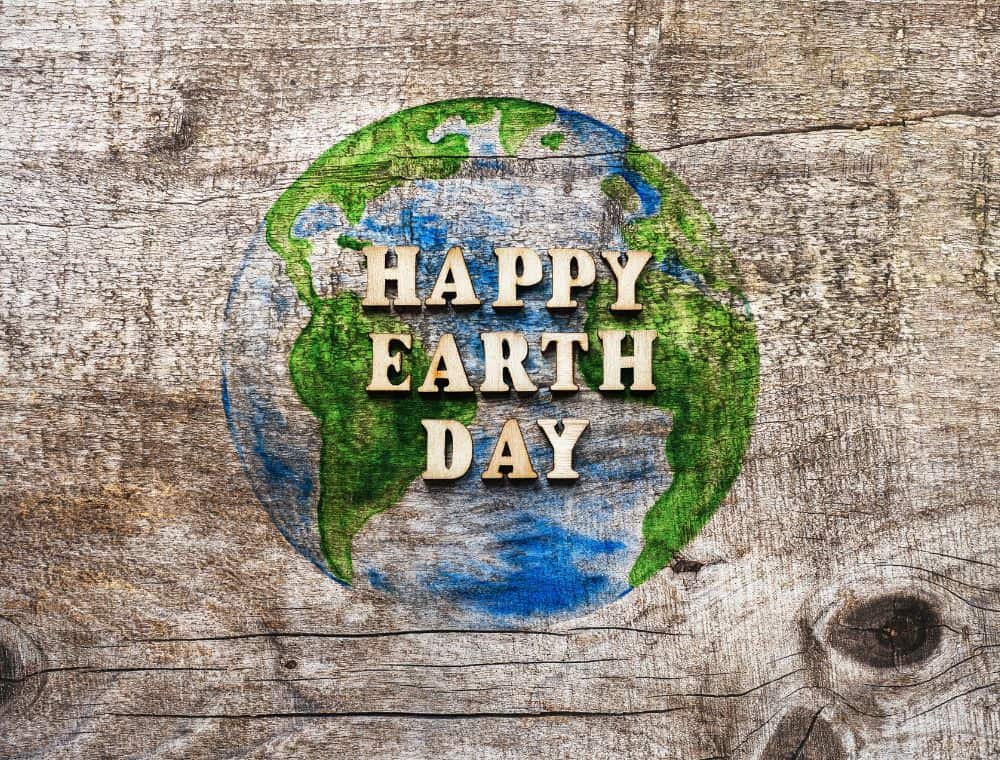 Earth Day Fact
Earth day is a day to honor the achievement of the modern environmental movement and raise awareness of protecting the Earth through conservation and sustainability.
Earth Day is also known as International Mother Earth Day
Earth Day is on April 22nd every year.
The first Earth Day was in 1970 in the United States.
Earth Day was taken internationally in 1990 and is now recognized by over 141 countries.
Other Fun April Activities
April is filled is a month full of new beginnings and fun holidays like Easter and Earth Day. We have lots of different crafts, printables, and coloring pages that go along with April Activities.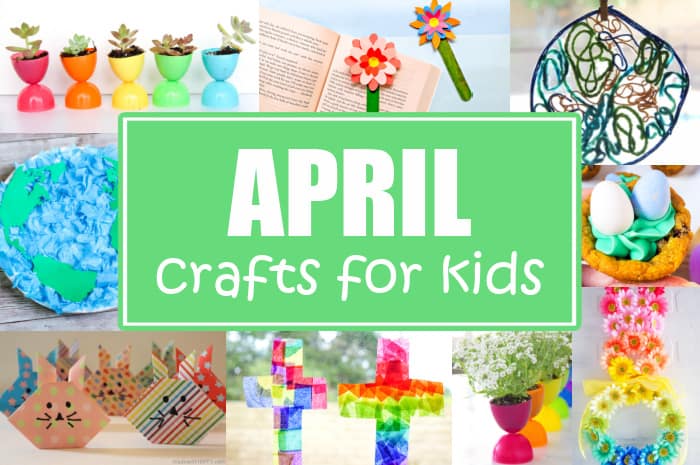 Fill the month of April with lots of different crafts for Easter, Spring, Earth Day, and more.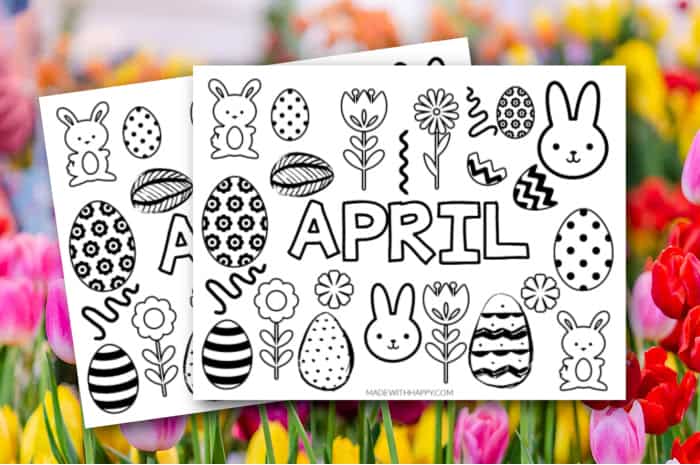 Have some April fun with this free printable April coloring page.
Happy April Friends! There are all kinds of HAPPY with this free printable April word search. Other Popular April Printables include
Download The Free Printable April Fun Facts Sheet
Simply enter your name and email in the form below and you will be taken directly to the free downloadable fun facts sheet.
Other Monthly Fun Facts You'll Enjoy
CONNECT WITH MADE WITH HAPPY!
Be sure to follow me on social media, so you never miss a post!
Facebook | Twitter | Youtube | Pinterest | Instagram
Looking for crafts to keep your child busy? Sign up for my 5 Ridiculous HAPPY Activities in under 30 minutes for your kids delivered directly to your inbox!
Find and shop my favorite products in my Amazon storefront here!
APRIL FUN FACTS
PIN IT TO YOUR DIY BOARD ON PINTEREST!
FOLLOW MADE WITH HAPPY ON PINTEREST FOR ALL THINGS HAPPY!

I'm excited to be one of Google's paid early testers for their Thank with Google pilot program. Thank with Google is an experimental feature that allows you to purchase a virtual sticker and directly show your appreciation for content on my website. As a loyal supporter, you can now feel more connected and engaged because you have the ability to express yourself and share what my work means to you.
There are a variety of stickers to select from and every time you send a paid sticker, you can add a personal message which I enjoy receiving. For me, these virtual stickers translate into direct revenue to support the work that goes into the content that you are enjoying on my blog.
You can find the Thank with Google feature in multiple places on my site, including a button at the top and bottom of this and all blog posts. If you try it out, let me know what you think! Thanks as always for your support.