Sharing tons of easy flower crafts for kids of all ages. Fun Paper flowers, flower crowns, and flower cards are perfect for Mother's Day!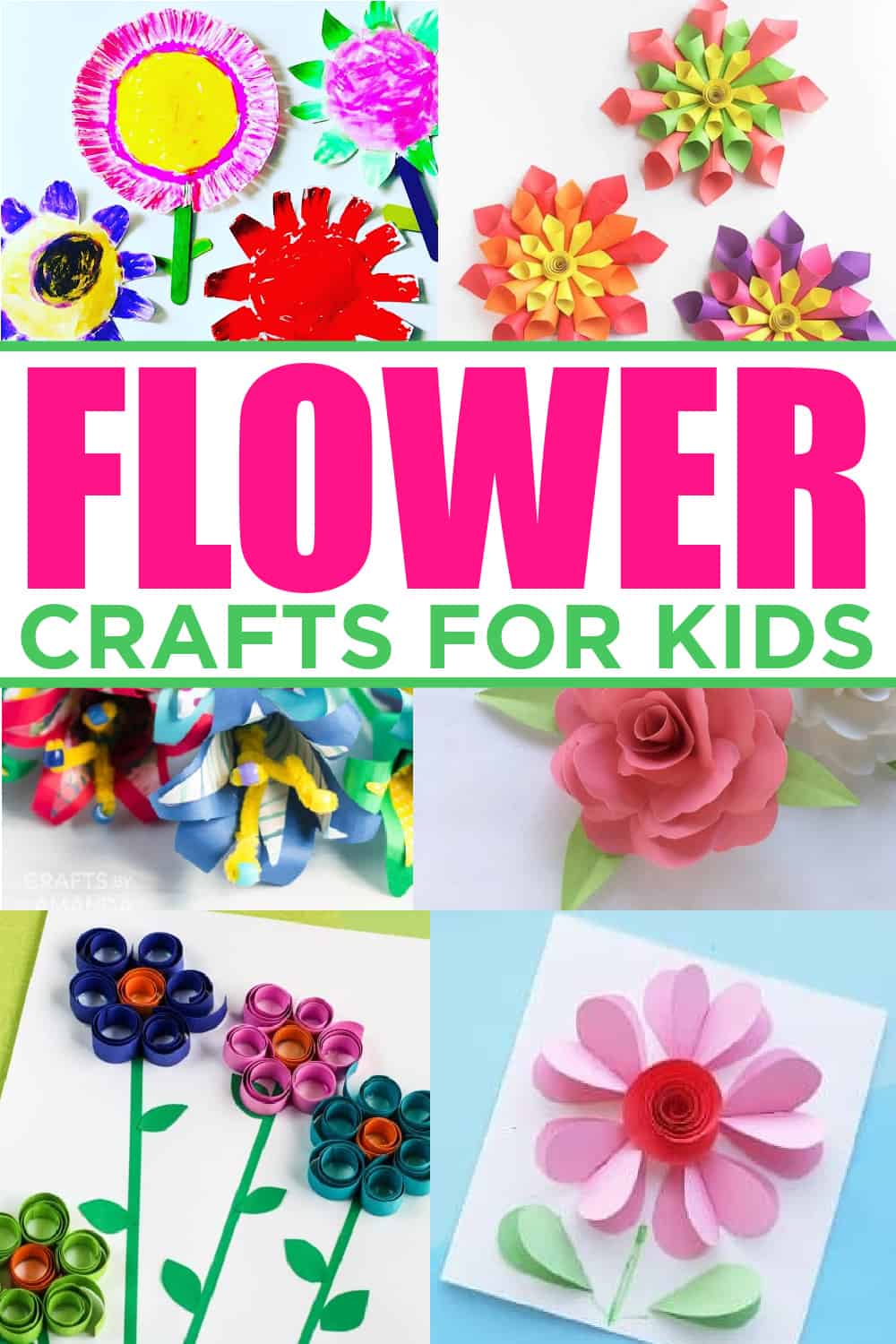 Flower Crafts for kids no matter what size and color are sure to bring a smile to everyone's face!
Flowers always make us think of Spring. If you love Spring crafts like these as much as we do, then you will not want to miss our most popular Spring crafts including Ladybug Rock Painting, Popsicle Stick Bird Feeder, 3D Paper Butterfly, and Paint Sample Rainbow Craft.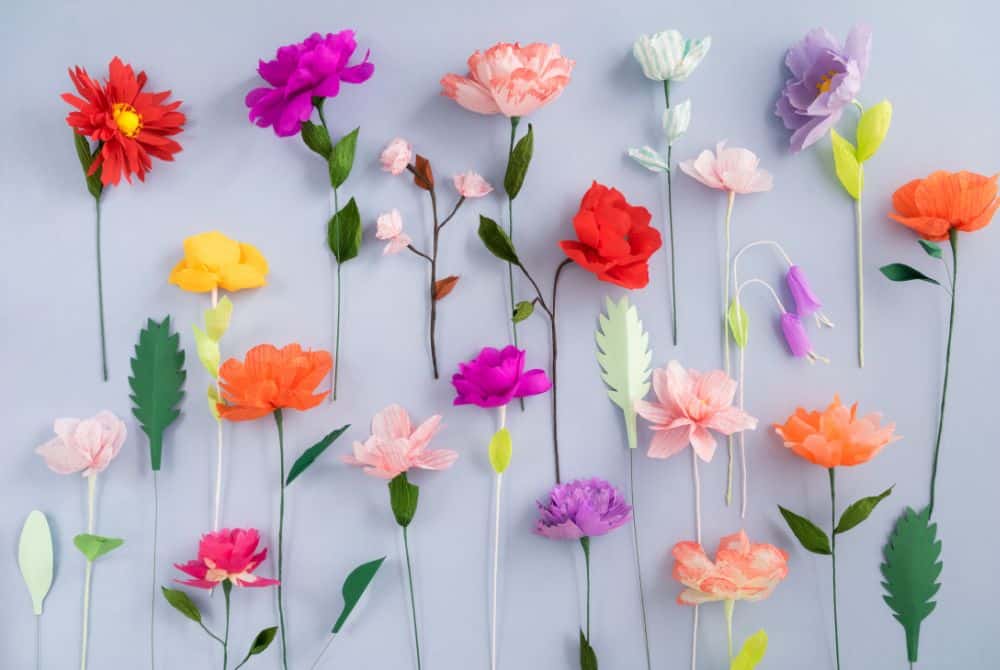 Flower Arts and Crafts
There are few symbols as versatile as the flower when It comes to crafting ideas. Because this ubiquitous sign of spring comes in so many colors and different varieties, there are almost endless possibilities to decorate, craft, and create an entire garden of happiness!
We've created a massive collection of all kinds of flower crafts ideas that will keep your kiddos busy all spring long. Most of these spring crafts require standard supplies you likely have on hand like colorful paper, scissors, glue, pipe cleaners, paper plates, and egg cartons. These flower crafts for kids range from super simple to a bit more complex making them great arts and crafts for both older and younger kids.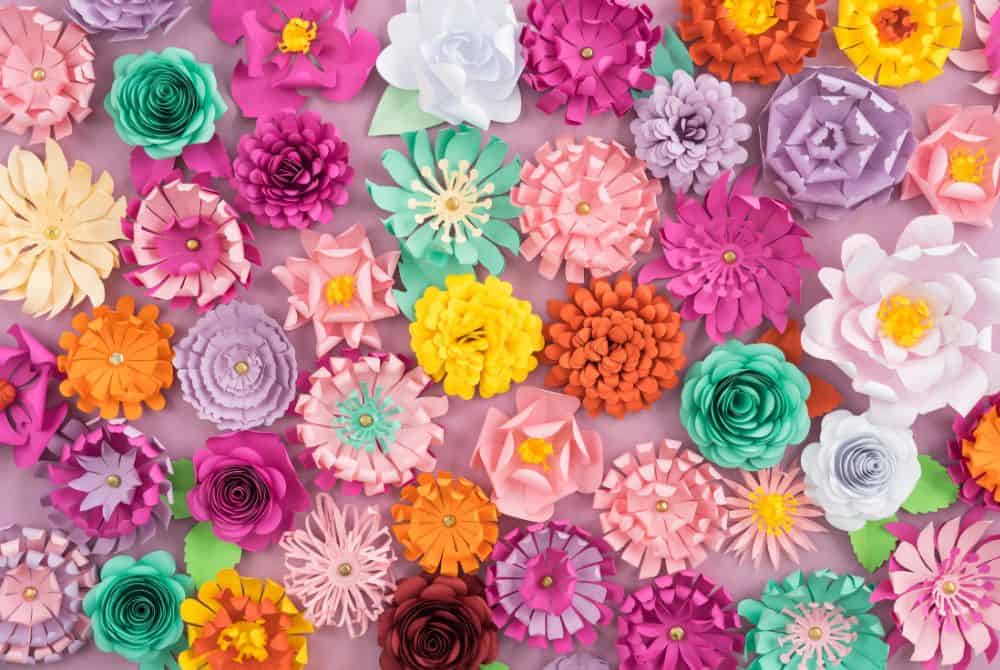 Paper Flowers
For older kids, we have unique paper flower stems with 3-dimensional petals. This paper flower craft is an excellent way to improve kids' scissor skills as it requires them to curl strips of colored paper for the petals.
Younger kids will love the ultra-forgiving tissue paper flowers. With just a few pipe cleaner (or paper) stems and leaves, crumpled-up piles of tissue paper turn into the beautiful petals of a flower (with maybe just a quick reshaping).
Our paper plate flower is another favorite for little kids who can stretch their creativity with colorful patterns or designs on a paper plate. They can practice their fine motor skills by cutting notches into the edges of a paper plate to create "petals."
Color or paint popsicle sticks and glue them to the paper plate to create a sturdy stem. Pop them into a potted plant or garden for a whimsical homemade touch or create your own indoor garden of DIY flowers.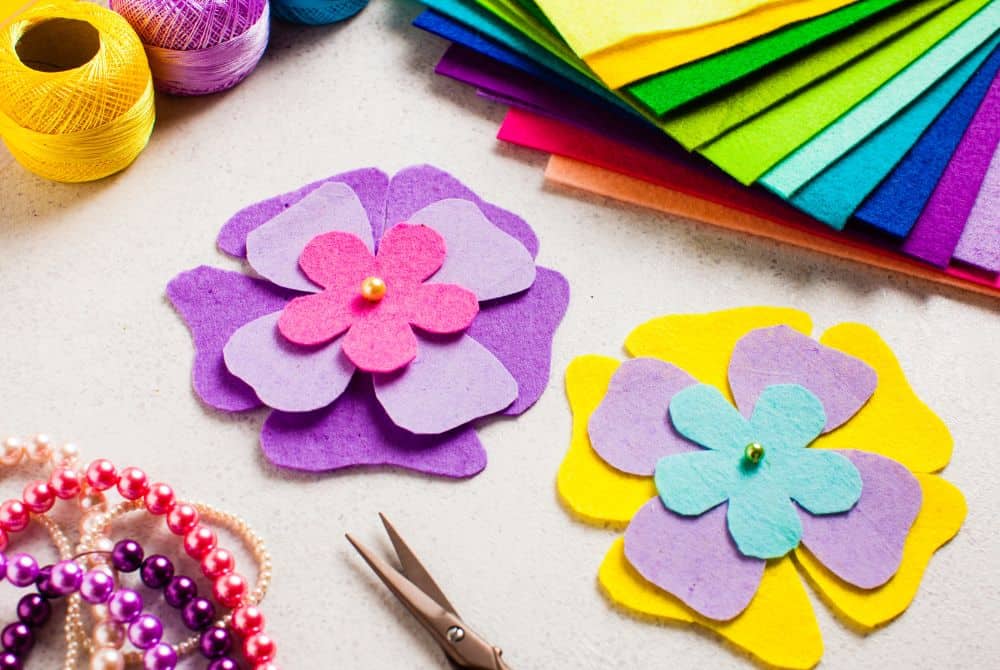 Flower Craft Gifts
Browse all our simple flower crafts for kids for genius Mother's Day gift ideas. We love the easy-peasy painted rocks. Whether your kids choose to paint one gorgeous spring flower or use the rock surface to paint an entire flower bouquet, mothers, grandmothers, and even beloved aunties will love these sweet gifts. Painted rocks make great paperweights to keep napkins in place at a windy summer picnic or as decorations in your yard or garden.
Any of these fun flower crafts for kids would make a sweet gift for anyone special in your kids' lives. (Keep them in mind for end-of-the-year teacher gifts!) For an extra special touch, frame any of our 2-dimensional crafts or consider putting a 3-dimensional craft into a shadow box to keep these crafts safe for years to come.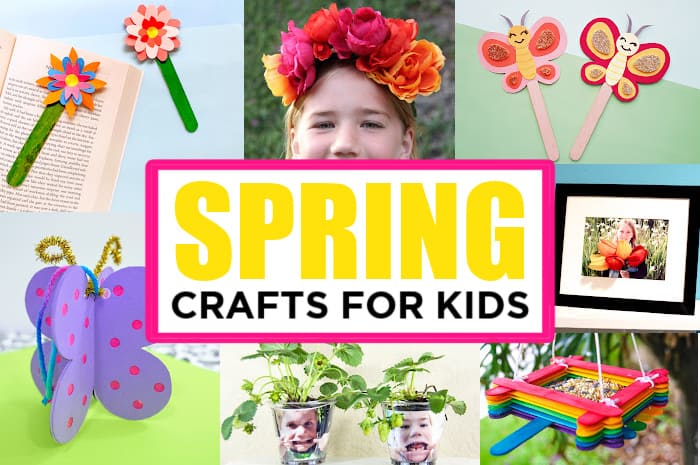 Another awesome spring art project is creating an egg carton flower. There are several ways to fashion flowers from egg cartons and kids love watching the bland containers turn into pretty (and totally different) flowers. (And don't tell the kids, but this is another art and craft project that really helps with scissors and fine motor skills.)
If you've got cupcake liners on hand (is that like asking if you've got paper handy?), break them out for even more flower power. With their circular shape, cupcake liners make fabulous flowers. Add a cute pom pom to the center to help define the flower head and play with adding multiple layers. Glue them to paper or use pipe cleaners as the stem.
These spring flower crafts are great this time of year as well as in Summer and throughout the entire year. Check out our Summer Crafts as well.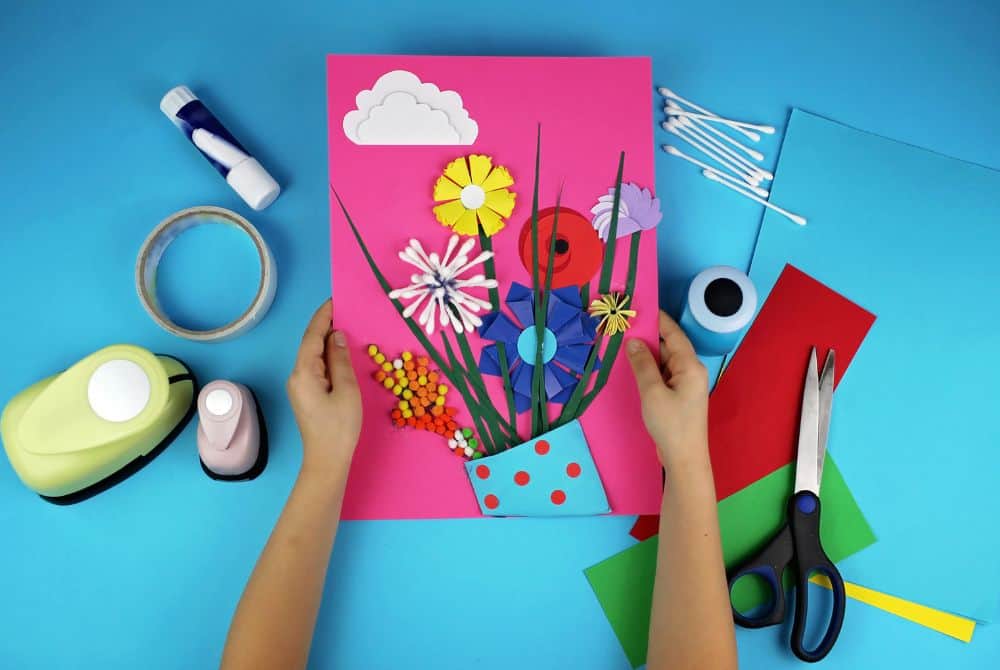 Flower Facts
To add a bit of learning, make a fun counting game by adding the number of petals you create with each craft, whether you are cutting them out (like with the paper plate flower), drawing them in (like on a painted rock), or creating them from paper. Ask your kids math questions like, "If there are five petals on one flower, how many will be on two flowers?"
To bring in some science, talk about the parts of flowers and the function of each part. When deciding where or how to display your new flower crafts, discuss what flowers need to survive and how that might influence where flowers are planted and when they bloom. If your kids are interested, you could even have them label the parts of the flower on some of the more basic paper flower crafts.
Don't miss our Mother's Day Crafts
FLOWERS CRAFTS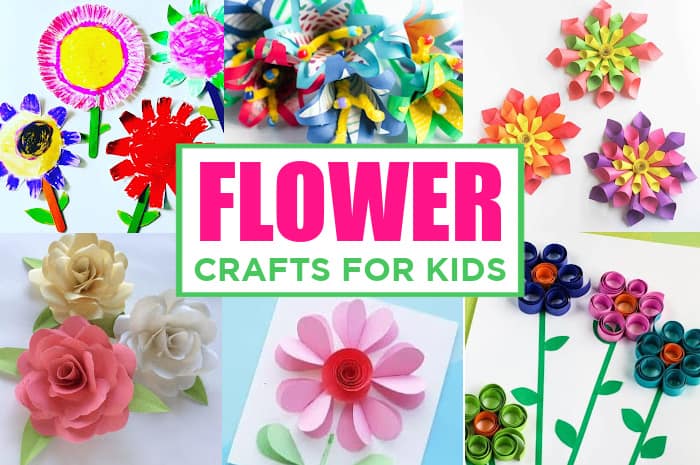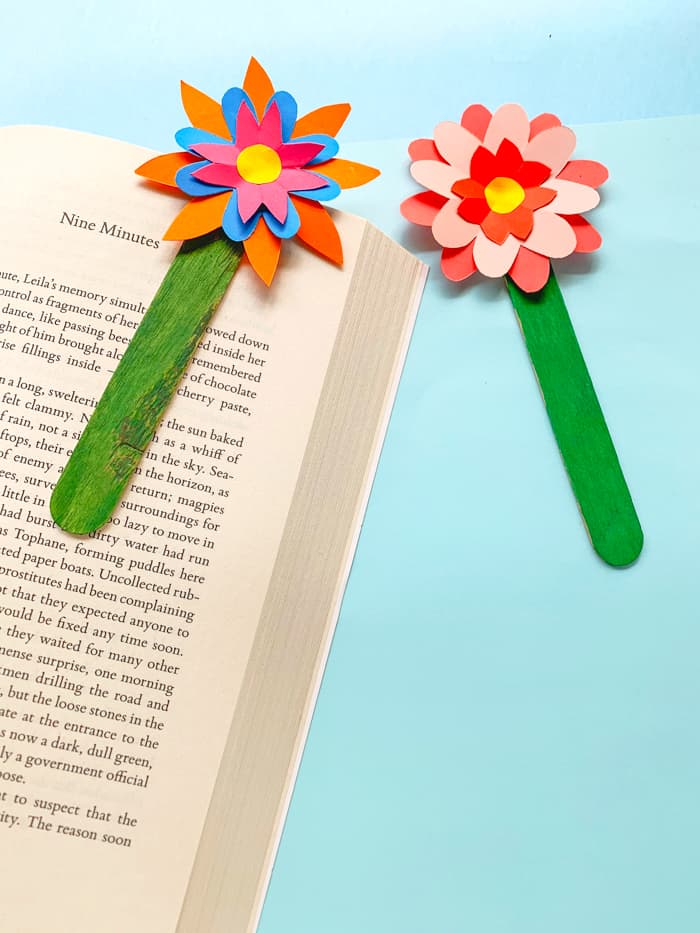 These super easy Popsicle Stick DIY Flower Bookmarks are a great craft for kids. They are great to give as the presence or save and use for themselves and their favorite book. Simple craft with only a few craft supplies including craft sticks and paper make for some colorful flowers.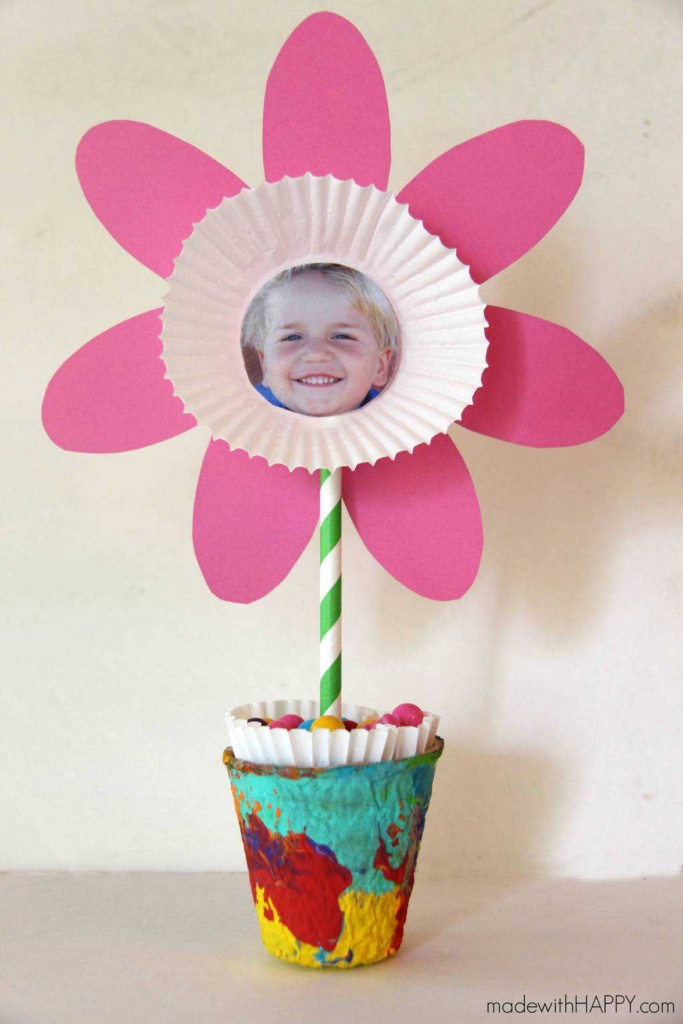 This flower craft for kids is the perfect flower craft for Moms on Mother's Day or Valentine's Day. A fun way for young kids to surprise mom with their cutie pie faces and create cupcake liner flowers.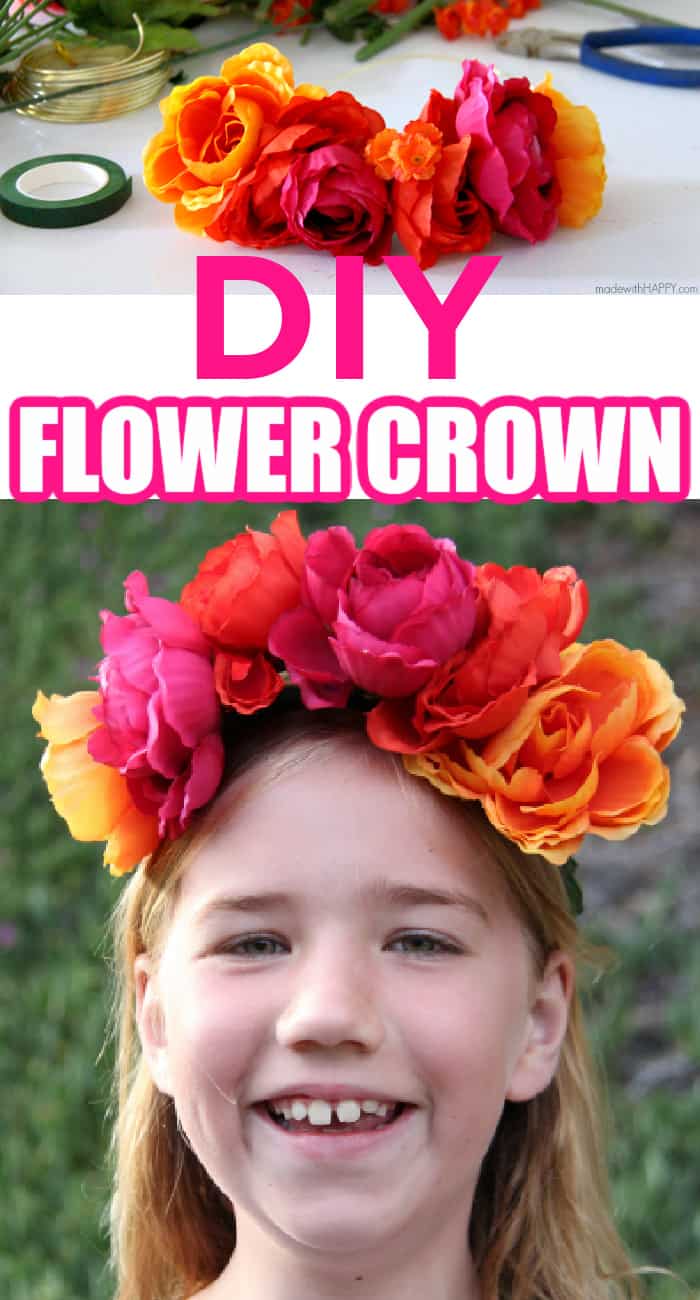 These DIY Flower crowns are one of our all-time favorite crafts. We love how they can be made for a wedding, a music festival, or just for a fun day of dress-up.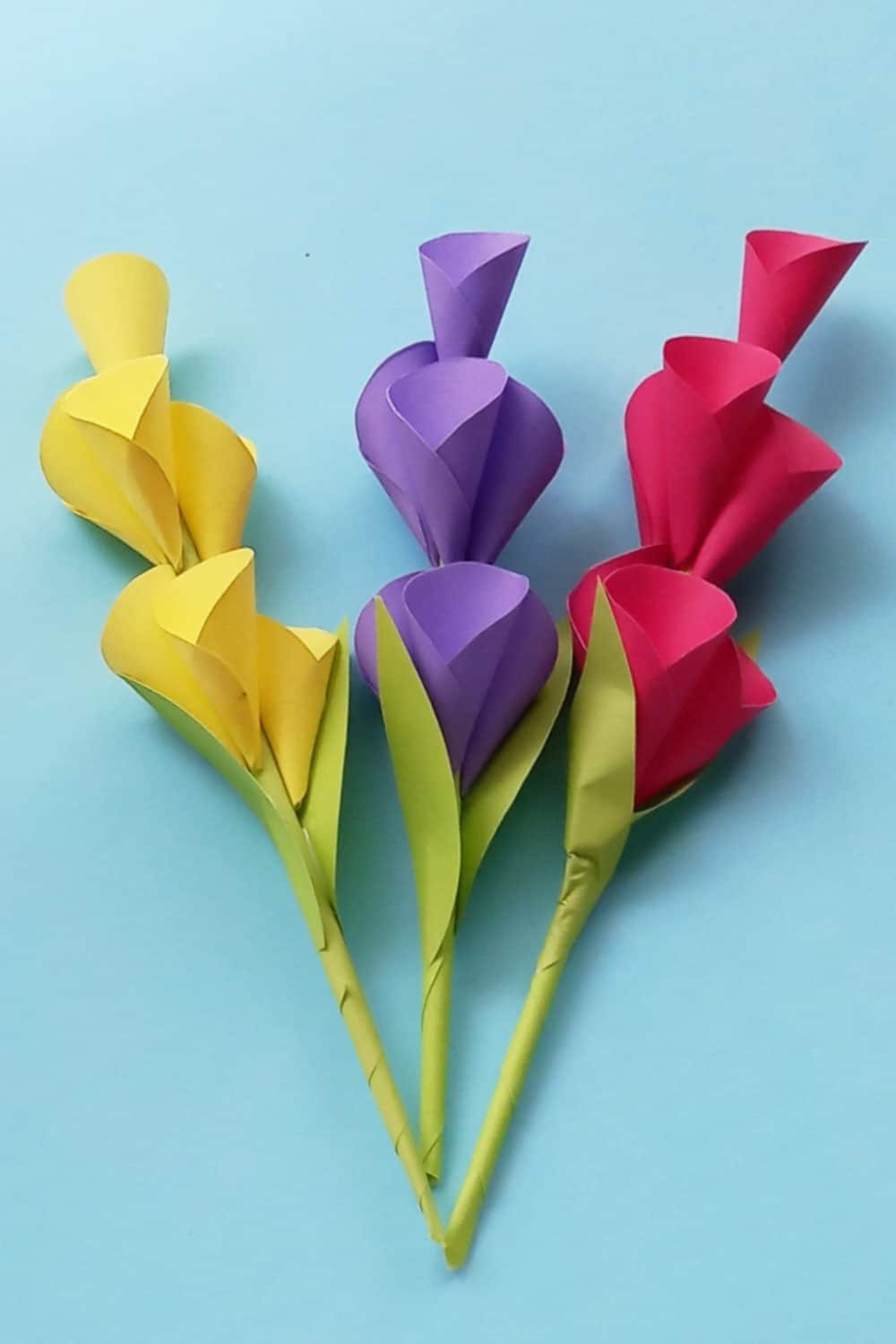 These beautiful flowers are easily made from a few pieces of construction paper. Pairing a bunch of these construction paper flowers together to create beautiful bouquets.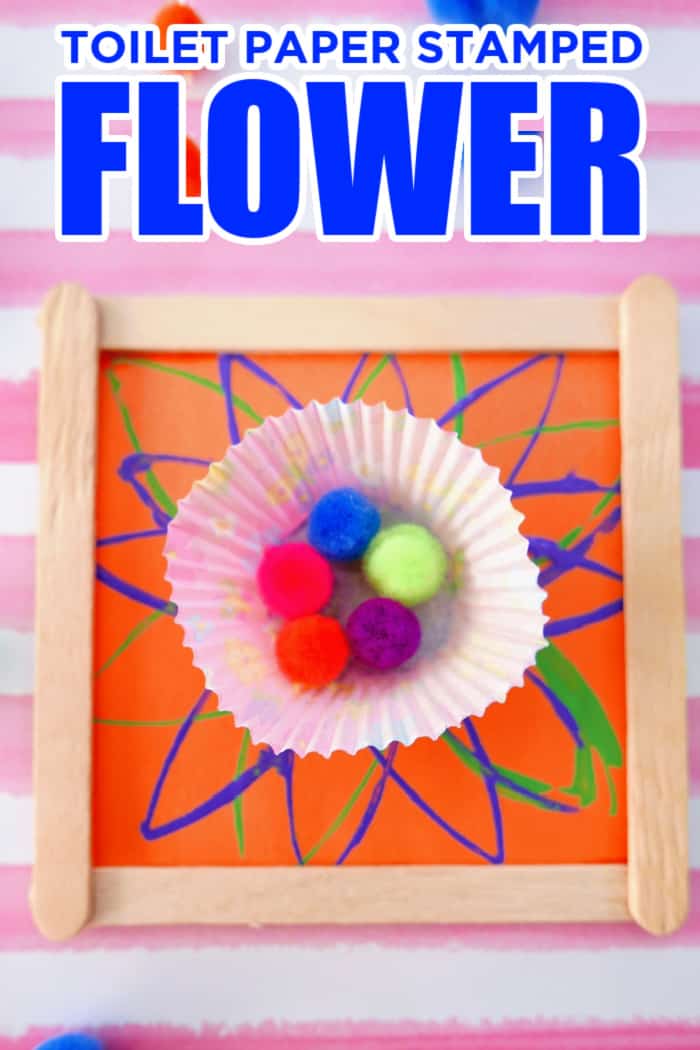 These abstract flowers are a great way to use those toilet paper rolls and make a colorful flower.
These felt sunflowers are a fun project to create flowers using felt. With only some felt and glue you can create all kinds of variations of this beautiful flower.
These paper cacti while not technically a flower, have flowers on them and are still all kinds of plant fun.
Creating egg carton flowers is one of our favorite flower crafts. There are so many different colors and shapes and it creates a beautiful wreath.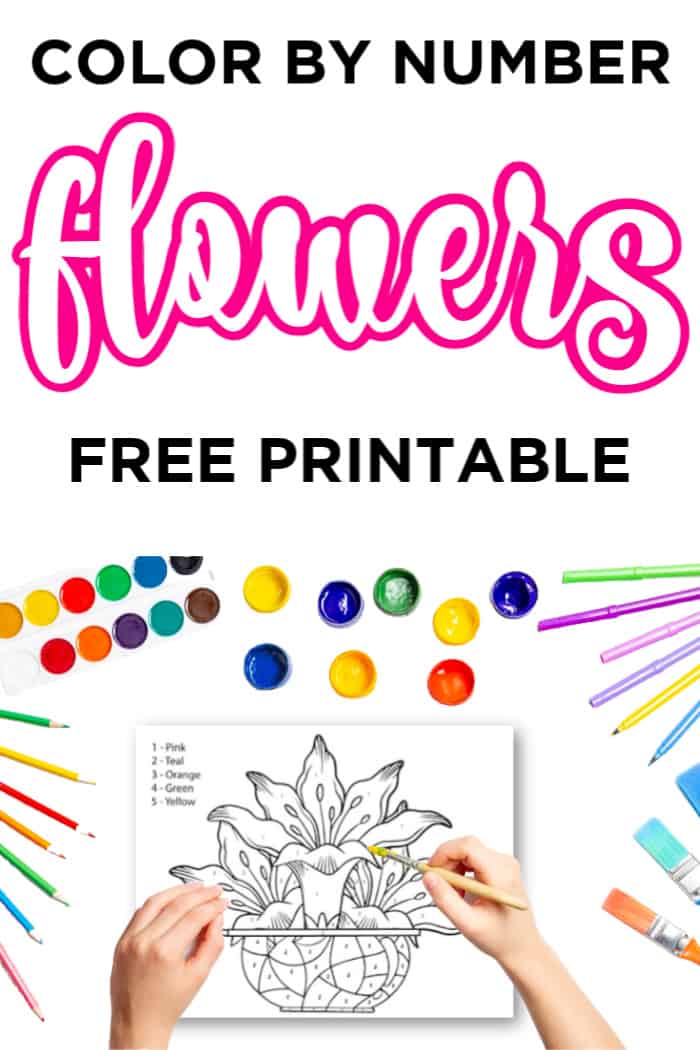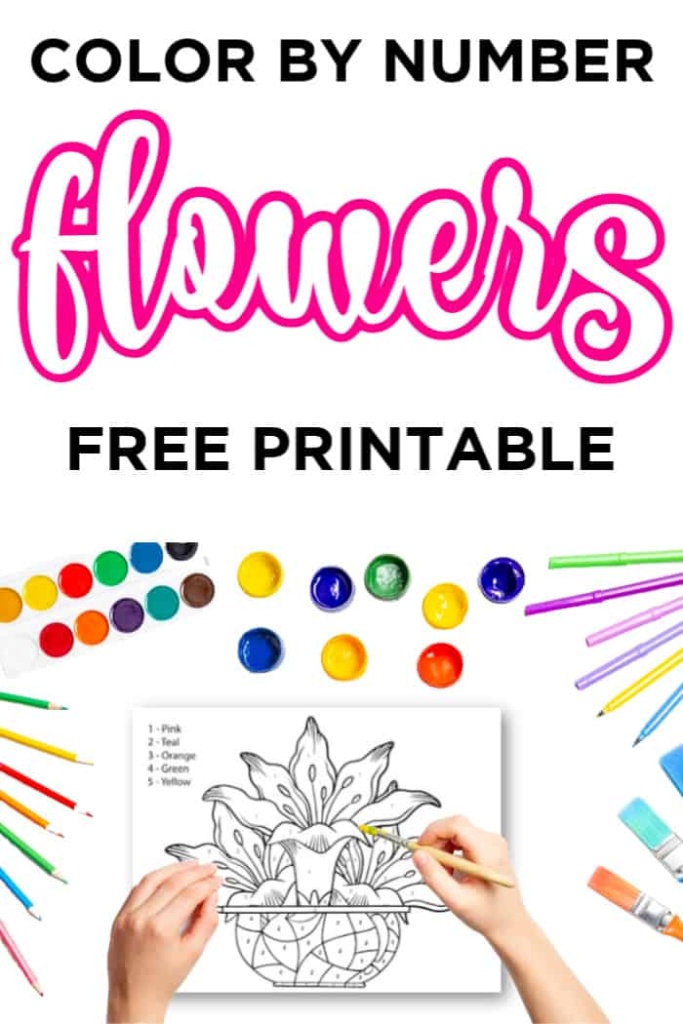 There is nothing sweeter than color by numbers and creating a masterpiece with paint or markers.
Learn to draw an easy flower with this fun tutorial.
Grab our free printable coloring page and have some flower fun.
This sweet craft is cute and easy for little hands to make.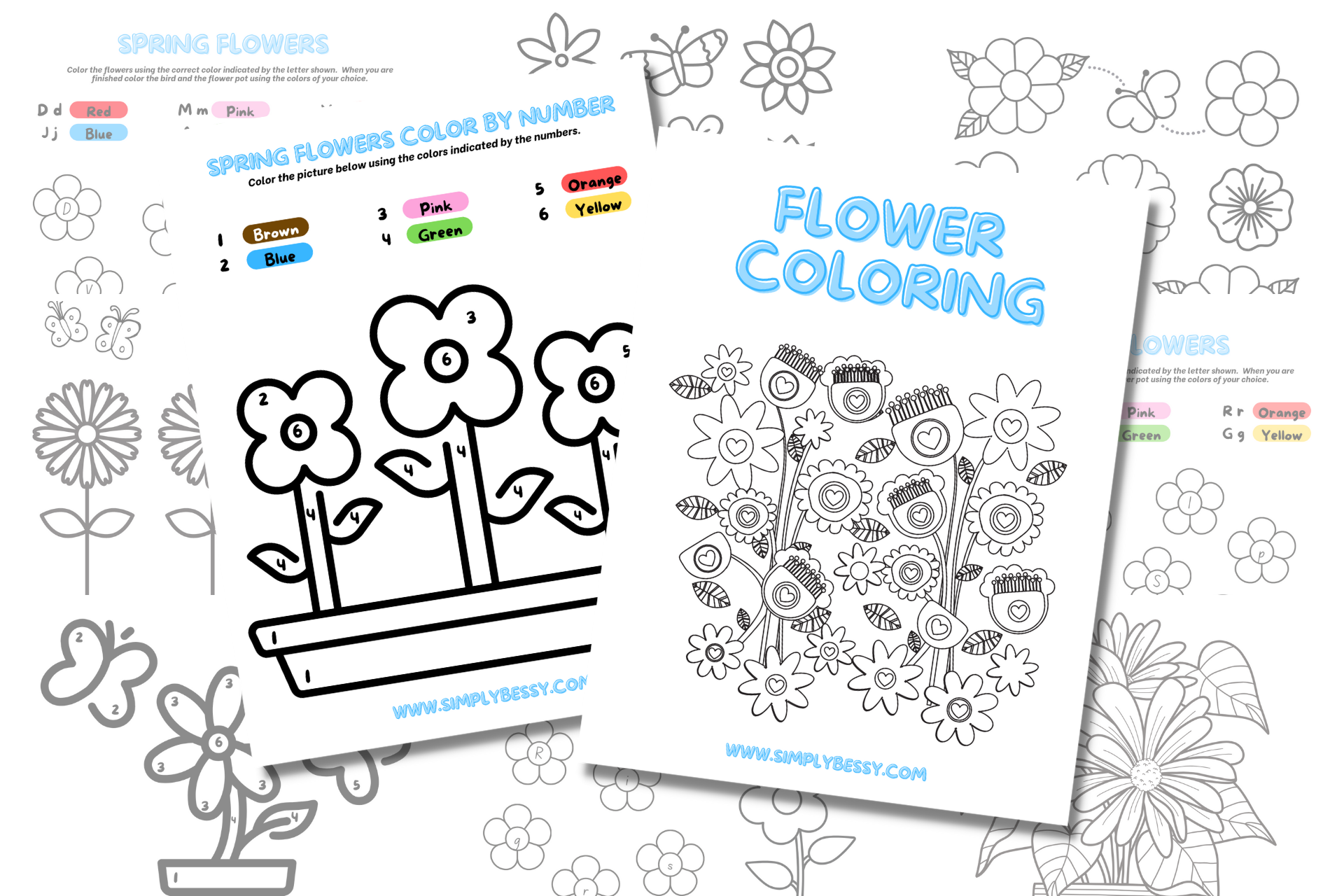 Have some fun with these flower coloring pages.
by Glitter on a Dime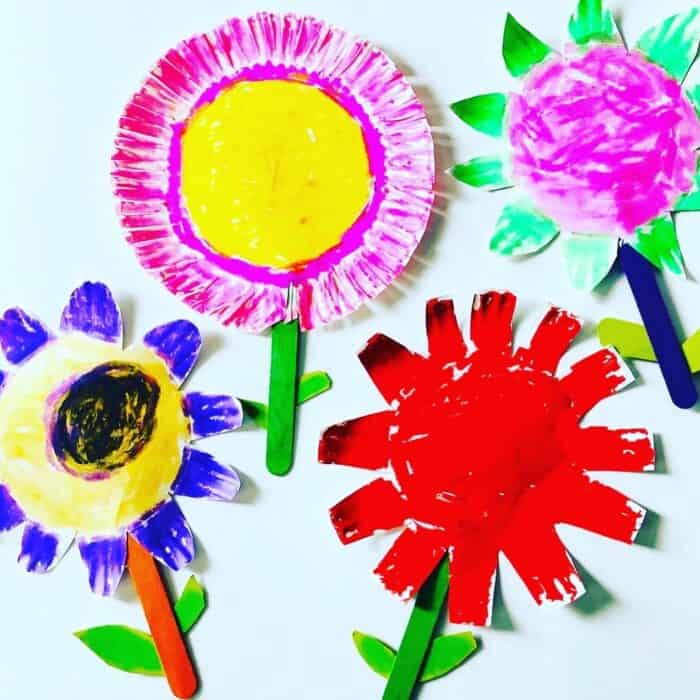 These sweet paper plate flowers are fun and colorful and all kinds of fun using supplies you may have at home already.
by Crafts by Amanda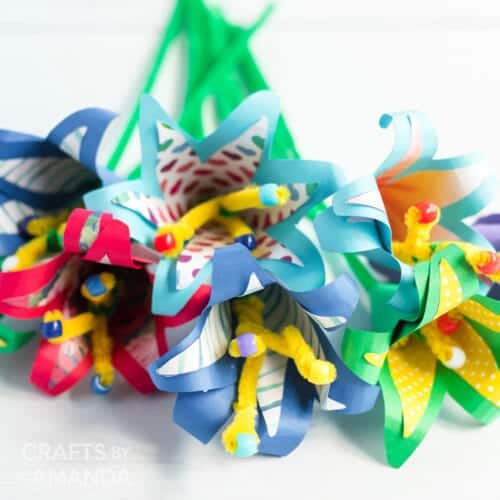 These tropical flowers are all kinds of fun and great to give as gifts. Creating them out of paper, glue and pipe cleaners can be all kinds of happy.
by The Inspiration Edit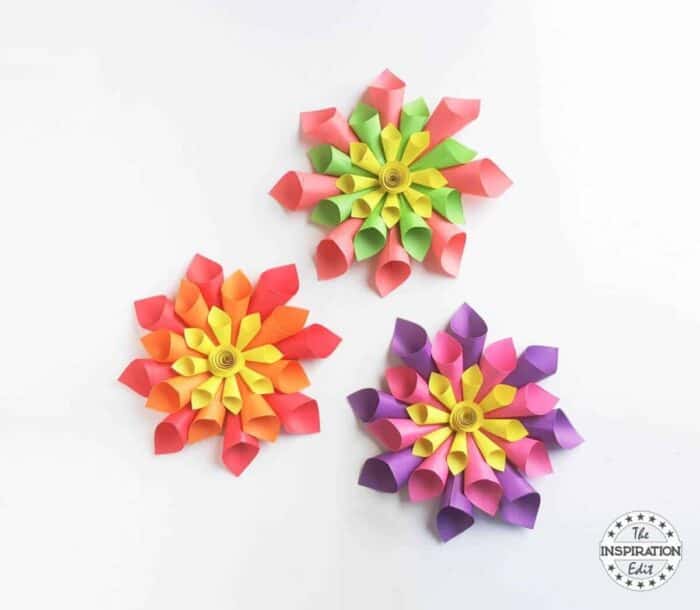 These paper flowers are fun and colorful and great for kids to combine their creativity and increase their fine motor skills with the rolling of the paper.
by Confessions of an Overworked Mom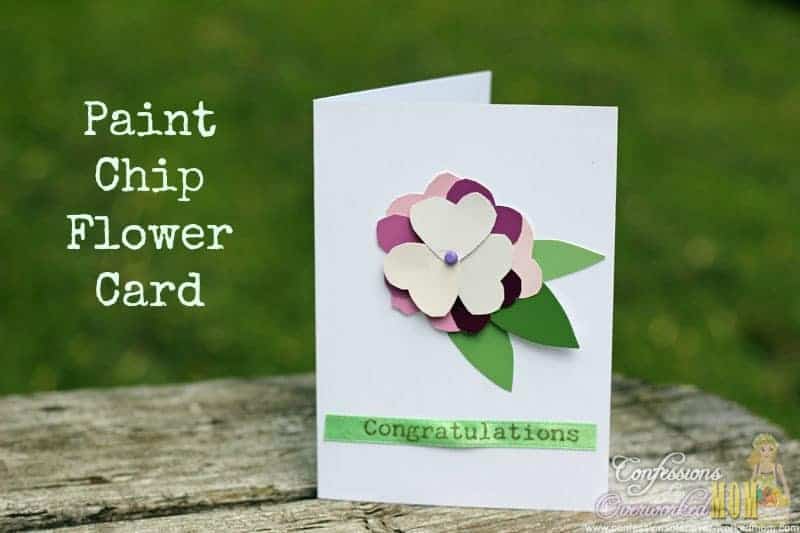 Turn those free paint chips into a sweet card for Mom, Congratulations or Thank you!
by Mom Brite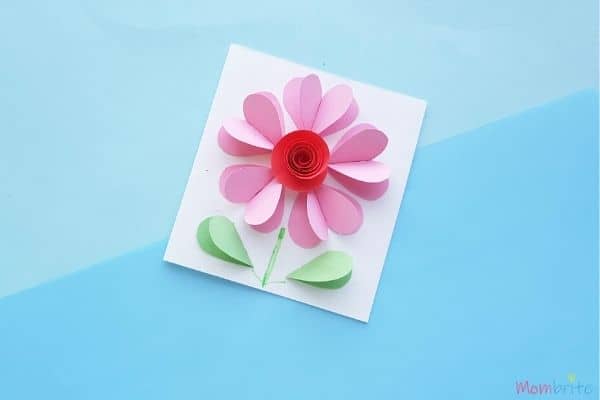 This sweet flower combines hearts and flowers and turns them into a cutie card.
by Pillar Box Blue
I am in love with this incredible art piece made out of paper and turned into a sweet flower art pineapple.
by Ann's Entitled Life
How incredibly cute are these paper bouquets flowers? I know I would love to get one of these as a gift.
by Get Your Holiday On
Like many many other parents and grandparents, I absolutely adore receiving a handprint craft of my babes. They are always a memory keeper.
by Ottawa Mommy Club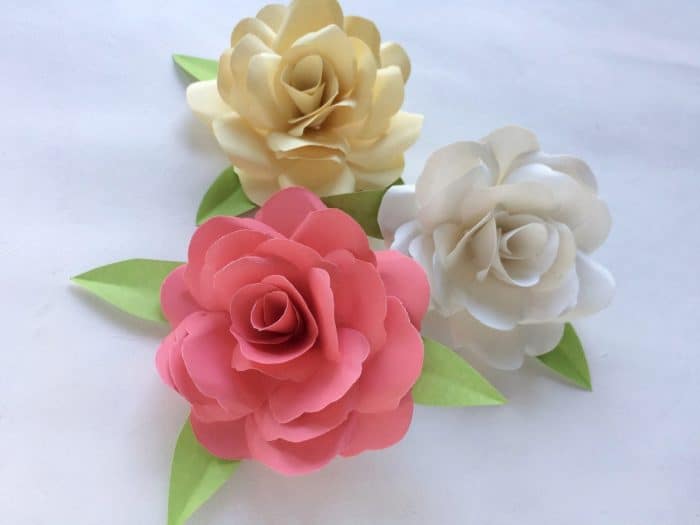 These sweet roses are made from paper but man they look like real flowers. So cute!!
by The Salty Canary
Turn those flower petals and seeds into a gift that keeps on giving.
by Sustain My Craft Habit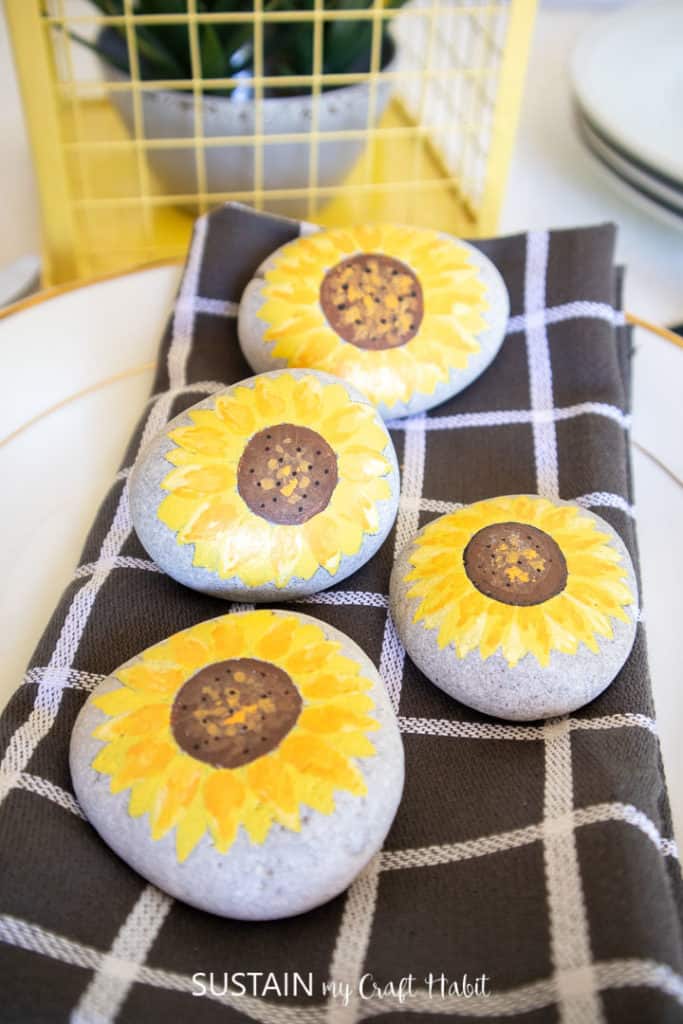 Flower painted rocks are giving me all the happy flower feelings.
by Origami Expressions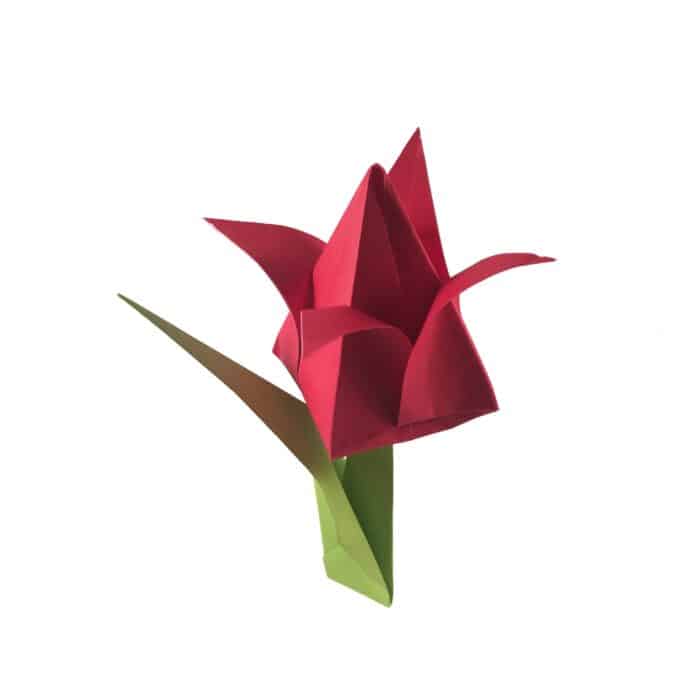 Hop over to see how to turn a few pieces of paper into these super cute tulips.
by Mom Wife Busy Life
Curling paper is such a fun craft for kids of all ages. Turning those colorful pieces of paper into these sweet flowers.
by Grace Monroe Home
These large paper flowers are great for decorations for special occasions or every day. Turn these into a true art statement.
by Our Wabi Sabi Life
These paper daffodils are giving us all kinds of happy thoughts as they are colorful, creative, and all kinds of fun to make.
We highlighted this Spring Craft along with some other fun kid's crafts in our April Crafts for Kids along with our 101+ Easy Craft Ideas for kids.
You also do not want to miss our 101+ Printable Coloring Pages For Kids and 101+ Printables For Kids full of Crafts and Coloring Pages.
Other Flower Craft Ideas You'll Love
CONNECT WITH MADE WITH HAPPY!
Be sure to follow me on social media, so you never miss a post!
Facebook | Twitter | Youtube | Pinterest | Instagram
Looking for crafts to keep your child busy? Sign up for my 5 Ridiculous HAPPY Activities in under 30 minutes for your kids delivered directly to your inbox!
Find and shop my favorite products in my Amazon storefront here!
FLOWER CRAFTS FOR KIDS
PIN IT TO YOUR DIY BOARD ON PINTEREST!
FOLLOW MADE WITH HAPPY ON PINTEREST FOR ALL THINGS HAPPY!