These DIY Floral Crowns are a kid and Mama favorite. They are fun for parties or just great for any child looking to play dress up.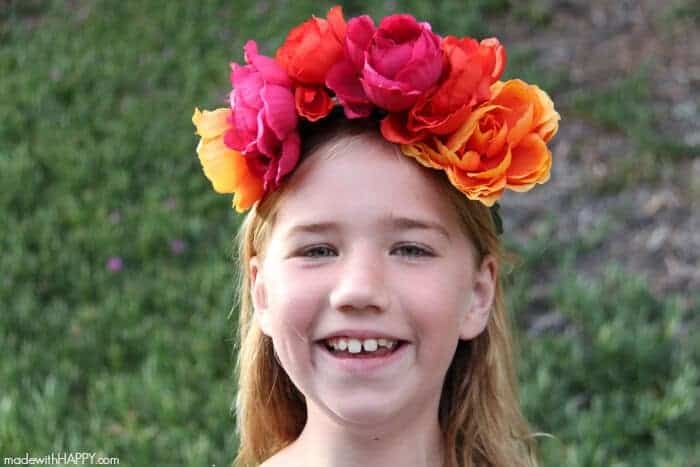 I can't tell you how excited I am for this new series, Make it (HAPPY) Monday. We had our second week LIVE on Made with HAPPY's Facebook Page. The funny thing about live is that things happen and you just have to roll. We are getting into our groove, but this week wasn't without its hiccups. Darn phone turned off in the middle. DOH! Regardless, it was a success and we made Floral Crowns! YAY! Who doesn't love them?
Do not miss our 15+ CRAFTS AND ACTIVITIES FOR BORED KIDS for other fun crafts like this one!
We certainly do over at our house and we love wearing them for any and all occasions.
They do not take much in terms of supplies, the colors are endless and can be made with real flowers too! They make me so HAPPY.
Okay, here's how you make them!
Supplies:
Directions:
You want to first start by measuring the floral wire to your head or your child's head.
You will want to add an extra 1-2 inches before cutting it, because you are going to twist the ends together.
Use a piece of floral tape and over the twisted ends to make sure they do not poke you in the head or come un-twisted.
Next you are going to use the wire cutters and cut off all the flowers you want to use for your crown.
Place your first flower along the crown and starting at the bottom of the stem, tape your flower to the crown, up to the flower.
NOTE: if you start adding the flower to the part of the crown where then ends are twisted and taped up, then you will have a clean wire at the back of your head.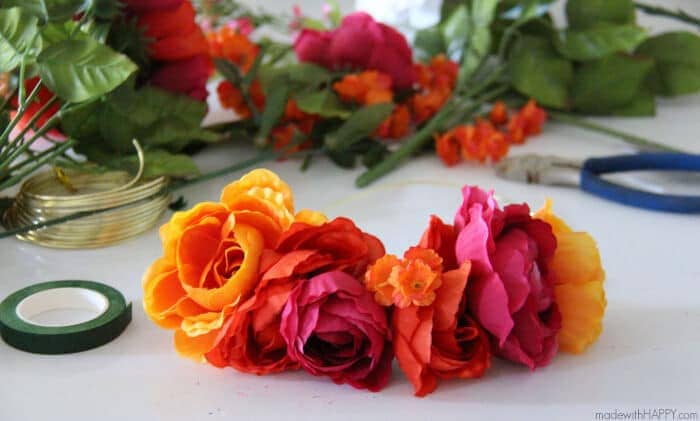 Then just continue to tape each flower to the front of the crown.
To make full crowns, you just need to continue to tape the flowers around the entire length of the floral wire.
We made a number of different crowns using some summer bunches we found at Michaels.
The important part is to have fun and make sure the flowers make you HAPPY!
HAPPY CRAFTING!
Like it? Pin it!