Learn how to draw a flower easy guide. We're sharing an easy step-by-step tutorial for a fun basic flower along with a free printable guide.
This How to Draw a Flower easy steps tutorial is so much fun. It is a simple drawing lesson for kids of all ages. Drawing a basic flower is great for kids of all ages. We're sharing an easy way to draw a beautiful flower using simple shapes.
We are giant flower fans over here. Real, silk, paper, or drawing. Truthfully, I have never met a flower I do not love. That's what makes them so fun to have to create art and craft projects. We look forward to all the flowers that bloom each Spring and truly cannot get enough of them!
Drawing a flower would make a great base for a Mother's Day card or Mother's day craft.
If you love flowers too, then you won't want to miss our popular flower projects including Photo Flower Craft, Flower Bookmark, and Sunflower Craft.
Flower Printables
While is always fun to create your own flowers through arts and crafts, we find that having fun with flowers through different printables is fun too. We enjoy learning and coloring all things flowers that you can print out and run around having fun finding bright colors. The idea of taking your favorite type of flower, realistic flowers or not, and bringing them to life, makes us so HAPPY!
We also have had some fun through some other flower printables including
Don't miss our How To Draw a Rose Tutorial!
Supplies for Easy Flower Drawing
Paper
Crayons, Markers, or Colored Pencils
Drawing Tips - Start off drawing with basic drawing pencils. We love a great set of graphite pencils but do not worry too much about erasing and letting your creative juices flow.
How To Draw A Flower Step-By-Step Tutorial
Here are the simple step-by-step instructions for easy flower drawing tutorials! We are drawing a favorite flower, the daisy in this tutorial.
First things first, orient your paper vertically. This means the short end of your paper is at the top and bottom. This will allow for the flower drawing to take up most of the paper and the stem.
The first step is to start by drawing the center of the flower. Draw a small circle on the page.
The next step is to draw a flower petal off of the middle circle. You can make the flower petals whatever length, but I like to keep them around twice the size of the center circle. Starting in the middle of the first petals, draw another half petal. This will give the illusion that there are petals behind the other petals.
Continue to draw in your petals. Varying from full petals to half petals.
Drawing the Stem and Leaves
Finish with similar size petals all the way around the flower.
Next, add the stem off the bottom of the flower. This can be as long or as short as you want. We drew a straight line off the bottom petal to create the stem. This can be a different shape stem with a curvy stem too. If you are looking to add a flower pot at any point, you may want to make it a bit longer.
For the last step, we are adding leaves to your stems. Draw a line out from the middle of your stem, and then you can make your leaves a curved line basic shape like the petals, or a scalloped like we created above. An optional step is to add lines in your leaves if you feel you want them to have texture.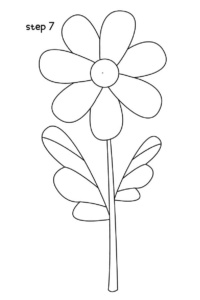 Viola, you have sweet basic flower tutorials.
We highlighted this Flower Craft along with some other fun kid's crafts in our April Crafts along with our 101+ Easy Craft Ideas for kids.
You also do not want to miss our 101+ Printable Coloring Pages For Kids and 101+ Printables For Kids full of Crafts and Coloring Pages.
Other Easy Drawing Guides You'll Love
Download the Free Drawing Flowers Step By Step Guide
Enter your name and email in the form below. You will then be taken directly to the free printable tutorial.
*For personal use only
CONNECT WITH MADE WITH HAPPY!
Be sure to follow me on social media, so you never miss a post!
Facebook | Twitter | Youtube | Pinterest | Instagram
Looking for crafts to keep your child busy? Sign up for my 5 Ridiculous HAPPY Activities in under 30 minutes for your kids delivered directly to your inbox!
Find and shop my favorite products in my Amazon storefront here!
HOW TO DRAW A FLOWER
PIN IT TO YOUR DIY BOARD ON PINTEREST!
FOLLOW MADE WITH HAPPY ON PINTEREST FOR ALL THINGS HAPPY!