Teaching your children all about sunflowers, then do not miss grabbing our life cycle of a sunflower activity packet.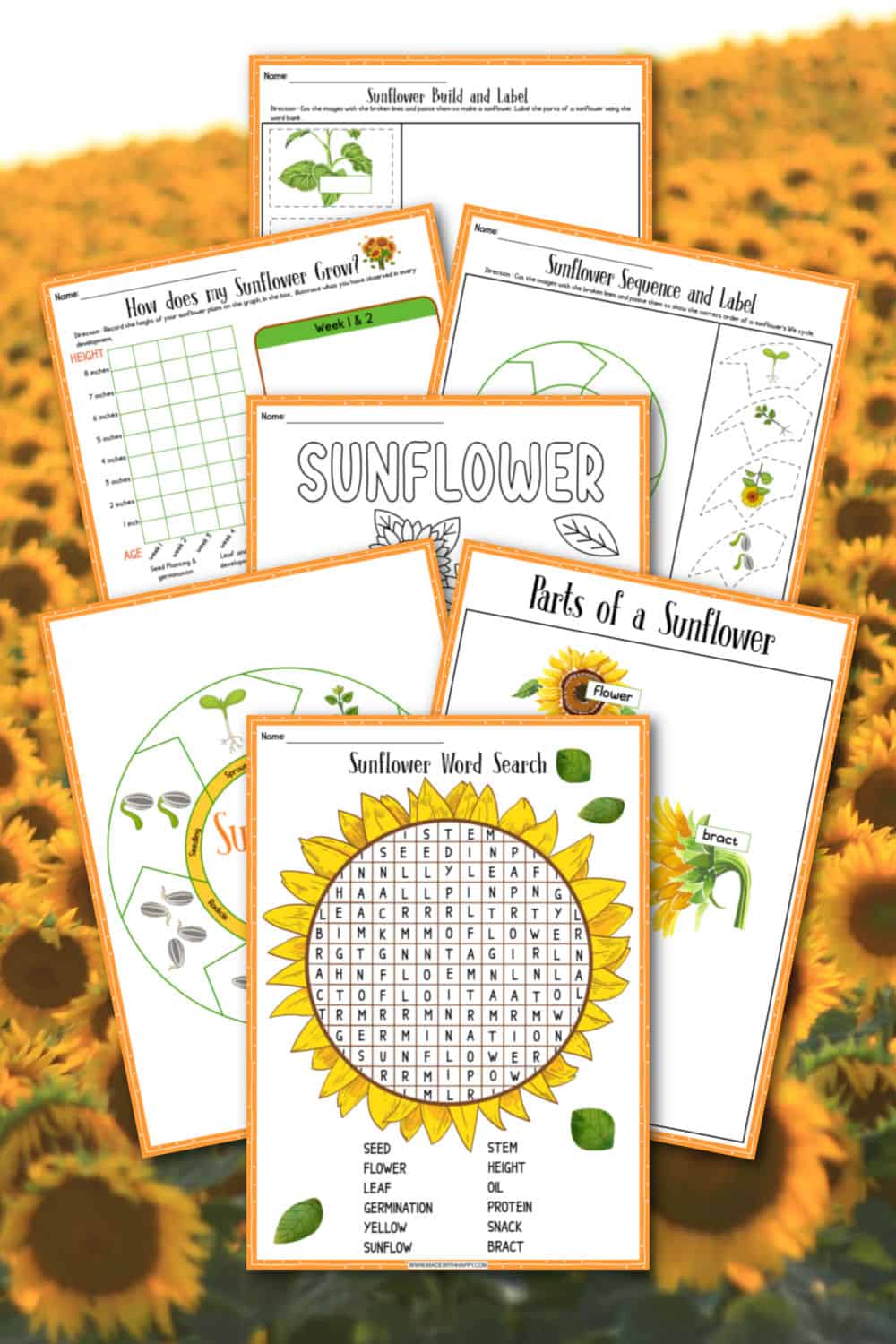 These sunflower's life cycle printables are chalked full of all kinds of sunflower activities for kids of all ages. The process of a new life starting from a seed and the development of sunflowers with their beautiful yellow petals.
Sunflowers are one of our favorite flowers. So much so, we have created a fun sunflower craft, handprint sunflower, paper plate sunflower, and sunflower coloring page where your child can be their own Vincent Van Gogh.
I love the idea of learning about sunflowers. It is a beautiful thing to learn more in-depth about genetic information and each growth stage of a young sunflower plant. Studying flower development it so much fun for kids as well as educational.
Check out these other Sunflower Activities!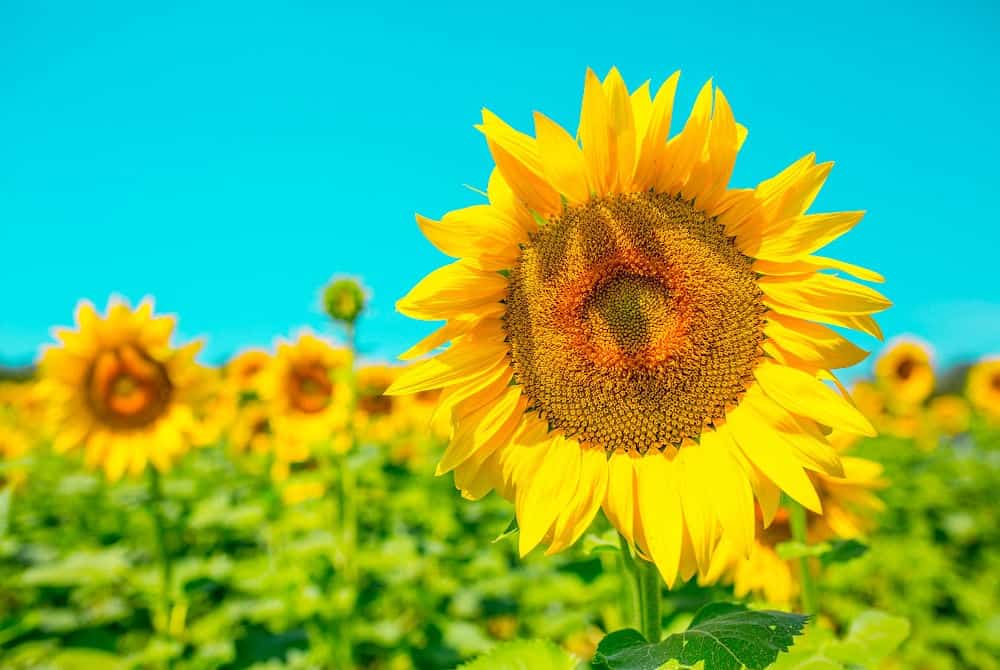 Sunflowers and Fall
There is something so incredible about enjoying the single stem large head of the sunflower of a beautiful sunflower in late Summer and Fall in the United States and North America. In our town, we even have an annual sunflower maze similar to a corn maze around Halloween time.
The beautiful colors of varieties of sunflower plants can be as colorful as Fall leaves. The mature plants and full grown sunflower plants are tall plants and create some magical fields. They are what fairy tales are made of.
If you love them too, then you won't want to miss our other popular packets including Months of the Year Worksheets, Measurement Worksheets For Kids, and Days of Week Worksheets.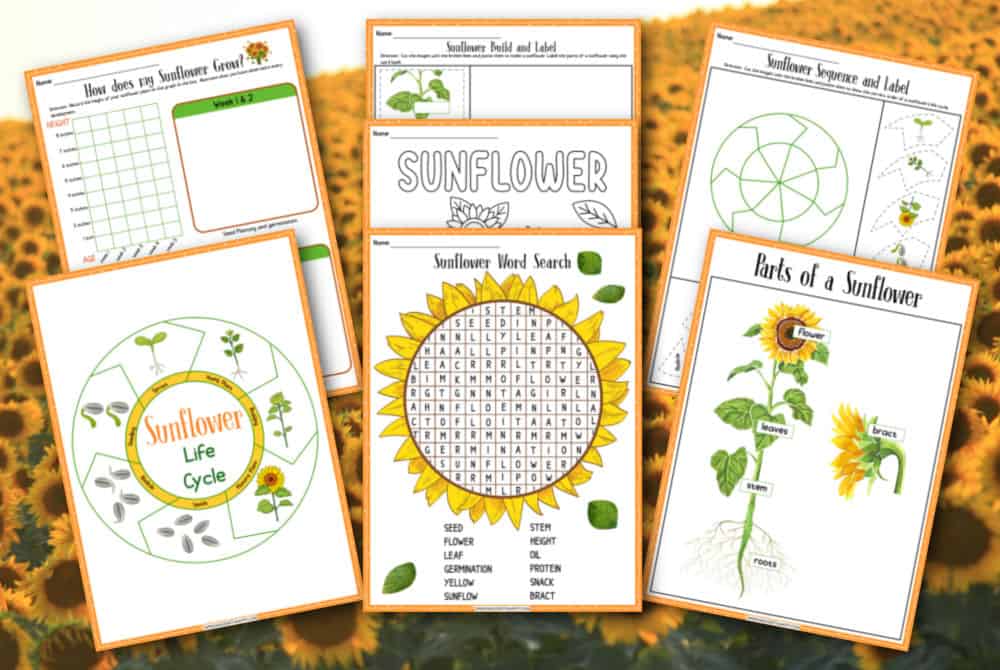 Parts of a Sunflower
Learning the sunflower life cycle is a great way for kids to learn to grow their sunflowers from small seeds to sprouts to mature strong plants. It is also to learn about the parts of the mature plant from the flower head to the tiny seed to the wispy roots and how those parts then with the plant life cycle create the seeds to start it all over again and create food sources.
These lessons are great to bring out during the Spring months as well. This is when children can learn to plant their sunflower seeds and watch them grow. They will see them form roots and understand the benefits of watering and the bract of the flower.
We highly encourage teaching children about gardening and the love of gardening. Spring is a wonderful time to watch as seeds turn into seedlings and then into the ground. There is nothing better than watching your children learn to love gardening and the growth of beautiful flowers and veggies.
Sunflower Life Cycle Worksheets
Learning the life cycle of the sunflower plant is educational and great for young readers. Included in our sunflower printables are other learning activities and life cycle of a sunflower worksheet to aid in the learning process of all about sunflowers.
Included in the whole packet are diagrams for the parts of a plant, a word search full of vocabulary words, a sunflower sequencing strip, as wells a journal for growing your own sunflower.
There is learning about seed development and their hard seed coat, to the flower bud and the tall plant of early Fall. Learning all about the life cycle of a sunflower plant has never been so easy and fun!
Something to learn all Fall long (September, October, and November)
We highlighted this Fall Printable and Fall Crafts along with some other fun activities in our September Crafts for Kids along with our 101+ Easy Craft Ideas for kids.
You also do not want to miss our 101+ Fun Coloring Pages For Kids and 101+ Free Kids Printables full of Fun Games, Educational Worksheets, and Coloring Pages.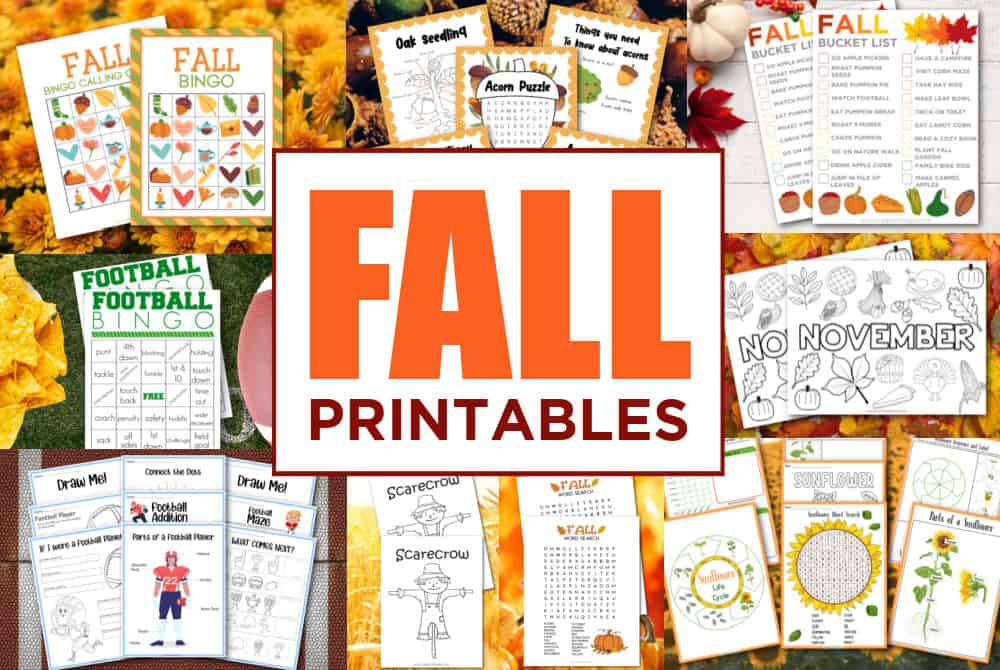 Other Fall Printables You'll Love
Download Your Sunflower Life Cycle
Enter your first name and email address to download the free files. Or if you'd prefer, you can purchase our sunflower life cycle set in my shop here.
*For personal use only
CONNECT WITH MADE WITH HAPPY!
Be sure to follow me on social media, so you never miss a post!
Facebook | Twitter | Youtube | Pinterest | Instagram
Looking for crafts to keep your child busy? Sign up for my 5 Ridiculous HAPPY Activities in under 30 minutes for your kids delivered directly to your inbox!
Find and shop my favorite products in my Amazon storefront here!
SUNFLOWER LIFE CYCLE
PIN IT TO YOUR DIY BOARD ON PINTEREST!
FOLLOW MADE WITH HAPPY ON PINTEREST FOR ALL THINGS HAPPY!