Get ready for some fun this Autumn with these free printable Fall Bingo games. There are 10 cards and calling cards included. Fun Fall for the whole family.
This Fall Bingo set is a great printable game for any fall-themed class parties, birthday parties, or just trying to keep the kids busy while you make dinner.
Bingo is Made with Happy favorite printable. If you love bingo as much as we do, then you won't want to miss our other popular printable Fall bingo games including Halloween Bingo, Thanksgiving Bingo, and Football Bingo.
This is a great way to welcome fall! Whether is small groups or a big family, these free printables are great for family game nights or play dates.
Fall Games For Kids
The Fall season (September, October, and November) can be an incredible time to gather as a family or with friends and pull out those games. The weather is cooling down and after playing in the leaves, kids of all ages are ready to come inside and play some games.
There is so much fun to be had by playing bingo either in large groups or just as a family after dinner. These are great for both young children and older kids. It's a fun activity on fall rainy days and can be the perfect game on road trips too.
Once we print our bingo cards out, we like to laminate them so we can use them for years. Give the players dry erase markers to mark the squares.
We love the idea of storing our printable bingo cards with our game boards and pulling them out each Fall so we can play as often as we can throughout the Autumn months.
Welcome Fall with these fun bingo boards. There are 10 different cards with no free space.
Don't miss some of our other fun Fall games including our Fall Scavenger Hunt, Fall Word Scramble Printable, and Fall Word Search. It's Fall fun for everyone!
Supplies For Fall Bingo
This is similar to a regular bingo game in that you'll need:
Bingo cards – Download them from the bottom of the page. Please remember one per person.
Calling cards – Included in the download below. Print and cut them out. Make a mark as you call each item.
Bingo chips – I recommend using something small like rocks, acorns, or candy corn as bingo markers. If you decide to laminate them, then provide each of the players with a dry erase marker and they can just mark each item as they are called.
Prizes – I have put together a list of super fun Fall-Themed prizes. I have provided a full list of prizes at the bottom of this post to get you started.
How to Play Fall Bingo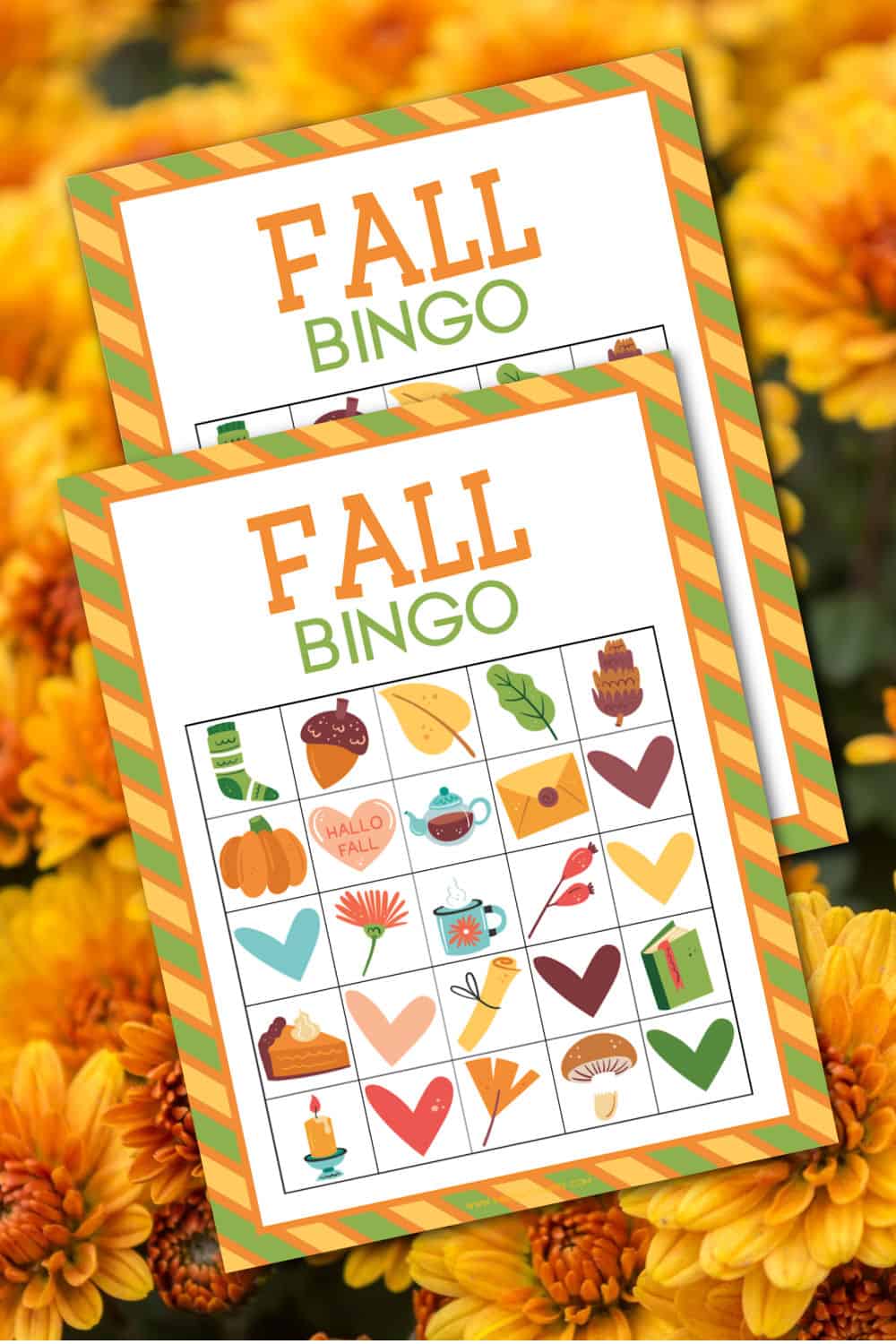 Begin with downloading your Fall bingo printable. Once you have downloaded, printed, and cut the Fall Bingo cards and calling cards, it's time to get started.
Pass out the unique cards at random and place calling cards into a hat or large bowl. Set the rules for each game.
Have the children run around outside and collect a handful of small items in nature such as rocks and acorns to mark the item that has been called. It's one of our favorite ways to lengthen the fun fall activities.
Pull a calling card out and describe to the player the item. "Pumpkin Pie", "Acorn", "Mushroom" etc.
The first player has completed the set pattern, they yell "Bingo" and they are the winner!
Alternative Bingo Games
Few Different Types of Bingo Games You Can Play this Fall
Classic Bingo Pattern – Five spots in a row horizontally, vertically, or diagonally.
Blackout – Fill in all spots on your bingo card. Note that we only have 24 calling card items so every board will get a blackout with all cards.
Patterns – Set a specific pattern (shapes, letters, or specific rows or columns)
Fall Bingo Prizes
Having prizes for Bingo is always a great idea because everyone likes rewards. And since you are playing this game during Fall there are many fun ideas to include
Some of our favorite Fall game prizes are:
We highlighted this Fall Printable and Fall Crafts For Kids along with some other fun kid's crafts in our September Crafts, October Crafts, and November Crafts along with our 101+ Easy Craft Ideas for kids.
You also do not want to miss our 101+ Fun Coloring Pages For Kids and 101+ Free Kids Printables full of Crafts & Coloring Pages.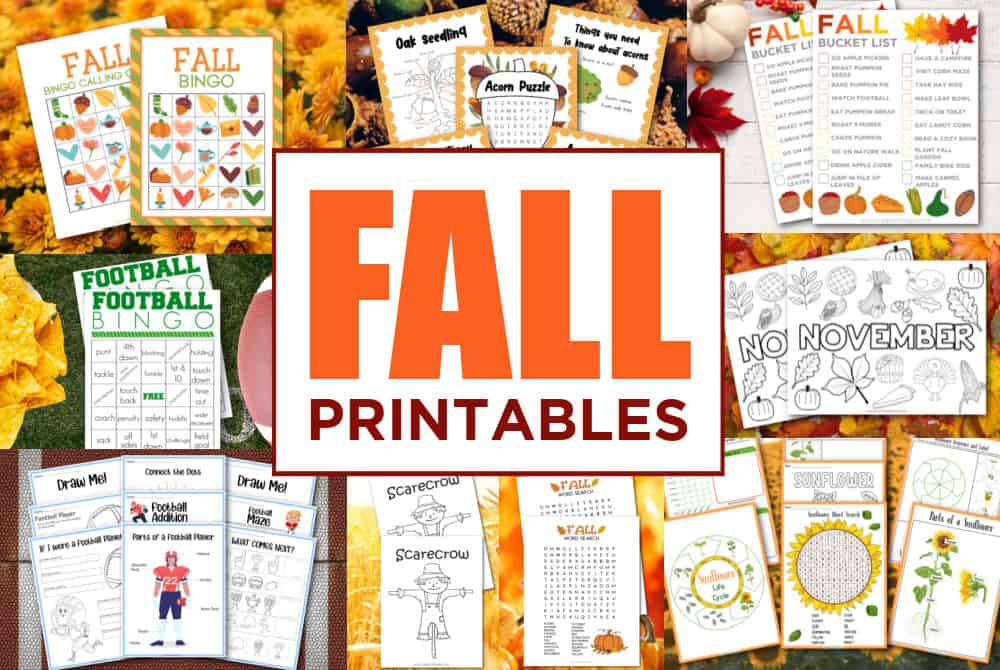 Other Fall Printables You'll Love
Download Your Printable Bingo Game
Simply enter your name and email below and it will take you directly to the free printable bingo cards. If you are unsure about entering your information, then you can purchase the bingo for a nominal fee in my shop.
*For personal use only
CONNECT WITH MADE WITH HAPPY!
Be sure to follow me on social media, so you never miss a post!
Facebook | Twitter | Youtube | Pinterest | Instagram
Looking for crafts to keep your child busy? Sign up for my 5 Ridiculous HAPPY Activities in under 30 minutes for your kids delivered direct to your inbox!
Find and shop my favorite products in my Amazon storefront here!
FALL BINGO
PIN IT TO YOUR DIY BOARD ON PINTEREST!
FOLLOW MADE WITH HAPPY ON PINTEREST FOR ALL THINGS HAPPY!