Looking for fun family Autumn activities? Then look no further than this free printable Fall Bucket List with fun for the entire family.
This fall bucket list or fall scavenger hunt list is chalked full of all kinds of family fun.
Fall is one of our favorite seasons. The cooler weather, the changing leaves, and all the fun activities to experience as a family. If you are looking for other fun Fall favorites you will not want to miss our popular Fall posts including: Easy Fall Appetizers, Fall Leaf Crafts, and Easy Fall Crafts For Kids
Fall Scavenger Hunt
Why is summer always in such a rush? Before we can even get all the sand out from between our toes, she's long gone. We love the laid-back vibe of summer nights but man, we love cool fall evenings just as much!
We're gearing up for all things fall with tons of crafts, activities, FUN ideas to make the whole family happy.
Fall Family Fun
The third season of the year used to be called simply "harvest." This was the time many farmers would harvest their crops. It's also because the full moon closest to the equinox is known as the harvest moon.
I'm the 1600s they began using Autumn to note the changing of seasons. Later it was called fall to denote the falling leaves starting in September.
We can't think of a better way to usher in a new season than with a long, fun, fall bucket list! This free printable is chock full of fall activities that will get everyone excited for this fabulous season full of pumpkins, apples, and beautiful, bright colors.
We're excited to share all our favorite fall foods, activities, and crafts to enjoy with friends and family.
If you are looking for some other fun Fall printable games then don't miss our Fall Bingo and Fall Word Search.
Fall Bucket List Ideas
A bucket list is a great way to keep track of all the things you want to do. It will help you and your family establish activities that appeal to everyone.
Our fall bucket list printable will keep you busy from September to December. Sports lovers can cross off "watch a football game" more than a few times. Book lovers can easily knock off "read a cozy book."
Our bucket list is also the perfect antidote to boredom. You won't hear "I'm so bored" with this list proudly posted in your house. When the kids are looking for something to do, take a look at our fall bucket list!
For many, fall means more time in the kitchen preparing seasonal favorites like apple pumpkin pie and apple pie. But why not try making caramel apples? That's on our list and way easier than you might expect (especially if you use pre-made caramel).
If you're more of an outdoorsy family, go on a nature walk. Anytime is a good time for a hike but even more so as the seasons begin to change. Peep all the changes from summer to fall. Even if you live in a more temperate climate, there is still tons to enjoy.
Autumn Time
If you've had a dry and sunny summer, you're more likely to see bright shades of crimson. That's because this type of weather produces more sugars in the leaves. An early frost can mean a quicker foliage season. Once the first freeze sets in, the process of changing pigments stops.
But even if you don't get to see the brilliant fall foliage with gold and red hues, see what changes you can find. It's not just the trees, but plants, flowers, and animals that will all be preparing for the upcoming winter.
One of my kid's favorites is hitting the corn maze during the Fall months (September, October, and November). We always make a trip to the local maze and run around finding our way through the gigantic corn stocks.
Pumpkin Activities
Break out a soft, cozy sweater and head to your local pumpkin patch. Kids love running around and seeing all the different shapes and sizes of these perennial icons of fall. Make sure to pick out a few to carve! Carving pumpkins is always a fun fall activity!
If you don't have pumpkins on hand, you could still carve other fall veggies. In fact, the Irish used to carve turnips, potatoes, and beets! We know, no pumpkins is crazy talk. (Even if Studies have shown that our obsession with all things pumpkin is mostly about nostalgia. We're here for it.)
Of course, no fall bucket list would be complete without at least a mention of pumpkin spice lattes. Love them or hate them, they've certainly become a staple of the season. The ubiquitous flavor blend can now be found in everything from cereals to yogurts to candles.
Fall Activities For Kids
If you are more of an apple family, then be sure to stock up on apple cider when you go on a hayride, sit by a warm campfire, or for after a family bike ride.
If you're into crafting, you can make a cute and colorful leaf bowl or fall wreath to match your personal style. Try a rustic look with natural elements like branches and leaves. Or go for something more modern with pretty fall-colored ribbons.
Fall Fun in October
October also means Halloween! This centuries-old holiday has become one of the most popular. Maybe because all cultures seem to have a tradition or ritual to honor the dead and scare away spirits. Or maybe we love it because it's so darn fun to play dress-up!
It's never too early to start thinking about your Halloween costume. This year consider making yours and cross this off your fall bucket list. A little Googling will reveal tons of super simple ideas.
Go scary, sweet, silly, or anything in between! While you're at it, why not decorate your own trick-or-treat basket? (Bonus bucket list idea!)
You're going to love the number and variety of options on our fall bucket list. You might love them so much that you'll be inspired to add some of your own favorite fall activities. Add your own bucket list ideas to ours for an even more epic season.
While you're at it, don't forget to check out our other awesome bucket list printables. As always, they are absolutely free and have hours of fun!
We highlighted this Fall Printable and Fall Crafts along with some other fun kid's crafts in our September Crafts for Kids along with our 101+ Easy Craft Ideas for kids.
You also do not want to miss our 101+ Fun Coloring Pages For Kids and 101+ Free Kids Printables full of Crafts & Coloring Pages.
Other Scavenger Hunt Ideas You'll Love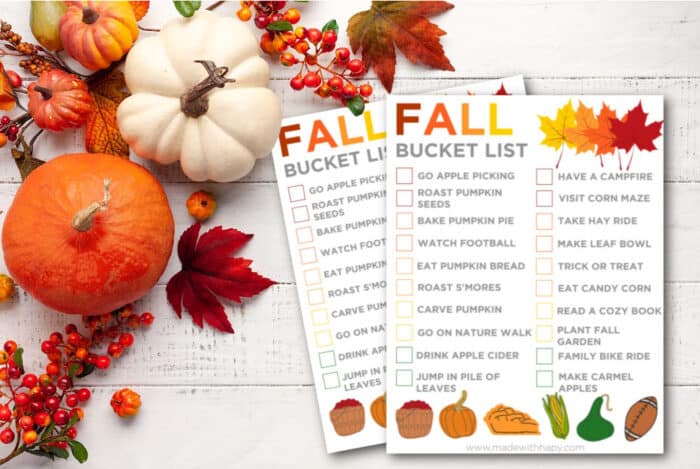 Download Your Free Printable Scavenger Hunt
Simply enter your name and email in the form below and you will be taken directly to the download. In case you do not feel comfortable entering your email, you can purchase it in my shop here.
CONNECT WITH MADE WITH HAPPY!
Be sure to follow me on social media, so you never miss a post!
Facebook | Twitter | Youtube | Pinterest | Instagram
Looking for crafts to keep your child busy? Sign up for my 5 Ridiculous HAPPY Activities in under 30 minutes for your kids delivered directly to your inbox!
Find and shop my favorite products in my Amazon storefront here!
FALL BUCKET LIST
PIN IT TO YOUR DIY BOARD ON PINTEREST!
FOLLOW MADE WITH HAPPY ON PINTEREST FOR ALL THINGS HAPPY!