Are you looking for something fun and unique to do for Halloween? Why not make a Halloween Bucket List? This free printable game is all kinds of fun!
Everyone knows that a bucket list is packed full of items that are things that you want to accomplish, so this Halloween sounds like the perfect time to have your own printable Halloween bucket list.
The best part about it? Anyone can do this and have a blast! All you need to do is list out some of the items that you're hoping to accomplish this Halloween and then take the steps in making it happen. They don't have to be anything over the top at all either...just good simple fun and ideas that all can do.
We highlighted this Halloween Printable along with some other fun kids craft in our October Crafts for Kids along with our 101+ Easy Craft Ideas for kids.
Halloween Bucket List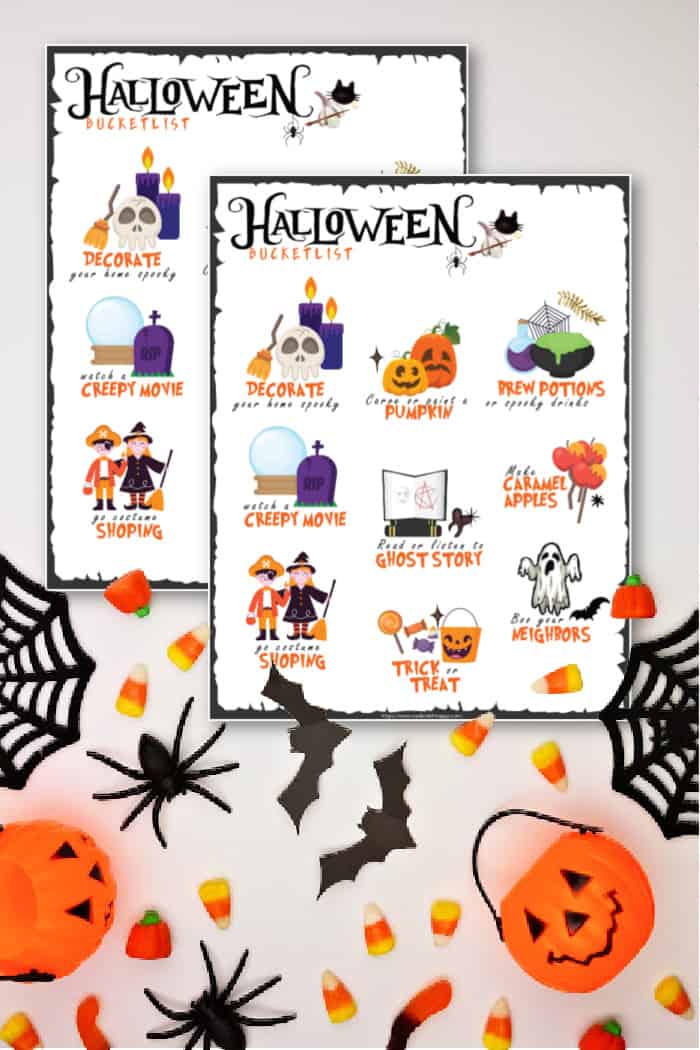 The great part about a bucket list is that it's just a big list of items that are fun. During the month of October, there is a lot of buildup and anticipation for Halloween to arrive, so it just makes sense that to pass the time, having a Halloween bucket list can accomplish just that.
Feel free to add to this printable with any and all great ideas that you have as well. The more items on your bucket list, the better!
Halloween Bucket List Items:
This will just give you an idea of some of the items that you'll find on this bucket list.
eat up all the Halloween candy
trick or treat
visit a pumpkin patch
tour a haunted house
be trick or treaters
make haunted gingerbread houses
find epic Halloween costumes
And these are just a few! The more things that you can think of, the more that you can add to this free printable.
What is the point of a bucket list?
Bucket lists can be different things for different people. Some people have bucket lists as something fun and easy to do while other people have them as a list of things that they want to complete in their life as well.
Since this bucket list is meant to be light-hearted and fun, make certain that it's exactly what everyone is having. There's no real pressure to complete everything on the bucket list but the more items that can be marked off, the better.
And who knows, this year just might be the year that you're able to accomplish everyone on the bucket list easily. If you're feeling the pressure, breaking up into teams and completing only a few per team or person is also an option.
As long as you're having fun, there's no wrong way to do this Halloween Bucket List activity!
Download Your Free Halloween Bucket List
Grab Your Halloween Printable Activity
Other Halloween Printables You'll Love
CONNECT WITH MADE WITH HAPPY!
Be sure to follow me on social media, so you never miss a post!
Facebook | Twitter | Youtube | Pinterest | Instagram
Looking for crafts to keep your child busy? Sign up for my 5 Ridiculous HAPPY Activities in under 30 minutes for your kids delivered directly to your inbox!
Find and shop my favorite products on my Amazon storefront here!
HALLOWEEN BUCKET LIST
PIN IT TO YOUR FAVORITE BOARD ON PINTEREST!
FOLLOW MADE WITH HAPPY ON PINTEREST FOR ALL THINGS HAPPY!