Explore the great outdoors with our printable Nature Scavenger Hunt for kids! Print this checklist and get outdoors. This is fun for all ages.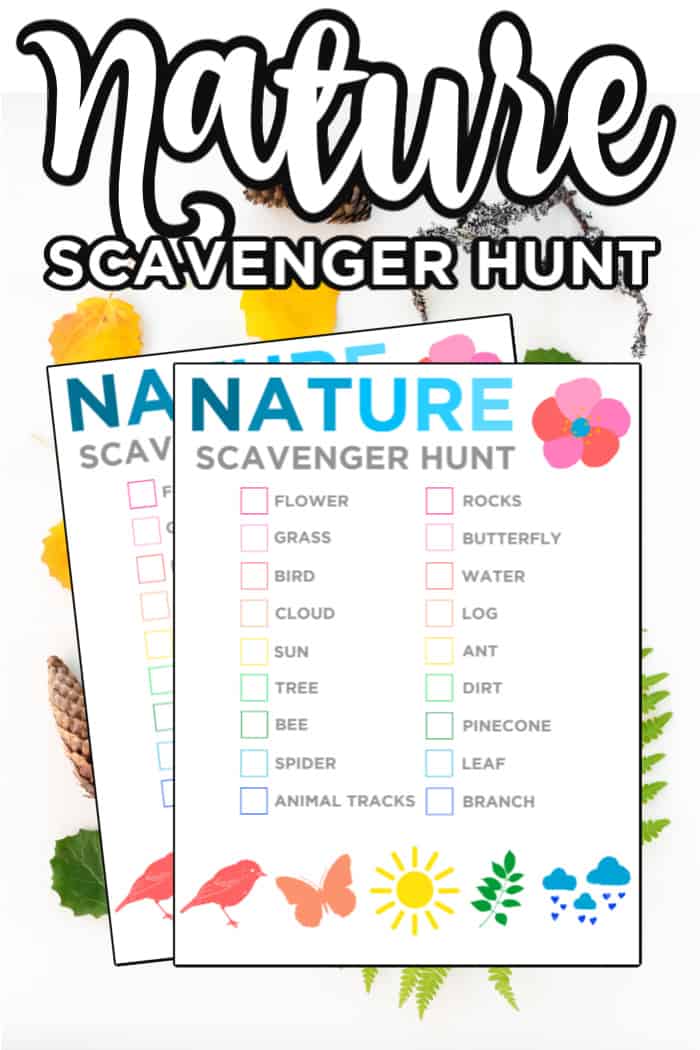 This Summer, put your focus on this Nature Scavenger Hunt for Kids. Some of the best summer activities are the ones that get the older kids and the young kids geared up and excited for a treasure hunt. It is a great way to turn a nature walk or to have some simple fun in your own backyard as a backyard scavenger hunt.
The great thing about these free nature scavenger hunt printables is that you can easily laminate them and use them over and over again with dry erase markers all year long. Bringing them on a road trip is also a perfect way to keep the kids busy either at stops or along the way.
Outdoor Fun For Kids
Not only is this free Summer Printable a perfect scavenger hunt list but it's also such a great activity Spring Activity, and Fall Activity. Anything that you can do to get their bodies up and moving is a fun way to keep them moving and motivated.
What we love about this outdoor scavenger hunt is that it is fun for kids of all ages, all year long.
We particularly love it as a fun Fall Kids' crafts, Spring Kids' Crafts, and Summer Craft for kids. But really, any time you are outside is a great time. Printing it out and taking it along for camping fun is incredible too. Turn your hike finding into a fun 3D Nature Art Project.
Made with HAPPY readers love our popular post 101+ Easy Craft Ideas for Kids as well as our 101+ Free Kids Printables full of Crafts & Coloring Pages.
Nature Scavenger Hunt for Kids
One of the biggest hurdles of summer is keeping the kids motivated and off the ever-tempting screen time. And while some screen-time is just fine, there's also truth to the fact that the kids need fresh air, Vitamin D, and a little bit of running around and moving their legs, too. This is why having them get outside and enjoy as many nature scavenger hunts as possible is key.
And the good news? This free printable nature scavenger hunt for kids is jam-packed full of awesome scavenger hunt ideas. Once you print it off, they're certain to be sprinting out the door to see what they can find.
Outdoor Scavenger Hunt Ideas
While this printable has a ton of great things to find outdoors, don't forget that you can easily add in more of your own. In this free printable, the kids will be looking for:
Flowers
Grass
Bird Cloud
Sun
Tree
Bee
Spider
Animal Tracks
and more!
The one thing that is 100% true about this nature scavenger hunt is that it's certain to keep them active outdoors and busy! And just because they find all the things on this printable list, keep it going by adding in more fun things.
Check out these other Fun Scavenger Hunt Printables!
Other items to add to your Nature Scavenger Hunt for Kids
Think outside the box and have fun adding in other items. This can be as simple as objects on the ground or even objects up in the sky. The choice is totally up to you on what you want to add.
Some fun ideas, that could make it a little more difficult could be:
Red Leaf
Purple Flower
Arrowhead
Round stone
Bluebird
Turtle
And things along those lines. That way, they'll really be engaged in the hunt and see what all they can find.
What are some fun ways to use this outdoor nature printable?
The best part about this simple outdoor printable is that you can print it out and take it with you anywhere that you're going to go. We've printed this out and taken them on trips or just had them sitting around the house for the weekend when we're looking for something fun and active to do.
No matter how you try to use them, just make certain that you take the time to do so. You'll be amazed at how much fun the kids have once you start having them search for all the other items on the list.
This Nature Scavenger Hunt for Kids is such a simple way to give them tons of fun! Have them print this off and see who can complete it first. Consider having a few fun prizes for the kids as well so that they can get rewarded for their efforts.
Delicious homemade popsicles are always a fun treat that they're certain to love and enjoy!
Check out these other free printable scavenger hunts.
Grab Your Printable Checklist
Enter your name and email address in the form below to be taken directly to the pdf file.
*Note: This free scavenger hunt is for personal use only.
CONNECT WITH MADE WITH HAPPY!
Be sure to follow me on social media, so you never miss a post!
Facebook | Twitter | Youtube | Pinterest | Instagram
Looking for crafts to keep your child busy? Sign up for my 5 Ridiculous HAPPY Activities in under 30 minutes for your kids delivered directly to your inbox!
Find and shop my favorite products in my Amazon storefront here!
NATURE SCAVENGER HUNT FOR KIDS
PIN IT TO YOUR FAVORITE BOARD ON PINTEREST!
FOLLOW MADE WITH HAPPY ON PINTEREST FOR ALL THINGS HAPPY!