This free printable Summer bucket list for kids of all ages is full of all kinds of fun summer activities. Kids will love checking off the fun as they go.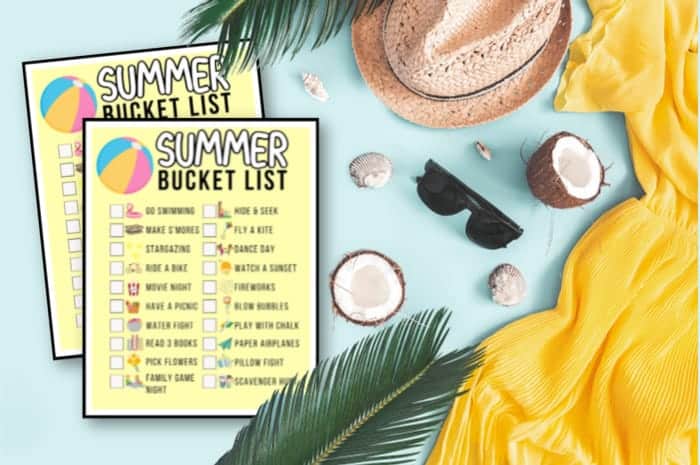 Are your kids geared up and ready for Summer? If so, you need this summer bucket list for kids!
All of these great ideas are certain to create a fun summer full of laughter, ice cream, and activities. Since summer is all about fun, it's time to get started asap!
Don't miss our 101+ Free Kids Printables full of Crafts and Coloring Pages
The best part about summer is that there is no right or wrong summer activity for the kids to do. But sometimes, having a little bit of guidance for them to fall back on can be helpful. Because let's face it...summertime is typically all about lazying around and doing nothing, right? And while that might be fine for a while, it is a great time to encourage the kids to make it their best summer yet.
With a little bit of fun from this printable list for kids, it just might literally be the most awesome and ultimate summer, ever!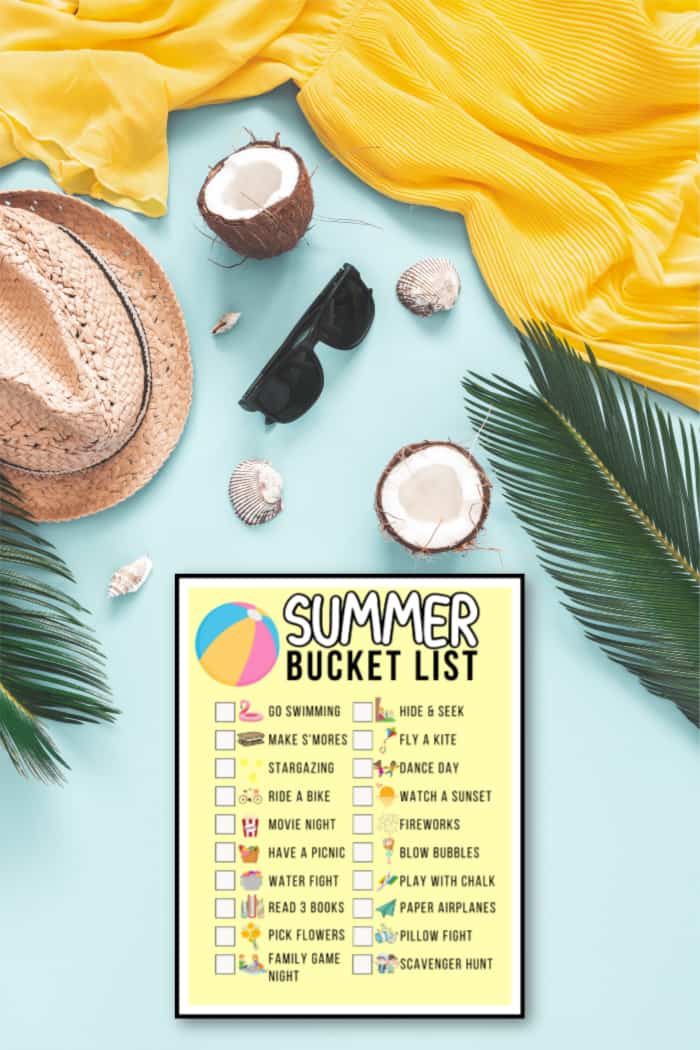 Why should kids have a bucket list?
Bucket lists are actually great for everyone to have. Not only are they a way to have goals and wants easily written down but it also forces us all to step outside our comfort zone and tackle something that we did not think we could do!
Having and creating a bucket list can be hard so this is why we have created this simple printable to help your kids get started. These are all super fun summer activities that will have them loving that summer life.
And the best part about a bucket list? Your kids can always add to it, too! We love to take our bucket list with us when we travel so that when we think of something fun and see something new to try, we can easily write it down so that we do not forget it by the time we get home.
What are some of the bucket list items for kids included in this printable?
Some of the fun summer bucket list items on this printable include:
Stargazing
Having a picnic
Pillow Fight
Scavenger Hunt
Dance Day
Fly a Kite
Have a movie night
And these are just a few! The more the merrier so have a blank page handy so the kids can add more to it.
What are fun ways to implement the ideas on this summer bucket list?
The best part about having a bucket list is that it gives you the courage to do the things on it! When you and your kids are looking for something fun and exciting to do for the day, all you have to do is pick something off of this list.
Even better than that, make them all a family affair. While bucket lists can easily be done on their own, they can be done as a family, too. The more family members that want to join in on the fun, the better.
If other neighborhood kids want to join in as well, let them! Being able to complete bucket list items with family and friends takes them to a whole other level. Not only are you and your kids marking off items on their bucket list but everyone is making wonderful memories together doing so as well.
Tips for Using This Summer Bucket List
If you have more than one child, make certain that they each have their own printable! This is because they might not all want to do certain things at the same time as everyone else. Instead, give them the option to complete the items on this printable when they have time and want to. This will not only give them the confidence to tackle things that they have always wanted to but it also gives them the ability to have a ton of fun this summer as well!
The kids are going to have such a great time with all of these fun Summer ideas! Make it a family mission to complete the entire list from start to finish. So many fun memories are going to be made and this just might be the best summer ever!
This Indoor Scavenger Hunt for Kids is not only super simple and fun, but it comes with a free printable full of awesome scavenger hunt ideas as well.
This color scavenger hunt for kids is a great activity. This colorful activity take kids indoors and outdoors looking for all kinds of happy colors.
This fun and free printable Easter Scavenger Hunt is great for the whole family. A fun spin on your Easter Egg hunt ideas.
Other Kids Crafts and Printables You Might Enjoy
Download Your Ultimate Summer Bucket List Ideas Printable
*For personal use only
Grab Your Summer Printable Bundle
CONNECT WITH MADE WITH HAPPY!
Be sure to follow me on social media, so you never miss a post!
Facebook | Twitter | Youtube | Pinterest | Instagram
Looking for crafts to keep your child busy? Sign up for my 5 Ridiculous HAPPY Activities in under 30 minutes for your kids delivered directly to your inbox!
Find and shop my favorite products on my Amazon storefront here!
SUMMER BUCKET LIST FOR KIDS
PIN IT TO YOUR FAVORITE BOARD ON PINTEREST!
FOLLOW MADEWITHHAPPY ON PINTEREST FOR ALL THINGS HAPPY!