This color scavenger hunt for kids is a great activity. This colorful activity takes kids indoors and outdoors looking for all kinds of happy colors.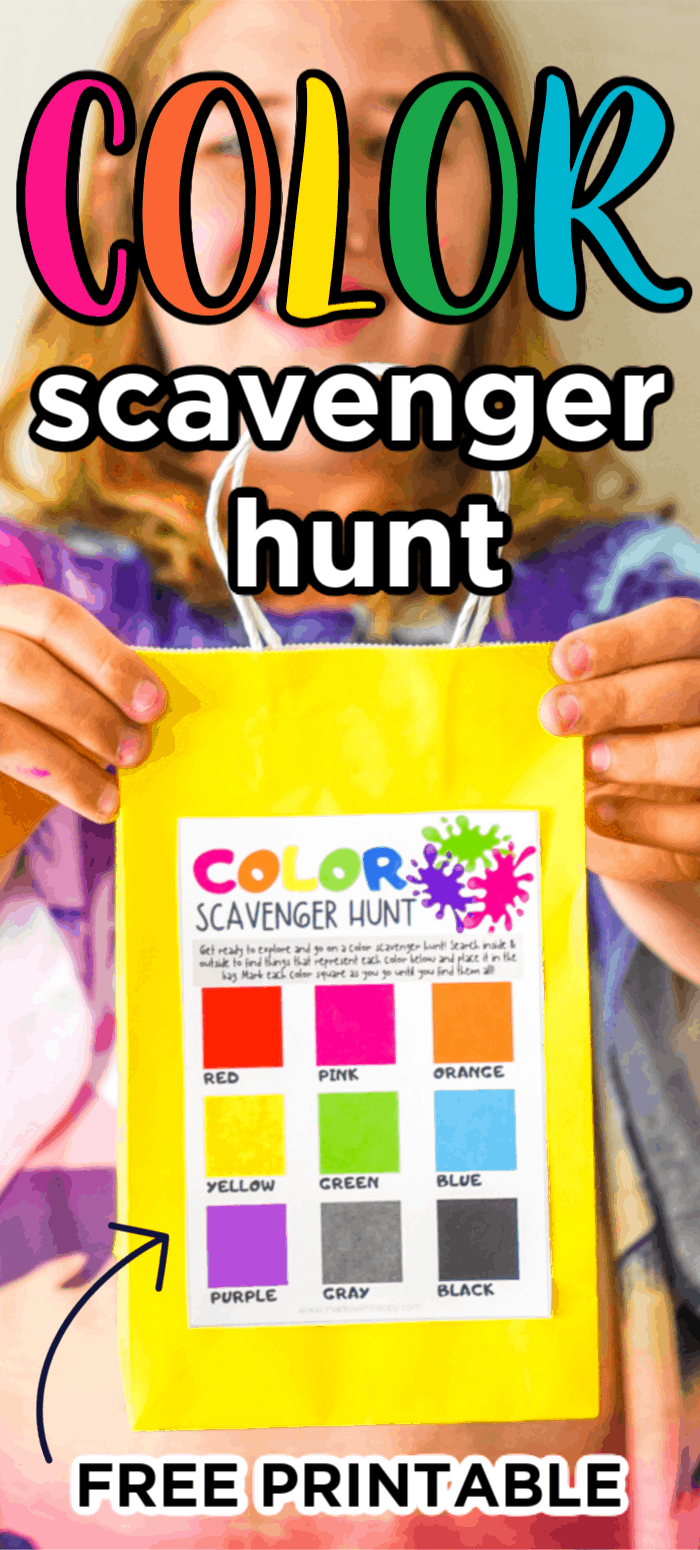 Rainbow color scavenger hunts for kids are all kinds of fun during birthday parties. This Color Scavenger Hunt is awesome for younger kids. It gives them a way to go out and hunt around for all the colors of the rainbow.
The beauty of rainbows and colors is that they are great on St. Patrick's Day or any time of year. Have some red, orange, yellow, green, blue, purple, pink, gray, and black fun!
Birthday Party Games
If your kids are anything like mine, then they love all kinds of scavenger hunts. They have gone on nature scavenger hunts, indoor scavenger hunts, and our favorite camping scavenger hunt.
Birthday parties can be a super fun activity for both younger kids and older kids. There are so many different scavenger hunt ideas depending on the kid's age. The rainbow theme is always a lot of fun for children of all ages.
Rainbow Scavenger Hunt
There is something magical about the rainbow scavenger hunt. It is a great activity for kids of all ages color hunt. Either around the house or in your own backyard in a fun way.
Making it into a color walk or nature color scavenger hunt while out on your neighborhood walk or nature walk is also fun too. Being outside can be the perfect time to look for nature items. Bring a magnifying glass and you can even see some small insects and items.
There are so many different ways to take this color scavenger hunt printable and turn your adventure into some fun ideas. Simple activities like looking for a specific color can be so beneficial to improving observational skills and gross motor skills.
Check out our Rainbow Crafts for Kids collection as well as our St. Patrick's Day Crafts for Kids
What you need for this Color Scavenger Hunt for Kids
Scavenger hunts are always a great idea. There are many learning activities associated with scavenger hunts. Learning to work in teams and the act of really searching is always a great activity for kids.
Free printable color scavenger hunt cards - Grab them below
Laminator (optional)
How to Set Up a Scavenger Hunt For Kids
Start with downloading your color scavenger hunt cards below.
Print as many cards as you have children or groups.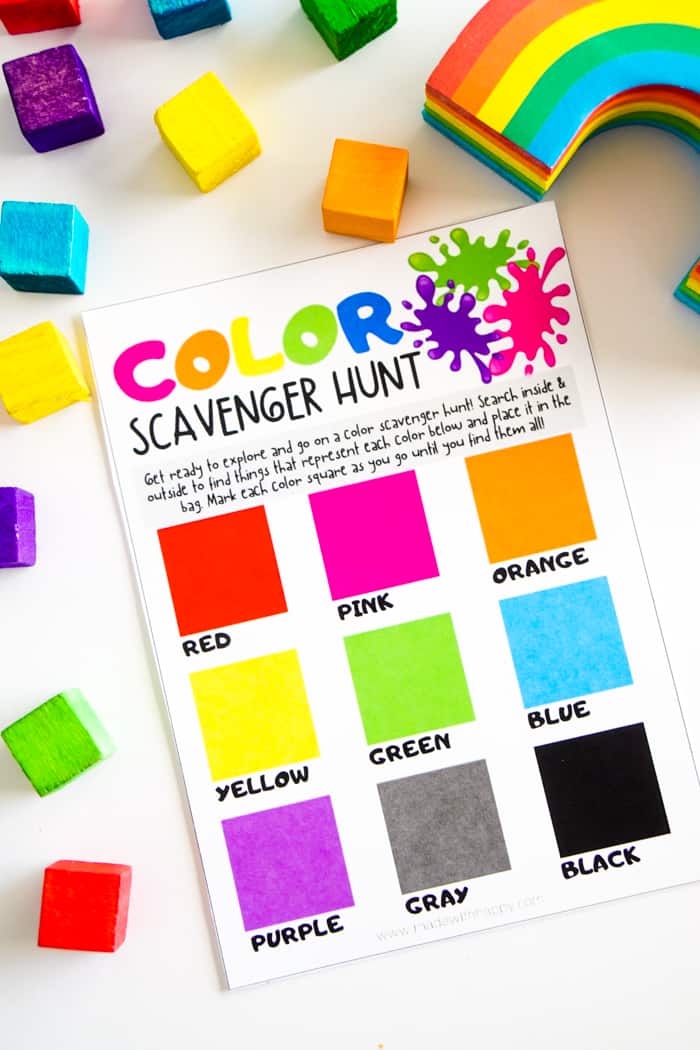 Cut each scavenger hunt card out.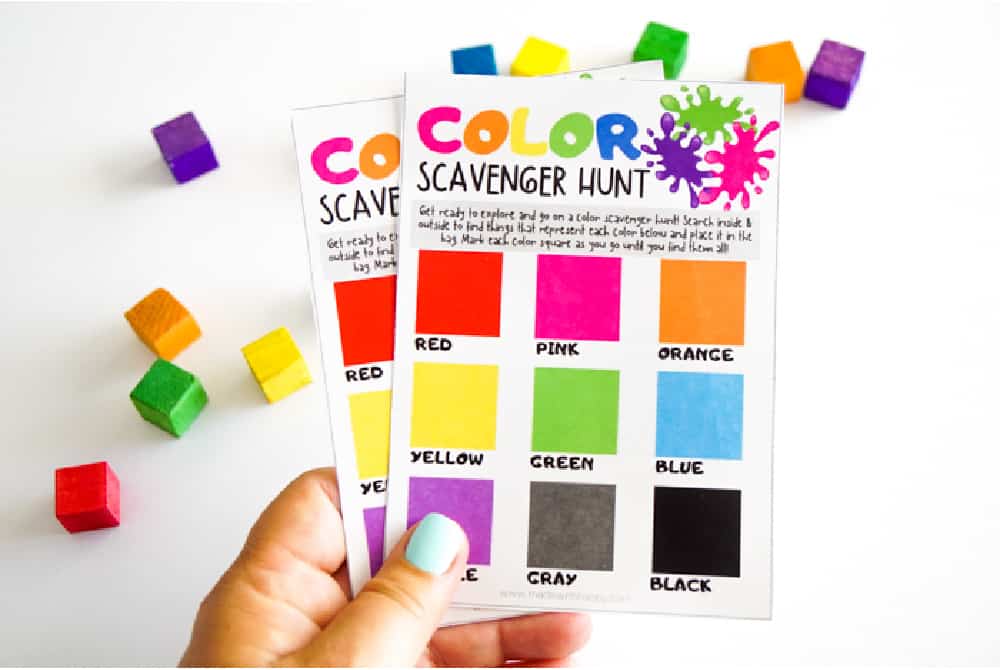 In case you want to use them over and over again, I highly recommend laminating your cards. Then you can use them over and over.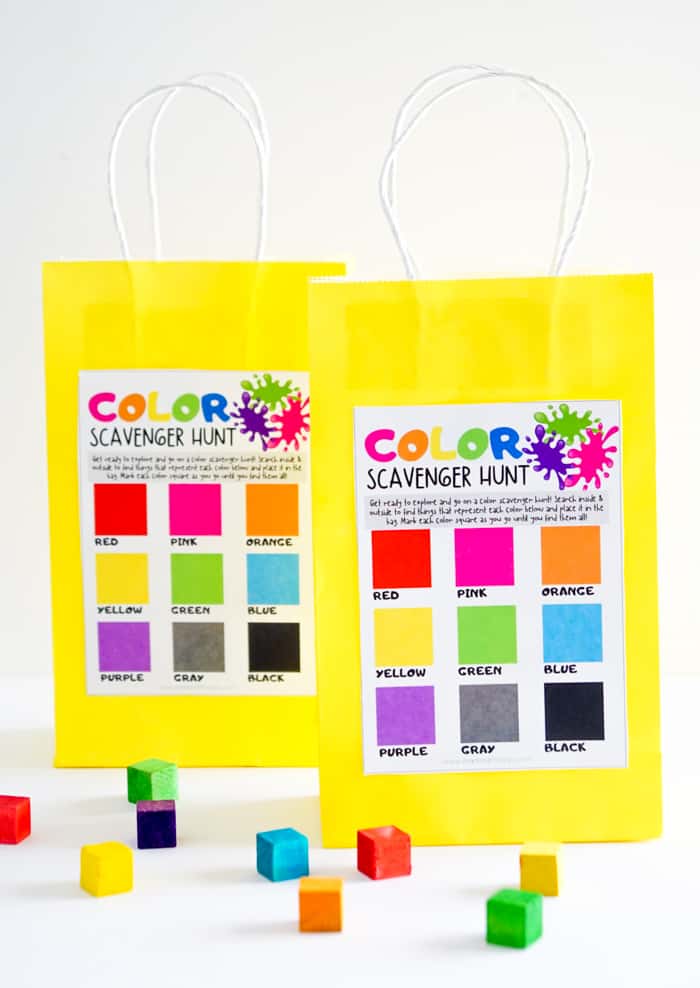 Attaching the cards to the outside of a gift bag is also a fun idea. Simply tape the cards to the outside of the bag and then as the kids collect their colored items they can hold them in the bag.
Home Scavenger Hunt Ideas
Besides parties, having scavenger hunt ideas on hand is always good. Especially since we all have been staying home more. Setting up a color scavenger hunt at home is just as exciting.
Scavenger hunts and or treasure hunts are so great
Do not miss our Crafts and Activities For Bored Kids for other fun crafts like this one!
We highlighted this St. Patrick's Day Printable along with some other fun kid's crafts in our March Crafts along with our 101+ Easy Craft Ideas for kids.
You also do not want to miss our 101+ Printable Coloring Pages For Kids and 101+ Printables For Kids full of Crafts and Coloring Pages.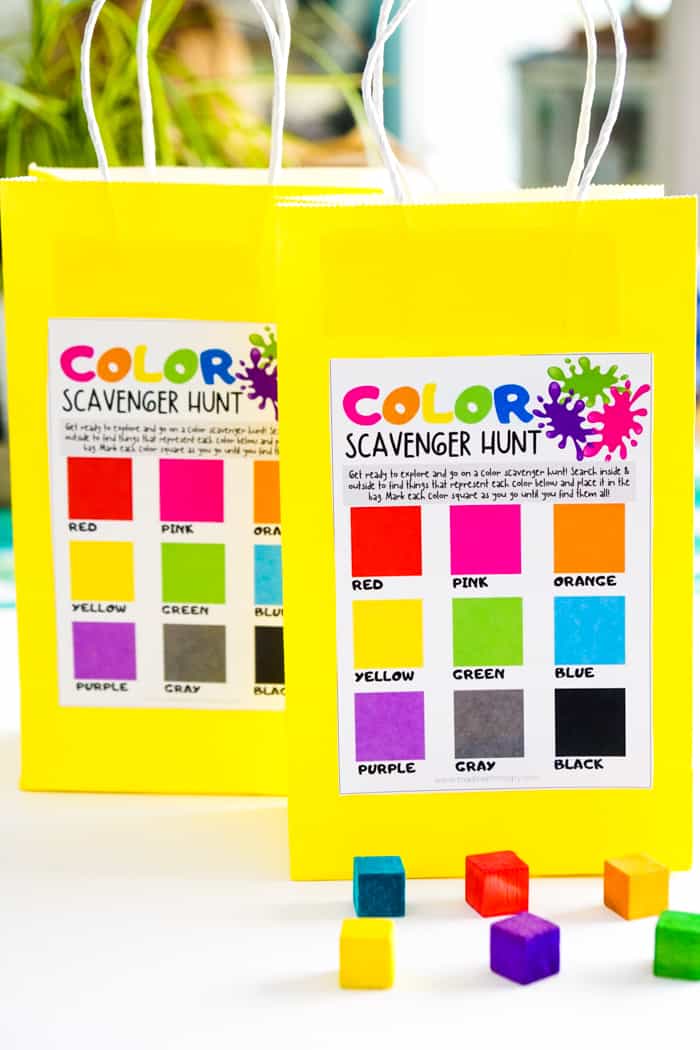 Scavenger Hunt For Kids
The one thing you will want to make sure of before setting the kids off on their scavenger hunt is to make sure there are all the colored items around the house.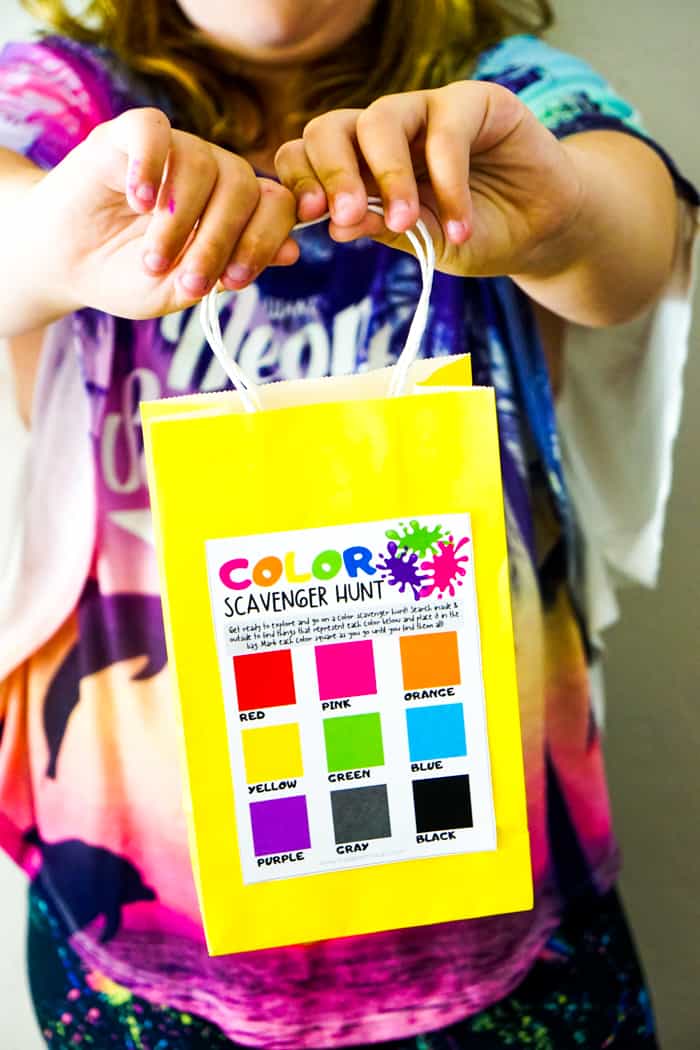 You can also give them clues leading them to their different colors. We find it lots of fun placing different colors in different areas of the yard so that they have to check all different areas.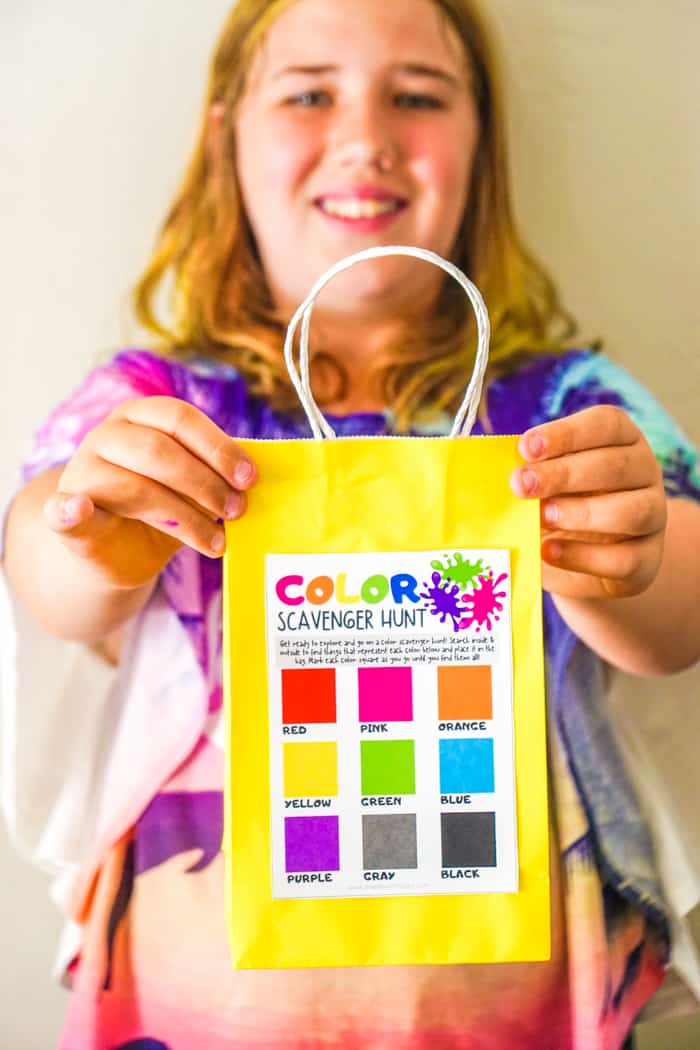 The first to find all the colors of the scavenger hunt wins!
Rainbow Scavenger Hunt Questions
Now that you are ready for your scavenger hunt, here are a few questions you might have
What is a color scavenger hunt?
It is a great way for your toddlers and preschoolers to get to know their colors better. It allows them to independently search for each of the colors.
How do you play scavenger hunt with preschoolers?
We find that the easiest way to have a scavenger hunt with preschoolers is to make sure there are items of every color setup in your scavenger hunt area. Grab enough for each child and place them throughout the house and or yard.
How many items should be on a scavenger hunt?
It's important to have at least one item of every color. In the case you want to make it that much more difficult, you could leave one color out and see if they can use their imagination.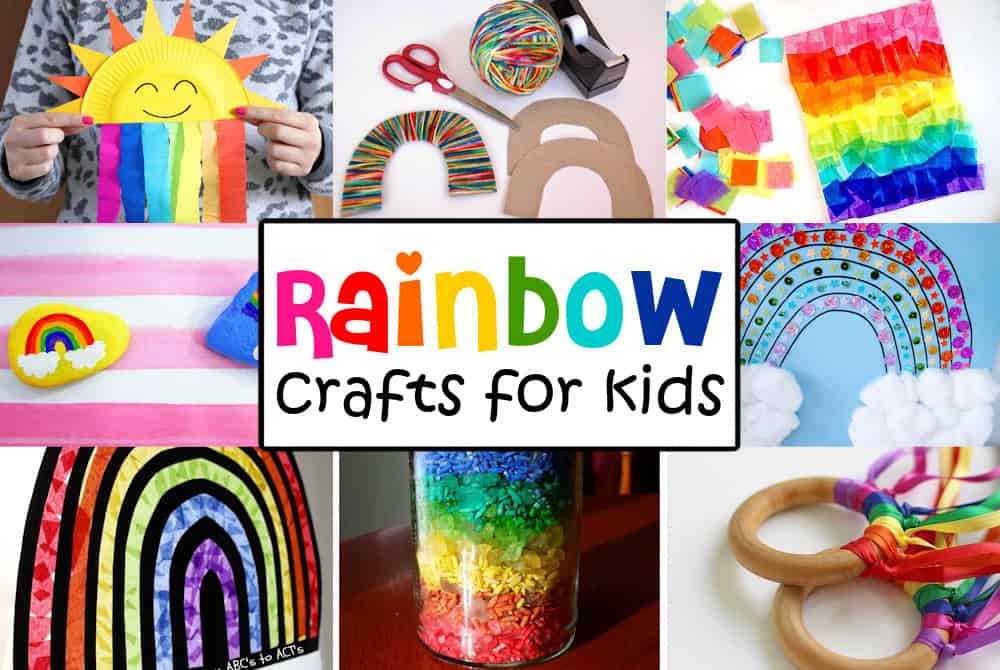 Rainbow Party Games and Rainbow Party Treats You Might Enjoy
Some Rainbow DIY and St. Patrick's Day Craft Projects You Might Enjoy
Grab your Color Scavenger Hunt Printable
Enter your name and email address in the form below. You will be taken directly to the printable. In case you are not comfortable entering your email, you can find the printable in our Made with Happy Shop here.
*For personal use only
CONNECT WITH MADE WITH HAPPY!
Be sure to follow me on social media, so you never miss a post!
Facebook | Twitter | Youtube | Pinterest | Instagram
Looking for crafts to keep your child busy? Sign up for my 5 Ridiculous HAPPY Activities in under 30 minutes for your kids delivered directly to your inbox!
Find and shop my favorite products in my Amazon storefront here!
Color Scavenger Hunt For Kids
PIN IT TO YOUR KIDS BOARD ON PINTEREST!
FOLLOW MADEWITHHAPPY ON PINTEREST FOR ALL THINGS HAPPY!