It should come as no suprise that my favorite rainbow holiday is coming up. As a fun treat for the kids for St. Patrick's Day, I made our fun Edible Rainbow Crayons with printable wraps.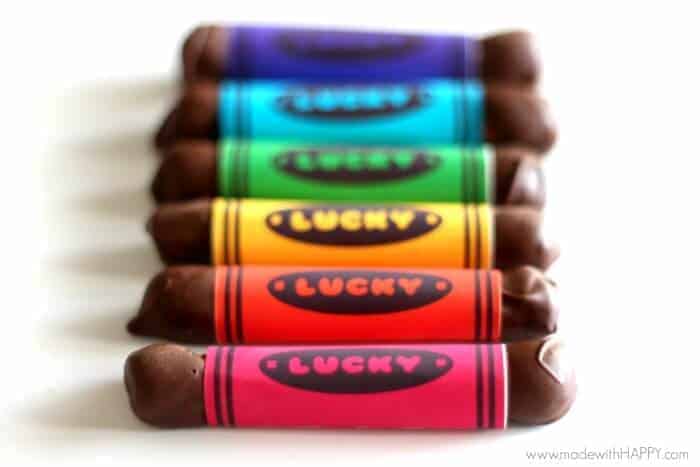 This past weekend, the husband and I were taking a walk and talking about the next month and we brought up St. Patrick's Day. He proclaimed how much he enjoyed St. Patrick's Day. Bright eyed, I asked if it was because of all the pretty rainbows? No, because its really not a holiday for us (non-Catholic, non-Irish) folk, its just an excuse to wear green and have yummy food and drinks. "And lots of rainbows" I added as I agreement.
Be sure to check out the 100 more printables for kids like this HAPPY one.
Whether you celebrate St. Patrick's Day for the religious aspect or not, we have fully embrassed the rainbow loving holiday around our house and made these super simple treats for the kids to take to school in their lunches. I made a homemade version of these quite a few years ago now. I decided this year, we needed a fun update and I created two fun printables making it that much easier for you all to make these for yourself.
They really are so cute and so easy to make, I may even make enough for the kids to bring to their friends in their class.
Here is how you make them.
Ingredients:
Directions:
Melt your chocolate either in the microwave or over the double boiler.
Line 6-8 pretzel sticks next to each other on a cutting board and all at once cut them in half. This ensures your "crayon set" are all similar lengths.
Dip each end of the half pretzel into the chocolate and then place on the wax paper to harden. To speed up the process, you can place them into the freezer for a few minutes.
Cut out your printable crayon wrappers. Wrap each pretzel stick with a different colored wrapper and use the two sided tape to make it stick together.
Place them in a baggie to serve. We also like to add some rollos in the baggie for the gold at the end of the rainbow!