Looking for a fun St. Patrick's Day Rainbow Art Project, then we have you covered!
I haven't mentioned this too much over the years, which is just kind of dumb on my part, but did you all know that I teach art at my kids school?
Let's just start by saying off the bat that I AM NOT A TEACHER. That takes a certain kind of person that I am not. I do however go into the class 1-2 times a month and teach each of my children's classes. The art program at my children's school is volunteered based and has a couple different curriculum as well as all the art supplies.
There are week's when I use what is given and all is good. There are few pockets of times throughout the year when there aren't any lessons that fit and that is when we make up our lessons. For this week's lesson I knew we wanted to do something rainbow (of course) and something St. Patrick's Day. We came up with this super cute Pot of Gold St. Patrick's Day Rainbow Art.
The supplies you need for this project are:


Kids rainbow art is my favorite. There are so many variations to this project. What I found is that if you direct the children one way, then they will go four different ways anyway.
We started out drawing a pot of gold. I had them use a pencil and draw the pot of gold like a fishbowl on the black piece of paper. I showed them if they drew an oval at the top of the fishbowl, it would give it a "Pot of Gold" look for this super fun St. Patrick's Day rainbow art project.
We then had them cut out the pot of gold and glue it to the corner of their piece of paper.
Then we squeezed a little of each color of the rainbow onto a paper plate and encouraged them to start with red or magenta at the top of the rainbow.
I encouraged the students to be more abstract with their strokes as the color blend together like rainbows in the sky. We had students that wanted the clean strokes and those that loved the abstract of it.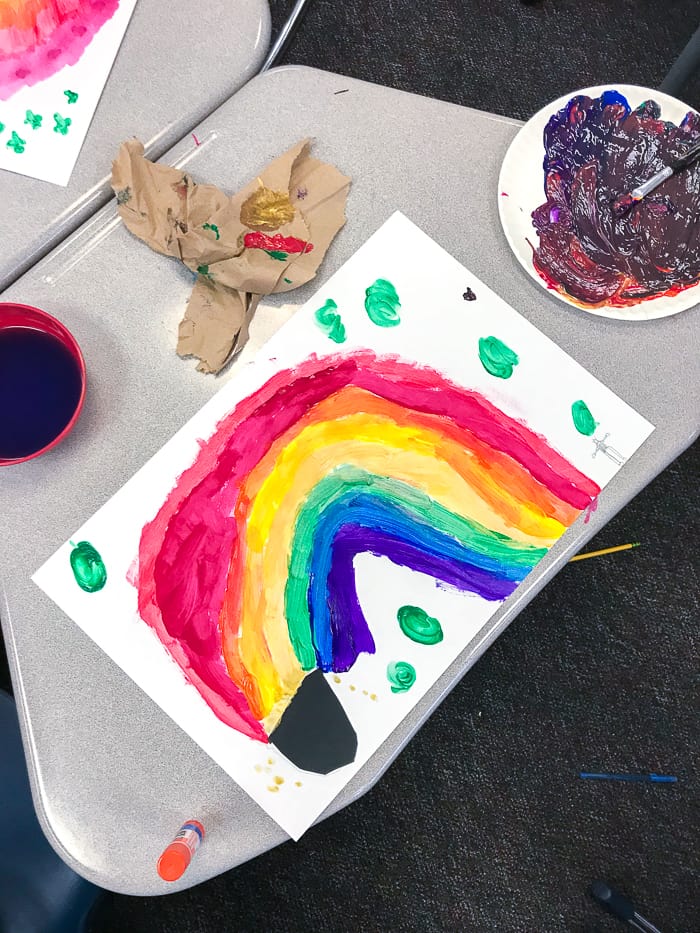 St. Patrick's Day Rainbow Art Project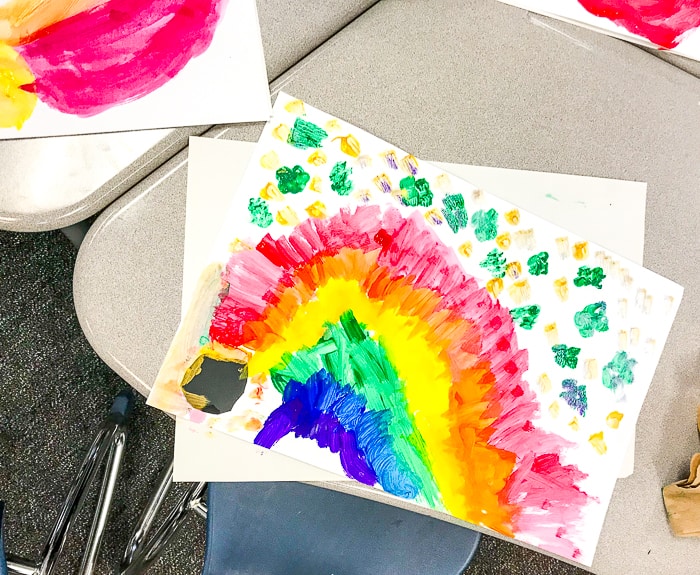 Two added instructions was to use the gold paint on the pot of gold. Either on top of the pot of gold or coming out. I then encouraged the students to create clovers around the outside of their rainbow. They could try and paint small circles using their brush, or dip their finger in the green paint and create four leaf clovers with their finger. Messy is always fun!
ST. PATRICK'S DAY RAINBOW ART
PIN IT TO YOUR KIDS CRAFTS BOARD ON PINTEREST!
FOLLOW MADEWITHHAPPY ON PINTEREST FOR ALL THINGS HAPPY 
This is a great age for kids to express themselves with art. I love kids rainbow art and any kids art for that matter because every single one of these projects turned out completely different. They had straight lines, they had messy lines, they had all different sizes of pots of gold and I just love letting them create their own art. So much fun! I highly recommend kids rainbow art for your next project and see what your children come up with.
Other St. Patrick's Day Crafts you might enjoy.