We love this rainbow garland that is great for all the holidays from Halloween to Christmas. We are sharing the fun tutorial.
This rainbow garland is one of our favorites to put out and leave up through the holidays.
Garland is one of our favorite decorations for every holiday. A few of our favorites are Rainbow DIY Tassel Garland, Spider Web Garland, DIY Geometric Valentines Garland, Valentines Pom Pom Garland, and our Patriotic Paracord Garland.
Rainbow Garland
As much as I love decorating for all the Christmas holidays, there are only so many hours in the days and sometimes we need to be able to put something up for Halloween and leave it up through the New Year. This winning attitude was the creative factor behind this awesome Rainbow Holiday Garland.
Those that know me, know we're pretty OBSESSED with color at our house. This leads us to our garland full of bright colors of the rainbow. This garland, of course, can be used with any colors that you decorate at your house. Think about the colors that you like to decorate throughout the holidays and use those.
What I love about this garland is that it's simple to make, only uses a few supplies, and is lots of fun for the kids.
Here's how you make it.
Supplies:
1 package of plastic ornaments - I used these
Pipe Cleaners
Yarn or twine
Directions:
Do not miss our 15+ Rainbow Crafts for Kids!
Start by squeezing some paint to the inside of the ornament. Reattach the lid and shake the paint around covering the inside of the ornament. If you are doing the rainbow of 6 colors, you will need two ornaments of each color.
Then using the electric tape, cut out triangles for the eyes and a W looking piece for the mouth. Attach to each ball.
To add the "stem" of the pumpkins, you thread the pipe cleaner through the loop at the top of the ornament and fold in half. Twist the pipe cleaner to attach. To create a twirl, I wrapped each end around a pencil.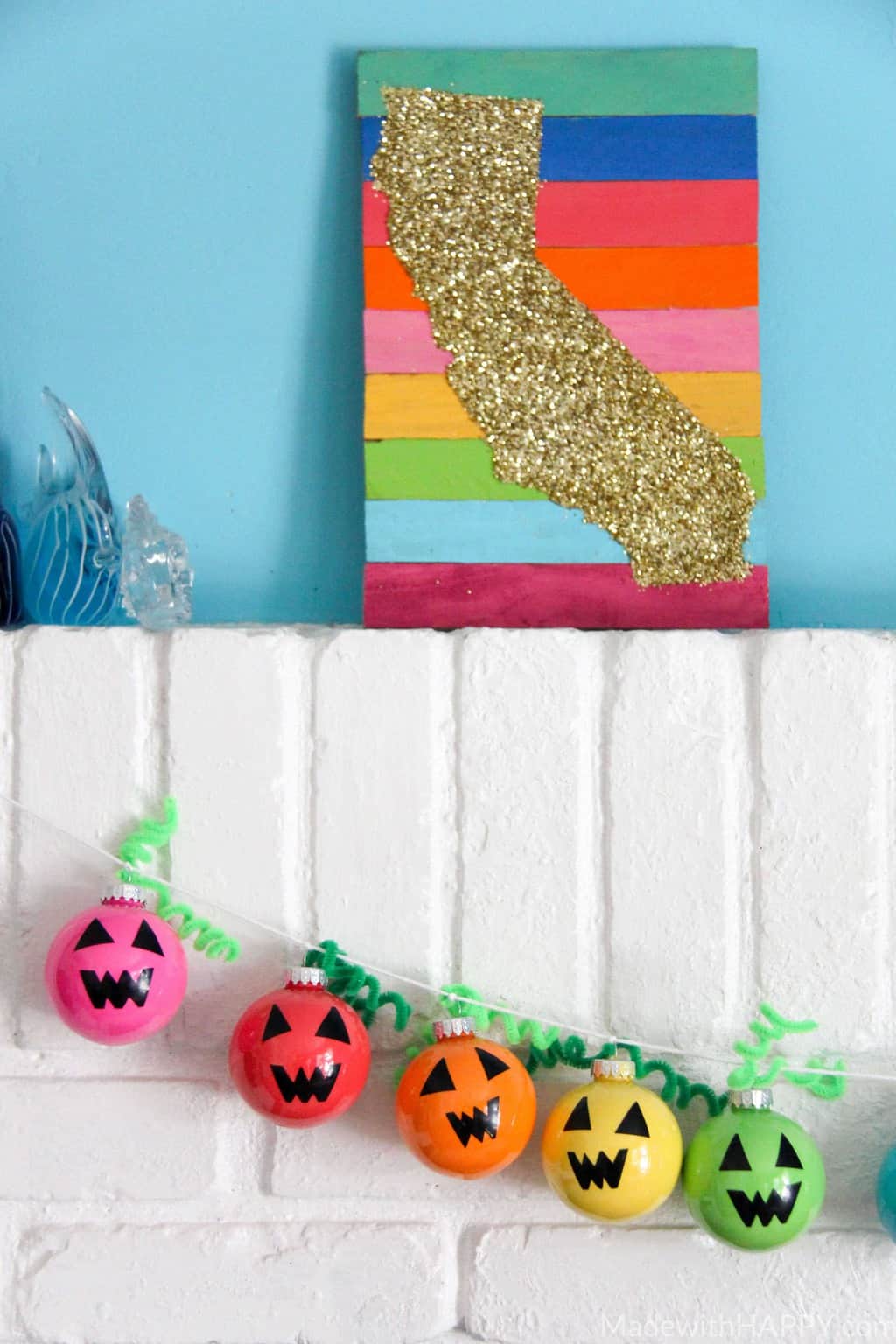 Lastly, string onto a piece of yarn or twine long enough to hold all twelve of your ornaments.
HAPPY Crafting and HAPPY Holidays
Other Fun Holiday Decorations
CONNECT WITH MADE WITH HAPPY!
Be sure to follow me on social media, so you never miss a post!
Facebook | Twitter | Youtube | Pinterest | Instagram
Looking for crafts to keep your child busy? Sign up for my 5 Ridiculous HAPPY Activities in under 30 minutes for your kids delivered direct to your inbox!
Find and shop my favorite products in my Amazon storefront here!
RAINBOW GARLAND
PIN IT TO YOUR FAVORITE BOARD ON PINTEREST!
FOLLOW MADE WITH HAPPY ON PINTEREST FOR ALL THINGS HAPPY!