We're sharing a fun colorful banner for your next Hanukkah celebration. This Star of David Banner is great for those looking for Hanukkah decoration ideas.
While my immediate family does not celebrate Hanukkah, I have a number of friends that do. And so I wanted to share a printable banner to for them to add some fun color to their Hanukkah celebration.
We hope to make Hanukkah celebrations that much HAPPIER with our other post including: Happy Hanukkah Coloring Pages and 20 Hanukkah Recipes.
We highlighted this Hanukkah printable along with some other fun kids craft in our December Crafts for Kids along with our 101+ Easy Craft Ideas for kids.
You also do not want to miss our 101+ Free Kids Printables full of Crafts & Coloring Pages.
Traditional Colors for Hanukkah Celebrations
Traditionally, the colors for Hanukkah are blue and white. I have read that this originated with the Israeli flag. There are symbolic meanings behind each color in the Jewish culture. The white symbolizing innocents and purity and the blue symbolizing justice.
I truly mean no disrespect for going outside the traditional Hanukkah celebration blue and white or blue and silver, but I always love to chance to showcase something in a whole new colorful light (festival of lights). 🙂
Supplies needed for this Star of David banner
First you will need to grab my free printable banner below.
Scissors - my favorites
Yarn or Twine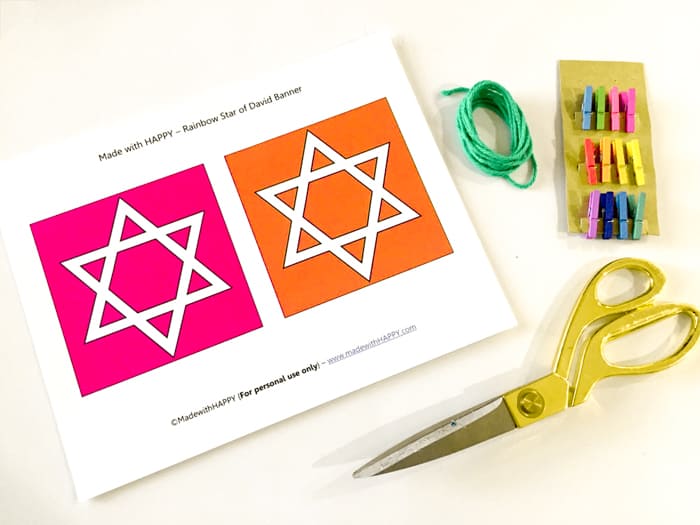 Once you have downloaded your Hanukkah printable, you will need to cut out the banner.
Cut out the banner, grab your twine and mini clothespins.
Assemble in whatever order makes you HAPPY. I personally love me a rainbow, but I will leave it up to you.
This is an easy DIY decoration that will make your celebration sweet and simple.
HANUKKAH DECORATION IDEAS
What does the Star of David represent?
Fun little fact about me, is that throughout college, I had a boyfriend that was Jewish. I would attend many Jewish celebrations with him, including Hanukkah. Wanting to know more about the celebrations and traditions, in order to be respectful, I did my fair share of historical research.
What I learned about the Star of David was that early on, the two overlapping triangles - the hexagram was called "The Shield of David" was believed to ward off evil spirits. It wasn't until the 1600's that the first Jewish flag was raised over a synagogue that adored the Star of David symbol. There were a number of iterations from there.
Where to use these Hanukkah decoration printable?
What I love about this printable colorful Star of David banner is that it can be used in a ton of different Hanukkah decoration ideas.
Hanukkah Banner - This of course is the original intention of the printable.
Table Decoration - You can print and cut them out and place them on your Hanukkah table and use them as a table runner
Front Door Hang - Simply decorate your front door with the banner and use it as a wreath or door hang.
HAPPY HANUKKAH
Download Your Star of David Free Printable
Other DIY Holiday Garlands that you might enjoy
CONNECT WITH MADE WITH HAPPY!
Be sure to follow me on social media, so you never miss a post!
Facebook | Twitter | Youtube
Pinterest | Instagram
Looking for crafts to keep your child busy? Sign up for my 5 Ridiculous HAPPY Activities in under 30 minutes for your kids delivered direct to your inbox!
Find and shop my favorite products in my Amazon storefront here!
HANUKKAH DECORATION IDEAS
PIN IT TO YOUR CELEBRATION PINTEREST BOARD
FOLLOW MADEWITHHAPPY ON PINTEREST FOR MORE GREAT PARTY IDEAS!