We are helping you with you Hanukkah celebrations with 20 Hanukkah Recipes.
Looking for some delicious Hanukkah food recipes for your next celebration? We have you covered.
What Is Hanukkah?
Hanukkah an eight-day Jewish celebration also known as the Festival of Lights. The holiday season typically occurs in December and is a festival of Re-dedication of the holy temple in Jerusalem by the Maccabees after its desecration by the Syrians.
How to celebrate Hanukkah?
The celebration of Hanukkah centers around the lighting of the menorah or hanukiah. A Hanukkah menorah is a candelabrum with eight branches.
Typically on a ninth raised lamp that is set apart from the others. This light is used to light the other lights each night of the celebration.
The foods that are traditional served at Hanukkah are typically all fried in oil. Some traditional Hanukkah recipes include potato pancakes/potato latkes, smoked salmon, short ribs, jelly filled doughnuts, egg noodles, brussels sprouts, and potato kugel. If you've never tried a crispy latkes with sour cream, you are seriously missing out!

Enjoy these 20 Hanukkah Recipes that will turn your holiday table into the feast your guest will be talking about all year.
Hanukkah Recipes
Looking for recipes for your Hanukkah celebration, then we have you fully covered with all these great Hanukkah recipes.
Challah Recipes
Challah bread is a rich Kosher braided style bread made simply with flour, eggs, yeast, salt and water.
Can't wait to try my hand at this traditional Hanukkah Bread. Added bonus, it makes a fabulous bread pudding.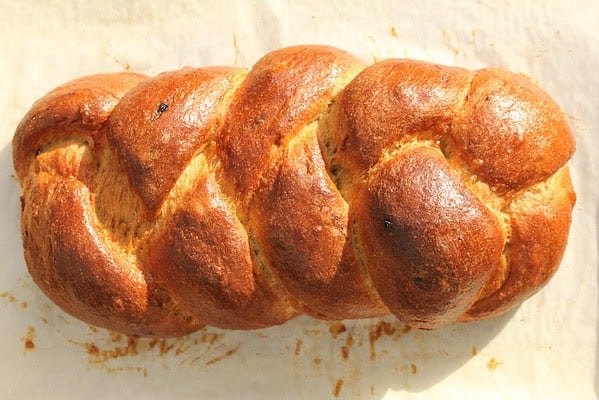 Love the additions this recipe makes to the traditional challah.
Hanukkah Main Dish Recipes
We are in love with this tender beef recipe and anything Instant Pot and quick and easy!
We love there is a vegetarian option for a family favorite on Hanukkah.
This beef brisket recipe is one that I cannot wait to make all year long!
This is my Mama's favorite.
Hanukkah Side Dishes
Noodle kugel is one of my all time favorite sides.
Another Instant pot favorite with some great additional spices.
Hanukkah Desserts
You had me at Oreo cookie balls.
Delicious pastries like this rugelach would be great in the morning, mid-day or in the evening.
What a delicious idea for Hanukkah dessert
Hanukkah Latkes Recipes
Latkes are a fried potato pancake that originated in Easter Europe. American associate latkes with Hanukkah celebrations
Gluten free potato latkes... yes!!!
Ooh, we love all things sweet potato.
Yummy curried sweet potatoes are a great variation on the traditional favorite.
Always great to have a vegan option.
Air Fryer Latkes are a great method.
What a great idea to use the spiralizer!
Simple and crispy is the best.
Can't wait to try this easy recipe.
Cheesy goodness makes for a delicious latke
Made with HAPPY is known for their potato recipes.
Here are a few you might enjoy
CONNECT WITH MADE WITH HAPPY!
Be sure to follow me on social media, so you never miss a post!
Facebook | Twitter | Youtube | Pinterest | Instagram
Looking for crafts to keep your child busy? Sign up for my 5 Ridiculous HAPPY Activities in under 30 minutes for your kids delivered direct to your inbox!
Find and shop my favorite products in my Amazon storefront here!
HANUKKAH RECIPES
PIN IT TO YOUR RECIPE PINTEREST BOARD
FOLLOW MADEWITHHAPPY ON PINTEREST FOR MORE GREAT PARTY IDEAS!