The big game is coming up soon and we're gearing up with all the tasty treats we can including these super delicious spin on the crowd favorite tater tot casserole.

We love ourselves anything that comes on a stick.  Maybe that is why we have so much fun at the fair each Summer. 🙂
If you remember, we started our tater tot love affair, when I served up these Loaded Tater Tot Skewers last year.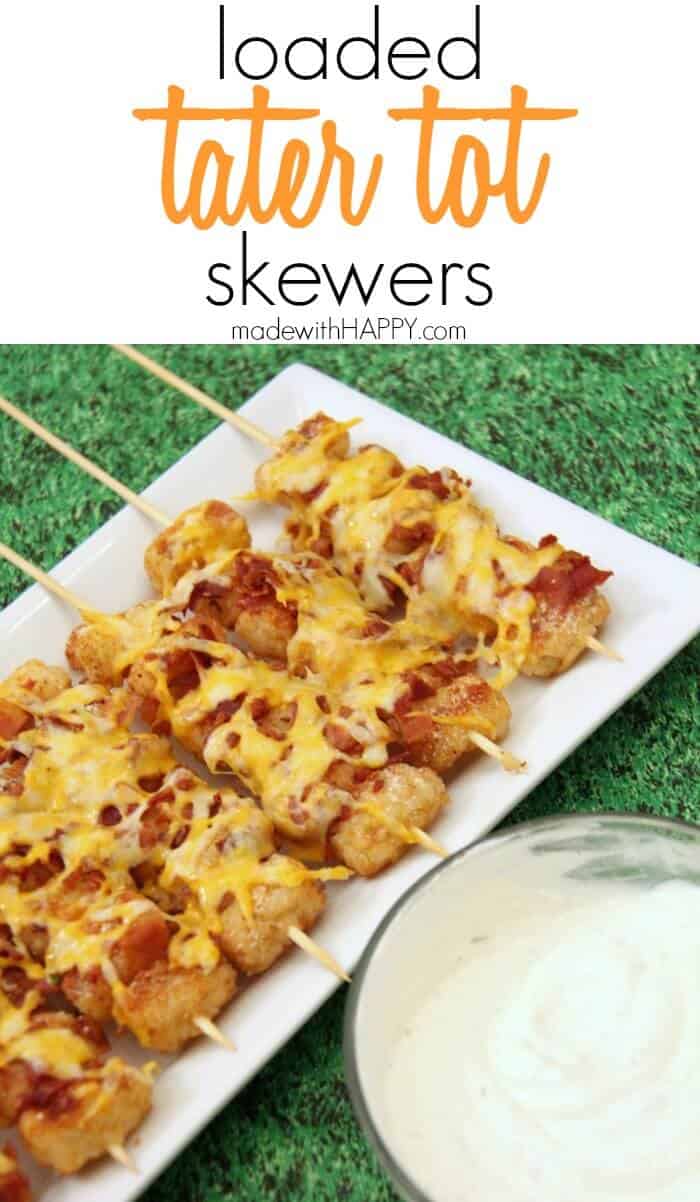 Our guest, and family alike, absolutely love these skewers, that they have made their way to almost every party.  This of course got us thinking and making sure we are testing out the many possibilities which landed us on these
Pizza Tater Tot Skewers

What I love most about these, is that they are so easy to make, that we even make them for dinner some nights and add a side salad!  So good.
Okay, here's my take on the appetizer version of tater tot casserole
Ingredients:
A bag of tater tots
1/2 cup pizza sauce
1/2 cup sliced pepperonis
1 cup mozzarella cheese
12-15 pre-soaked skewers
Directions:

Start by soaking your skewers in water.  I place mine on a small sheet pan filled with water and a mug holding them down under water.  This will make sure your skewers will not burn when they are placed in the oven.
Next you will need to cooking your tots on a sheet pan.   Typical time and heat is 350 degrees for 20 minutes, but would recommend following directions on your brand of tater tots.  The key to this recipe, is to make sure your tater tots are fully cooked and crispy.  If they are not crispy, they will fall apart when placed on the skewer.
Once, they are cooked, pull them out of the oven and let cool for a few minutes.  Once you are able to handle them, skewer 6-7 tater tots onto each skewer and place back onto the sheet pan.
Spoon the pizza sauce onto each skewer, making sure you cover each of the tater tots.  Then add a layer of cheese, a layer of pepperoni, and then another layer of cheese.
Into the oven for another 10 minutes at 350 degrees.
Cut and serve!
If you're looking for some other Super Bowl appetizers, they you will want to try these out!