These cheeseburger meatballs are our favorite cocktail meatball recipes. Serve these mini burgers or any cocktail meatball at your Superbowl party or Summer BBQ.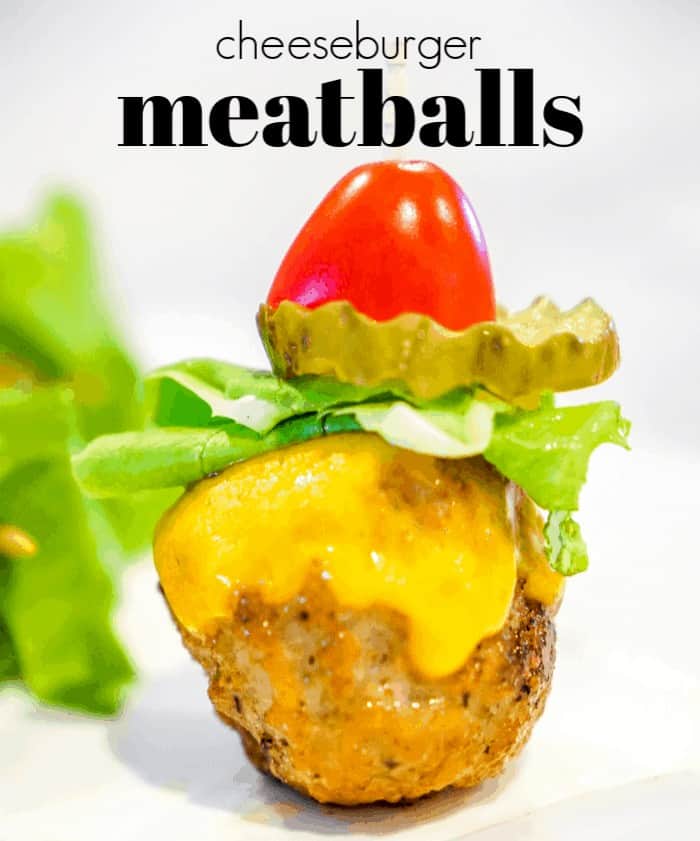 Whether it is a Summer BBQ or Superbowl party, we are always looking for a delicious appetizer that is easy to make and a big hit at parties.
My youngest child is a cheeseburger aficionado (okay, maybe he's just obsessed) but regardless he gobbled these guys up so fast, that I had to make them a second time just for him.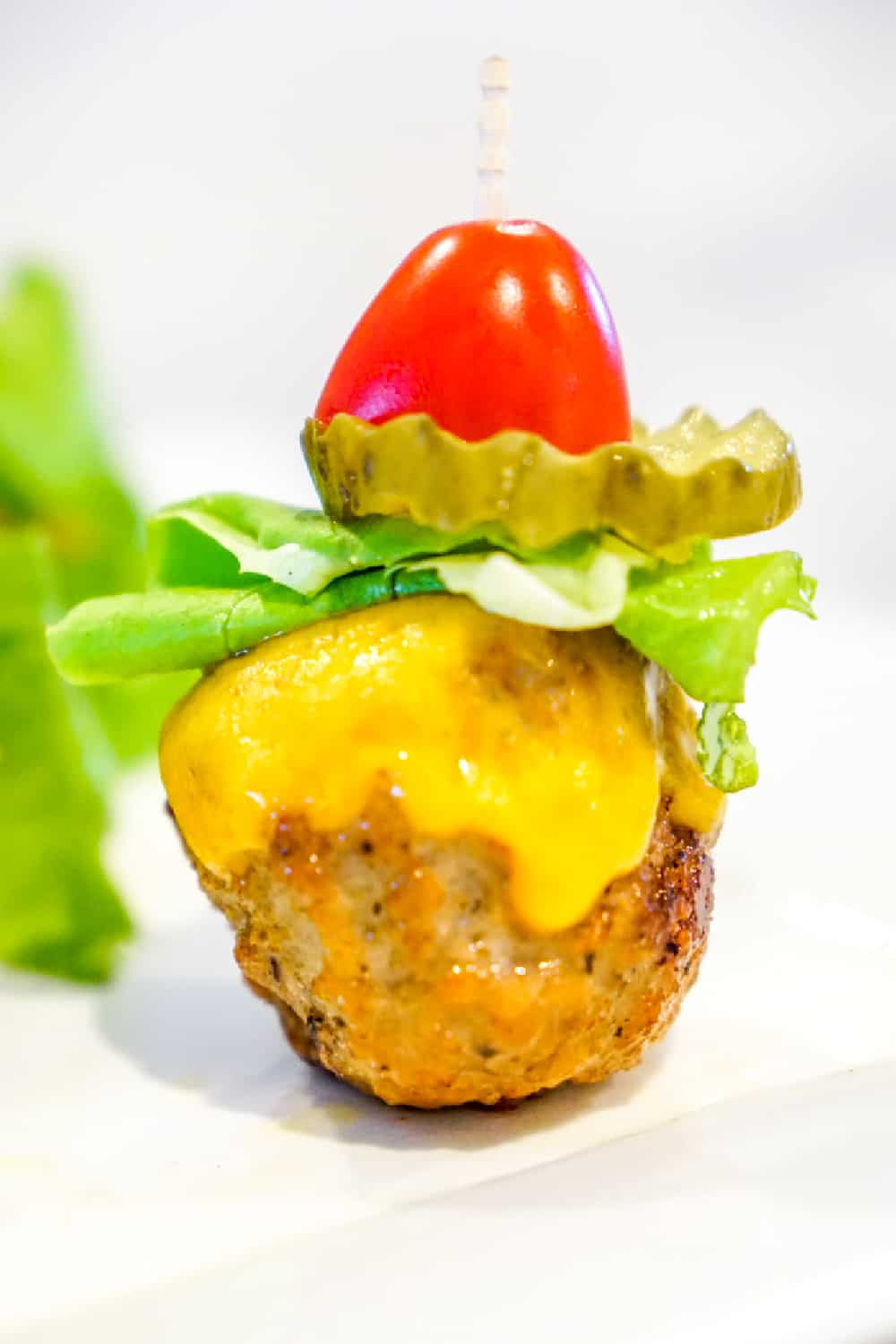 I have been invited to a party and do not know what appetizer to bring?
As a lover of parties, big and small, this is the number one question I get asked by both my IRL friends and my friends here online.
Having one or two great crowd-pleasing appetizers to bring to a friend's house is always my suggestion. Looking for Easy Super Bowl Appetizers, Summer Snacks, or Easy Summer Appetizers, we have some great ideas!
These cheeseburger meatballs are definitely one that falls into the crowd-pleaser, family favorite category. They are very versatile and can be adjusted to those with different dietary restrictions as well.
Of course, if they are looking for other quick-finger foods, our sausage pineapple appetizers are fabulous. As our tater tot bites.
Ingredients For Superbowl Meatballs
Storebought Meatballs
Cheddar Cheese, sliced or Cheese Cubes
Grape Tomatoes
Letuce
Dill Pickles
Red Onions (optional)
Bacon (optional)
Can You Use Homemade Meatballs
I highly recommend making homemade meatballs if you have the time. Many times when making appetizers like this for Game Day or Summer BBQ, you are either in a hurry to get the appetizer out, or taking these to a friend's house.
In case you do have time to make your own meatballs, a great recipe is to combine in a large bowl, ground beef, egg, garlic, onion, breadcrumbs, Worcestershire sauce, parmesan, salt, and black pepper. Roll the beef mixture into 1-1.5 inch ball shapes and place them on a baking sheet. Place in a 400-degree oven for 15-20 minutes till the middles are no longer pink.
Another fun recipe option is to place the small cubes of cheese or cheese curds inside the meatball so that when they bite into the meatball, the cheese is melted throughout.
What I love most about making my own meatballs is that you can make them with whatever ingredients you have. If you do not have onion, use onion powder. Use garlic powder to replace garlic. You can substitute ground beef for ground turkey. I've even thrown an onion soup mix into the beef mixture.
How to Make Cheeseburger Meatballs Easy Recipe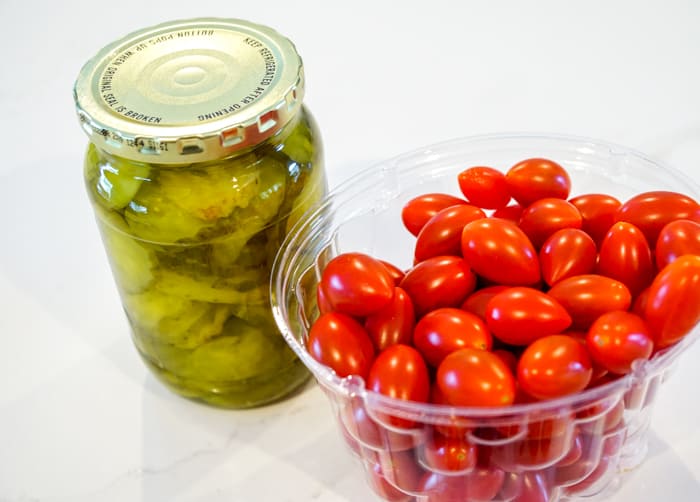 Bake meatballs according to instructions or use your own recipe. Place meatballs on a baking sheet and into the oven.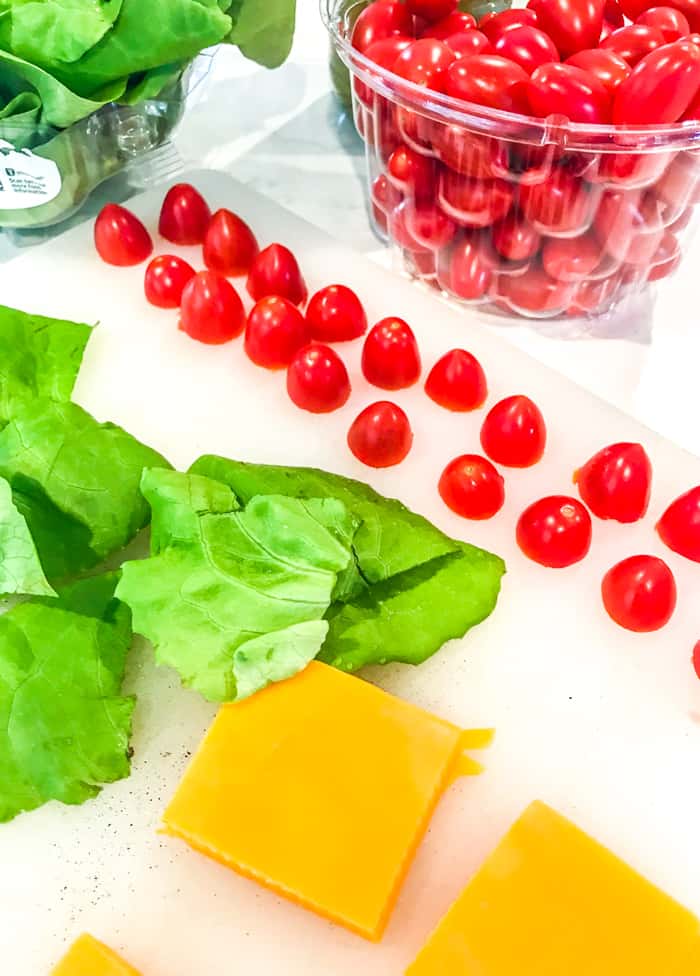 While the meatballs are cooking, prepare the cheeseburger meatball fixings.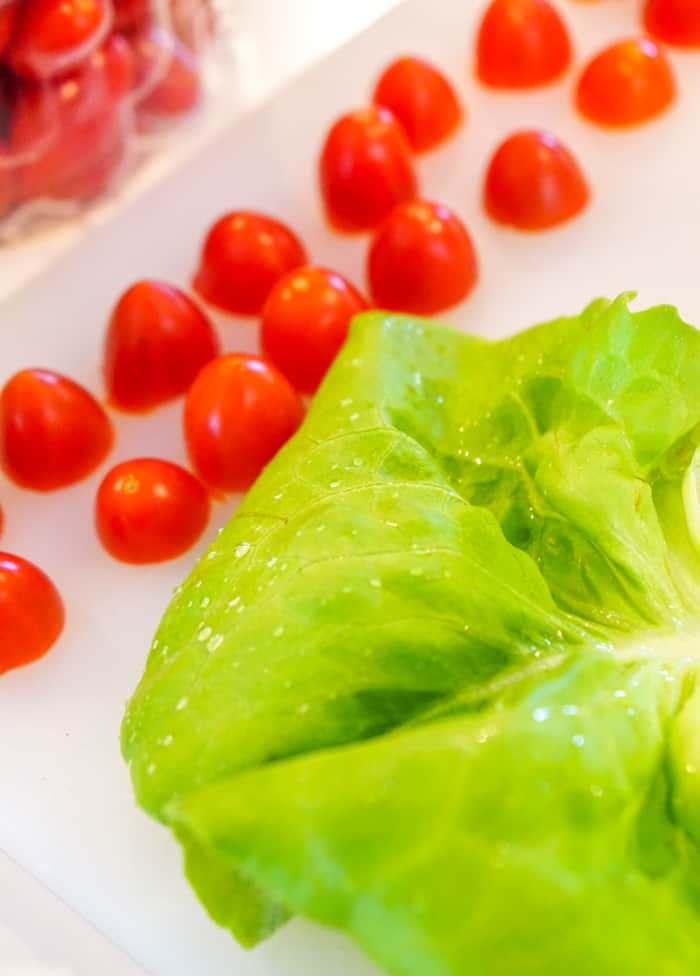 Cut the cheese slices into fourths. Cut the grape tomatoes in half. Remove the stalk from the lettuce, or if the leaves are large, cut them into smaller sizes.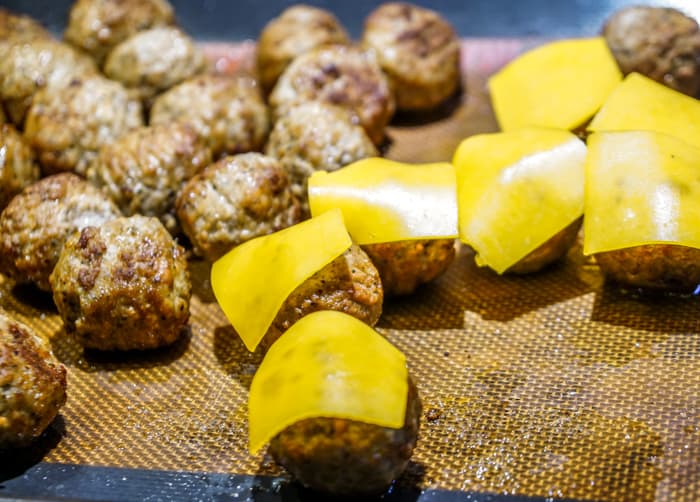 Once you pull the meatballs out of the oven, place the cheese on each meatball. Wrap beef meatballs with a small piece of your favorite cheese. Don't forget to leave a few without for your dairy-free friends. If you are going with cheese cube
Lastly, assemble the cheeseburger meatballs using a toothpick or cocktail picks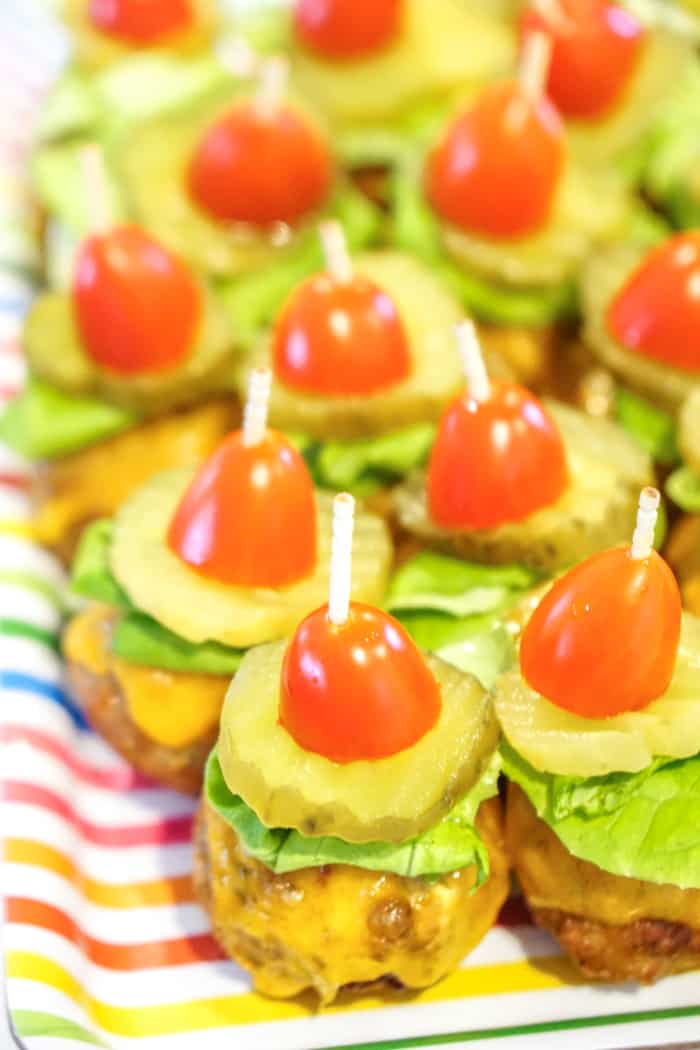 We love making different variations of these for our guests. Make some bacon cheeseburgers, some without cheese, some with onion, etc. These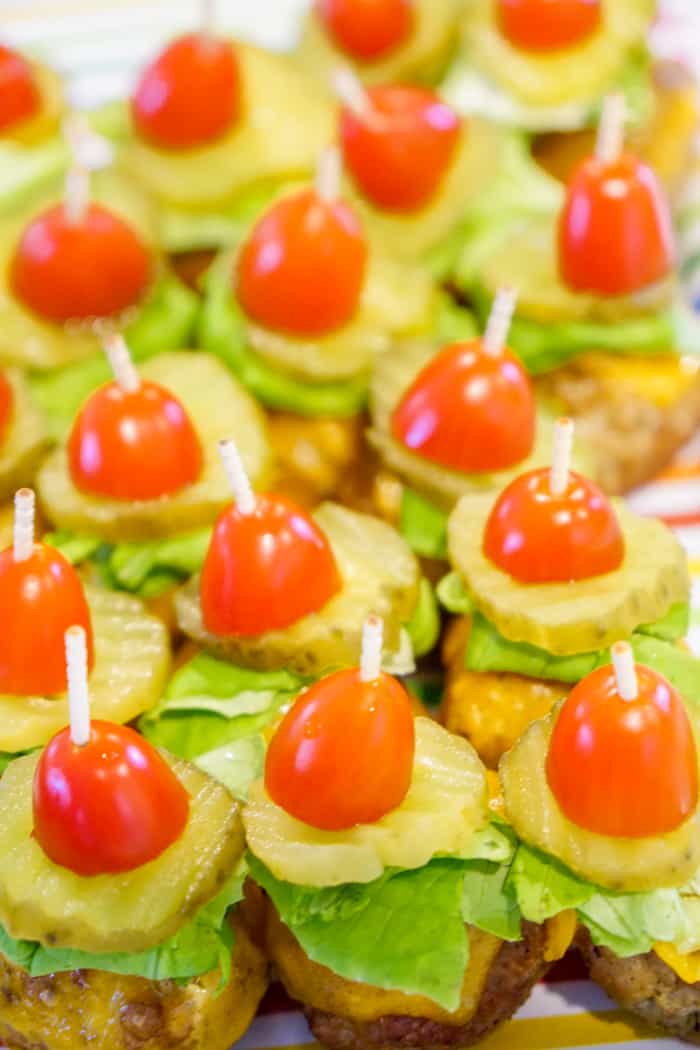 I would also serve it with burger sauce on the side for dipping as well as ketchup and even ranch. I also love to serve with french fries to give the whole burger and fries an appetizer vibe.
This is one of our favorite recipes. We hope you and your enjoy them as much as we do.
Cheeseburger Meatball Appetizer FAQ's
Can I Make the Meatballs in a slow cooker?
You absolutely can make the meatballs in a slow cooker. They would be delightful if they are cooked in burger sauce or BBQ sauce. I would recommend sauteing them over medium heat to brown the outside before putting them into the slow cooker.
Can you Make These Appetizers Ahead of the Party?
I am all about the efficiency of making appetizers ahead either the night before or hours before.
I would suggest cutting all the tomatoes, and cheese before as it will save the most time. But in terms of making the meatballs beforehand, I would wait till right before the party to make the meatballs and assemble
Can these cocktail meatballs be made gluten free and or dairy free?
They absolutely can be made gluten-free and dairy-free.
I have now started making these cheeseburger cocktail meatballs using gluten-free meatballs.
With a number of friends and family that are gluten-free that is one appetizer that can very easily exclude the bread crumbs without compromising the taste.
As for dairy-free, I recommend always leaving the cheese off a handful of the appetizers to appease those that do not do cheese (*hand raised*)!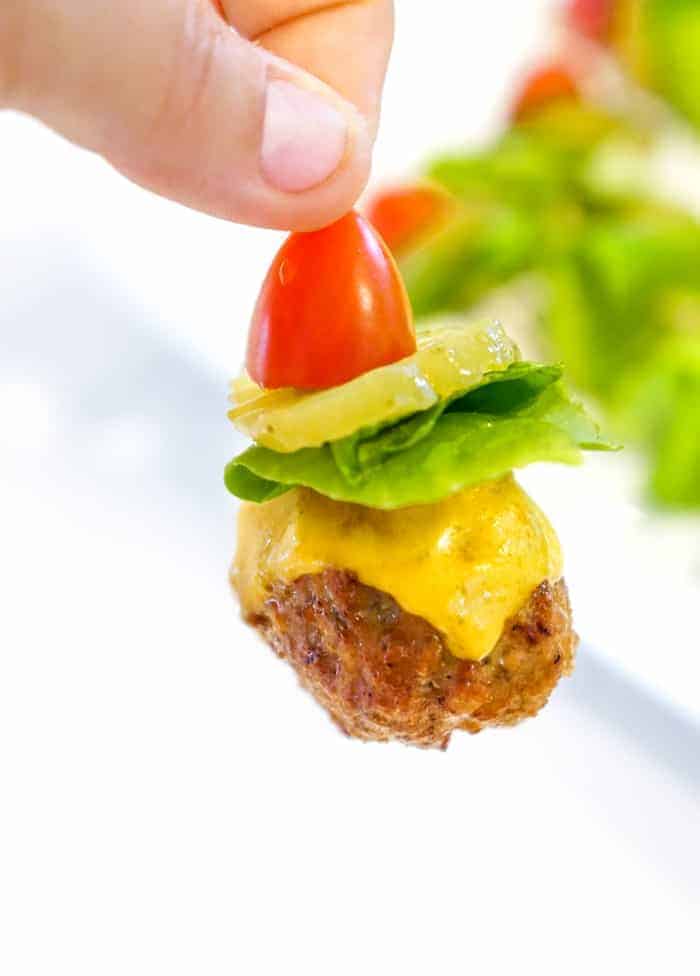 Other Skewered Appetizer You'll Enjoy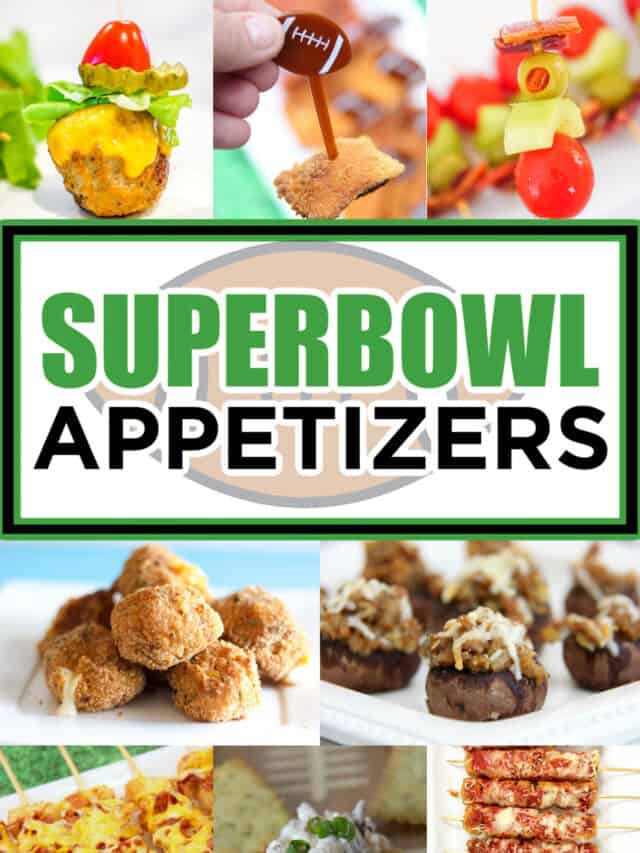 Sharable Game Day Appetizers You'll Love
CAMPFIRE NACHOS are not only great when camping. They are delicious appetizer at any time of year. They make for another great shareable appetizer for game day. Make a batch and sit them right in the middle of the coffee table.
Game day or any day is a good day when you try our LOADED TATER TOT NACHOS RECIPE We love adding this to our game day table and letting people snack throughout the game.
Appetizer Meatballs - These are fabulous for game day.
CHECK OUT OUR 21+ SUPER BOWL APPETIZERS THAT WILL SCORE BIG
Bite Size Appetizers That Are Great Finger Foods
Yield: 24 Servings
Cheeseburger Meatballs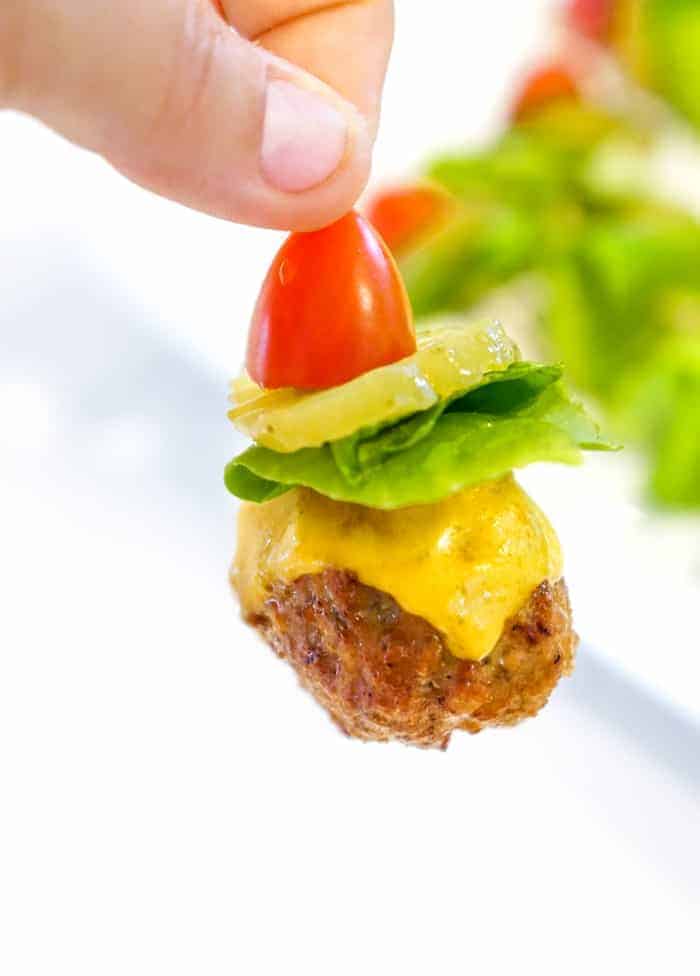 These cheeseburger meatballs are our favorite cocktail meatball recipes. Serve these mini burgers or any cocktail meatball at your Superbowl party.
Ingredients
1 bag meatballs
6 pieces sliced cheese
4 leaves butter lettuce
24 slices pickles
12 grape tomatoes
Instructions
cook meatballs according to instructions
while the meatballs are cooking, prepare the cheesebuger meatball fixings
cut the cheese into fourths
cut the tomatoes in half
remove the stalk of the lettuce leaves
Once the meatballs are done, add the cheese slices right away
Once the meatballs have cooled enough for you to handle them, assemble them.
Nutrition Information:
Yield:
24
Serving Size:
24 people
Amount Per Serving:
Calories:

96
Saturated Fat:

2g
Cholesterol:

21mg
Sodium:

1374mg
Carbohydrates:

4g
Fiber:

2g
Sugar:

2g
Protein:

6g
CONNECT WITH MADE WITH HAPPY!
Be sure to follow me on social media, so you never miss a post!
Facebook | Twitter | Youtube | Pinterest | Instagram
Looking for crafts to keep your child busy? Sign up for my 5 Ridiculous HAPPY Activities in under 30 minutes for your kids delivered directly to your inbox!
Find and shop my favorite products in my Amazon storefront here!
CHEESEBURGER MEATBALLS
PIN IT TO YOUR RECIPE BOARD ON PINTEREST
FOLLOW MADEWITHHAPPY ON PINTEREST FOR MORE RECIPE IDEAS!