If you are anything like me, the minute it is Fall, no matter the temperature outside, I get the warm and cozies. It was 88 degrees out yesterday, but all I want is some warm cozy comfort food. Do you experience this at all?
Speaking of comfort food, the hubs and I were talking about our comfort foods growing up just the other day, and we have both realized how they have shifted over the years.
For both of us, growing up our comfort foods had a lot of butter, cream and as much cheese as the local cow's could produce. This of course is not the case as we are much more aware of not only our own health and how different foods are bad for us, but making sure our ingredients are all natural and free of chemicals and hormones.
While we all have those cozy comfort foods from our past, there is a new comfort food movement that makes sure we're getting all the yummy comforting tastes from dishes, but with less of the unhealthy stuff.
And one of my all time favorite comfort foods growing up is chicken pot pies. The creamy goodness surrounded by a thick flakey crusts… ahhh, my mouth is watering! The problem being that there is probably a billion calories in that heavy cream and shortening filled crust. Over the years, I've modified my family favorite recipe and slowly cut out the unhealthy ingredients and replaced it with healthy versions (antibiotic free, locally raised, fresh and natural) has lead to one of my family's new favorite comfort food.
Looking for Easy Super Bowl Appetizers, then we have you covered.
Chicken Pot Pie Bites
Ingredients:
1 – 1 1/2 pounds boneless chicken breast, cut into small cubes – Foster Farms Simply Raised (Their chicken is grown without any antibiotics ever)
2 tablespoon olive oil, plus more for brushing
1 tablespoon unsalted butter
salt and pepper
1 small yellow onion, diced
3 medium carrots, chopped
1 medium zucchini, chopped
2 tablespoons all-purpose flour
3/4 cup chicken stock
1 bouillon cube
1/4 cup low-fat milk
1 package frozen peas
1 package large won ton wrappers
Directions:
Preheat the oven to 350 degrees F.
In a small sauce pan over medium to high heat, heat the chicken stock and bouillon cube till the cube is completely dissolved. Remove from heat and set to the side.
In a large pot or dutch oven , over medium heat, melt the butter and olive oil. Add the chicken with a pinch of salt and pepper. Saute the chicken till its cooked through and no longer pink.
Add onions, carrots and zucchini and continue to saute till the vegetables are translucent, approximately 4-5 minutes. Stir in the peas and then sprinkle the flour over the vegetables and chicken mixture and cook for a few minutes. Stir in the chicken stock and milk and bring to a simmer and cook until it becomes thick and creamy, approximately 8-10 minutes. Remove from heat.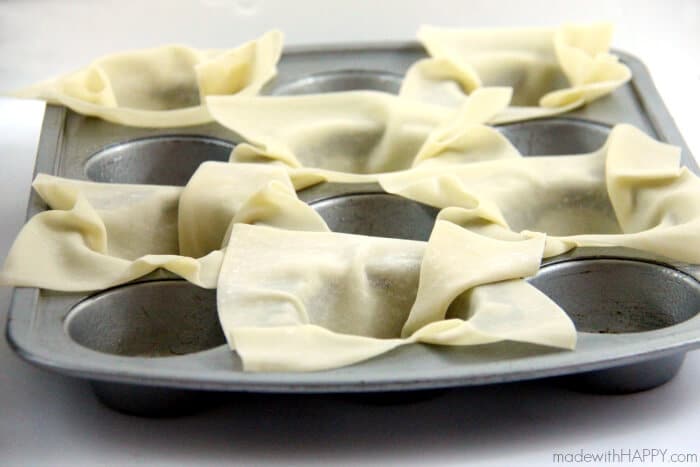 Using a muffin pan with 12 medium-size cups. Place 1 won ton (egg roll) wrap into each cup letting the sides layover the sides. I like to start with every other cup to give myself room.
Please note, in the video I sprayed my pan before the wontons. For a crunchier bite, I recommend NOT spraying the pan.
Using a 1/4 cup measurement, generously scoop the chicken mixture into each wrap. Bring the four corners of the wrap together and seal together with a twist.
Brush the tops of your bundles with olive oil. Bake until golden and crips, 12-14 minutes. Let cool slightly before serving.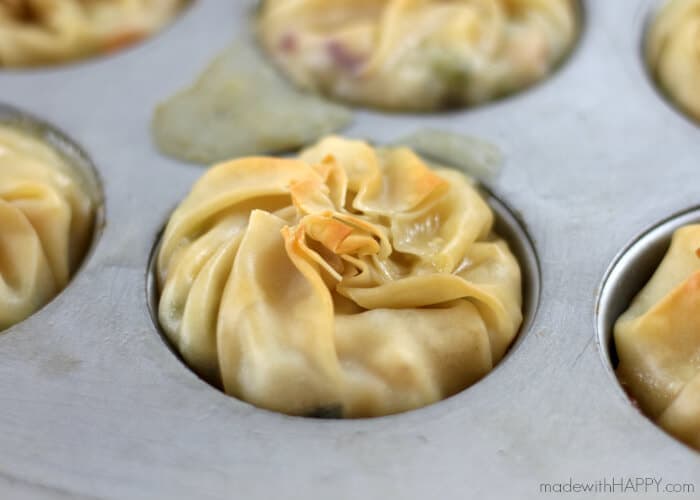 The won ton wrappers are crisp and crunchy and give your mouth the flakiness its craving from a chicken pot pie, but so much healthier. I also love that you can add all kinds of seasonal vegetables in these and they taste just as good. So good that even the kids are asking for them. I really hope you enjoy them as much as we do.
Happy Comfort Food Time!