These 20 Easy Super Bowl Appetizers will score big at any super bowl party. Put out easy finger food recipes that everyone will love.
Super Bowl parties are always a fun time, even if you're not into who wins. There's family, food, fun, and usually lots of laughter. Oh, and the commercials, can't forget those. One of my favorite parts, though, would have to be the food. I bet you couldn't tell by the title of this post, huh? I love Super Bowl parties because they seem to offer a wider variety of foods and drinks to try. Appetizers are by far my favorite things to munch on while watching the big game. I've rounded up 20 yummy recipes for apps that you can make to steal the show!
Easy Super Bowl Appetizers
Let's start with the cheesy and easy super bowl appetizers:
1. These Garlic Cheese Bombs from Spend With Pennies look SO. FREAKIN. GOOD.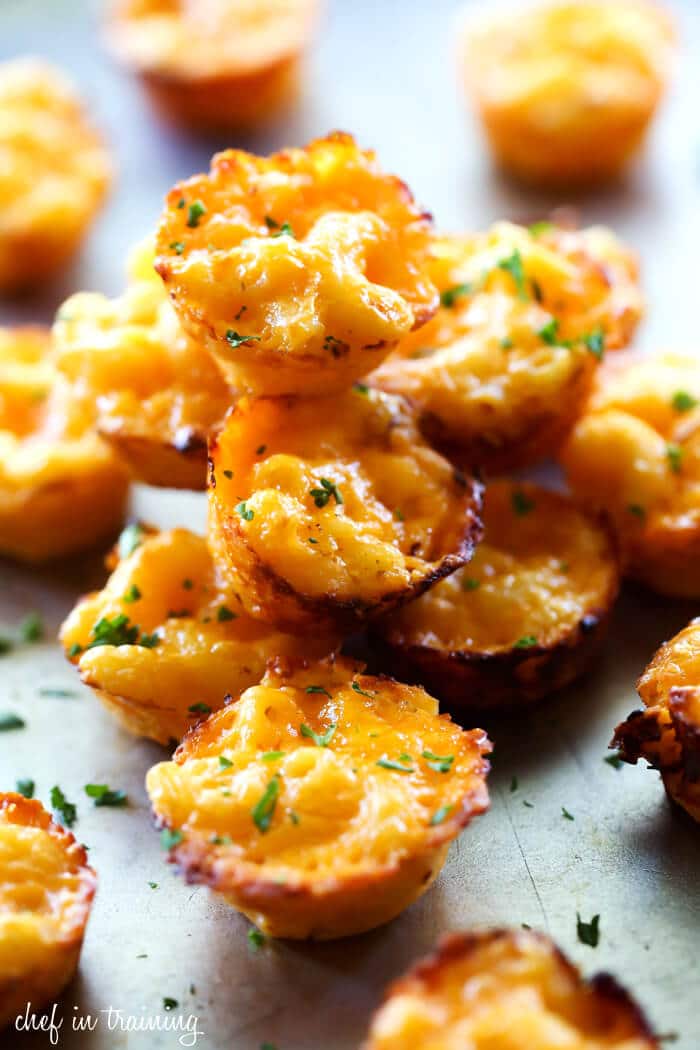 2. Chef in Training shared this yummy & easy Mac & Cheese Bites recipe!
3. These Homemade Pretzel Bites from Two Peas and Their Pod would be the perfect snack paired with a beer!
4. Okay, why were Bacon Fried Mozzarella Sticks not already a thing?! OMG!!
Now on to the meaty finger foods:
5. This slighty healthier choice–Bun-less Cheeseburger Bites–is a great and practical idea for any get together!
6. Our very own Chicken Parmesan Bites are packed with guaranteed deliciousness!!
7. What's a Super Bowl party without wings? These Chipotle Maple Baked Wings are from American Heritage Cooking.
8. These Chicken & Waffle Sliders from Food, Folks, & Fun are genius!
9. Cooking and Beer has me craving roast beef right now thanks to these Roast Beef &Brie Sliders.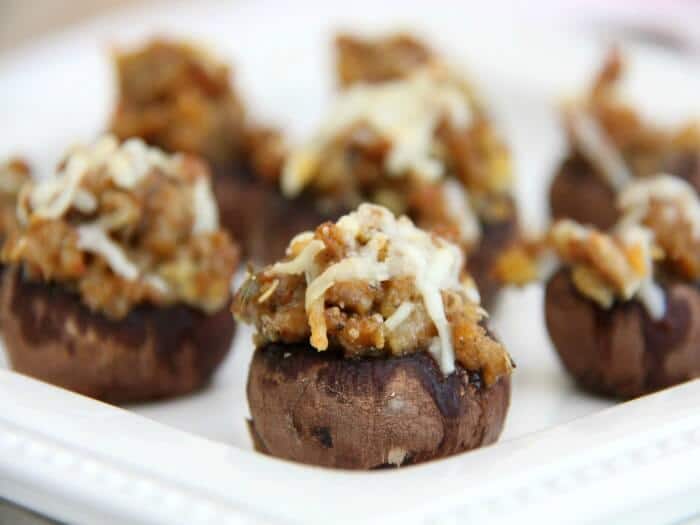 10. Another of our own recipes from Made with Happy: Italian Sausage Stuffed Mushrooms. Yummmm 🙂
11. Buffalo Chicken Tortilla Pinwheels – because every party needs some type of rollup.
12. I hope these Bacon Cheeseburger Balls from Betty Crocker are as good as they sound!
We can't forget the spicy appetizers:
13. These Buffalo Pickle Chips from Whitney Bond look way better than just plain old fried pickles.
14. These Loaded Chicken Taco Cups from The Cookie Rookie look SO incredibly easy and good!
Oh and we have a couple yummy potato appetizers…
15. What's better than potato skins? Answer: Cajun Potato Skins.
16. These might be one of my favorites (not just because it's Made with Happy) but just look at these Loaded Tater Tot Skewers!!
17. Oh yeah and we also have Philly Cheese Steak Potato Skins from Mom On Timeout.
And PIZZZAAAA finger food recipes:
18. These Pizzadillas from Diethood look soooo good. And for any occasion!
These will be killer, trust me….
19. Spoon for Bacon KILLED it with this Baby Bloomin' Onions recipe. These will be a hit, for sure.
Last but not least, we're getting festive with these deviled eggs!
20. My Mommy Style made these Football Deviled Eggs and how stinkin' cute are they!
H A P P Y  S U P E R B O W L !