HAPPY HAPPY MEMORIAL DAY!
Red, White & Blue Sangria
I am pumped about sharing this super delicious, super tasty cocktail with you. I made this Red, White and Blue Sangria Recipe LIVE on Facebook today as part of this week's Make it (HAPPY) Monday series along with my Patriotic Punch recipe – both of which make great Fourth of July Drinks. (You can also leave out the alcohol to make a delicious red white and blue punch)
These live videos are really really doing me in, you guys. I really hope you all know, that I'm purposely having all these major mess ups in first couple to make the rest of the series awesome! DOH! 🙂 So many troubles I tell you. Oh well, live and learn.
In any case, I am excited to share with you all this Red, White & Blue Sangria recipe because its so good and great to make and bring with you to Memorial Day BBQ's or July 4th celebrations. Plus they are super duper cute, and let's get real, who doesn't love a super cute cocktail???
We've also sharing our quick and fun tutorial for the pom pom drink sticks that you can find here!
Without further adieu, here is how you make our Red, White and Blue Sangria
Red, White & Blue Sangria Ingredients:
1 bottle white wine – I used Pinot Grigio
1 1/2 cups sparkling lemonade
1/2 cup vodka
2 large granny smith apples
1 pint raspberries
1 pint blueberries
1 cup sliced strawberries
Directions:
Start by slicing the apples into fairly thin slices. Using a
star cookie cutter
, cut as many stars as you can from each slice. I love these cookie cutter set!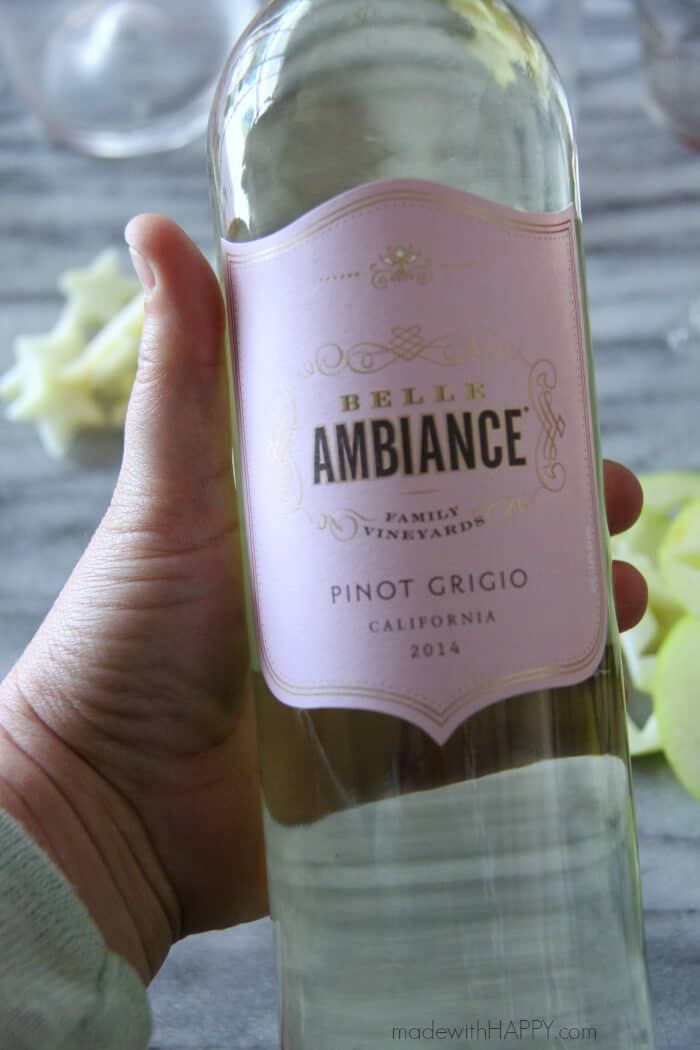 Start with a pitcher and add your white wine. You can use any white wine you like for this recipe. I went with a Pinot Grigio because of the light neutral flavor and lower acidity. You could also use a Sauvignon blanc, as it too is dry and refreshing.
Then add in your sparkling lemonade. You could also use flavored sparkling water, or ginger ale. I enjoy the sparkling lemonade as it has a bit more of the lemon tartness. You also add the vodka and berries to the pitcher and then into the refrigerator for 1-4 hours before serving.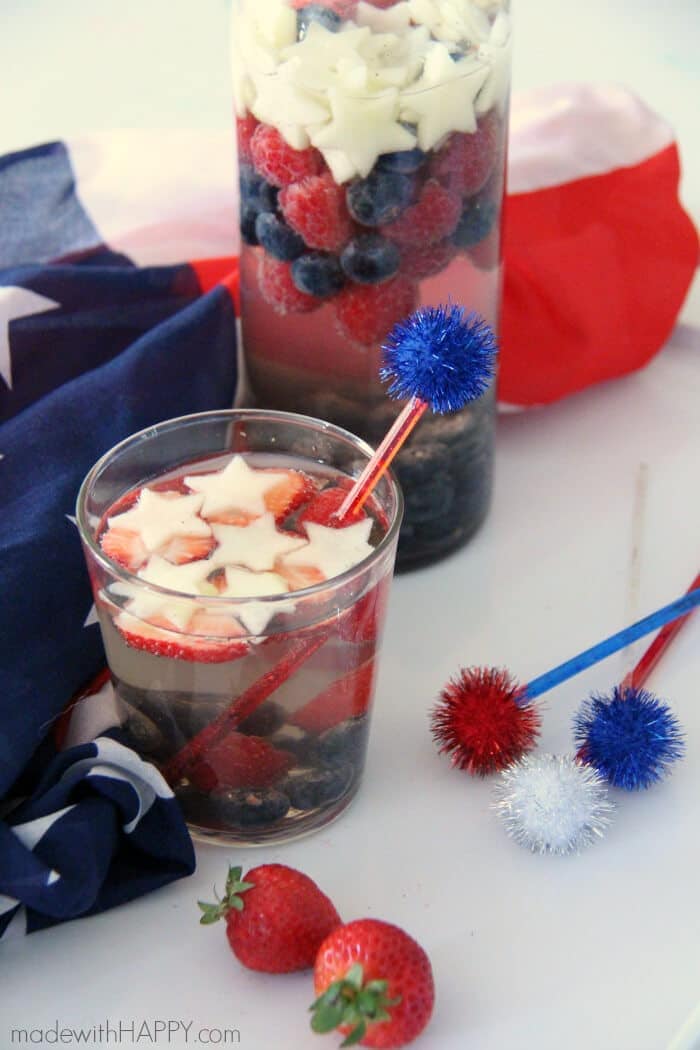 This makes for one HAPPY Patriotic Celebration if you serve this Red, White & Blue Sangria! You can also leave out the alcohol and make a red white and blue punch!
What fabulous Fourth of July Drinks do you like to make to celebrate?
HAPPY Memorial Day!!
Happy 4th of July!!
Like it? Pin it!