These Raspberry Prosecco Cocktails make the Summer days that much sweeter and holiday celebrations HAPPIER!
Summer is not over my friends and as a matter f fact, we're expecting 90 degree temperatures here on the west coast next week. Which means we are going to squeeze every ounce of Summer including sharing with you our go-to adult beverage of the Summer that is so refreshing, you may want it all year around. For those not familiar with Prosecco, it is a sparkling wine grown in the North-East Veneto region of Italy. Its fruity and light and sometimes has a hint of sweetness. Unlike Champagne, what we love about Prosecco, and Riondo Prosecco in particular, is that it has a more every day accessibility rather than only on special occasions.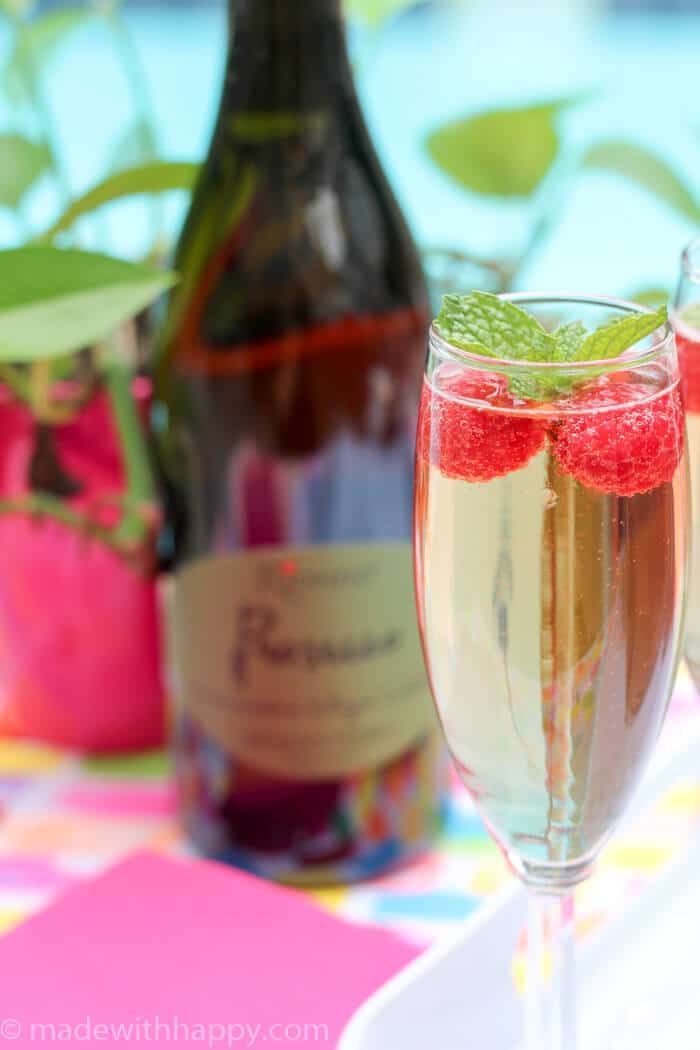 All Summer we have been enjoying a bottle of Riondo with friends by the pool, at the beach, and at concerts in the park. It is delicious by itself or with some added awesomeness. Riondo Prosecco Cocktails definitely makes Summer a bit more bubbly. If you are anything like us, we absolutely hate turning on the oven during the Summer. Most our meals were either cooked on the grill, or filled with fun cool salads. Many of our Summer dinners consisted of a glass of Prosecco and a charcuterie board filled with meats, cheeses, fruit and nuts. Its was our own Italian for Summer dish.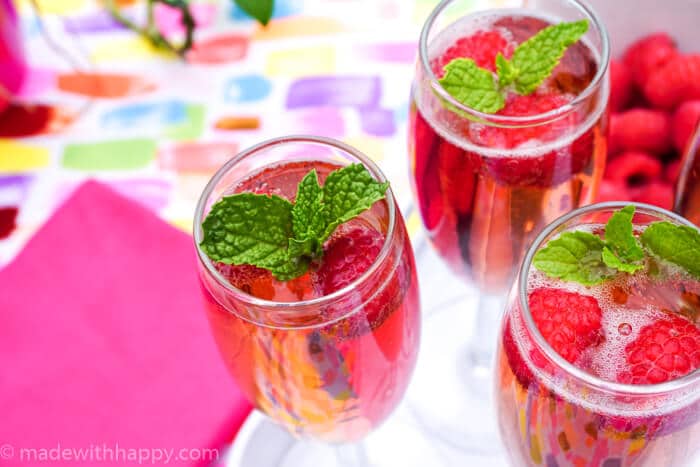 Even with the kids starting back to school, this last week we have tried to continue with dinner on the patio and dishes full of cold pasta salads, fruit salads, and green salads. Basically all the salads. 🙂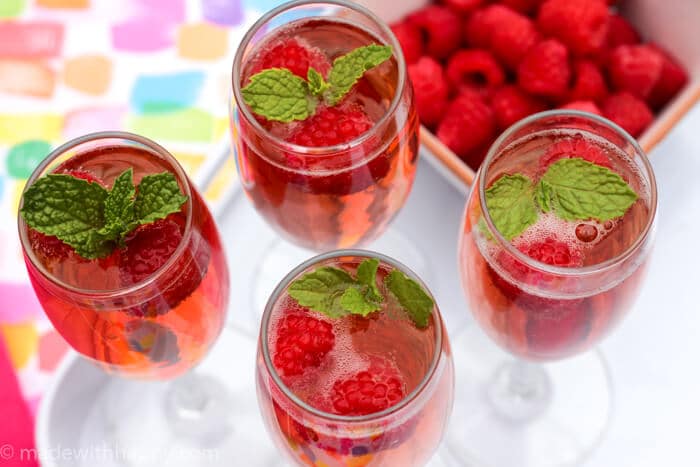 Raspberry Prosecco Cocktail Recipe
We have a few different ways to make this Simple Summer Cocktail.



Yield: 1 serving
Raspberry Prosecco Cocktail
Raspberry Prosecco Cocktail | Prosecco Cocktail Recipes | Raspberry Mint Prosecco | Sparkling White Wine Cocktails | Prosecco Wine Cocktails for Summer

Prep Time 5 minutes

Total Time 5 minutes
Ingredients
Raspberry Prosecco Cocktail Ingredients
6 oz Prosecco
1 oz Chambord
3 raspberries, garnish
1 tsp mint, garnish
Instructions
Pour 1 ounce of Chambord in the bottom of your glass.
Slowly pour the Prosecco over the Chambord filling the glass.
Add raspberries and mint for garnish.
A fun alternative would be to add a teaspoon of simple syrup to the bottom of the glass with a pinch of mint and to muddle the two together. 
Nutrition Information:
Yield:
1
Serving Size:
1 Servings
Amount Per Serving: Calories: 240Total Fat: 0gSaturated Fat: 0gTrans Fat: 0gUnsaturated Fat: 0gCholesterol: 0mgSodium: 11mgCarbohydrates: 20gFiber: 0gSugar: 15gProtein: 0g

Nutrition is automatically calculated by Nutritionix - please verify all nutrition information independently and consult with a doctor or nutritionist for any and all medical and diet advice.
HAPPY SUMMER!