If you're looking for a fun spiked peppermint hot chocolate recipe, then look no further. We're sharing the most delicious boozy hot chocolate that is sure to be your favorite.
This Spiked Peppermint Hot Chocolate is going to be your favorite after-dinner drink this winter.
December is here and it's finally started to cool down here in the southwest. It makes us quite HAPPY about the cool weather and fun nights by the fire.. Boots, scarves, soups, and of course HOT CHOCOLATE.
During the winter months we set up a hot chocolate station for the family and it's become almost a nightly ritual.
These also make great St. Patrick's day drinks too.
Spiked Peppermint Hot Chocolate
This past weekend, we had some friends over for a Christmas party. While the kids were in absolute heaven with the hot chocolate bar, we had a few lovely additions for the adults to spike theirs. This DeKuyper Creme De Menthe . It's the perfect mint addition to an adult hot chocolate. Here's how we make ours.
Ingredients:
8 oz. Hot Chocolate
1 oz. Creme De Menthe
1 oz. Pinnacle Whipped Vodka
Whipped Cream
Fresh Mint
Directions: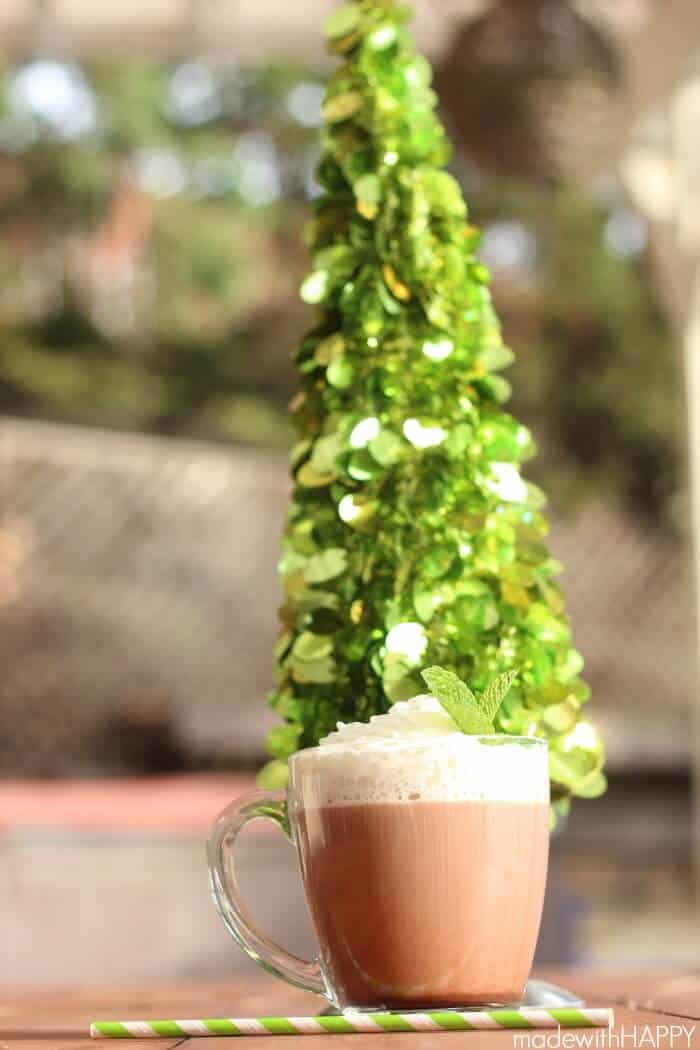 Simply make your hot chocolate as you typically do. Whether it's from scratch over the stove, or from a packet. Mix in your Creme De Menthe and Vodka.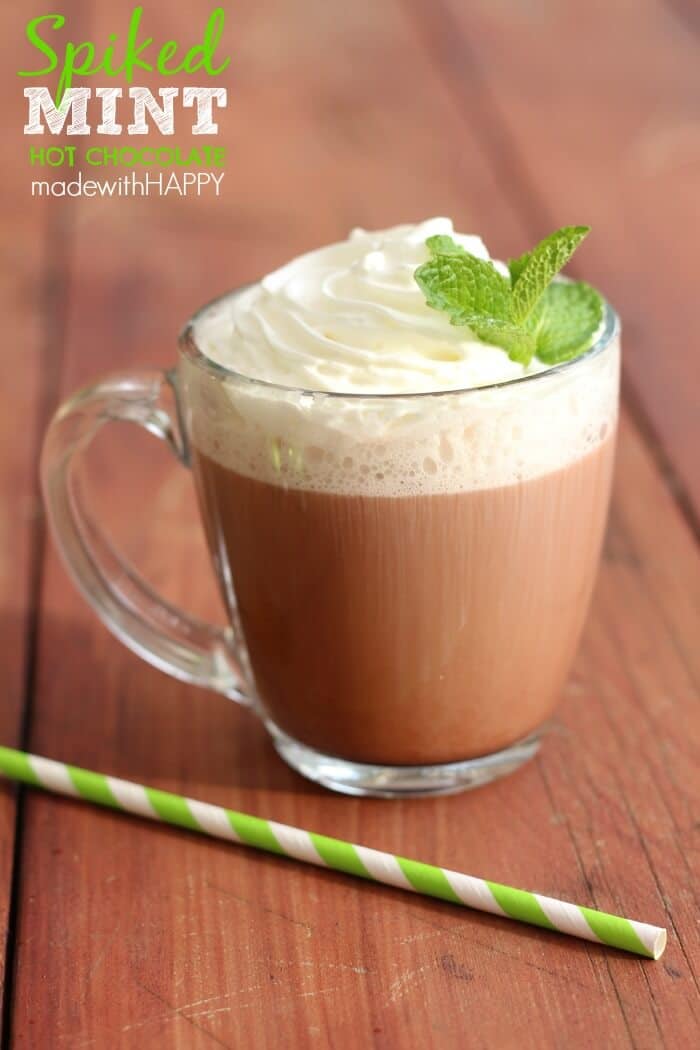 Dollop your whipped cream on top and add a sprig of mint. This is a perfect addition to any holiday entertaining or simply coming in after a long day on the slopes.
Other Winter Cocktails You'll Enjoy
CONNECT WITH MADE WITH HAPPY!
Be sure to follow me on social media, so you never miss a post!
Facebook | Twitter | Youtube | Pinterest | Instagram
Looking for crafts to keep your child busy? Sign up for my 5 Ridiculous HAPPY Activities in under 30 minutes for your kids delivered directly to your inbox!
Find and shop my favorite products in my Amazon storefront here!
SPIKED PEPPERMINT HOT CHOCOLATE
PIN IT TO YOUR DIY BOARD ON PINTEREST!
FOLLOW MADE WITH HAPPY ON PINTEREST FOR ALL THINGS HAPPY!
It's deliciously rich with just the fresh kick of mint. SOOO TASTY!
Tis the season for great cocktails! What will wow your guest and set your holiday party apart, the perfect cocktail made by you. DeKuyper offers over 50 mixable and versatile flavors of cordials, liqueurs, crèmes, brandies, and schnapps for thousands of amazing cocktails. Explore our website at dekuyperusa.com to find one that is perfect for you or visit us on Facebook and Pinterest to see some of our favorites. Plus, you can always create your own recipe and share it with us!
DeKuyper® is a trademark of Jim Beam Brands Co. ("Beam") and is used with permission. The information, comments, and ideas expressed on this website do not necessarily reflect the views or opinions of Beam, its affiliated companies, or any of its directors or employees. Beam does not sponsor, authorize, or otherwise endorse this website.
HAPPY ENTERTAINING!