Al Pastor Chicken Kabobs. Mexican Marinaded Chicken. Al Pastor is a typical Mexican pork dish, but our spin is the marinade on chicken.

Looking for Easy Super Bowl Appetizers, then we have you covered.
For those that know me, they know I'm a pretty open book. I spend my days juggling work, parenting, fun and adventure. I am a proud native San Diegan. I am a maker; I love glitter, rainbows, cooking, traveling, and entertaining. If a project or recipe is super complicated or takes a ton of time, it's most likely not going to happen. I believe in clean eating, home gardens and feeding my family organic when I can. For most of you, I am a busy Mom, just like you. As a busy Mom, we're making a million decisions a day on the well being of our family. I don't know about you, but I big-puffy-heart when the complicated is taken out of the decisions. Especially when it comes to the food I'm feeding my family. When Foster Farms® Chicken, a west coast family-owned chicken company, asked me to create a recipe using the new product line of Simply Raised fresh chicken, I first said you betcha. Then secondly I gave myself a Mom high-five because they made grocery shopping that much less complicated by offering options at the grocery store I go to, and not making me go to multiple stores to get my poultry.
Foster Farms® is one of the leading chicken producers for us out West (CA, OR, and WA). It's a family-owned company that is now offering Simply Raised chicken(raised without antibiotics). Simply Raised fresh chicken is raised on vegetarian feed, humanely raised and delivered locally within 48 hours.
I thought I would share a chicken twist on a San Diego favorite. Al Pastor is typically a pork dish where the meat is marinade in some great flavors and then placed onto a slow cooking rotisserie and then the meat is sliced off similar to gyro meat. You can find it almost any Mexican food restaurant.
Today, I'm sharing my al pastor chicken kabob recipe that I'm pretty sure is going to make it into your monthly dinner recipe list.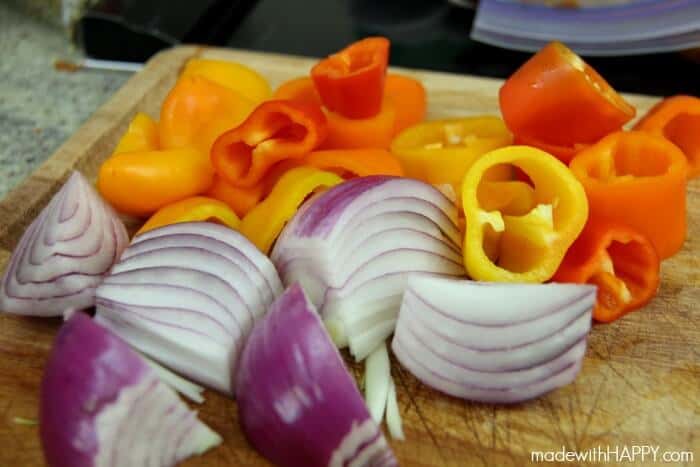 I love the bright colors of this dish from the onions and peppers.

There is the ability to crank up the spicy heat on this recipe really easily. Simply add another chipotle pepper or increase the amount of chili powder. This recipe is great for my family as it has a small kick, but not enough to bother the kids.
AL PASTOR CHICKEN KABOBS
PIN IT TO YOUR RECIPE BOARD ON PINTEREST
FOLLOW MADEWITHHAPPY ON PINTEREST FOR MORE RECIPE IDEAS!
Oh my gosh its so good. I like to serve with corn tortillas, but would be great over a salad too.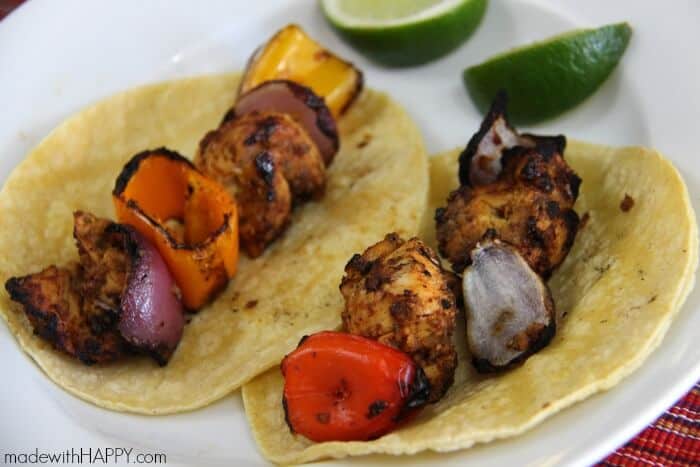 Yield: 4
Al Pastor Marinaded Chicken Kabobs
Al Pastor Chicken Kabobs. Mexican Marinaded Chicken. Al Pastor is a typical Mexican pork dish, but our spin is the marinade on chicken.
Total Time
2 hours
15 minutes
Ingredients
2 pineapple rings
1/2 cup orange juice
1/4 cup minced dried onion
1/4 cup distilled white vinegar
2 tablespoons chili powder
3 garlic cloves
2 teaspoons coarse kosher salt
1 teaspoon dried Mexican oregano
1 teaspoon ground cumin
1 chipotle chile
1 teaspoons adobo from canned chipotle chiles in adobo
1 - 1 1/2 pounds chicken breast
.5 large purple onion
3-4 cups rough chopped bell peppers
Instructions
Combine all marinade ingredients into a food processor until garlic and pineapple are broken down into tiny pieces.
Pour marinade into a large ziplock.
Cut chicken into 1/2 - 1 inch cubes
Add chicken to ziplock and let marinade for at least 2 hours.
Cut peppers and onion into bite size pieces.
Skewer the chicken, peppers and onions onto skewers and onto the grill.
Over medium heat, grill kabobs approximately 7 minutes each side until chicken is fully cooked.
Serve with tortillas and salsa.
Nutrition Information:
Yield:
4
Serving Size:
4 Servings
Amount Per Serving:
Calories:

1218
Saturated Fat:

4g
Cholesterol:

435mg
Sodium:

5804mg
Carbohydrates:

93g
Fiber:

22g
Sugar:

57g
Protein:

156g
Hope you enjoy this as much as my family does. HAPPY Grilling!
Some other Mexican favorites you might enjoy.