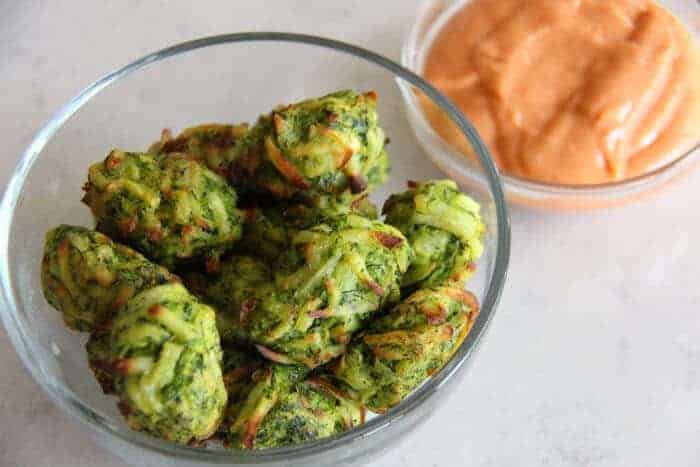 I'm always trying to figure out ways to sneak vegetables into my kids' food.  Sometimes my efforts are rewarded with HAPPY kids and full bellies and sometimes they still won't eat it; but I keep on trying because that's my job as their Mom.
This week I whipped up some of these delicious zucchini tots in an effort to marry one of America's greatest comfort foods, tater tots, with the lovely zucchini.  It took a few tries to find the right texture, but after I figured that out they were a hit.  Serve them with ketchup for the kids or with a side of spicy sriracha mayonnaise for the adults and you're sure to have a party pleasing side dish.  Make sure to save some extra spicy mayonnaise to serve on everything from sandwiches to grilled salmon.
Ingredients:
2 cups finely shredded zucchini (approx. 4 zucchinis)
2 cups frozen shredded potatoes
1 teaspoon salt
2 Tablespoons olive oil
1/2 teaspoon garlic powder
1/4 teaspoon ground pepper
1 egg
For the spicy sriracha mayonnaise
1/2 cup mayonnaise
1-2 Tablespoons sriracha* depending on taste
2 Tablespoons ketchup
1 Tablespoon honey
Directions:
Finely shred zucchini and mix in a bowl with frozen shredded potatoes and salt.
Wrap the zucchini mixture inside a tea towel or cheese cloth and squeeze out liquid.
Hang the mixture over the sink or a bowl (still wrapped in a tea towel) until the potatoes have thawed and the zucchini has released it's liquid (approx. 30 minutes).
Squeeze out remaining the liquid and then remove the mixture from the cloth and place it back in the mixing bowl.
Add the remaining ingredients to the zucchini mixture and stir until combined.
Shape the zucchini tots using approximately 1 Tablespoon of mixture at a time and place on a baking sheet lined with parchment paper.
Bake the tots at 375 degrees for about 20 minutes, turning once during cooking.
Remove from the oven when golden brown and sprinkle with salt.  Serve hot.
While the zucchini tots are baking, mix the ingredients for the spicy sriracha mayonnaise in a separate bowl.
*Sriracha is a spicy chili sauce that can be found in the Asian foods section of most grocery stores.
HAPPY COOKING!!
Like it? Pin it!
If your family is a fan of the Tots, don't forget to try our Loaded Tater Tot Skewers!