Looking for an easy afternoon snack or kid-friendly appetizer, then you will love these mini ham and cheese hand pies.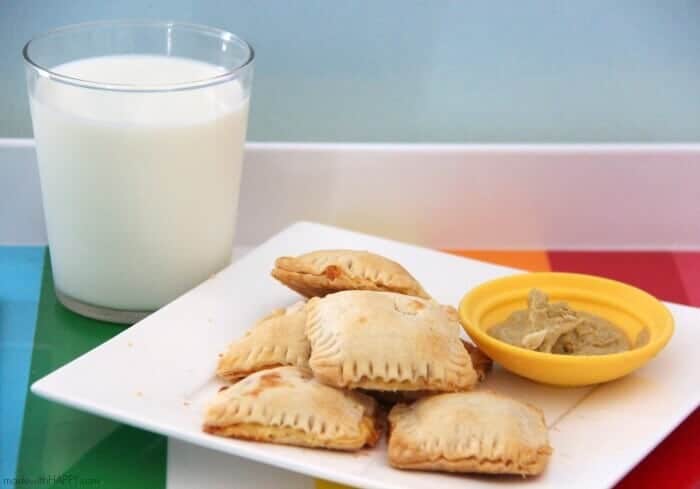 With school starting for us in the next couple of weeks, I've been coming up with a plan to set my kids up for success. Make sure I have some great after-school snack recipes chalked full of brain fuel, plan a homework space, and make sure there is still time for play.
One thing that is important to me is to make sure the afternoon snack is both made with protein as well as washed down with a glass of milk. Protein in both the snack and milk is not only good for their growth but helps me assure my babes are going to have the brainpower they need to get them through their homework and not crashing down from a sugar high halfway through.
One of our favorite afternoon snacks is our mini ham and cheese hand pies. Here is how we make them!
Looking for Easy Super Bowl Appetizers, then we have you covered.
Mini Ham and Cheese Hand Pies
Ingredients:
Premade pie crust
Thinly sliced cheese (Fontina, Gouda, or Swiss)
Thinly sliced ham
2 tablespoons butter, melted
Square cookie cutters (2 inches and 1.5 inches)
Directions:
Pre-heat oven to 400 degrees.
Once the pie crust has thawed, roll the crust out on a flat surface. Using the larger of your two square cookie cutters, cut out as many squares from the pie crust as you can fit.
Next, either use the smaller square cookie cutter or knife and cut both the thinly sliced cheese and ham into squares smaller than the size of your crust.
When constructing the hand pies, you place one square crust down and then alternate ham and cheese layers on top of the crust creating a small pile.
I like to add 4 pieces of ham and four pieces of cheese alternating to make sure the melted cheese is throughout the hand pie.
Add a second square piece of crust over the top of the ham and cheese pile and then pinch the sides of the two pieces of crust together using your fingers. Next, using a fork, press along the outside of the crust to ensure they are sealed together.
Lastly, with a pastry brush, brush the melted butter over the top of the hand pies to make sure they come out golden brown.
Into the oven for 8-10 minutes until golden brown.
Remove from oven and serve with Dijon mustard and a glass of milk.
Other Finger Foods You'll Love
CONNECT WITH MADE WITH HAPPY!
Be sure to follow me on social media, so you never miss a post!
Facebook | Twitter | Youtube | Pinterest | Instagram
Looking for crafts to keep your child busy? Sign up for my 5 Ridiculous HAPPY Activities in under 30 minutes for your kids delivered directly to your inbox!
Find and shop my favorite products in my Amazon storefront here!
HAM AND CHEESE HAND PIES
PIN IT TO YOUR DIY BOARD ON PINTEREST!
FOLLOW MADE WITH HAPPY ON PINTEREST FOR ALL THINGS HAPPY!