Raise your hand if you are just as excited about leftovers as much as the real deal? ***ME, ME, ME***
The last few years we have spent Thanksgiving at family's house and so the leftovers have not been as stellar as they are when we host. This year, the tables have turned and we are preparing for a spectacular day full of all the fixins.
One of our favorite things to do on the Friday after is to spend the day in our pj's, bring out our Christmas decorations, sit with the kids and make our Christmas lists and eat leftovers for every meal that day. Realizing my family's taste buds might get bored, I've found a few different ways to turn leftovers into something equally delicious like these Cheesy Mashed Potato Bites. I love making these in the morning so the kids (okay and adults) can snack on them throughout the day. My kids favorite part? They are made from their favorite snack, Goldfish crackers. Here's how you make them.
Ingredients: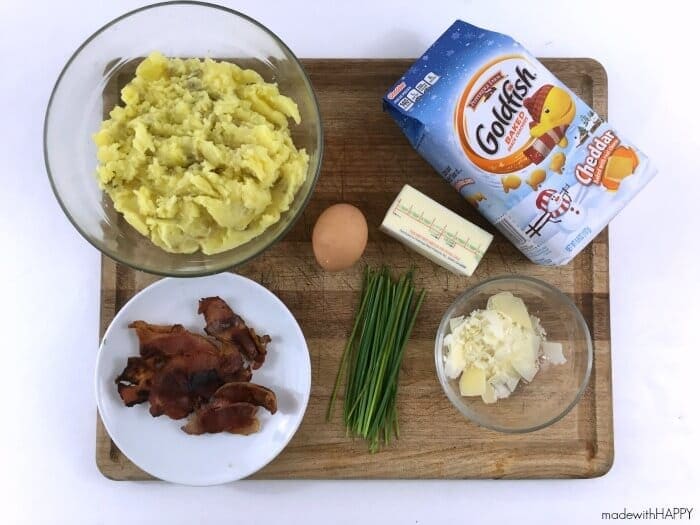 2 cups cheddar Goldfish® Crackers
1/4 cup shredded/shaved Parmesan
1/4 cup butter, melted
2 cups mashed potatoes
1 egg
4 slices of bacon, crumbled
1/4 cup chopped chives
Directions:
Pre-heat oven to 350 degrees.
Add Goldfish and Parmesan to food processor and blend till becomes bread crumb consistency. In a medium bowl, combine Goldfish snacks mixture and butter till fully coated. Set Aside.
I
In an additional bowl, combine the mashed potatoes, egg, bacon and chives.
Spray mini muffin tins with cooking spray and then fill approximately 16 of the 24 cups with a tablespoon of the Goldfish crackers mixture. Press mixture down to fill bottom of cup. There should be a small amount of mixture left over, set aside.
On top of the Goldfish crackers mixture add a tablespoon of the mashed potato mixture and press down.
Sprinkle remaining Goldfish crackers mixture on top of the mini mashed potato bites at the end, and then into the oven for 20-25 minutes until golden brown.
Remove from oven and let cool for a few minutes before serving.
We love to serve with a spicy aioli, but ketchup is great too!
They are so good, that I end up having to make a few batches. You won't be sorry.
Do you have a leftover recipe that your whole family loves? We'd love to hear it.
Did you know Goldfish snacks has a #GoldfishTalesPromotion going on? Now through 12/31 you can create a photo or video that shows off Goldfish crackers in a holiday theme via Twitter or Instagram with the hashtag #GoldfishTalesPromotion to enter. Posts using #GoldfishTalesPromotion may appear in the gallery on GoldfishSmiles.com. No Purchase Necessary. Open only to 50 US/DC residents 18+. Ends 12/31/15. Official rules and more at www.GoldfishSmiles.com. Void where prohibited.