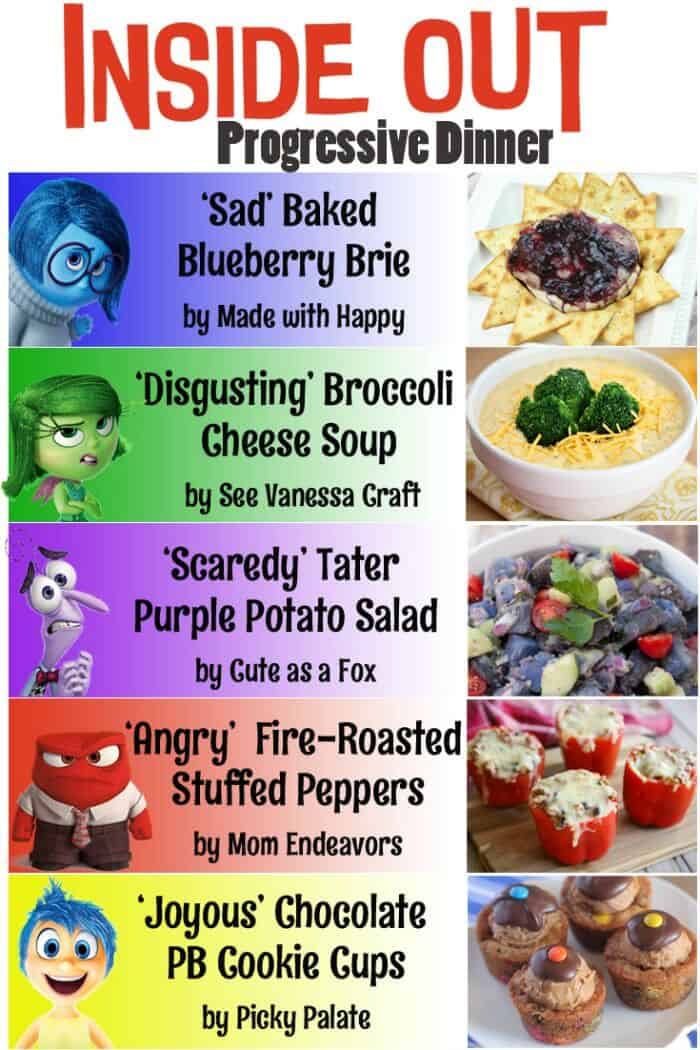 Today is the day my friends. Inside Out, the movie we've all been waiting for is out. I don't know about you and your family, but mine is beyond excited.
To celebrate the occasion, I teamed up with a few friends to bring you an Inside Out Progressive Dinner.
You know Made with HAPPY is always up for a party and what a great way to celebrate one of my favorite movies then with a progressive dinner party.I know, I know, you would typically expect me to take Joyful... I do love me some HAPPY! To change it up a little, I took on SAD. Such a genuinely caring emotion that often gets a bad wrap! In honor of my little spectacle gal, I created a
Baked Blueberry Brie Appetizer
This is one of my favorite dishes to serve as a starter to a meal. A baked brie is so creamy and delicious but really lends itself to all kinds of toppings. For this little blue beauty, I went with a Blueberry Compote. Its simple and delicious and will be the hit of the party.
We highlighted this easy appetizers along with some other finger foods in our Easy Fall Appetizer.
Ingredients:
1 round brie
1 container of fresh blueberries (6 oz.)
¼ cup of honey
1 teaspoon lemon juice
Directions:
In a small saucepan, on medium heat, heat up the blueberries, honey and lemon juice until it starts to boil and heat through. Approximately 3-5 minutes. Remove from heat and set to the side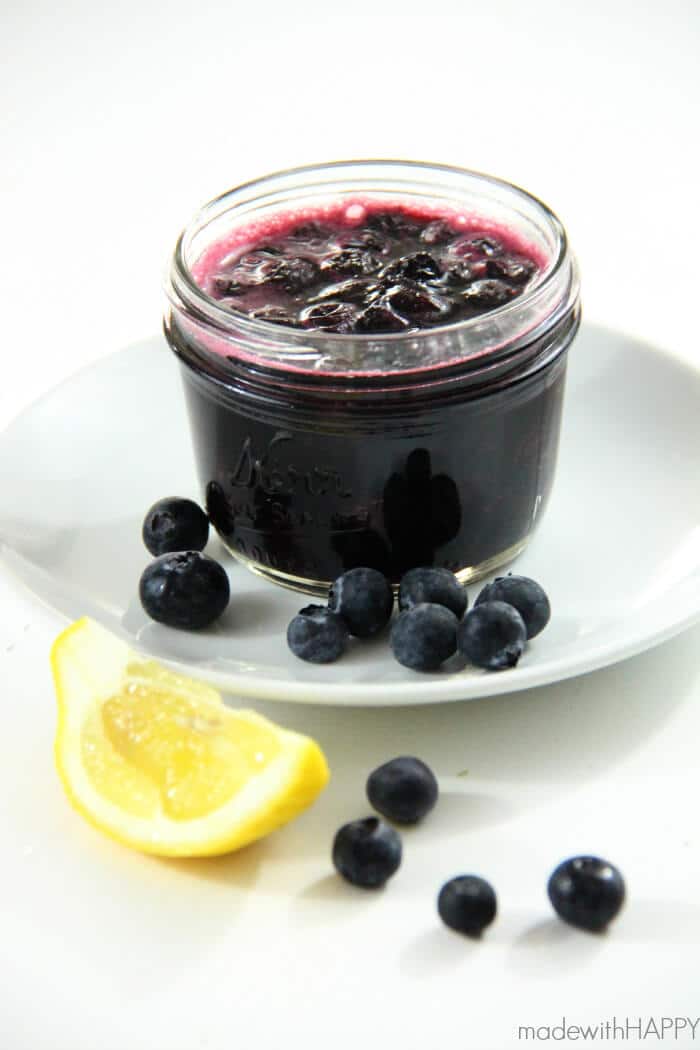 Cut one round side of the brie rind off. Place back ontop of brie and place the whole brie into a 375 degree oven for approximately 10-15 minutes until the cheese is soft and bubbly. Remove from oven and place onto serving platter.Remove the cut rind from the cheese and dispose of it. P.S. its not harmful to eat, its just that the cheese is so much more tasty 🙂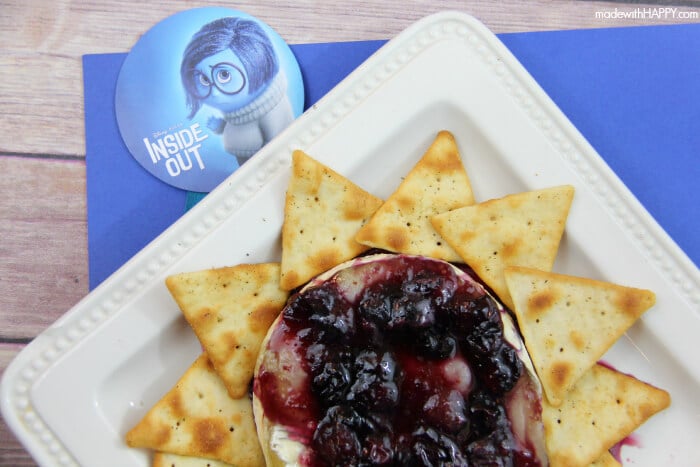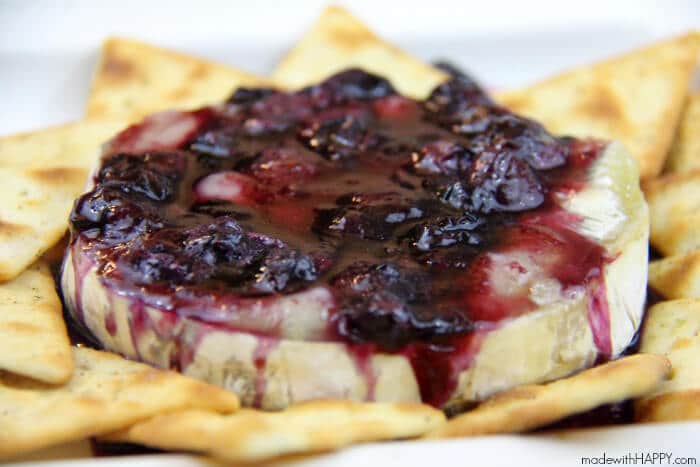 Pour the compote over the top of the cheese and serve with cut french bread, crustinis and or crackers. Easy peezy!Don't forget to go visit the rest of the Inside Out crew with some yummy recipes.
Appetizer: Baked Blueberry Brie - Made with Happy
Soup: Broccoli Cheese Soup - See Vanessa Craft
Side: Purple Potato Salad - Cute as a Fox
Main Dish: Fire-Roasted Stuffed Peppers - Mom Endeavors
Dessert: Chocolate Peanut Butter Cookie Cups - Picky Palate
Happy Inside Out Day and Happy Progressive Party!

Other Appetizer You Will Love
CONNECT WITH MADE WITH HAPPY!
Be sure to follow me on social media, so you never miss a post!
Facebook | Twitter | Youtube | Pinterest | Instagram
Looking for crafts to keep your child busy? Sign up for my 5 Ridiculous HAPPY Activities in under 30 minutes for your kids delivered directly to your inbox!
Find and shop my favorite products in my Amazon storefront here!
BAKED BLUEBERRY BRIE
PIN IT TO YOUR FAVORITE BOARD ON PINTEREST!
FOLLOW MADE WITH HAPPY ON PINTEREST FOR ALL THINGS HAPPY!