Looking to decorate your house with burlap bows this holiday? We're sharing a simple DIY burlap bow perfect as a tree topper, wreaths and pews for any occasion.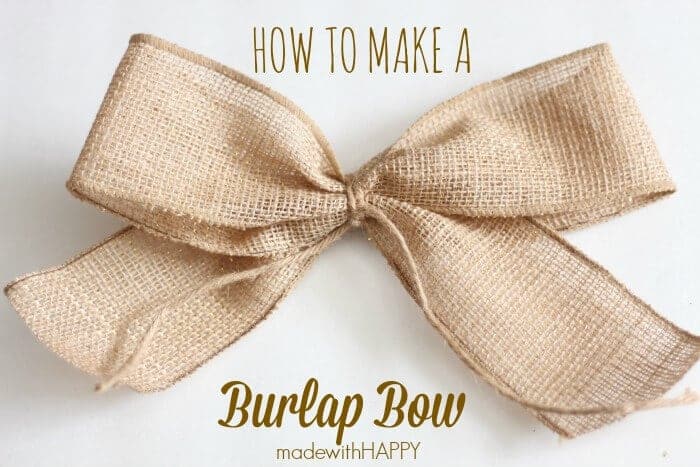 Hi friends. Okay, so I'm walking along the aisles in Michaels and see the most beautiful burlap bows and rolls of burlap ribbon. Green, tans, browns. Pinterest is filled with the most beautiful crafts and wreaths using burlap and so I give in, and buy.
I get it home and onto my wall of ribbon it goes. Then when its time to use it, I realize a simple fact… a DIY burlap bow is not the same as using regular ribbon.
This is when I thought, well if you're anything like me, then you too have this beautiful roll of burlap sitting there just waiting for a fun debut during the holidays.
So I made this great tutorial for a great home decor and front door Christmas wreaths without the use of floral wire.
Supplies used to make a simple burlap bow

How to Make a Bow
How do you tie a bow with 4 loops?
I have been asked how to adjust this tutorial for a bow with 4 loops. It is essentially made the same way, except that you would extend the length to four times the desired length.
The only difference is that the middle section that was once a third, is now double the size. Create two loops on each side and then bunch in the middle as you did with the single loop. Tie it with the twine and there you have it.
If you have issues making your burlap bow?
There are a few different issues that have come up.
If the burlap ribbon gives off an odor. Burlap can smell. If its too much for you to handle, there are plenty of polyester alternatives that resemble burlap and can be made into a bow using the same method.
If you are having trouble creating the loops, you can also cross the loops and then tie the twine.
Tips for different uses of burlap bows
These bows are great for multiple uses. We've used them for holiday wreaths, tree toppers, church events on the pews, on chairs for weddings. For each of these uses, you simply add another piece of twine and tie it to the center of the bow and then use the legs to tie it to the pew, wreath, tree, or chair.

Now that you know how do make your own Burlap Bow DIY, here are some other projects you might enjoy!
OTHER PARTY CRAFTS YOU MIGHT ENJOY
If you are looking for a rainbow pinata idea, then look no further than this Rainbow Punch Pinata
Looking for a simple way to dress up your next party. We are showing you this easy DIY tassel garland that will bring HAPPY to any party.
Looking for a fun kids birthday party craft, then we have you covered with these super easy mini rainbow pinatas. They make a great party favor too!
This color scavenger hunt for kids is lots of fun. It takes your children on a treasure hunt both indoors and outdoors looking for all kinds of happy colors.
We're sharing how to make these pool noodle Nunchucks for a party or just for fun.
Stir up your next party with these super cute DIY Pom Pom Drink Sticks.
Other FALL decor post that you might enjoy!
Yield: 1 Bow
How to make a Burlap Bow
Looking to decorate your house with burlap bows this holiday? We're sharing a simple DIY burlap bow perfect as a tree topper, wreaths and pews for any occasion.
Materials
Instructions
Cut the piece of burlap ribbon and twine at the same lengths for simplicity. In the case you are making very large bows, then I would wait to cut the twine till you are ready to tie it. In terms of length, this will depend on the size of the bow you are trying to make.If you are making burlap bows for wreaths, or looking to determine how to make burlap bows for pews, then they are both about the same size as the one I made in this example and that was approximately 8 inches wide. If you looking for how to make a burlap bow for tree topper, then I would make it bigger, approximately 12-18 inches wide.After you have determined the width of the bow, then I would multiple that by three and that will be the length you are going to cut both the piece of ribbon and the twine. In this example, I cut both at 24 inches.
Fold the ribbon in three sections.
Using the twine, wrap it twice around the middle of the three sections and tie a knot at the bottom.
Cut the twine to the length of the bow feet and viola, you have yourself a burlap bow. See, I told you it was quick and simple! Now, cover your house in these beauties!
CONNECT WITH MADE WITH HAPPY!
Be sure to follow me on social media, so you never miss a post!
Facebook | Twitter | Youtube
Pinterest | Instagram
Looking for crafts to keep your child busy? Sign up for my 5 Ridiculous HAPPY Activities in under 30 minutes for your kids delivered direct to your inbox!
Find and shop my favorite products in my Amazon storefront here!
HOW TO MAKE A BURLAP BOW
PIN IT TO YOUR KIDS CRAFTS PINTEREST BOARD
FOLLOW MADEWITHHAPPY ON PINTEREST FOR MORE GREAT GIFT IDEAS!